Abstract
Anemia associated with alcoholism has numerous causes, most common being megaloblastic anemia and acquired sideroblastic anemia (SA). The bone marrow aspirate (BMA) and bone marrow iron (BMIr) findings and their correlation with peripheral blood smear (PBS) have not been extensively described in literature. We aim to study the spectrum of hematological abnormalities in chronic alcoholics. Complete blood count (CBC), PBS, BMA and BMIr of 71 chronic alcoholics were studied retrospectively over a period of 3 years. The slides were reviewed by 2 pathologists. The clinical history, CBC, PBS, BMA and BMIr findings were recorded. Out of 71 patients, 68 (95.77%) had anaemia. Red cell morphology varied from normocytic-normochromic, microcytic-hypochromic, macrocytic, to dimorphic anaemia. Principal findings seen on BMA were erythroid hyperplasia and megaloblastic maturation. BMIr was available in 41 patients; iron stores were decreased in 2 (4.88%), normal in 14 (34.15%), increased in 25 (60.97%). Seven (17.07%) cases showed presence of ring sideroblasts. Chronic alcoholics show a variety of abnormalities in BMA, which closely mimic many haematological disorders. A history of alcoholism should always be taken in these circumstances. SA should be ruled out in all chronic alcoholics with anaemia not responding to vitamin B12/folic acid, even with macrocytic picture on PBS.
This is a preview of subscription content, log in to check access.
Access options
Buy single article
Instant access to the full article PDF.
US$ 39.95
Price includes VAT for USA
Subscribe to journal
Immediate online access to all issues from 2019. Subscription will auto renew annually.
US$ 99
This is the net price. Taxes to be calculated in checkout.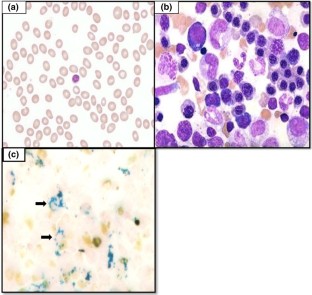 Abbreviations
PBS:

Peripheral blood smear

SA:

Sideroblastic anemia

BMA:

Bone marrow aspiration

BMIr:

Bone marrow iron

Hct:

Hematocrit

MCV:

Mean corpuscular volume

MCH:

Mean corpuscular hemoglobin

MCHC:

Mean corpuscular hemoglobin concentration

MDS:

Myelodysplastic syndrome

CBC:

Complete blood count
References
1.

Eichner ER, Hillman RS (1971) The evolution of anemia in alcoholic patients. Am J Med 50(2):218–232

2.

Lindenbaum J, Roman MJ (1980) Nutritional anemia in alcoholism. Am J Clin Nutr 33(12):2727–2735

3.

Mason DY, Emerson PM (1973) Primary acquired sideroblastic anemia: response to treatment with pyridoxal-5-phosphate. Br Med J 1(5850):389–390

4.

http://health.gov/dietaryguidelines/2015/guidelines/appendix-9/. Accessed 22 Aug 2019

5.

World Health Organization. Haemoglobin concentrations for the diagnosis of anaemia and assessment of severity. WHO/NMH/NHD/MNM/11.1. http://www.who.int/vmnis/indicators/haemoglobin.pdf. Accessed 22 Aug 2019

6.

Erkurt MA, Kaya E, Berber I, Koroglu M, Kuku I (2012) Thrombocytopenia in adults: review article. J Hematol 1(2–3):44–53

7.

Narang NC, Kotru M, Rao K, Sikka M (2016) Megaloblastic anemia with ring sideroblast is not always myelodysplastic syndrome. Turk J Haematol 33(4):358–359

8.

Cowan DH, John DH (1971) Thrombocytopenia of severe alcoholism. Ann Intern Med 74(1):37–43

9.

Latvala J, Parkkila S, Niemelä O (2004) Excess alcohol consumption is common in patients with cytopenia: studies in blood and bone marrow cells. Alcohol Clin Exp Res 28(4):619–624

10.

Alcindor T, Bridges KR (2002) Sideroblastic anemias. Br J Haematol 116:733–743

11.

Cazzola M, Invernizzi R (2011) Ring sideroblasts and sideroblastic anemias. Haematologica 96(6):789–792
Ethics declarations
Conflict of interest
The authors declare that there are no conflicts of interest.
Additional information
Publisher's Note
Springer Nature remains neutral with regard to jurisdictional claims in published maps and institutional affiliations.
About this article
Cite this article
Mangla, G., Garg, N., Bansal, D. et al. Peripheral Blood and Bone Marrow Findings in Chronic Alcoholics with Special Reference to Acquired Sideroblastic Anemia. Indian J Hematol Blood Transfus 36, 559–564 (2020). https://doi.org/10.1007/s12288-019-01188-5
Received:

Accepted:

Published:

Issue Date:
Keywords
Chronic alcoholics

Ring sideroblasts

Peripheral blood smear

Bone marrow aspirate

Acquired sideroblastic anemia

Bone marrow iron