Abstract
Dysmorphic plasma cells are occasionally found in bone marrow (BM) aspirates of plasma cell myeloma (PCM) patients. We retrospectively analyzed the incidences of significant dysmorphic plasma cells (SDPC) presentations and their associations with clinical features in PCM patients. Total 91 PCM patients diagnosed from January 2013 to December 2017 at author's institution were enrolled. SDPC presentation was determined as ≥ 5% (SDPC5) or ≥ 10% (SDPC10) among total PC and clinical features of PCM patients were compared with respect to SDPC presentation status. Incidence of SDPC5/SDPC10 presentation was 39.6%/18.7%. Patients with SDPC5/SDPC10 showed significantly more BM PC (P = 0.004/0.020) and higher incidences of CKS1B gains (P = 0.022/0.001) and RB1 loss (P = 0.032 for SDPC10 only) at diagnosis than those without SDPC5/SDPC10. Patients with SDPC5/SDPC10 also showed significantly greater absolute BM PC (P = 0.007/0.034 and 0.047/0.049 for 1st and 2nd follow-up, respectively) and serum M-protein (P = 0.041/0.044 and 0.039/0.049 for 1st and 2nd follow-up, respectively) reductions after chemotherapy than those without SDPC5/SDPC10. SDPC5/SDPC10 presentation was confirmed as an independent predictor of BM PC ≥ 37.7% [hazard ratio (HR) 4.649/2.613, P = 0.005/0.039]. Our present study demonstrated that SDPC presentation would be an independent predictor of more BM PC at diagnosis in PCM patients. Associations between SDPC presentation and higher incidence of CKS1B gains and RB1 loss, greater PC/serum monoclonal protein reductions after chemotherapy were also identified. Association between SDPC presentation and favorable treatment response should be evaluated in more comprehensive study.
This is a preview of subscription content, log in to check access.
Access options
Buy single article
Instant access to the full article PDF.
US$ 39.95
Price includes VAT for USA
Subscribe to journal
Immediate online access to all issues from 2019. Subscription will auto renew annually.
US$ 99
This is the net price. Taxes to be calculated in checkout.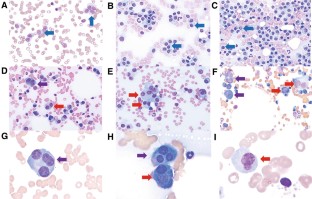 References
1.

Bladé J, Cibeira MT, Fernández de Larrea C, Rosiñol L (2010) Multiple myeloma. Ann Oncol 21(Suppl 7):vii313–vii319.

2.

Palumbo A, Avet-Loiseau H, Oliva S, Lokhorst HM, Goldschmidt H, Rosinol L et al (2015) Revised international staging system for multiple myeloma: a report from international myeloma working group. J Clin Oncol 33:2863–2869

3.

Bladé J, Rosiñol L, Cibeira MT (2008) Prognostic factors for multiple myeloma in the era of novel agents. Ann Oncol 19 Suppl 7:vii117–vii120.

4.

Avet-Loiseau H, Attal M, Moreau P, Charbonnel C, Garban F, Hulin C et al (2007) Genetic abnormalities and survival in multiple myeloma: the experience of the Intergroupe Francophone du Myélome. Blood 109:3489–3495

5.

Gutiérrez NC, Castellanos MV, Martín ML, Mateos MV, Hernández JM, Fernández M, GEM/PETHEMA Spanish Group, et al (2007) Prognostic and biological implications of genetic abnormalities in multiple myeloma undergoing autologous stem cell transplantation: t(4;14) is the most relevant adverse prognostic factor, whereas RB deletion as a unique abnormality is not associated with adverse prognosis. Leukemia 21:143–150.

6.

Swerdlow SH, Campo E, Harris NL, Jaffe ES, Pileri SA, Stein H, et al. (eds) (2016) WHO classification of tumours of hematopoietic and lymphoid tissues. Revised, 4th edn. IARC Press, Lyon

7.

Park SH, Chi HS, Park SJ, Jang S, Park CJ (2010) Clinical importance of morphological multilineage dysplasia in acute myeloid leukemia with myelodysplasia related changes. Korean J Lab Med 30:231–238

8.

Grøvan F, Reikvam H (2016) Dysmorphic plasma cells in the blood. Tidsskr Nor Laegeforen 136:1650
Funding
This work was funded by the 2017 Ulsan University Hospital Research Grant (Grant Number: UUH-2017–01).
Ethics declarations
Conflict of interest
The authors declare that they have no conflict of interest.
Ethical approval
This article does not contain any studies with human participants or animal performed by any of the authors.
Additional information
Publisher's Note
Springer Nature remains neutral with regard to jurisdictional claims in published maps and institutional affiliations.
About this article
Cite this article
Park, S.H., Jeong, J., Lee, S. et al. Distinct Clinical Features of Plasma Cell Myeloma Patients Exhibiting Dysmorphic Plasma Cells: Association with More Plasma Cells at Diagnosis. Indian J Hematol Blood Transfus 35, 662–672 (2019). https://doi.org/10.1007/s12288-019-01112-x
Received:

Accepted:

Published:

Issue Date:
Keywords
Clinical features

Dysmorphic plasma cells

Plasma cell myeloma