Abstract
Peripheral blood is a convenient source of stem cells for hematopoietic stem cell transplantation. However, in autologous transplants, the harvest failure rates are high because of inadequate mobilization using G-CSF alone. Plerixafor is a potent mobilizer when used with G-CSF. However, its routine use is limited by high cost. This is a retrospective study done at a tertiary care oncology centre in India. All the harvest records were analyzed between Jan 2015 and Nov 2017. May 2016 onwards pre-harvest peripheral blood CD34 count was done in all cases of autologous transplants on day 4 of G-CSF therapy and they were given a single dose of Plerixafor if counts were < 20 cell per cumm. The results were compared amongst various groups. A total of 321 cases were analyzed. 172/321 were allogenic transplant cases of which 5% (n = 7) failed to achieve a target live stem cell dose of > 2 million per kg of the recipient. The overall failure rate in autologous group (n = 149) was 27% (n = 41) (p ≤ 0.001 auto vs. allo). The failure rate was higher (36%, n = 28/77) when no intervention with Plerixafor was done. The overall failure rate in the group treated with pre-harvest 34 count based single dose therapy of Plerixafor was 18% (n = 13/72, p = 0.01). However, within this intervention group, the patients who had pre-harvest peripheral blood CD34 above the desired cutoff had a higher failure rate of 21% (p = 0.13). Pre-harvest CD34 count based intervention with Plerixafor help optimizing the cost.
Access options
Buy single article
Instant access to the full article PDF.
USD 39.95
Price includes VAT (USA)
Tax calculation will be finalised during checkout.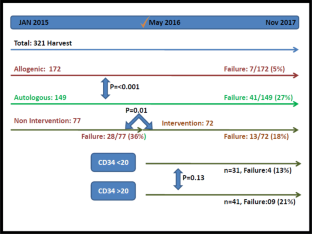 References
1.

Shpall EJ, Jones RB, Bearman SI, Franklin WA, Archer PG, Curiel T et al (1994) Transplantation of enriched CD34-positive autologous marrow into breast cancer patients following high-dose chemotherapy: influence of CD34-positive peripheral-blood progenitors and growth factors on engraftment. J Clin Oncol 12(1):28–36

2.

Chow E, Rao KV, Wood WA, Covington D, Armistead PM, Coghill J et al (2014) Effectiveness of an algorithm-based approach to the utilization of plerixafor in patients undergoing chemotherapy-based stem cell mobilization. Biol Blood Marrow Transplant J Am Soc Blood Marrow Transplant 20(7):1064–1068

3.

Barnett D, Janossy G, Lubenko A, Matutes E, Newland A, Reilly JT (1999) Guideline for the flow cytometric enumeration of CD34+ haematopoietic stem cells. Prepared by the CD34+ haematopoietic stem cell working party. General Haematology Task Force of the British Committee for Standards in Haematology. Clin Lab Haematol 21(5):301–308

4.

Villa CH, Shore T, Van Besien K, Cushing M (2012) Addition of plerixafor to mobilization regimens in autologous peripheral blood stem cell transplants does not affect the correlation of preharvest hematopoietic precursor cell enumeration with first-harvest CD34+ stem cell yield. Biol Blood Marrow Transplant J Am Soc Blood Marrow Transplant 18(12):1867–1875

5.

Bensinger W, DiPersio JF, McCarty JM (2009) Improving stem cell mobilization strategies: future directions. Bone Marrow Transplant 43(3):181–195

6.

Olivieri A, Marchetti M, Lemoli R, Tarella C, Iacone A, Lanza F et al (2012) Proposed definition of "poor mobilizer" in lymphoma and multiple myeloma: an analytic hierarchy process by ad hoc working group Gruppo ItalianoTrapianto di Midollo Osseo. Bone Marrow Transplant 47(3):342–351

7.

Kouroukis CT, Varela NP, Bredeson C, Kuruvilla J, Xenocostas A (2016) Plerixafor for autologous stem-cell mobilization and transplantation for patients in Ontario. Curr Oncol (Toronto, Ont) 23(4):e409–e430

8.

Giralt S, Costa L, Schriber J, Dipersio J, Maziarz R, McCarty J et al (2014) Optimizing autologous stem cell mobilization strategies to improve patient outcomes: consensus guidelines and recommendations. Biol Blood Marrow Transplant J Am Soc Blood Marrow Transplant 20(3):295–308

9.

Kumar R, Kapoor R, Asthana B, Singh J, Verma T, Chilaka R et al (2017) Single dose preemptive plerixafor for stem cell mobilization for ASCT after lenalidomide based therapy in multiple myeloma: impact in resource limited setting. Indian J Hematol Blood Transfus 33(4):463–469
Funding
The study is the retrospective analysis of the data of patients at the Rajiv Gandhi Cancer Hospital and Research Institute. No funding received. None of the authors has any financial relationship with any organization for current study as no sponsorship is received.
Ethics declarations
Conflict of interest
The authors declare that they have no conflict of interest.
Ethical Approval
The study involves a retrospective analysis of data and no animal subjects were involved.
Additional information
Disclaimers: The identity of the patient is not disclosed here in this case.
About this article
Cite this article
Agarwal, P., Tejwani, N., Pathak, A. et al. Benefits of Pre-harvest Peripheral Blood CD34 Counts Guided Single Dose Therapy with PLERIXAFOR in Autologous Hematopoietic Stem Cell Transplantation: A Retrospective Study at a Tertiary Care Institute in India. Indian J Hematol Blood Transfus 35, 72–76 (2019). https://doi.org/10.1007/s12288-018-0979-0
Received:

Accepted:

Published:

Issue Date:
Keywords