Zusammenfassung
Ameloblastome sind seltene, lokal invasiv wachsende Neubildungen der Kieferknochen, die zur Gruppe der benignen odontogenen Tumoren gezählt werden. In der Mehrzahl der Fälle (80 %) ist der Unterkiefer betroffen. Die Tumoren wachsen langsam und metastasieren i. d. R. selten. Ameloblastome weisen aufgrund einer ausgeprägten lokoregionären Invasion v. a. bei konservativ-chirurgischer Therapie (Enukleation oder Kürettage) eine hohe Rezidivrate auf. Die aktuelle Therapieempfehlung besteht in der lokalen In-sano-Resektion mit ausreichendem Sicherheitsabstand und bevorzugt einzeitiger Rekonstruktion bei histologischer Diagnosesicherung. Der Fortschritt in der molekularen Typisierung dieser Tumoren hat Mutationen im Bereich des BRAF-Gens aufgezeigt. Bei systemischer Metastasierung oder inoperablen, lokal fortgeschrittenen Rezidiven mit dieser Mutation kann eine entsprechende Antikörpertherapie (BRAF-Inhibition) zur Krankheitsremission führen.
Abstract
Ameloblastomas are rare neoplasms of the jaw with a local invasive growth pattern. They are related to benign odontogenic tumors. In most cases (80%), ameloblastomas arise from the mandible. They show a slow growth pattern and are associated with a low incidence of distant metastases. Due to their local invasiveness, these tumors show a high recurrence rate, especially when treated with conservative surgery (enucleation or curettage). Therefore, the current therapeutic approach recommends radical resection with adequate safety margins, complemented by simultaneous reconstruction. Latest molecular advances indicate frequent BRAF mutations in ameloblastomas. In case of distant metastases as well as locally advanced and inoperable recurrences, systemic antibody therapies (BRAF inhibition) can achieve disease remission.
Access options
Buy single article
Instant access to the full article PDF.
US$ 39.95
Tax calculation will be finalised during checkout.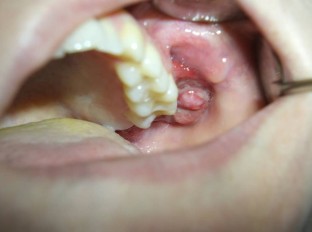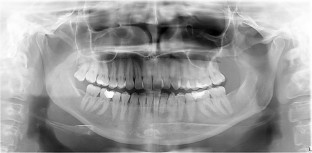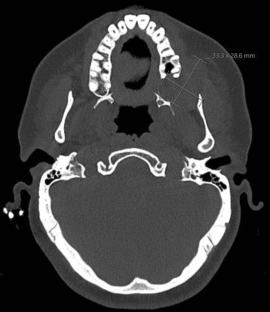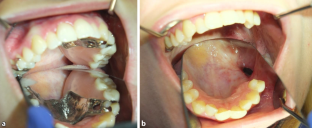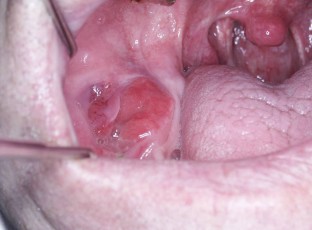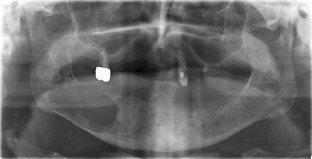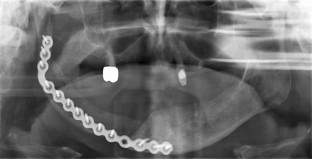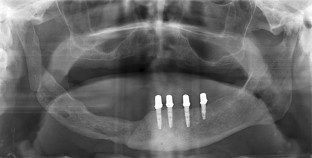 Literatur
1.

McClary AC, West RB, McClary AC et al (2016) Ameloblastoma: a clinical review and trends in management. Eur Arch Otorhinolaryngol 273:1649–1661

2.

Oomens MA, van der Waal I (2014) Epidemiology of ameloblastomas of the jaws; a report from the Netherlands. Med Oral Patol Oral Cir Bucal 19:e581–583

3.

Mendenhall WM, Werning JW, Fernandes R et al (2007) Ameloblastoma. Am J Clin Oncol 30:645–648

4.

Effiom OA, Ogundana OM, Akinshipo AO et al (2018) Ameloblastoma: current etiopathological concepts and management. Oral Dis 24:307–316

5.

Wright JM, Vered M (2017) Update from the 4th edition of the world health organization classification of head and neck tumours: odontogenic and maxillofacial bone tumors. Head Neck Pathol 11:68–77

6.

Wenig BM (2015) Atlas of head and neck pathology. Elsevier, Philadelphia, PA

7.

Becelli R, Carboni A, Cerulli G et al (2002) Mandibular ameloblastoma: analysis of surgical treatment carried out in 60 patients between 1977 and 1998. J Craniofac Surg 13:395–400 (discussion 400)

8.

El-Naggar AK, Chan JKC, Grandis JR et al (2017) WHO classification of head and neck tumours. International Agency for Research on Cancer, Lyon

9.

Reichart PA, Philipsen HP, Sonner S (1995) Ameloblastoma: biological profile of 3677 cases. Eur J Cancer, B, Oral Oncol 31b:86–99

10.

Schafer DR, Thompson LD, Smith BC et al (1998) Primary ameloblastoma of the sinonasal tract: a clinicopathologic study of 24 cases. Cancer 82:667–674

11.

Stanley HR, Diehl DL (1965) Ameloblastoma potential of follicular cysts. Oral Surg Oral Med Oral Pathol 20:260–268

12.

Singer SR, Mupparapu M, Philipone E (2009) Cone beam computed tomography findings in a case of plexiform ameloblastoma. Quintessence Int 40:627–630

13.

Underhill TE, Katz JO, Pope TL Jr. et al (1992) Radiologic findings of diseases involving the maxilla and mandible. AJR Am J Roentgenol 159:345–350

14.

Fujita M, Matsuzaki H, Yanagi Y et al (2013) Diagnostic value of MRI for odontogenic tumours. Dentomaxillofac Radiol 42:20120265

15.

Kawai T, Kishino M, Hiranuma H et al (1999) A unique case of desmoplastic ameloblastoma of the mandible: report of a case and brief review of the English language literature. Oral Surg Oral Med Oral Pathol Oral Radiol Endod 87:258–263

16.

Dunfee BL, Sakai O, Pistey R et al (2006) Radiologic and pathologic characteristics of benign and malignant lesions of the mandible. Radiographics 26:1751–1768

17.

Dhanuthai K, Chantarangsu S, Rojanawatsirivej S et al (2012) Ameloblastoma: a multicentric study. Oral Surg Oral Med Oral Pathol Oral Radiol 113:782–788

18.

Odukoya O, Effiom OA (2008) Clinicopathological study of 100 Nigerian cases of ameloblastoma. Niger Postgrad Med J 15:1–5

19.

Siar CH, Lau SH, Ng KH (2012) Ameloblastoma of the jaws: a retrospective analysis of 340 cases in a Malaysian population. J Oral Maxillofac Surg 70:608–615

20.

Dissanayake RK, Jayasooriya PR, Siriwardena DJ et al (2011) Review of metastasizing (malignant) ameloblastoma (METAM): pattern of metastasis and treatment. Oral Surg Oral Med Oral Pathol Oral Radiol Endod 111:734–741

21.

Van Dam SD, Unni KK, Keller EE (2010) Metastasizing (malignant) ameloblastoma: review of a unique histopathologic entity and report of Mayo Clinic experience. J Oral Maxillofac Surg 68:2962–2974

22.

Brown NA, Rolland D, Mchugh JB et al (2014) Activating FGFR2-RAS-BRAF mutations in ameloblastoma. Clin Cancer Res 20:5517–5526

23.

Kurppa KJ, Catón J, Morgan PR et al (2014) High frequency of BRAF V600E mutations in ameloblastoma. J Pathol 232:492–498

24.

Sweeney RT, Mcclary AC, Myers BR et al (2014) Identification of recurrent SMO and BRAF mutations in ameloblastomas. Nat Genet 46:722–725

25.

Diniz MG, Gomes CC, Guimarães BV et al (2015) Assessment of BRAFV600E and SMOF412E mutations in epithelial odontogenic tumours. Tumour Biol 36:5649–5653

26.

Wright JM, Soluk Tekkesin M (2017) Odontogenic tumors: where are we in 2017 ? J Istanb Univ Fac Dent 51:S10–S30

27.

Fernandes GS, Girardi DM, Bernardes JPG et al (2018) Clinical benefit and radiological response with BRAF inhibitor in a patient with recurrent ameloblastoma harboring V600E mutation. BMC Cancer 18:887

28.

Carlson ER, Marx RE (2006) The ameloblastoma: primary, curative surgical management. J Oral Maxillofac Surg 64:484–494

29.

Vayvada H, Mola F, Menderes A et al (2006) Surgical management of ameloblastoma in the mandible: segmental mandibulectomy and immediate reconstruction with free fibula or deep circumflex iliac artery flap (evaluation of the long-term esthetic and functional results). J Oral Maxillofac Surg 64:1532–1539

30.

Zwahlen RA, Grätz KW (2002) Maxillary ameloblastomas: a review of the literature and of a 15-year database. J Craniomaxillofac Surg 30:273–279

31.

Li TJ, Wu YT, Yu SF et al (2000) Unicystic ameloblastoma: a clinicopathologic study of 33 Chinese patients. Am J Surg Pathol 24:1385–1392

32.

Sham E, Leong J, Maher R et al (2009) Mandibular ameloblastoma: clinical experience and literature review. ANZ J Surg 79:739–744

33.

Urken ML, Buchbinder D, Costantino PD et al (1998) Oromandibular reconstruction using microvascular composite flaps: report of 210 cases. Arch Otolaryngol Head Neck Surg 124:46–55

34.

Urken ML, Buchbinder D, Weinberg H et al (1991) Functional evaluation following microvascular oromandibular reconstruction of the oral cancer patient: a comparative study of reconstructed and nonreconstructed patients. Laryngoscope 101:935–950

35.

Chana JS, Chang YM, Wei FC et al (2004) Segmental mandibulectomy and immediate free fibula osteoseptocutaneous flap reconstruction with endosteal implants: an ideal treatment method for mandibular ameloblastoma. Plast Reconstr Surg 113:80–87

36.

Pogrel MA, Podlesh S, Anthony JP et al (1997) A comparison of vascularized and nonvascularized bone grafts for reconstruction of mandibular continuity defects. J Oral Maxillofac Surg 55:1200–1206

37.

Zemann W, Feichtinger M, Kowatsch E et al (2007) Extensive ameloblastoma of the jaws: surgical management and immediate reconstruction using microvascular flaps. Oral Surg Oral Med Oral Pathol Oral Radiol Endod 103:190–196

38.

Foster RD, Anthony JP, Sharma A et al (1999) Vascularized bone flaps versus nonvascularized bone grafts for mandibular reconstruction: an outcome analysis of primary bony union and endosseous implant success. Head Neck 21:66–71

39.

Hidalgo DA, Pusic AL (2002) Free-flap mandibular reconstruction: a 10-year follow-up study. Plast Reconstr Surg 110:438–449 (discussion 450–431)

40.

Nastri AL, Wiesenfeld D, Radden BG et al (1995) Maxillary ameloblastoma: a retrospective study of 13 cases. Br J Oral Maxillofac Surg 33:28–32
Ethics declarations
Interessenkonflikt
Gemäß den Richtlinien des Springer Medizin Verlags werden Autoren und Wissenschaftliche Leitung im Rahmen der Manuskripterstellung und Manuskriptfreigabe aufgefordert, eine vollständige Erklärung zu ihren finanziellen und nichtfinanziellen Interessen abzugeben.
Autoren
M. Fehrenz: Finanzielle Interessen: keine. Nichtfinanzielle Interessen: Assistenzarzt, Klinik für Mund‑, Kiefer- und Gesichtschirurgie, Universitätsklinikum des Saarlandes. K. Freier: Finanzielle Interessen: keine. Nichtfinanzielle Interessen: Direktor, Klinik für Mund‑, Kiefer- und Gesichtschirurgie, Universitätsklinikum des Saarlandes. D. Horn: Finanzielle Interessen: keine. Nichtfinanzielle Interessen: Leitender Oberarzt und stellvertretender Klinikdirektor, Klinik für Mund‑, Kiefer- und Gesichtschirurgie, Universitätsklinikum des Saarlandes.
Wissenschaftliche Leitung
Die vollständige Erklärung zum Interessenkonflikt der Wissenschaftlichen Leitung finden Sie am Kurs der zertifizierten Fortbildung aufwww. springermedizin.de/cme.
Der Verlag
erklärt, dass für die Publikation dieser CME-Fortbildung keine Sponsorengelder an den Verlag fließen.
Für diesen Beitrag wurden von den Autoren keine Studien an Menschen oder Tieren durchgeführt. Für die aufgeführten Studien gelten die jeweils dort angegebenen ethischen Richtlinien.
Additional information
Wissenschaftliche Leitung
F. Blake, Bad Oldesloe
R. Bschorer, Schwerin
CME-Fragebogen
CME-Fragebogen
Welcher Subtyp des Ameloblastoms nach aktueller WHO-Einteilung tritt am häufigsten auf?
Konventionelles Ameloblastom
Unizystisches Ameloblastom
Peripheres/extraossäres Ameloblastom
Metastasierendes Ameloblastom
Keratozystisches Ameloblastom
Durch welche Eigenschaft zeichnen sich Ameloblastome charakteristischerweise am ehesten aus?
Häufige Metastasierung
Niedrige Rezidivrate
Lokal invasives Wachstum
Oberkiefer ist am häufigsten betroffen
Schnelles Wachstum
Welcher Sicherheitsabstand sollte bei der Entfernung eines konventionellen Ameloblastoms eingehalten werden?
0,1–0,5 cm
0,5–1,0 cm
1,0–1,5 cm
1,5–2,0 cm
2,0–2,5 cm
Molekularbiologisch zeigen Ameloblastome des Unterkiefers am häufigsten eine Mutation welchen Gens?
BRAFV600E
R2D2
HPV
HIV
HepC
Welche Befunddokumentation bzw. radiologische Diagnostik bleibt bei gesichertem Vorliegen eines Ameloblastoms i. d. R. Einzelfällen vorbehalten?
PET-CT
Panoramaschichtaufnahme
Computertomographie
Magnetresonanztomographie
Fotodokumentation
Welche primäre Therapieempfehlung besteht für das Ameloblastom?
Instillation von Carnoy-Lösung
Radiatio
System‑/Chemotherapie
Verlaufskontrolle
Chirurgische Therapie
Welche Lokalisation ist von einer Metastasierung eines Ameloblastoms am häufigsten betroffen?
Knochen
Lunge
Leber
Haut
Gehirn
Welche Möglichkeit der Rekonstruktion bietet sich für einen segmentalen Resektionsdefekt der Mandibula am ehesten an?
Nichtvaskularisiertes Fibulatransplantat
Singuläre Rekonstruktion mittels Rekonstruktionsplatte aus Titan
Mikrovaskuläres Radialistransplantat
Mikrochirurgisch revaskularisiertes Beckenkammtransplatat
Obturatorprothese
Wie lange sollen Patienten mit Ameloblastom nach aktueller Empfehlung klinisch und radiologisch nachbeobachtet werden?
Überhaupt nicht
1 Jahr
2 Jahre
3 Jahre
10 Jahre
Wie lautet die aktuelle Empfehlung (Goldstandard) zur Sicherung der Diagnose bei Verdacht auf ein Ameloblastom?
Anamnestisch
Durch Anfertigung einer 2‑D-Röntgenaufnahme des Schädels
Durch eine Feinnadelbiopsie
Durch eine offene Biopsie mit Gewinnung einer repräsentativen Histologie
Durch Anfertigung eines Magnetresonanztomogramms
About this article
Cite this article
Fehrenz, M., Freier, K. & Horn, D. Das Ameloblastom. MKG-Chirurg 14, 55–62 (2021). https://doi.org/10.1007/s12285-020-00284-0
Schlüsselwörter
Kiefertumoren

Odontogene Tumoren

Kopf-Hals-Tumoren

Knochentumoren

BRAF-Gen
Keywords
Jaw cancer

Head and neck neoplasms

Odontogenic tumors

Bone neoplasms

BRAF