Abstract
The health of breast cancer survivors (BCSs) is an essential concern worldwide. This review summarizes current knowledge and proposes a novel framework for understanding BCSs' transition experiences and adopting a more holistic view of transitional care to ensure a successful shift from patient-to-survivor. An integrative review was applied whereby we searched CINAHL, MEDLINE, PubMed, and ProQuest. Eleven qualitative and 16 experimental articles were extracted and evaluated. Constant comparison and matrix classification were used for data analysis, extraction, and synthesizing, which were circulated between the study findings and transitions theory. The breast cancer survivors' incorporated transition theory (BCSITT) encompasses the concepts of transition nature, conditions, intervention strategies, and patterns of response as developed from the data analysis. Facilitators and inhibitors of BCSs' transition experience in the personal, interpersonal, organizational, communal, societal dimensions as well as an empirical intervention of BCSs' transitional care from micro to macro levels are proposed. In conclusion, the BCSITT could provide comprehensive insights for understanding the phenomenon of BCSs' transition from primary treatment completion to self-management and serve as a holistic framework to guide clinical practice and research for BCSs' transitional care. Health care professionals need to assess the readiness of BCSs for transition and provide early interventions for enhancing BCSs' mastering of new skills to manage the challenges of transition. Incorporating stakeholders at each level and providing a comprehensive continuum of care may successfully assist BCSs' patient-to-survivor transition.
Access options
Buy single article
Instant access to the full article PDF.
US$ 39.95
Tax calculation will be finalised during checkout.
Subscribe to journal
Immediate online access to all issues from 2019. Subscription will auto renew annually.
US$ 79
Tax calculation will be finalised during checkout.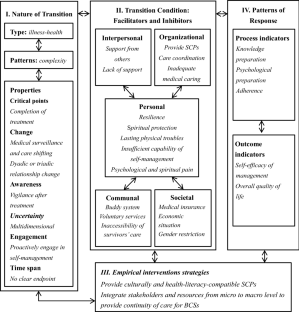 References
1.

Bray F, Ferlay J, Soerjomataram I, Siegel RL, Torre LA, Jemal A. Global cancer statistics 2018: GLOBOCAN estimates of incidence and mortality worldwide for 36 cancers in 185 countries. CA Cancer J Clin. 2018;0:1–31.

2.

Tao JJ, Visvanathan K, Wolff AC. Long term side effects of adjuvant chemotherapy in patients with early breast cancer. Breast J. 2015;24:149–53.

3.

Oberguggenberger A, Martini C, Huber N, Fallowfield L, Hubalek M, Daniaux M, et al. Self-reported sexual health: breast cancer survivors compared to women from the general population-an observational study. BMC Cancer. 2017;17:599–608.

4.

Keesing S, Rosenwax L, McNamara B. The implications of women's activity limitations and role disruptions during breast cancer survivorship. Womens Health (Lond). 2018;14:1–11.

5.

Fang SY, Lee KT. "From patient to survivor": women's experience with breast cancer after 5 years. Cancer Nurs. 2016;39:E40–8.

6.

Mollica M, Nemeth L. Transition from patient to survivor in African American breast cancer survivors. Cancer Nurs. 2015;38:16–22.

7.

Chao YH, Lee TI, Sheu SJ. Survey of the factors of influence and interventional strategies for breast cancer survivors' transition care across multiple theoretical perspectives. Hu Li Za Zhi J Nurs. 2018;65:83–9.

8.

Allen JD, Savadatti S, Gurmankin LA. The transition from breast cancer 'patient' to 'survivor'. Psychooncology. 2009;18:71–8.

9.

Kantsiper M, McDonald EL, Geller G, Shockney L, Snyder C, Wolff AC. Transitioning to breast cancer survivorship: perspectives of patients, cancer specialists, and primary care providers. J Gen Intern Med. 2009;24:459–66.

10.

Cimprich B, Janz NK, Northouse L, Wren PA, Given B, Given CW. Taking CHARGE: a self-management program for women following breast cancer treatment. Psychooncology. 2005;14:704–17.

11.

Meneses KD, McNees P, Loerzel VW, Su X, Zhang Y, Hassey LA. Transition from treatment to survivorship: effects of a psychoeducational intervention on quality of life in breast cancer survivors. Oncol Nurs Forum. 2007;34:1007–166.

12.

Roundtree AK, Giordano SH, Price A, Suarez-Almazor ME. Problems in transition and quality of care: perspectives of breast cancer survivors. Support Care Cancer. 2011;19:1921–9.

13.

Tompkins C, Scanlon K, Scott E, Ream E, Harding S, Armes J. Survivorship care and support following treatment for breast cancer: a multi-ethnic comparative qualitative study of women's experiences. BMC Health Serv Res. 2016;16:401–15.

14.

Meleis AI, Sawyer LM, Im E-O, Messias DKH, Schumacher K. Experiencing transitions: an emerging middle-range theory. Adv Nurs Sci. 2000;23:12–28.

15.

Carpiano RM, Daley DM. A guide and glossary on postpositivist theory building for population health. J Epidemiol Commun Health. 2006;60:564–70.

16.

Im E-O. Transitions theory: a trajectory of theoretical development in nursing. Nurs Outlook. 2011;59:278–85.

17.

Whittemore R, Knafl K. The integrative review: updated methodology. J Adv Nurs. 2005;52:546–53.

18.

Critical Appraisal Skills Program. CASP qualitative checklist. https://casp-uk.net/casp-tools-checklists. Accessed 13 August 2018.

19.

Critical Appraisal Skills Program. CASP randomised controlled trial checklist. https://casp-uk.net/casp-tools-checklists. Accessed 13 August 2018.

20.

Hong QN, Gonzalez-Reyes A, Pluye P. Improving the usefulness of a tool for appraising the quality of qualitative, quantitative and mixed methods studies, the Mixed Methods Appraisal Tool (MMAT). J Eval Clin Pract. 2018;24:459–67.

21.

Kvale EA, Meneses K, Demark-Wahnefried W, Bakitas M, Ritchie C. Formative research in the development of a care transition intervention in breast cancer survivors. Eur J Oncol Nurs. 2015;19:329–35.

22.

Cappiello M, Cunningham RS, Knobf MT, Erdos D. Breast cancer survivors: Information and support after treatment. Clin Nurs Res. 2007;16:278–93.

23.

Burg MA, Lopez EDS, Dailey A, Keller ME, Prendergast B. The potential of survivorship care plans in primary care follow-up of minority breast cancer patients. J Gen Intern Med. 2009;24:467–71.

24.

Tisnado DM, Mendez-Luck C, Metz J, Peirce K, Montaño B. Perceptions of survivorship care among Latina women with breast cancer in Los Angeles County. Public Health Nurs. 2017;34:118–29.

25.

Sterba KR, Burris JL, Heiney SP, Ruppel MB, Ford ME, Zapka J. "We both just trusted and leaned on the Lord": a qualitative study of religiousness and spirituality among African American breast cancer survivors and their caregivers. Qual Life Res. 2014;23:1909–20.

26.

Smith SL, Singh-Carlson S, Downie L, Payeur N, Wai ES. Survivors of breast cancer: patient perspectives on survivorship care planning. J Cancer Surviv. 2011;5:337–44.

27.

Hershman DL, Greenlee H, Awad D, Kalinsky K, Maurer M, Kranwinkel G, et al. Randomized controlled trial of a clinic-based survivorship intervention following adjuvant therapy in breast cancer survivors. Breast Cancer Res Treat. 2013;138:795–806.

28.

Greenlee H, Molmenti CL, Crew KD, Awad D, Kalinsky K, Brafman L, et al. Survivorship care plans and adherence to lifestyle recommendations among breast cancer survivors. J Cancer Surviv. 2016;10:956–63.

29.

Ulloa JG, Hemmelgarn M, Viveros L, Odele P, Feldman NR, Ganz PA, et al. Improving breast cancer survivors' knowledge using a patient-centered intervention. Surgery. 2015;158:669–75.

30.

Chan A, Gan YX, Oh SK, Ng T, Shwe M, Chan R, et al. A culturally adapted survivorship programme for Asian early stage breast cancer patients in Singapore: a randomized, controlled trial. Psychooncology. 2017;26:1654–9.

31.

Maly RC, Liang L-J, Liu Y, Griggs JJ, Ganz PA. Randomized controlled trial of survivorship care plans among low-income, predominantly Latina breast cancer survivors. J Clin Oncol. 2017;35:1814–21.

32.

Bulloch KJ, Irwin ML, Chagpar AB, Pusztai L, Killelea BK, Horowitz NR, et al. Systematic approach to providing breast cancer survivors with survivorship care plans: a feasibility study. J Oncol Pract. 2015;11:e170–e176176.

33.

Park J-H, Bae SH, Jung YS, Kim KS. Quality of life and symptom experience in breast cancer survivors after participating in a psychoeducational support program: a pilot study. Cancer Nurs. 2012;35:E34–41.

34.

van den Berg SW, Gielissen MF, Custers JA, van der Graaf WT, Ottevanger PB, Prins JB. BREATH: web-based self-management for psychological adjustment after primary breast cancer-results of a multicenter randomized controlled trial. J Clin Oncol. 2015;33:2763–71.

35.

Mollica MA, Nemeth LS, Newman SD, Mueller M, Sterba K. Peer navigation in African American breast cancer survivors. Patient Relat Outcome Meas. 2014;5:131–44.

36.

Pauwels E, Van Hoof E, Charlier C, Lechner L, De Bourdeaudhuij I. Design and process evaluation of an informative website tailored to breast cancer survivors' and intimate partners' post-treatment care needs. BMC Health Serv Res. 2012;5:578–91.

37.

Grunfeld E, Julian JA, Pond G, Maunsell E, Coyle D, Folkes A, et al. Evaluating survivorship care plans: results of a randomized, clinical trial of patients with breast cancer. J Clin Oncol. 2011;29:4755–62.

38.

Boekhout AH, Maunsell E, Pond GR, Julian JA, Coyle D, Levine MN, et al. A survivorship care plan for breast cancer survivors: extended results of a randomized clinical trial. J Cancer Surviv. 2015;9:683–91.

39.

Wheelock A, Mihalis E, Hamolsky D, Ernest ML, Lopez NS, Hwang J, et al. Survivorship clinic group educational sessions: adoption, acceptance, and attendance. J Cancer Educ. 2013;28:79–83.

40.

Thomas R, Gifford W, Hammond C. Writing toward well-being: a qualitative study of community-based workshops with breast cancer survivors. Can Oncol Nurs J. 2017;27(2):178–95.

41.

Mishel MH. Reconceptualization of the uncertainty in illness theory. Image J Nurs Sch. 1990;22:256–62.

42.

Zhang Y. Uncertainty in illness: Theory review, application, and extension. Oncol Nurs Forum. 2017;44(6):645–9.
Acknowledgments
Authors gratefully acknowledge Prof. Tzu-I Tsai for her suggestion toward writing.
Funding
This research received a grant support from the Ministry of Science and Technology (MOST, 108-2511-H-010-002-MY2) in Taiwan, the Republic of China.
Ethics declarations
Conflict of interest
The authors declare that they have no conflict of interest.
Ethical approval
This article does not contain any studies with human participants or animals performed by any of the authors.
Additional information
Publisher's Note
Springer Nature remains neutral with regard to jurisdictional claims in published maps and institutional affiliations.
About this article
Cite this article
Chao, YH., Wang, SY. & Sheu, SJ. Integrative review of breast cancer survivors' transition experience and transitional care: dialog with transition theory perspectives. Breast Cancer 27, 810–818 (2020). https://doi.org/10.1007/s12282-020-01097-w
Received:

Accepted:

Published:

Issue Date:
Keywords
Breast cancer survivors

Transitional care

Transitions theory

Integrative review