Abstract
Background
Chemotherapy-induced taste and smell alterations in cancer patients are associated with multiple adverse effects, namely, malnutrition, weight loss, and a diminished quality of life. The aim of this prospective study was to identify the incidence of taste alterations following epirubicin and cyclophosphamide (EC) chemotherapy in patients with breast cancer without previous history of cancer or chemotherapy.
Methods
Forty-one patients undergoing EC chemotherapy for breast cancer at Tokai University Hospital were included. A subjective (questionnaire) and an objective (filter paper disk method) assessment for 5 basic tastes were administered on day 4 post-chemotherapy and immediately before the subsequent cycle of chemotherapy for each cycle, in addition to an olfactory evaluation and oral examination. The correlation between subjective and objective taste alterations and factors influencing these alterations were analyzed by statistical means.
Results
The mean incidence of subjective taste alteration on the 4th day after chemotherapy was 53%. In each of the 4 cycles, taste alterations decreased to about 9.0% immediately before the next cycle. A significant correlation between subjective and objective assessments was seen only for salty taste, suggesting important differences in subjective versus objective assessment outcomes. A multivariate analysis indicated that age and body surface area influenced taste alterations.
Conclusions
EC chemotherapy induced taste alterations in more than 50% of patients, which decreased to less than 10% immediately before the next chemotherapy cycle. A combination of objective and subjective assessments is essential to evaluate taste alterations induced by EC chemotherapy. These could be used in routine clinical practice.
Access options
Buy single article
Instant access to the full article PDF.
US$ 39.95
Tax calculation will be finalised during checkout.
Subscribe to journal
Immediate online access to all issues from 2019. Subscription will auto renew annually.
US$ 79
Tax calculation will be finalised during checkout.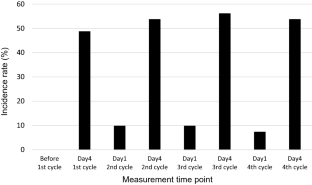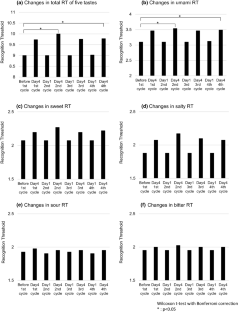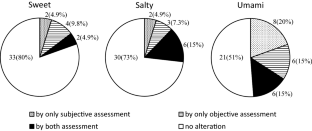 Abbreviations
CT:

Chemotherapy

EC:

Epirubicin and cyclophosphamide

FPD:

Filter paper disk

ΔHb:

The difference in the pre-chemotherapy hemoglobin concentration and the lowest concentration during chemotherapy

G-CSF:

Granulocyte-colony-stimulating factor

RT:

Recognition threshold
References
1.

Steinbach S, Hummel T, Böhner C, Berktold S, Hundt W, Kriner M, et al. Qualitative and quantitative assessment of taste and smell changes in patients undergoing chemotherapy for breast cancer or gynecologic malignancies. J Clin Oncol. 2009;27:1899–905.

2.

Hovan AJ, Williams PM, Stevenson-Moore P, Wahlin YB, Ohrn KE, Elting LS, et al. Dysgeusia Section, Oral Care Study Group, Multinational Association of Supportive Care in Cancer (MASCC)/International Society of Oral Oncology (ISOO). A systematic review of dysgeusia induced by cancer therapies. Support Care Cancer. 2010;18:1081–7.

3.

Gamper E, Zabernigg A, Wintner LM, Giesinger JM, Oberguggenberger A, Kemmler G, et al. Coming to your senses: detecting taste and smell alterations in chemotherapy patients: a systematic review. J Pain Symptom Manag. 2012;44:880–95.

4.

Mahmoud FA, Aktas A, Walsh D, Hullihen B. A pilot study of taste changes among hospice in patients with advanced cancer. Am J Hosp Palliat Care. 2011;28:487–92.

5.

Spotten LE, Corish CA, Lorton CM, Ui Dhuibhir PM, O'donoghue NC, O'Connor B, et al. Subjective and objective taste and smell changes in cancer. Ann Oncol. 2017;28:969–84.

6.

Mueller C, Kallert S, Renner B, Stiassny K, Temmel AF, Hummel T, et al. Quantitative assessment of gustatory function in a clinical context using impregnated "taste strips". Rhinology. 2003;41:2–6.

7.

Bernhardson BM, Tishelman C, Rutqvist LE. Self-reported taste and smell changes during cancer chemotherapy. Support Care Cancer. 2008;16:275–83.

8.

Nishijima S, Yanase T, Tsuneki I, Tamura M, Kurabayashi T. Examination of the taste disorder associated with gynecological cancer chemotherapy. Gynecol Oncol. 2013;131:674–8.

9.

Imai H, Soeda H, Komine K, Otsuka K, Shibata H. Preliminary estimation of the prevalence of chemotherapy-induced dysgeusia in Japanese patients with cancer. BMC Palliat Care. 2013;12:38.

10.

Sánchez-lara K, Sosa-Sánchez R, Green-Renner D, Rodríguez C, Laviano A, Motola-Kuba D, et al. Influence of taste disorders on dietary behaviors in cancer patients under chemotherapy. Nutr J. 2010;9:1–6.

11.

Chaudhari N, Landin AM, Roper SD. A metabotropic glutamate receptor variant functions as a taste receptor. Nat Neurosci. 2000;3:113–9.

12.

Satoh-kuriwada S, Kawai M, Iikubo M, Sekine-Hayakawa Y, Shoji N, Uneyama H, et al. Development of an umami taste sensitivity test and its clinical use. PLoS ONE. 2014;9:e95177.

13.

Fujio H, Doi K, Hasegawa S, Kobayakawa T, Nibu KI. Evaluation of card-type odor identification test for Japanese patients with olfactory disturbance. Ann Otol Rhinol Laryngol. 2012;121:413–8.

14.

Eliers J, Berger AM, Petersen MC. Development, testing and application of the oral assessment guide. Oncol Nurs Forum. 1988;15:325–30.

15.

Zabernigg A, Gamper EM, Giesinger JM, Rumpold G, Kemmler G, Gattringer K, et al. Taste alterations in cancer patients receiving chemotherapy. Oncologist. 2010;15:913–20.

16.

Ishikawa T, Morita J, Kawachi K, Tagashira H. Incidence of dysgeusia associated with chemotherapy for cancer. Gan To Kagaku Ryoho. 2013;40:1049–54 (Japanese, abstract in English).

17.

Comeau TB, Epstein JB, Migas C. Taste and smell dysfunction in patients receiving chemotherapy: a review of current knowledge. Support Care Cancer. 2001;9:575–80.

18.

Beidler LM, Smallman RL. Renewal of cells within taste buds. J Cell Biol. 1965;27:263–72.

19.

Farbman AI. Renewal of taste bud cells in rat circumvallate papillae. Cell Prolif. 1980;13:349–57.

20.

Hong JH, Omur-Ozbek P, Stanek BT, Dietrich AM, Duncan SE, Lee YW, et al. Taste and odor abnormalities in cancer patients. J Support Oncol. 2009;7:58–655.

21.

Just T, Sakagami M. Taste testing. In: Welge-Luessen A, Hummel T, editors. Management of smell and taste disorders. Stuttgart: Thieme Medical Publisher; 2014. p. 168–178.

22.

Tomita H, Ikeda M, Okuda Y. Basis and practice of clinical taste examinations. Auris Nasus Larynx. 1986;13(Suppl 1):S1–.

23.

Nolden A, Joseph PV, Kober KM, Cooper BA, Paul SM, Hammer MJ, et al. Co-occurring gastrointestinal symptoms are associated with taste changes in oncology patients receiving chemotherapy. J Pain Symptom Manag. 2019;58:756–65.

24.

Niijima A. Reflex effects of oral, gastrointestinal and hepatoportal glutamate sensors on vagal nerve activity. J Nutr. 2000;130:971–3.

25.

Sasano T, Satoh-Kuriwada S, Shoji N, Iikubo M, Kawai M, Uneyama H, et al. Important role of umami taste sensitivity in oral and overall health. Curr Pharm Des. 2014;20:2750–4.

26.

Gamper E, Giesinger JM, Oberguggenberger A, Kemmler G, Wintner LM, Gattringer K, et al. Taste alterations in breast and gynaecological cancer patients receiving chemotherapy: prevalence, course of severity, and quality of life correlates. Acta Oncol. 2012;51:490–6.

27.

Okada N, Hanafusa T, Abe S, Sato C, Nakamura T, Teraoka K, et al. Evaluation of the risk factors associated with high-dose chemotherapy-induced dysgeusia in patients undergoing autologous hematopoietic stem cell transplantation: possible usefulness of cryotherapy in dysgeusia prevention. Support Care Cancer. 2016;24:3979–85.

28.

Mizukami Y, Sato J, Nihei S, Kashiwaba M, Kudo K, Okuyama H, et al. The effectiveness of polaprezinc preparation for taste alteration in cancer chemotherapy. Gan To Kagaku Ryoho. 2016;43:979–83 (Japanese, abstract in English).

29.

Boyce JM, Shone GR. Effects of ageing on smell and taste. Postgrad Med J. 2006;82:239–41.

30.

Vennemann MM, Hummel T, Berger K. The association between smoking and smell and taste impairment in the general population. J Neurol. 2008;255:1121–6.

31.

Stokman MA, Spijkervet FKL. Preventive intervention possibilities in radiotherapy- and chemotherapy-induced oral mucositis: results of meta-analyses. J Dent Res. 2006;85:690–700.

32.

Karthaus M, Rosenthal C, Huebner G, Paul H, Elser C, Hertenstein B, et al. Effect of topical oral G-CSF on oral mucositis: a randomised placebo-controlled trial. Bone Marrow Transplant. 1998;22:781–5.
Funding
This study was supported by Japan Society for the Promotion of Science (Grant number: JP17K12020 and JP17H04673) from the Ministry of Education, Culture, Sports, Science and Technology, Japan. The funding body had no role in the design of the study; collection, analysis, or interpretation of the data; writing of the manuscript; or the decision to submit the manuscript for publication.
Ethics declarations
Conflict of interest
The authors declare that they have no conflict of interest.
Ethical approval
All procedures performed in studies involving human participants were in accordance with the ethical standards of the institutional and/or national research committee and with the 1964 Helsinki Declaration and its later amendments or comparable ethical standards.
Informed consent
Informed consent was obtained from all individual participants included in the study.
Additional information
Publisher's Note
Springer Nature remains neutral with regard to jurisdictional claims in published maps and institutional affiliations.
Electronic supplementary material
Below is the link to the electronic supplementary material.
About this article
Cite this article
Denda, Y., Niikura, N., Satoh-Kuriwada, S. et al. Taste alterations in patients with breast cancer following chemotherapy: a cohort study. Breast Cancer 27, 954–962 (2020). https://doi.org/10.1007/s12282-020-01089-w
Received:

Accepted:

Published:

Issue Date:
Keywords
Breast cancer

Chemotherapy

Cohort study

Smell alterations

Taste alterations