Abstract
Background
Upper-limb lymphedema is a well-known complication of breast cancer and its treatment. This retrospective cohort study aims to determine what risk factors affect breast cancer-related lymphedema in patients with breast cancer.
Methods
This retrospective study comprised patients diagnosed with breast cancer and who underwent surgery at Wakayama Medical University Hospital between January 1, 2012 and December 31, 2018. Assessed factors using univariate and multivariate analyses were patient-related factors (age, gender, and BMI), breast cancer-related factors (tumor size, nodal status, histology, tumor location, and intrinsic subtype), and treatment-related factors (type of surgery, application, timing and regimen of chemotherapy, and application of radiotherapy).
Results
This study included 1041 patients. BMI did not affect the onset of breast cancer-related lymphedema. There were only six sentinel lymph node biopsy cases in the breast cancer-related lymphedema group (6.6%). In cases of axillary lymph node dissection, adjuvant chemotherapy was marginally associated with increased risk of breast cancer-related lymphedema compared to no chemotherapy (HR 2.566; 95% CI 0.955–6.892; p = 0.0616). Among anti-cancer agents, docetaxel (HR 3.790; 95% CI 1.413–10.167; p = 0.0081) and anti-HER2 therapy (HR 2.507; 95% CI 1.083–5.803; p = 0.0318) were associated with increased risk of lymphedema according to multivariate analysis. Neo-adjuvant chemotherapy did not affect the onset of breast cancer-related lymphedema. Radiotherapy (HR 2.525; 95% CI 1.364–4.676; p = 0.0032) was an important risk factor for breast cancer-related lymphedema.
Conclusions
Axillary lymph node dissection, radiotherapy and adjuvant chemotherapy, especially docetaxel, were risk factors for breast cancer-related lymphedema, but BMI and neo-adjuvant chemotherapy were not.
Access options
Buy single article
Instant access to the full article PDF.
US$ 39.95
Tax calculation will be finalised during checkout.
Subscribe to journal
Immediate online access to all issues from 2019. Subscription will auto renew annually.
US$ 79
Tax calculation will be finalised during checkout.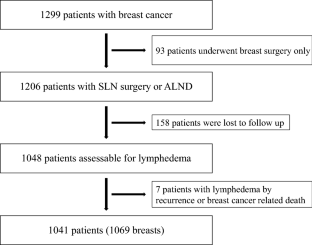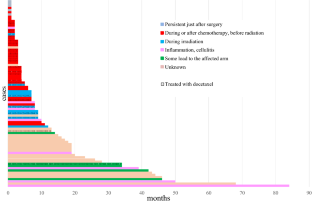 References
1.

Chachaj A, Małyszczak K, Pyszel K, et al. Physical and psychological impairments of women with upper limb lymphedema following breast cancer treatment. Psycho-oncol. 2010;19:299–305. https://doi.org/10.1002/pon.1573.

2.

Heiney SP, McWayne J, Cunningham JE, et al. Quality of life and lymphedema following breast cancer. Lymphology. 2007;40:177–84.

3.

Mak SS, Mo KF, Suen JJS, et al. Lymphedema and quality of life in Chinese women after treatment for breast cancer. Eur J Oncol Nurs. 2009;13:110–5. https://doi.org/10.1016/j.ejon.2009.01.005.

4.

Fu MR, Ridner SH, Hu SH, et al. Psychosocial impact of lymphedema: a systematic review of the literature from 2004–2011. Psycho-oncol. 2013;22:1466–84. https://doi.org/10.1002/pon.3201.

5.

Ridner SH, Dietrich MS, Kidd N. Breast cancer treatment related lymphedema self-care: education, practices, symptoms, and quality of life. Support Care Cancer. 2011;19:631–7. https://doi.org/10.1007/s00520-010-0870-5.

6.

Giuliano AE, Hunt KK, Ballman KV, et al. Axillary dissection vs no axillary dissection in women with invasive breast cancer and sentinel node metastasis: a randomized clinical trial. JAMA. 2011;305:569–75.

7.

Donker M, van Tienhoven G, Straver M, Meijnen P, van de Velde CJ, Mansel RE, et al. Radiotherapy or surgery of the axilla after a positive sentinel node in breast cancer (EORTC 10981–22023 AMAROS): a randomized, multicentre, open-label, phase III non-inferiority trial. Lancet Oncol. 2014;15(12):1303–10. https://doi.org/10.1016/S1470-2045(14)70460-7.

8.

Ashikaga T, Krag DN, Land SR, Julian TB, Anderson SJ, Brown AM, et al. Morbidity results from the NSABP B-32 trial comparing sentinel lymph node dissection versus axillary dissection. J Surg Oncol. 2010;102:111–8. https://doi.org/10.1002/jso.21535.

9.

Neilsen HM, Friis RB, Linnet S, Offersen BV. Loco-regional morbidity after breast conservation and axillary lymph node dissection for early breast cancer with or without regional nodes radiotherapy, perspectives in modern breast cancer treatment: the Skagen trial 1 is active. Acta Oncol. 2017;56(5):713–8. https://doi.org/10.1080/0284186X.2016.1277261.

10.

Kilbreath SL, Refshauge KM, Beith JM, Ward LC, Ung OA, Dylke ES, et al. Risk factors for lymphoedema in women with breast cancer: a large prospective cohort. Breast. 2016;28:29–36. https://doi.org/10.1016/j.breast.2016.04.011.

11.

Soran A, Menekse E, Girgis M, DeGore L, Johnson R. Breast cancer-related lymphedema after axillary lymph node dissection: does early postoperative prediction model work? Support Care Cancer. 2016;24:1413–9. https://doi.org/10.1007/s00520-015-2933-0.

12.

Guenzi M, Blandino G, Vidili MG, Aloi D, Configliacco E, Verzanini E, et al. Hypofractionated irradiation of intra-supraclavicular lymph nodes after axillary dissection in patients with breast cancer post-conservative surgery: impact on late toxicity. Radiat Oncol. 2015;10:177. https://doi.org/10.1186/s13014-015-0480-y.

13.

Lee MJ, Beith J, Ward L, Kilbreath S. Lymphedema following taxane-based chemotherapy in women early breast cancer. Lymphat Res Biol. 2014;12:282–8. https://doi.org/10.1089/lrb.2014.0030.

14.

DiSipio T, Rye S, Newman B, Hayes S. Incidence of unilateral arm lymphoedema after breast cancer: a systematic review and meta-analysis. Lancet Oncol. 2013;14:500–15.

15.

Bentzen SM, Dische S. Morbidity related to axillary irradiation in the treatment of breast cancer. Acta Oncol. 2000;39:337–47.

16.

Meek AG. Breast radiotherapy and lymphedema. Cancer. 1998;83:2788–97.

17.

Senkus-Konefka E, Jassem J. Complications of breast-cancer radiotherapy. Clin Oncol (R Coll Radiol). 2006;18:229–35.

18.

Kwan ML, Darbinian J, Schmitz KH, Citron R, Partee P, Kutner SE, et al. Risk factors for lymphedema in a prospective breast cancer survivorship study: the Pathways Study. Arch Surg. 2010;145:1055–63.

19.

Whitworth PW, Cooper A. Reducing chronic breast cancer-related lymphedema utilizing a program of prospective surveillance with bioimpedance spectroscopy. Breast J. 2018;24(1):62–5.

20.

Cornish BH, Chapman M, Hirst C, et al. Early diagnosis of lymphedema using multiple frequency bioimpedance. Lymphology. 2001;34(1):2–11.

21.

Reichart K. Lymphedema: improving screening and treatment among at-risk breast cancer survivors. Clin J Oncol Nurs. 2017;21(1):21–5.

22.

Soran A, Ozmen T, McGuire KP, et al. The importance of detection of subclinical lymphedema for the prevention of breast cancer-related clinical lymphedema after axillary lymph node dissection; a prospective observational study. Lymphatic Res Biol. 2014;12(4):289–94.

23.

Norman SA, Localio AR, Potashnik SL, et al. Lymphedema in breast cancer survivors: incidence, degree, time course, treatment, and symptoms. J Clin Oncol. 2009;27(3):390–7.

24.

International Society of Lymphology. The diagnosis and treatment of peripheral lymphedema. Consensus document of the international society of lymphology. Lymphology. 2003;36:84–91

25.

Vignes S, Lebrun-Vignes B. Sclerodermiform aspect of arm lymphoedema after treatment with docetaxel for breast cancer. J Eur Acad Dermatol Venereol. 2007;21:1131–3.

26.

Hidding JT, Beurskens CHG, van der Wees PJ, et al. Changes in volume and incidence of lymphedema during and after treatment with docetaxel, doxorubicin, and cyclophosphamide (TAC) in patients with breast cancer. Support Care Cancer. 2018;26:1383–92. https://doi.org/10.1007/s00520-017-3907-1.

27.

Moore JE Jr, Bertram CD. Lymphatic system flows. Annu Rev Fluid Mech. 2018;50:459–82. https://doi.org/10.1146/annurev-fluid-122316-045259.

28.

Tiwari P, Coriddi M, Salani R, Povoski SP. Breast and gynecologic cancer-related extremity lymphedema: a review of diagnostic modalities and management options. World J Surg Oncol. 2013;11(237):13.

29.

Armer JM, Ballman KV, McCall L, et al. Factors associated with lymphedema in women with node-positive breast cancer treated with neoadjuvant chemotherapy and axillary dissection. JAMA Surg. 2019. https://doi.org/10.1001/jamasurg.2019.1742.

30.

Toi M, Nakamura S, Kuroi K, et al. Phase II study of preoperative sequential FEC and docetaxel predicts of pathological response and disease free survival. Breast Cancer Res Treat. 2008;110:531–9.
Acknowledgements
We acknowledge proofreading and editing by Benjamin Phillis at the Clinical Study Support Center at Wakayama Medical University.
Ethics declarations
Conflicts of interest
The authors declare that they have no conflicts of interest.
Research Ethics and Patient Consent
The study was approved by the Wakayama Medical University Hospital Institutional Review Board (2818) and was conducted in accordance with the 1964 Declaration of Helsinki and its later amendments or comparable ethical standards. This study was retrospective, so according to committee procedures, study information was available at the site of the related facilities where it could be easily checked in lieu of using a consent form. Formal consent is not required for this type of study.
Additional information
Publisher's Note
Springer Nature remains neutral with regard to jurisdictional claims in published maps and institutional affiliations.
About this article
Cite this article
Aoishi, Y., Oura, S., Nishiguchi, H. et al. Risk factors for breast cancer-related lymphedema: correlation with docetaxel administration. Breast Cancer 27, 929–937 (2020). https://doi.org/10.1007/s12282-020-01088-x
Received:

Accepted:

Published:

Issue Date:
Keywords
Breast cancer

Breast cancer-related lymphedema (BCRL)

Axillary lymph node dissection

Docetaxel

Radiation