Imaging resolution of biocatalytic activity using nanoscale scanning electrochemical microscopy
Abstract
Scanning electrochemical microscopy represents a powerful tool for electro(chemical) characterization of surfaces, but its applicability has been limited in most cases at microscale spatial resolution, and the greatest challenge has been the scaling down to the nanoscale for fabrication and the use of nanometer-sized tips. Here, Pt nanoelectrodes with nanometer electroactive area were fabricated and employed for imaging a distribution of gold nanoparticles (AuNPs) and bioelectrocatalytic activity of a redox-active enzyme immobilized on gold surfaces.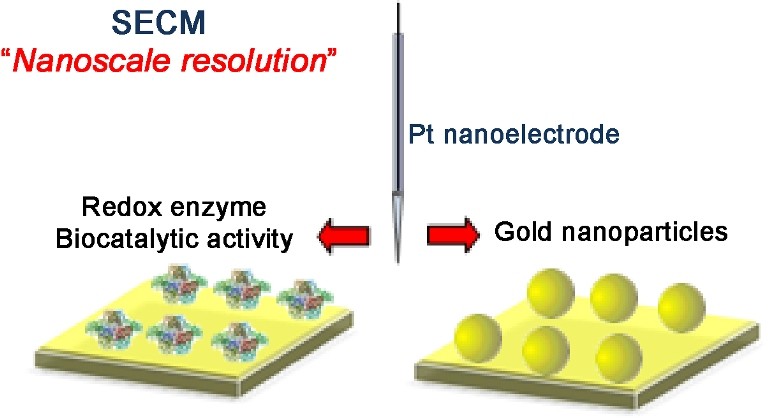 Keywords
scanning electrochemical microscopy 
gold nanoparticle 
redox enzyme 
nanoelectrode 
lactate oxidase 
Notes
Acknowledgements
J. M. A. acknowledges research funding by a "Ramon y Cajal" contract from the Spanish Ministry of Science and Innovation. A. Y. T. acknowledges a fellowship from CONICET and Fundación Carolina. We are grateful to Prof. Luis Vázquez and Tech. Andrés Valera (ICMM-CSIC) for carrying out AFM and SEM measurements, respectively. The authors also thank Dr. Elena Casero (UAM) for support in the use of SECM instrumentation and Prof. H. D. Abruña for critically reviewing this manuscript.
Copyright information
© Tsinghua University Press and Springer-Verlag GmbH Germany, part of Springer Nature 2018