Abstract
Gestational diabetes mellitus (GDM) is a conditional diabetes which is defined as any degree of glucose intolerance or high blood glucose levels during any phase of pregnancy. It causes chronic severe damage to health of the pregnant women and their offspring. In this study, we aimed to study the protective effects of Cryptotanshinone on GDM-related impairments. We measured blood glucose levels, serum insulin levels, biochemical indexes, oxidative stress, inflammation and the activation of NF-κB signaling pathway in the blood and placenta of GDM mice. It is found that Cryptotanshinone significantly decreased blood glucose levels, oxidative stress, inflammation and NF-κB signaling with an increase of serum insulin levels in the placenta and blood of GDM mice. Taken together, Cryptotanshinone effectively ameliorated GDM, which suggested that Cryptotanshinone could be served as a promising therapeutic drug for GDM patients.
This is a preview of subscription content, log in to check access.
Access options
Buy single article
Instant access to the full article PDF.
US$ 39.95
Price includes VAT for USA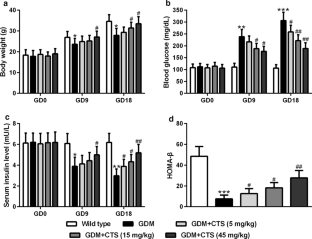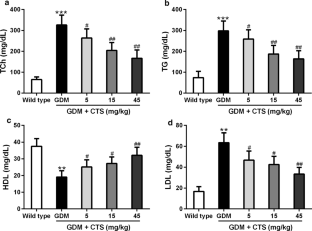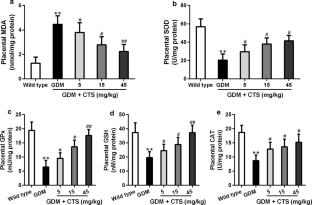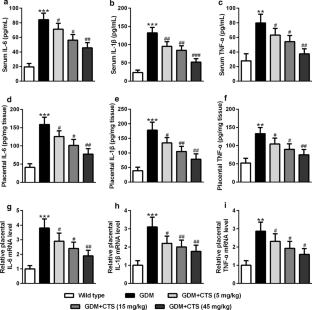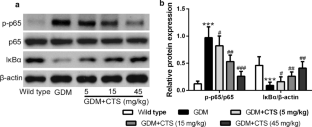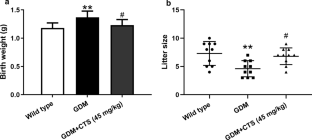 References
Alfadhli EM (2015) Gestational diabetes mellitus. Saudi Med J 36:399–406. https://doi.org/10.15537/smj.2015.4.10307

Badehnoosh B, Karamali M, Zarrati M, Jamilian M, Bahmani F, Tajabadi-Ebrahimi M, Jafari P, Rahmani E, Asemi Z (2018) The effects of probiotic supplementation on biomarkers of inflammation, oxidative stress and pregnancy outcomes in gestational diabetes. J Matern Fetal Neonatal Med 31:1128–1136. https://doi.org/10.1080/14767058.2017.1310193

Chen W, Lu Y, Chen G, Huang S (2013) Molecular evidence of cryptotanshinone for treatment and prevention of human cancer. Anticancer Agents Med Chem 13:979–987. https://doi.org/10.2174/18715206113139990115

Chiefari E, Arcidiacono B, Foti D, Brunetti A (2017) Gestational diabetes mellitus: an updated overview. J Endocrinol Invest 40:899–909. https://doi.org/10.1007/s40618-016-0607-5

Chong CM, Su H, Lu JJ, Wang Y (2019) The effects of bioactive components from the rhizome of Salvia miltiorrhiza (Danshen) on the characteristics of Alzheimer's disease. Chin Med 14:19. https://doi.org/10.1186/s13020-019-0242-0

Coughlan MT, Permezel M, Georgiou HM, Rice GE (2004) Repression of oxidant-induced nuclear factor-kappaB activity mediates placental cytokine responses in gestational diabetes. J Clin Endocrinol Metab 89:3585–3594. https://doi.org/10.1210/jc.2003-031953

Feng H, Su R, Song Y, Wang C, Lin L, Ma J, Yang H (2016) Positive correlation between enhanced expression of TLR4/MyD88/NF-kappaB with insulin resistance in placentae of gestational diabetes mellitus. PLoS ONE 11:e0157185. https://doi.org/10.1371/journal.pone.0157185

Fu J, Fu J, Yuan J, Zhang N, Gao B, Fu G, Tu Y, Zhang Y (2012) Anti-diabetic activities of Acanthopanax senticosus polysaccharide (ASP) in combination with metformin. Int J Biol Macromol 50:619–623. https://doi.org/10.1016/j.ijbiomac.2012.01.034

Goh JE, Sadler L, Rowan J (2011) Metformin for gestational diabetes in routine clinical practice. Diabet Med 28:1082–1087. https://doi.org/10.1111/j.1464-5491.2011.03361.x

Guo Y, Li Y, Xue L, Severino RP, Gao S, Niu J, Qin LP, Zhang D, Bromme D (2014) Salvia miltiorrhiza: an ancient Chinese herbal medicine as a source for anti-osteoporotic drugs. J Ethnopharmacol 155:1401–1416. https://doi.org/10.1016/j.jep.2014.07.058

Jiang G, Liu J, Ren B, Zhang L, Owusu L, Liu L, Zhang J, Tang Y, Li W (2017) Anti-tumor and chemosensitization effects of Cryptotanshinone extracted from Salvia miltiorrhiza Bge. on ovarian cancer cells in vitro. J Ethnopharmacol 205:33–40. https://doi.org/10.1016/j.jep.2017.04.026

Khambule L, George JA (2019) The role of inflammation in the development of GDM and the use of markers of inflammation in GDM screening. Adv Exp Med Biol 1134:217–242. https://doi.org/10.1007/978-3-030-12668-1_12

Kuzmicki M, Telejko B, Wawrusiewicz-Kurylonek N, Lipinska D, Pliszka J, Wilk J, Zielinska A, Skibicka J, Szamatowicz J, Kretowski A, Gorska M (2013) The expression of genes involved in NF-kappaB activation in peripheral blood mononuclear cells of patients with gestational diabetes. Eur J Endocrinol 168:419–427. https://doi.org/10.1530/eje-12-0654

Liu S, Han Z, Trivett AL, Lin H, Hannifin S, Yang OJJ (2019) Cryptotanshinone has curative dual anti-proliferative and immunotherapeutic effects on mouse Lewis lung carcinoma. Cancer Immunol Immunother 68:1059–1071. https://doi.org/10.1007/s00262-019-02326-8

Liu Z, Luo H, Zhang L, Huang Y, Liu B, Ma K, Feng J, Xie J, Zheng J, Hu J, Zhan S, Zhu Y, Xu Q, Kong W, Wang X (2012) Hyperhomocysteinemia exaggerates adventitial inflammation and angiotensin II-induced abdominal aortic aneurysm in mice. Circ Res 111:1261–1273. https://doi.org/10.1161/circresaha.112.270520

Lo SH, Hsu CT, Niu HS, Niu CS, Cheng JT, Chen ZC (2017) Cryptotanshinone inhibits STAT3 signaling to alleviate cardiac fibrosis in Type 1-like diabetic rats. Phytother Res 31:638–646. https://doi.org/10.1002/ptr.5777

Ma Y, Li H, Yue Z, Guo J, Xu S, Xu J, Jia Y, Yu N, Zhang B, Liu S, Liu M, Shao W, Chen S, Liu P (2014) Cryptotanshinone attenuates cardiac fibrosis via downregulation of COX-2, NOX-2, and NOX-4. J Cardiovasc Pharmacol 64:28–37. https://doi.org/10.1097/fjc.0000000000000086

Pantham P, Aye IL, Powell TL (2015) Inflammation in maternal obesity and gestational diabetes mellitus. Placenta 36:709–715. https://doi.org/10.1016/j.placenta.2015.04.006

Ren J, Fu L, Nile SH, Zhang J, Kai G (2019) Salvia miltiorrhiza in treating cardiovascular diseases: a review on its pharmacological and clinical applications. Front Pharmacol 10:753. https://doi.org/10.3389/fphar.2019.00753

Suman RK, Mohanty IR, Maheshwari U, Borde MK, Deshmukh YA (2016) Natural dipeptidyl peptidase-IV inhibitor mangiferin mitigates diabetes- and metabolic syndrome-induced changes in experimental rats. Diabetes Metab Syndr Obes 9:261–272. https://doi.org/10.2147/dmso.s109599

Sun HN, Luo YH, Meng LQ, Piao XJ, Wang Y, Wang JR, Wang H, Zhang Y, Li JQ, Xu WT, Liu Y, Zhang Y, Zhang T, Han YH, Jin MH, Shen GN, Zang YQ, Cao LK, Zhang DJ, Jin CH (2019) Cryptotanshinone induces reactive oxygen speciesmediated apoptosis in human rheumatoid arthritis fibroblastlike synoviocytes. Int J Mol Med 43:1067–1075. https://doi.org/10.3892/ijmm.2018.4012

Wang W, Huang M, Hui Y, Yuan P, Guo X, Wang K (2018a) Cryptotanshinone inhibits RANKL-induced osteoclastogenesis by regulating ERK and NF-kappaB signaling pathways. J Cell Biochem. https://doi.org/10.1002/jcb.28008

Wang W, Wang X, Zhang XS, Liang CZ (2018b) Cryptotanshinone attenuates oxidative stress and inflammation through the regulation of Nrf-2 and NF-kappaB in mice with unilateral ureteral obstruction. Basic Clin Pharmacol Toxicol 123:714–720. https://doi.org/10.1111/bcpt.13091

Wang Y, Lu HL, Liu YD, Yang LY, Jiang QK, Zhu XJ, Fan HN, Qian Y (2017) Cryptotanshinone sensitizes antitumor effect of paclitaxel on tongue squamous cell carcinoma growth by inhibiting the JAK/STAT3 signaling pathway. Biomed Pharmacother 95:1388–1396. https://doi.org/10.1016/j.biopha.2017.09.062

Wei B, Ta N, Li J, Zhang JF, Chen BL (2010) Relationship between the inhibition of NF-kappaB and insulin resistance in uterrus of rats with gestational diabetes mellitus. Xi Bao Yu Fen Zi Mian Yi Xue Za Zhi 26(235–237):241

Wensel TM (2009) Role of metformin in the treatment of gestational diabetes. Ann Pharmacother 43:939–943. https://doi.org/10.1345/aph.1L562

Yao L, Wan J, Li H, Ding J, Wang Y, Wang X, Li M (2015) Resveratrol relieves gestational diabetes mellitus in mice through activating AMPK. Reprod Biol Endocrinol 13:118. https://doi.org/10.1186/s12958-015-0114-0

Yu B, Liu Z, Fu Y, Wang Y, Zhang L, Cai Z, Yu F, Wang X, Zhou J, Kong W (2017) CYLD deubiquitinates nicotinamide adenine dinucleotide phosphate oxidase 4 contributing to adventitial remodeling. Arterioscler Thromb Vasc Biol 37:1698–1709. https://doi.org/10.1161/atvbaha.117.309859

Zeng Z, Xu Y, Zhang B (2017) Antidiabetic activity of a lotus leaf selenium (Se)-polysaccharide in rats with gestational diabetes mellitus. Biol Trace Elem Res 176:321–327. https://doi.org/10.1007/s12011-016-0829-6

Zhu R, Wang W, Yang S (2019) Cryptotanshinone inhibits hypoxia/reoxygenation-induced oxidative stress and apoptosis in renal tubular epithelial cells. J Cell Biochem 120:13354–13360. https://doi.org/10.1002/jcb.28609
Ethics declarations
Conflicts of interest
No competing financial interests exist.
Additional information
Publisher's Note
Springer Nature remains neutral with regard to jurisdictional claims in published maps and institutional affiliations.
Electronic supplementary material
Below is the link to the electronic supplementary material.
About this article
Cite this article
Wang, N., Dong, X., Shi, D. et al. Cryptotanshinone ameliorates placental oxidative stress and inflammation in mice with gestational diabetes mellitus. Arch. Pharm. Res. (2020). https://doi.org/10.1007/s12272-020-01242-1
Received:

Accepted:

Published:
Keywords
Gestational diabetes mellitus

Cryptotanshinone

Placental

Oxidative stress

Inflammation