Abstract
This study aimed to verify the reliability of ablation index (AI) for ablation lesion estimating with different settings for radiofrequency (RF) parameters: power, impedance, contact angles, irrigation rate, temperature of irrigation saline, and irrigation solution. RF ablations (N = 66) were performed on ex vivo porcine left ventricle submerged in 37 °C saline. The aforementioned ablation parameters were changed to measure whether the size of the ablation lesion was consistent at a fixed AI value of 500. The maximum lesion diameter (r = − 0.631, P = 0.028), depth (r = − 0.896, P < 0.001), and volume (r = − 0.745, P < 0.005) were significantly reduced with an increase of the impedance. The lesion depth (P < 0.05) and the lesion volume (P < 0.05) were significantly larger with glucose irrigation than saline irrigation. In conclusion, at a fixed AI value, impedance and irrigation solution have impact on the ablation lesions, which could affect the accuracy of AI formula to estimate ablation lesion size.

This is a preview of subscription content, log in to check access.
Access options
Buy single article
Instant access to the full article PDF.
US$ 39.95
Price includes VAT for USA
Subscribe to journal
Immediate online access to all issues from 2019. Subscription will auto renew annually.
US$ 99
This is the net price. Taxes to be calculated in checkout.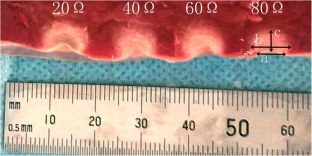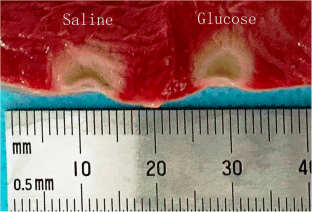 Abbreviations
AF:

Atrial fibrillation

AI:

Ablation index

CF:

Contact force

PVI:

Pulmonary vein isolation

RF:

Radiofrequency

TTC:

2,3,5-Triphenyte-trazoliumchloride
References
1.

Phlips, T., Taghji, P., El Haddad, M., Wolf, M., Knecht, S., Vandekerckhove, Y., et al. (2018). Improving procedural and one-year outcome after contact force-guided pulmonary vein isolation: The role of interlesion distance, ablation index, and contact force variability in the 'CLOSE'-protocol. Europace, 20(Fi_3), f419–f41l. https://doi.org/10.1093/europace/eux376.

2.

Calkins, H., Hindricks, G., Cappato, R., Kim, Y. H., Saad, E. B., Aguinaga, L., et al. (2017). 2017 HRS/EHRA/ECAS/APHRS/SOLAECE expert consensus statement on catheter and surgical ablation of atrial fibrillation: Executive summary. Journal of Arrhythmia, 33(5), 369–409. https://doi.org/10.1016/j.joa.2017.08.001.

3.

Taghji, P., El Haddad, M., Phlips, T., Wolf, M., Knecht, S., Vandekerckhove, Y., et al. (2018). Evaluation of a strategy aiming to enclose the pulmonary veins with contiguous and optimized radiofrequency lesions in paroxysmal atrial fibrillation: A pilot study. JACC: Clinical Electrophysiology, 4(1), 99–108. https://doi.org/10.1016/j.jacep.2017.06.023.

4.

Das, M., Loveday, J. J., Wynn, G. J., Gomes, S., Saeed, Y., Bonnett, L. J., et al. (2017). Ablation index, a novel marker of ablation lesion quality: Prediction of pulmonary vein reconnection at repeat electrophysiology study and regional differences in target values. Europace, 19(5), 775–783. https://doi.org/10.1093/europace/euw105.

5.

Solimene, F., Schillaci, V., Shopova, G., Urraro, F., Arestia, A., Iuliano, A., et al. (2019). Safety and efficacy of atrial fibrillation ablation guided by Ablation Index module. Journal of Interventional Cardiac Electrophysiology, 54(1), 9–15. https://doi.org/10.1007/s10840-018-0420-5.

6.

Nakagawa, H., Ikeda, A., Govari, A., Papaioannou, T., Constantine, G., Bar-Tal, M., et al. (2013). Prospective study using a new formula incorporating contact force, radiofrequency power and application time (force-power-time index) for quantifying lesion formation to guide long continuous atrial lesions in the beating canine heart. [Meeting Abstract]. Circulation, 128(22), 1.

7.

Aryana, A., O'Neill, P. G., Pujara, D. K., Singh, S. K., Bowers, M. R., Allen, S. L., et al. (2016). Impact of irrigation flow rate and intrapericardial fluid on cooled-tip epicardial radiofrequency ablation. Heart Rhythm, 13(8), 1602–1611. https://doi.org/10.1016/j.hrthm.2016.05.008.

8.

Kawaji, T., Hojo, S., Kushiyama, A., Nakatsuma, K., Kaneda, K., Kato, M., et al. (2019). Limitations of lesion quality estimated by ablation index: An in vitro study. Journal of Cardiovascular Electrophysiology, 30(6), 926–933. https://doi.org/10.1111/jce.13928.

9.

Barkagan, M., Rottmann, M., Leshem, E., Shen, C., Buxton, A. E., & Anter, E. (2018). Effect of baseline impedance on ablation lesion dimensions. Circulation. Arrhythmia and Electrophysiology, 11(10), e006690. https://doi.org/10.1161/circep.118.006690.

10.

Nguyen, D. T., Olson, M., Zheng, L., Barham, W., Moss, J. D., & Sauer, W. H. (2015). Effect of irrigant characteristics on lesion formation after radiofrequency energy delivery using ablation catheters with actively cooled tips. Journal of Cardiovascular Electrophysiology, 26(7), 792–798. https://doi.org/10.1111/jce.12682.
Acknowledgments
We thank Wen-Hao Huang, Chi Zhang, and Yi-Xin Wang for operating the Carto System.
Funding
This work was supported by the National Key Research and Development Program of China (2017YFC0908803, 2017YFC0908800, 2018YFC1312501), the Beijing Municipal Science and Technology Commission (Z181100001718105, Z181100001718174), and the National Natural Science Foundation of China (81530016, 81870243).
Ethics declarations
Conflict of Interest
The authors declare that they have no conflict of interest.
Ethical Approval
This article does not contain any studies with human participants or animals performed by any of the authors.
Additional information
Publisher's Note
Springer Nature remains neutral with regard to jurisdictional claims in published maps and institutional affiliations.
Associate Editor Yihua Bei oversaw the review of this article
About this article
Cite this article
Huang, S., Dong, J., Du, X. et al. Relationship Between Ablation Lesion Size Estimated by Ablation Index and Different Ablation Settings—an Ex Vivo Porcine Heart Study. J. of Cardiovasc. Trans. Res. (2020). https://doi.org/10.1007/s12265-020-10037-0
Received:

Accepted:

Published:
Keywords
Ablation index

Impedance

Radiofrequency ablation