Abstract
This cross-sectional study focused on the association between heart rate variability (HRV) and early repolarization pattern (ERP). It included 1236 patients categorized into three groups: ERP type 1: J-point elevation with notched/slurred QRS; ERP type 2: ST elevation without dominant J-wave; and non-ERP group. Analyzing time-domain indexes include standard deviation of NN (normal-to-normal) RR intervals (SDNN), root mean square of successive difference in NN RR intervals (RMSSD), and proportion of consecutive NN intervals that differ by more than 50 ms (PNN50), there were significant differences between any two groups (all P < 0.01). All time-domain indexes showed: ERP type 2 > ERP type 1 > non-ERP. Multivariate logistic regression analysis revealed that SDNN at nighttime and gender were independently associated with the maximum magnitude of J-point elevation ≧ 0.2 mV. The findings strongly suggested that based on electrocardiogram characteristics, parasympathetic tone denoted by HRV may be related to different types of ERP.
This is a preview of subscription content, log in to check access.
Access options
Buy single article
Instant access to the full article PDF.
US$ 39.95
Price includes VAT for USA
Subscribe to journal
Immediate online access to all issues from 2019. Subscription will auto renew annually.
US$ 99
This is the net price. Taxes to be calculated in checkout.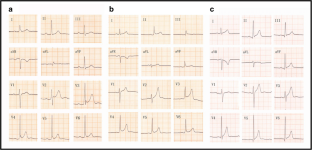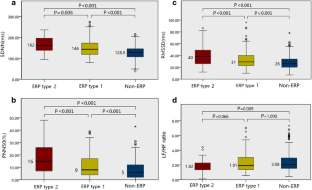 References
1.

Tikkanen, J. T., Anttonen, O., Junttila, M. J., et al. (2009). Long-term outcome associated with early repolarization on electrocardiography [J]. N Engl J Med, 361(26), 2529–2537.

2.

Olson, K. A., Viera, A. J., Soliman, E. Z., et al. (2011). Long-term prognosis associated with J-point elevation in a large middle-aged biracial cohort: the ARIC study [J]. Eur Heart J, 32(24), 3098–3106.

3.

Sinner, M. F., Reinhard, W., Muller, M., et al. (2010). Association of early repolarization pattern on ECG with risk of cardiac and all-cause mortality: a population-based prospective cohort study (MONICA/KORA) [J]. PLoS Med, 7(7), e1000314.

4.

Uberoi, A., Jain, N. A., Perez, M., et al. (2011). Early repolarization in an ambulatory clinical population [J]. Circulation, 124(20), 2208–2214.

5.

Haruta, D., Matsuo, K., Tsuneto, A., et al. (2011). Incidence and prognostic value of early repolarization pattern in the 12-lead electrocardiogram [J]. Circulation, 123(25), 2931–2937.

6.

Junttila, M. J., Tikkanen, J. T., Kentta, T., et al. (2014). Early repolarization as a predictor of arrhythmic and nonarrhythmic cardiac events in middle-aged subjects [J]. Heart Rhythm : the official journal of the Heart Rhythm Society, 11(10), 1701–1706.

7.

Wu, S. H., Lin, X. X., Cheng, Y. J., et al. (2013). Early repolarization pattern and risk for arrhythmia death: a meta-analysis [J]. J Am Coll Cardiol, 61(6), 645–650.

8.

Cheng, Y.-J., Li, Z.-Y., Yao, F.-J., et al. (2017). Early repolarization is associated with a significantly increased risk of ventricular arrhythmias and sudden cardiac death in patients with structural heart diseases [J]. Heart Rhythm : the official journal of the Heart Rhythm Society, 14(8), 1157–1164.

9.

Rosso, R., Kogan, E., Belhassen, B., et al. (2008). J-point elevation in survivors of primary ventricular fibrillation and matched control subjects: incidence and clinical significance [J]. J Am Coll Cardiol, 52(15), 1231–1238.

10.

Cappato, R., Furlanello, F., Giovinazzo, V., et al. (2010). J wave, QRS slurring, and ST elevation in athletes with cardiac arrest in the absence of heart disease: marker of risk or innocent bystander? [J]. Circ Arrhythm Electrophysiol, 3(4), 305–311.

11.

Haïssaguerre, M., Derval, N., Sacher, F., et al. (2008). Sudden cardiac arrest associated with early repolarization [J]. N Engl J Med, 358(19), 2016–2023.

12.

Levy, M. N. (1990). Autonomic interactions in cardiac control. Ann N Y Acad Sci, 601, 209–221.

13.

Draghici, A. E., & Taylor, J. A. (2016). The physiological basis and measurement of heart rate variability in humans. J Physiol Anthropol, 35, 22.

14.

Patton, K. K., Ellinor, P. T., Ezekowitz, M., et al. (2016). Electrocardiographic early repolarization [J]. Circulation, 133(15), 1520–1529.

15.

Antzelevitch, C., Sicouri, S., Litovsky, S. H., et al. (1991). Heterogeneity within the ventricular wall. Electrophysiology and pharmacology of epicardial, endocardial, and M cells [J]. Circ Res, 69(6), 1427–1449.

16.

Antzelevitch, C., & Yan, G. X. (2011). J-wave syndromes. From cell to bedside [J]. J Electrocardiol, 44(6), 656–661.

17.

Badri, M., Patel, A., & Yan, G. X. (2015). Cellular and ionic basis of J-wave syndromes [J]. Trends Cardiovas Med, 25(1), 12–21.

18.

Shinohara, T., Kondo, H., Otsubo, T., et al. (2017). Exaggerated reactivity of parasympathetic nerves is involved in ventricular fibrillation in J-wave syndrome [J]. J Cardiovasc Electrophysiol, 28(3), 321–326.
Funding
The study was financially supported by grants from the National Natural Science Foundation of China (Nos. 81370285 and 81970206), Guangdong Natural Science Foundation (2019A1515010269), and Guangzhou City Science and Technology key Program (No. 201508020057).
Ethics declarations
Conflict of Interest
The authors declare that they have no conflict of interest.
Human Subjects/Informed Consent Statement
This study was conducted with the consent of the ethics committee of the first affiliated hospital of Sun Yat-Sen University. It was conducted in accordance with the Helsinki Declaration of 1975 (revised in year 2000). The subjects of this study were 1236 patients treated in the first affiliated hospital of Sun Yat-Sen university between January 2018 and February 2019. All participants provided a written informed consent agreeing to participate in the study.
Additional information
Publisher's Note
Springer Nature remains neutral with regard to jurisdictional claims in published maps and institutional affiliations.
About this article
Cite this article
Chen, X., Fan, J., Cheng, Y. et al. Autonomic Influences Related to Early Repolarization in Patients Without Structural Heart Disease. J. of Cardiovasc. Trans. Res. (2020). https://doi.org/10.1007/s12265-020-10033-4
Received:

Accepted:

Published:
Keywords
Early repolarization

Heart rate variability

Parasympathetic tone