This is a preview of subscription content, log in to check access.
Access options
Buy single article
Instant access to the full article PDF.
US$ 39.95
Price includes VAT for USA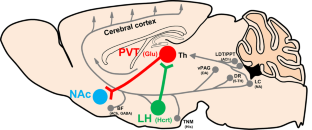 References
1.

Moruzzi G, Magoun HW. Brain stem reticular formation and activation of the EEG. Electroencephalogr Clin Neurophysiol 1949, 1: 455–473.

2.

Steriade M, Timofeev I. Neuronal plasticity in thalamocortical networks during sleep and waking oscillations. Neuron 2003, 37: 563–576.

3.

Lee SH, Dan Y. Neuromodulation of brain states. Neuron 2012, 76: 209–222.

4.

Lin JS, Anaclet C, Sergeeva OA, Haas HL. The waking brain: an update. Cell Mol Life Sci 2011, 68: 2499–2512.

5.

Ren S, Wang Y, Yue F, Cheng X, Dang R, Qiao Q, et al. The paraventricular thalamus is a critical thalamic area for wakefulness. Science 2018, 362: 429–434.

6.

Gent TC, Bassetti C, Adamantidis AR. Sleep-wake control and the thalamus. Curr Opin Neurobiol 2018, 52: 188–197.

7.

Luo YJ, Li YD, Wang L, Yang SR, Yuan XS, Wang J, et al. Nucleus accumbens controls wakefulness by a subpopulation of neurons expressing dopamine D1 receptors. Nat Commun 2018, 9: 1576.

8.

Mátyás F, Komlósi G, Babiczky Á, Kocsis K, Barthó P, Barsy B, et al. A highly collateralized thalamic cell type with arousal-predicting activity serves as a key hub for graded state transitions in the forebrain. Nat Neurosci 2018, 21: 1551–1562.

9.

Gent TC, Bandarabadi M, Herrera CG, Adamantidis AR. Thalamic dual control of sleep and wakefulness. Nat Neurosci 2018, 21(7): 974–984.

10.

Poulet JF, Fernandez LM, Crochet S, Petersen CC. Thalamic control of cortical states. Nat Neurosci 2012, 15: 370–372.

11.

Hermann DM, Siccoli M, Brugger P, Wachter K, Mathis J, Achermann P, et al. Evolution of neurological, neuropsychological and sleep-wake disturbances after paramedian thalamic stroke. Stroke 2008, 39: 62–68.
Acknowledgements
This highlight was supported by grants from the National Natural Science Foundation of China (81471347, 81771426, and 31500853) and by the Talent-Introducing Project of State Administration of Foreign Experts Affairs of China (X2017008).
Ethics declarations
Conflict of interest
The authors declare no potential conflicts of interest.
About this article
Cite this article
Shao, Y., Lin, J. & Hou, Y. Paraventricular Thalamus as A Major Thalamic Structure for Wake Control. Neurosci. Bull. 35, 946–948 (2019). https://doi.org/10.1007/s12264-019-00364-x
Received:

Accepted:

Published:

Issue Date: