Abstract
Obesity is a major global public health problem with a rapidly increasing prevalence. Bariatric surgery is the most effective treatment for morbid obesity and comorbidities that provides continuing weight loss for patients with severe obesity. The purpose of this cohort study is to create a suitable platform for developing evidence and assessing the health status of obese patients that can eventually promote the provision of health care and educational services to obese patients throughout the country. Iran Obesity and Metabolic Surgery is a prospective cohort study that started in 2008 and is ongoing. Laboratory tests and doctors' visits are performed by a multidisciplinary team of experts in preoperative and postoperative follow-up at least up to 10 years post operation. A total of 19,730 patients entered the study from November 2008 to March 2018. Of these, 7922 patients were treated through surgery. Of those who underwent surgery, 80% were women and 36.2% were 30–40 years old. This cohort study responds to questions about the factors affecting the prognosis of patients, the survival of patients, the selection of an appropriate type of surgery for each case, the potential complications, the best follow-up times for the patients, and improvements in comorbidities. This study also seeks to create and expand collaboration through data linkage with other cohorts and registration centers and increase the use of the data existing in the databases. Based on the research findings, it is recommended to modify the bariatric surgery guidelines toward an evidence-based treatment approach for obesity.
Access options
Buy single article
Instant access to the full article PDF.
US$ 39.95
Tax calculation will be finalised during checkout.
Subscribe to journal
Immediate online access to all issues from 2019. Subscription will auto renew annually.
US$ 79
Tax calculation will be finalised during checkout.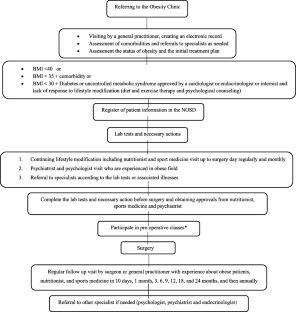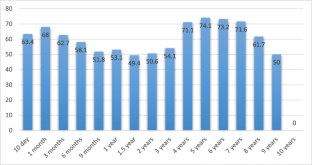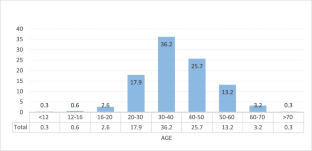 References
1.

Kelly T, Yang W, Chen C-S, Reynolds K, He J (2008) Global burden of obesity in 2005 and projections to 2030. Int J Obes 32(9):1431–1437

2.

Jafari-Adli S, Jouyandeh Z, Qorbani M, Soroush A, Larijani B, Hasani-Ranjbar S (2014) Prevalence of obesity and overweight in adults and children in Iran; a systematic review. J Diabetes Metabolic Disord 13(1):121

3.

Seidell JC, Halberstadt J (2015) The global burden of obesity and the challenges of prevention. Ann Nutr Metab 66(Suppl. 2):7–12

4.

Ng M, Fleming T, Robinson M, Thomson B, Graetz N, Margono C, Mullany EC, Biryukov S, Abbafati C, Abera SF (2014) Global, regional, and national prevalence of overweight and obesity in children and adults during 1980–2013: a systematic analysis for the Global Burden of Disease Study 2013. Lancet 384(9945):766–781

5.

Taylor VH, Forhan M, Vigod SN, McIntyre RS, Morrison KM (2013) The impact of obesity on quality of life. Best Pract Res Clin Endocrinol Metab 27(2):139–146

6.

Yao T-C, Tsai H-J, Chang S-W, Chung R-H, Hsu J-Y, Tsai M-H, Liao S-L, Hua M-C, Lai S-H, Chen L-C (2017) Obesity disproportionately impacts lung volumes, airflow and exhaled nitric oxide in children. PLoS One 12(4):e0174691

7.

Esmaili H, Bahreynian M, Qorbani M, Motlagh ME, Ardalan G, Heshmat R, Kelishadi R (2015) Prevalence of general and abdominal obesity in a nationally representative sample of Iranian children and adolescents: the CASPIAN-IV study. Iran J Pediatr 25(3):e401

8.

Mokdad AH, Forouzanfar MH, Daoud F, El Bcheraoui C, Moradi-Lakeh M, Khalil I, Afshin A, Tuffaha M, Charara R, Barber RM (2016) Health in times of uncertainty in the eastern Mediterranean region, 1990–2013: a systematic analysis for the Global Burden of Disease Study 2013. Lancet Glob Health 4(10):e704–e713

9.

Rahmani A, Sayehmiri K, Asadollahi K, Sarokhani D, Islami F, Sarokhani M (2015) Investigation of the prevalence of obesity in Iran: a systematic review and meta-analysis study. Acta Medica Iranica 53(10):596–607

10.

Collaborators GO (2017) Health effects of overweight and obesity in 195 countries over 25 years. N Engl J Med 377(1):13–27

11.

Mokdad AH (2017) Burden of obesity in the Eastern Mediterranean Region: findings from the Global Burden of Disease 2015 study. Int J Public Health 63:165–176. https://doi.org/10.1007/s00038-017-1002-5

12.

Barzin M, Hosseinpanah F, Motamedi MA, Shapoori P, Arian P, Daneshpour MA, Asghari G, Teymoornejad A, Eslamifar A, Khalili D (2016) Bariatric surgery for morbid obesity: Tehran obesity treatment study (TOTS) rationale and study design. JMIR Res Protoc 5(1):e8

13.

Picot J, Jones J, Colquitt J, Gospodarevskaya E, Loveman E, Baxter L, Clegg A (2009) The clinical effectiveness and cost-effectiveness of bariatric (weight loss) surgery for obesity: a systematic review and economic evaluation. Health Technol Assess (Winchester, Engl) 13(41):1–190

14.

Gloy VL, Briel M, Bhatt DL, Kashyap SR, Schauer PR, Mingrone G, Bucher HC, Nordmann AJ (2013) Bariatric surgery versus non-surgical treatment for obesity: a systematic review and meta-analysis of randomised controlled trials. Bmj 347:f5934

15.

Yanovski SZ, Yanovski JA (2014) Long-term drug treatment for obesity: a systematic and clinical review. Jama 311(1):74–86

16.

Dombrowski SU, Knittle K, Avenell A, Araujo-Soares V, Sniehotta FF (2014) Long term maintenance of weight loss with non-surgical interventions in obese adults: systematic review and meta-analyses of randomised controlled trials. Bmj 348:g2646

18.

Sjöström L, Narbro K, Sjöström CD, Karason K, Larsson B, Wedel H, Lystig T, Sullivan M, Bouchard C, Carlsson B (2007) Effects of bariatric surgery on mortality in Swedish obese subjects. N Engl J Med 357(8):741–752

19.

Adams TD, Gress RE, Smith SC, Halverson RC, Simper SC, Rosamond WD, LaMonte MJ, Stroup AM, Hunt SC (2007) Long-term mortality after gastric bypass surgery. N Engl J Med 357(8):753–761

20.

Christou NV, Sampalis JS, Liberman M, Look D, Auger S, McLean AP, MacLean LD (2004) Surgery decreases long-term mortality, morbidity, and health care use in morbidly obese patients. Ann Surg 240(3):416–424

21.

Lim RB, Blackburn GL, Jones DB (2010) Benchmarking best practices in weight loss surgery. Curr Probl Surg 47(2):79–174
Acknowledgements
The authors would like to thank of all volunteers who have been paying for patients, physicians who worked without payment, researchers who worked voluntarily, and all patients who were referred to the clinic and collaborated to complete the database information. Special thanks are also given to Mr. Alireza Azarang, Dr. Sajedeh Riazi, and Dr. Somayeh Mokhber in setting up the cohort database and Rasoul Akram Clinical Research Development Center (RCRDC) and Dr. Bagherzadeh for the technical and editorial assists.
Funding
The Memorandum of Understanding to support the Obesity Surgery Registry was signed between the Deputy Director of Research and Technology of Ministry of Health and Medical Education (MOHME) and head of Minimally Invasive Surgery Research Center (MISRC) of Iran University of Medical Sciences (IUMS) on 20 April 2016. Before that, personal funds and charities supported the registry. Grants have been received from the MOHME, IUMS, and to allocate manpower, facilities (clinics and biobank), and physical space (Grant number 700/200).
Ethics declarations
Ethic approval
The medical ethics committee of IUMS confirmed this study (code: IR.IUMS.REC.1397.134).
Informed consent
All the patients sign a written informed consent to allow the use of their data. In addition, for each project, a separate more detailed written consent form approved by the Ethics Committee of each university that has a project is signed by all the patients.
Conflict of interest
The authors declare no conflict of interest.
Additional information
Publisher's Note
Springer Nature remains neutral with regard to jurisdictional claims in published maps and institutional affiliations.
About this article
Cite this article
Kabir, A., Pazouki, A. & Hajian, M. Iran Obesity and Metabolic Surgery (IOMS) Cohort Study: Rationale and Design. Indian J Surg (2021). https://doi.org/10.1007/s12262-021-02789-z
Received:

Accepted:

Published:
Keywords
Bariatric surgery

Metabolic surgery

Obesity

Overweight

Cohort