Abstract
Common bile duct (CBD) stones are present in 5–15% of patients with gallstones. Some of these patients are candidates for a definitive biliary drainage procedure for prevention of stone recurrence. The aim of our study was to ascertain the outcome of laparoscopic choledochoduodenostomy in choledocholithiasis. After obtaining ethical clearance from the institutional ethical committee, the present prospective and observational study was conducted on 32 patients over a period from September 2017 to September 2020 in the tertiary care hospital. In our study, the total number of patients was 32, of whom 26 (81%) were females. The mean and range of age were 54.44 SD 10.827 and 24–70 years, respectively. The most common presenting feature was jaundice (53.125%). The mean CBD diameter was 24.59 SD 2.564 mm with multiple stones in CBD in 90.625% of our patients. The mean duration of surgery and intraoperative blood loss was 147.94 SD 9.732 and 76.25 SD 12.636 ml, respectively. The mean hospital stay was 6.34 SD 0.827 days with 90.6% of the patients returning to work in the 3rd week. In our study, there was no conversion to open and a single patient developed postoperative ileus which was managed conservatively. There was complete resolution of symptoms on follow-up. Laparoscopic choledochoduodenostomy is safe for benign bile duct diseases. It is physiological, with minimal intraoperative blood loss, less operative time, and fewer postoperative complications and is safe with faster recovery.
Access options
Buy single article
Instant access to the full article PDF.
US$ 39.95
Tax calculation will be finalised during checkout.
Subscribe to journal
Immediate online access to all issues from 2019. Subscription will auto renew annually.
US$ 79
Tax calculation will be finalised during checkout.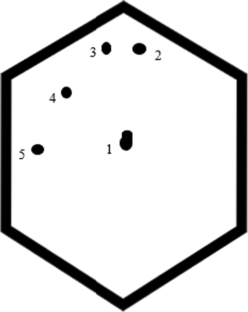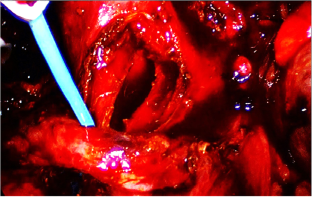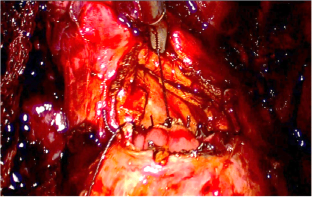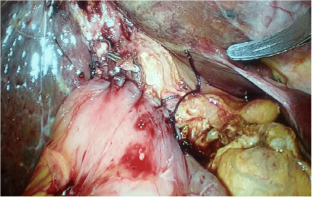 References
1.

Ko CW, Lee SP (2002) Epidemiology and natural history of common bile duct stones and prediction of disease. Gastrointest Endose 56:165–169

2.

Verbesey JE, Birkett DH (2008) Common bile duct exploration for choledocholithiasis. Surg Clin North Am 88:1315–1328

3.

Horwood J, Akbar F, Davis K, Morgan R (2010) Prospective evaluation of a selective approach to cholangiography for suspected common bile duct stones. Ann R Coll SurgEngl 92:206–210

4.

Sabiston textbook of surgery: the biological basis of modern surgical practic. In: Townsend CM, Beauchamp RD Jr, Evers BM, Mattox KL (eds) 20th edn. p 1494–1495

5.

Bansal VK, Misra MC, Rajan K, Kilambi R, Kumar S, Krishna A, Kumar A, Pandav CS, Subramaniam R, Arora MK, Garg PK (2014) Single-stage laparoscopic common bile duct exploration and cholecystectomy versus two-stage endoscopic stone extraction followed by laparoscopic cholecystectomy for patients with concomitant gallbladder stones and common bile duct stones: a randomized controlled trial. Surg Endosc 28:875–885

6.

Tinoco R, El-Kadre L, Tinoco A (1999) Laparoscopic choledochoduodenostomy. J Laparoendosc Adv Surg Tech A 9:123–126

7.

Tang CN, Siu WT, Ha JP, Tai CK, Tsui KK, Li MK (2007) Laparoscopicbiliary bypass—a single centre experience. Hepatogastroenterology 54:503–507

8.

Bektas H, Duzkoylu Y, Cakar E, K Buyukasık, Colak S. Giant choledochal calculosis: surgical treatment. 2014. https://doi.org/10.4103/1947-2714.143286

9.

Panis Y, Fagniez PL, Brisset D, Lacaine F, Levard H, Hay JM (1993) Long term results of choledochoduodenostomy versus choledochojejunostomy for choledocholithiasis. The French Association for Surgical Research. Surg Gynecol Obstet 177:33–37

10.

Canena J (2018) Once upon a time a guideline was used for the evaluation of suspected choledocholithiasis: a fairy tale or a nightmare. GE Port J Gastroenterol 25(1):6–9

11.

Magalhães J, Rosa B, Cotter J (2015) Endoscopic retrograde cholangiopancreatography for suspected choledocholithiasis: from guidelines to clinical practice. World J Gastrointest Endosc 7(2):128–134

12.

Ghazal AH, Sorour MA, El-Riwini M, El-Bahrawy H (2009) Single-step treatment of gall bladder and bile duct stones: a combined endoscopic–laparoscopic technique. Int J Surg 7(4):338–346

13.

de Aretxabala X, Bahamondes JC (1998) Choledochoduodenostomy for common bile duct stones. World J Surg 22(11):1171–1174

14.

Martin DJ, Vernon D, Toouli J (2006) Surgical versus endoscopic treatment of bile duct stones. In: The Cochrane Collaboration, editor. Cochrane Database of Systematic Reviews. Chichester, John Wiley & Sons, Ltd

15.

Jagdish Chander MS, Vivek Mangla MC, Vindal A, Lal P, Ramteke VK (2012 ª Mary Ann Liebert, Inc) Laparoscopic choledochoduodenostomy for biliary stone disease: a single-center 10-year experience. J Laparoendosc Adv Surg Tech 22(1):81–84. https://doi.org/10.1089/lap.2011.0366

16.

Tang CN, Siu WT, Ha JP, Li MK (2003) Laparoscopic choledochoduodenostomy: an effective drainage procedure for recurrent pyogenic cholangitis. Surg Endosc 17:1590–1594

17.

Sarli L, Pietra N, Franzé A, Colla G, Costi R, Gobbi S, Trivelli M (1999) Routine intravenous cholangiography, selective ERCP, and endoscopic treatment of bile duct stones before laparoscopic cholecystectomy. Gastrointest Endosc 50(2):200–208

18.

Priego P. Laparoscopic choledochoduodenostomy in the management of obstructive biliary tract in the ERCP era. Remedy Publications LLC., | http://clinicsinsurgery.com/ 2016 | Volume 1 | Article 1182

19.

Kays JK, Koniaris LG, Milgrom DP, Nakeeb A (2018) Biliary bypass with laparoscopic choledochoduodenostomy. J Gastrointest Surg 22(5):928–933. https://doi.org/10.1007/s11605-017-3663-z

20.

Okamoto H, Maruyama S, Takahashi K, Kawashima K, Fukasawa T, Fujii H (2017) Laparoscopic choledochoduodenostomy for biliary alleviation. Surg Sci 8:65–72 http://www.scirp.org/journal/ss. https://doi.org/10.4236/ss.2017.82008

21.

Bayramov NY, Omarov TI, Zeynalov NA, Aslanova KD, Pashazadeh VA (2013) Laparoscopic choledochoduodenostomy for treatment of benign common bile duct strictures. World J Med Sci 8(4):396–400. https://doi.org/10.5829/idosi.wjms.2013.8.4.1127

22.

Senthilnathan P et al Laparoscopic choledochoduodenostomy as a reliable rescue procedure for complicated bile duct stones. Surg Endosc. https://doi.org/10.1007/s00464-017-5868-3

23.

Gupta BS (2003) Choledochoduodenostomy: a study of 28 consecutive cases. Kathmandu Univ Med J 2, No. 3, (7):193–197
Ethics declarations
Ethics Approval
The study was approved by the institutional ethics committee.
Consent to Participate
Informed consent was obtained from all individual participants included in the study.
Consent for Publication
Additional informed consent was obtained from all individual participants for whom identifying information is included in this article.
Conflict of Interest
The authors declare that they have no conflict of interest.
Additional information
Publisher's Note
Springer Nature remains neutral with regard to jurisdictional claims in published maps and institutional affiliations.
About this article
Cite this article
Attri, M.R., Bhardwaj, R., Kumar, I.A. et al. Laparoscopic Choledochoduodenostomy in Bile Duct Stone Diseases. Indian J Surg (2021). https://doi.org/10.1007/s12262-021-02768-4
Received:

Accepted:

Published:
Keywords
Laparoscopic choledochoduodenostomy

Common bile duct

Choledocholithiasis

Drainage procedure