Abstract
A retroperitoneal microfilarial lymph varix presenting as inguinal swelling is very rare. The clinical presentation of an inguinal lymph varix mimics that of an inguinal hernia. Here, we are reporting a case of bilateral inguinal swelling clinically diagnosed as an inguinal hernia, which eventually turned out to be a large retroperitoneal microfilarial lymph varix mimicking as an inguinal hernia.
Access options
Buy single article
Instant access to the full article PDF.
US$ 39.95
Tax calculation will be finalised during checkout.
Subscribe to journal
Immediate online access to all issues from 2019. Subscription will auto renew annually.
US$ 79
Tax calculation will be finalised during checkout.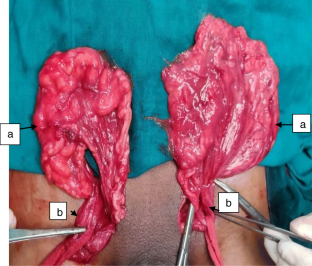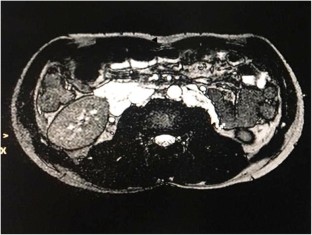 References
1.

Gupta AKD (1930) Some difficulties in the diagnosis of inguinal hernia. Ind Med Gaz 65(12):695

2.

Gyapong JO, Kumaraswami V, Biswas G, Ottesen EA (2005) Treatment strategies underpinning the global programme to eliminate lymphatic filariasis. Expert Opin Pharmacother 6:179–200 [Google Scholar]

3.

Yang DM, Kim HC, Lim JW, Jin W, Ryu CW, Kim GY, Cho H (2007) Sonographic findings of groin masses. J Ultrasound Med 26:605–614

4.

Poenaru D, Jacobs DA, Kamal I (1999) Unusual findings in the inguinal canal: a report of four cases. Pediatr Surg Int 15:515–516

5.

Szuba A, Rockson SG (1998) Lymphedema: classification, diagnosis and therapy. Vasc Med 3:145–156

6.

Jones RT (2014) Non-endemic cases of lymphatic filariasis. Tropical Med Int Health 19(11):1377–1383
Ethics declarations
Conflict of Interest
The authors declare that they have no conflict of interest.
Ethics Approval
Not applicable
Consent to Participate
Not applicable
Code Availability
Not applicable
Additional information
Learning Points
-Although rare, remember the lymph varix as a differential diagnosis for inguinal swellings.
- An awareness among young surgeons that preoperative imaging of the abdomen and pelvis (at least in patients from endemic regions) can help in the diagnosis of this condition preoperatively
Publisher's Note
Springer Nature remains neutral with regard to jurisdictional claims in published maps and institutional affiliations.
About this article
Cite this article
Balsarkar, D.J., Suryawanshi, S.A., Afroz, S.M. et al. Retroperitoneal Microfilarial Lymph Varix Mimicking Inguinal Hernia. Indian J Surg (2021). https://doi.org/10.1007/s12262-021-02737-x
Received:

Accepted:

Published:
Keywords
Inguinal swelling

Inguinal hernia

Microfilaria

Retroperitoneal lymph varix