Abstract
We report a 40-year-old woman with a mobile, non tender and firm mass, 12 × 8 cm, in the lower outer quadrant of the right breast of 5 years duration. Mammography images demonstrated a well-defined mass with mixed granular and fat density. Histopathology of the excised mass revealed well-circumscribed lobules of ducts and glandular structures haphazardly embedded in mature fatty tissue. Breast hamartoma should be differentiated from other benign lesions of the breast. Awareness among radiologists and pathologists of this benign lesion would help avoid an incorrect diagnosis and unnecessary intervention.
Access options
Buy single article
Instant access to the full article PDF.
US$ 39.95
Tax calculation will be finalised during checkout.
Subscribe to journal
Immediate online access to all issues from 2019. Subscription will auto renew annually.
US$ 79
Tax calculation will be finalised during checkout.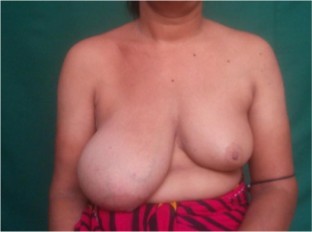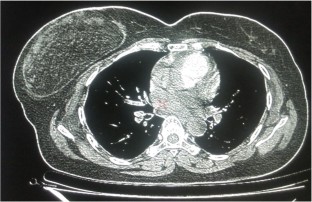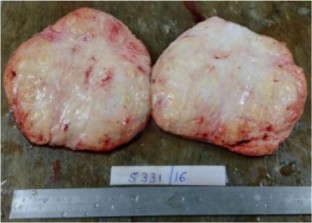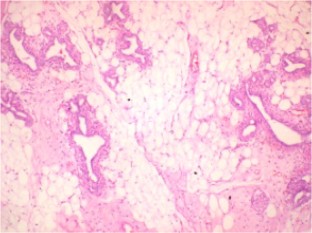 References
1.

Spalding JE (1945) Adenolipoma and lipoma of the breast. Guy's Hosp Rep. 94:80–82

2.

Yasuda S, Kubota M, Noto T, Mukai M, Tokuda Y, Hanaue H, Tajima T, Mitomi T, Ueyama Y (1992) Two cases of adenolipoma of the breast. Tokai J Exp Clin Med. 17(3-4):139–144

3.

Tavassoli FA, Devilee P (2003) Pathology and genetics: tumours of the breast and female genital organs. IRCA press, Lyon, p 103

4.

Jones MW, Norris HJ, Wargotz ES (1991) Hamartomas of the breast. Surg Gynecol Obstet. 173(1):54–56

5.

Brebner DM, Cosmann B, Shapiro J (1976) Lipotoma of the breast diagnosed by film and xeromammography. S Afr Med J. 50(18):685–688

6.

Daya D, Trus T, D'Souza TJ, Minuk T, Yemen B (1995) Hamartoma of the breast, an underrecognized breast lesion. A clinicopathologic and radiographic study of 25 cases. Am J Clin Pathol. 103(6):685–689

7.

Krosbein H, Bassler R (1985) Metaplasias and malignant transformations in hamartomas of the breast. Verh Dtsch Ges Pathol. 69:310–315

8.

Pervatikar SK, Rao R, Dinesh US, Parameswaraiah S (2009) Large mammary hamartoma with focal invasive ductal carcinoma. Indian J Pathol Microbiol. 52(2):249–251
Additional information
Publisher's Note
Springer Nature remains neutral with regard to jurisdictional claims in published maps and institutional affiliations.
About this article
Cite this article
Ambrose, S., Katheria, V., Shanmugam, S. et al. A Rare Case Report of Adenolipoma of the Breast. Indian J Surg (2021). https://doi.org/10.1007/s12262-021-02728-y
Received:

Accepted:

Published:
Keywords
Hamartoma

Adenolipoma

Mammography