Abstract
The role of angioembolization in managing hemodynamically stable patients with liver injury has obviated the need for surgery. Although mortality and morbidity rates after the adoption of this technique have decreased, this procedure is not devoid of complications. This study assesses the impact of this procedure and its associated complications. We performed a case series analysis of patients with hepatic trauma in a level one trauma center over 10 years (2008–2017). Data were collected from hospital records of patients with liver injury and analyzed according to demographics, injury type, management strategy, procedure time, efficacy, complications of embolization, and outcome. We included all patients who underwent angioembolization. Patients who underwent surgery only or had incomplete records were excluded. Of 366 patients with liver trauma, eighteen were managed with angioembolization. Of which, thirteen had grade IV injury or higher, while five had grade II or III. Twelve patients had blunt liver trauma. Six patients were initially managed by laparotomy followed by angioembolization. The most common embolized artery was the right hepatic artery (eleven patients). Nine patients had at least one complication after the procedure. The liver collection was the most common complication (seven patients). There was one hepatic complication-related death. Morbidity was more common in patients who underwent exploratory laparotomy before angioembolization compared to angioembolization alone. Those who had a laparotomy before the angioembolization may have a higher complication rate.
Access options
Buy single article
Instant access to the full article PDF.
US$ 39.95
Tax calculation will be finalised during checkout.
Subscribe to journal
Immediate online access to all issues from 2019. Subscription will auto renew annually.
US$ 79
Tax calculation will be finalised during checkout.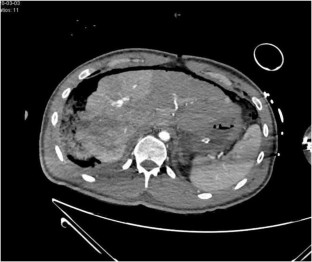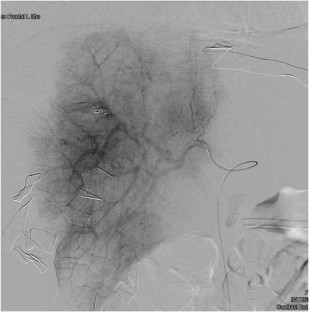 Data Availability
The data were archived as required by GCP guidelines and the IRB.
References
1.

Parks RW, Chrysos E, Diamond T (1999) Management of liver trauma. Br J Surg 86:1121–1135

2.

Malhotra AK, Fabian TC, Croce MA, Gavin TJ, Kudsk KA, Minard G, Pritchard FE (2000) Blunt hepatic injury: a paradigm shift from operative to nonoperative management in the 1990s. Ann Surg 231:804–813

3.

Hurtuk M, Reed RL 2nd, Esposito TJ et al (2006) Trauma surgeons practice what they preach: the NTDB story on solid organ injury management. J Trauma 61:243–254 discussion 254-5

4.

Virdis F, Reccia I, Di Saverio S et al (2019) Clinical outcomes of primary arterial embolization in severe hepatic trauma: a systematic review. Diagn Interv Imaging 100:65–75

5.

Bouras A-F, Truant S, Pruvot F-R (2010) Management of blunt hepatic trauma. J Visc Surg 147(6):e351–e358

6.

Saqib Y (2019) A systematic review of the safety and efficacy of non-operative management in patients with high-grade liver injury. Surgeon. 18:165–177

7.

Suen K, Skandarajah AR, Knowles B, Judson R, Thomson BN (2016) Changes in the management of liver trauma leading to reduced mortality: 15-year experience in a major trauma centre. ANZ J Surg 86:894–899

8.

David Richardson J, Franklin GA, Lukan JK, Carrillo EH, Spain DA, Miller FB, Wilson MA, Polk HC Jr, Flint LM (2000) Evolution in the management of hepatic trauma: a 25-year perspective. Ann Surg 232:324–330

9.

Noyola-Villalobos HF, Loera-Torres MA, Jimenez-Chavarria E et al (2016) Non-surgical management after blunt traumatic liver injuries: a review article. Cir Cir 84:263–266

10.

Gander R, Molino JA, Santiago S et al (2016) Conservative management of liver trauma and its complications: current gold-standard. Cir Pediatr 29:19–24

11.

Siddiqui N, Jawed M, Pirzada A et al (2020) Non-operative treatment of hepatic trauma: a changing paradigm. A Six year review of liver trauma patient in a single institute. J Pak Med Assoc 70:S27–S32

12.

Melloul E, Denys A, Demartines N (2015) Management of severe blunt hepatic injury in the era of computed tomography and transarterial embolization: a systematic review and critical appraisal of the literature. J Trauma Acute Care Surg 79:468–474

13.

Cimbanassi S, Chiara O, Leppaniemi A, Henry S, Scalea TM, Shanmuganathan K, Biffl W, Catena F, Ansaloni L, Tugnoli G, de Blasio E, Chieregato A, Gordini G, Ribaldi S, Castriconi M, Festa P, Coccolini F, di Saverio S, Galfano A, Massi M, Celano M, Mutignani M, Rausei S, Pantalone D, Rampoldi A, Fattori L, Miniello S, Sgardello S, Bindi F, Renzi F, Sammartano F (2018) Nonoperative management of abdominal solid-organ injuries following blunt trauma in adults: results from an international consensus conference. J Trauma Acute Care Surg 84:517–531

14.

MacGoey P, Navarro A, Beckingham IJ, Cameron IC, Brooks AJ (2014) Selective non-operative management of penetrating liver injuries at a UK tertiary referral centre. Ann R Coll Surg Engl 96:423–426

15.

Ohtsuka Y, Iwasaki K, Okazumi S et al (2003) Management of blunt hepatic injury in children: usefulness of emergency transcatheter arterial embolization. Pediatr Surg Int 19:29–34

16.

Swift C, Garner JP (2012) Non-operative management of liver trauma. J R Army Med Corps 158:85–95

17.

Kozar RA, Moore JB, Niles SE et al (2005) Complications of nonoperative management of high-grade blunt hepatic injuries. J Trauma 59:1066–1071

18.

Kozar RA, Moore FA, Cothren CC, Moore EE, Sena M, Bulger EM, Miller CC, Eastridge B, Acheson E, Brundage SI, Tataria M, McCarthy M, Holcomb JB (2006) Risk factors for hepatic morbidity following nonoperative management: multicenter study. Arch Surg 141:451–459

19.

Polanco PM, Brown JB, Puyana JC, Billiar TR, Peitzman AB, Sperry JL (2013) The swinging pendulum: a national perspective of nonoperative management in severe blunt liver injury. J Trauma Acute Care Surg 75:590–495

20.

Bala M, Gazalla SA, Faroja M, Bloom AI, Zamir G, Rivkind AI, Almogy G (2012) Complications of high-grade liver injuries: management and outcome with focus on bile leaks. Scand J Trauma Resusc Emerg Med 20:20–20

21.

Durham RM, Buckley J, Keegan M, Fravell S, Shapiro MJ, Mazuski J (1992) Management of blunt hepatic injuries. The Am J Surg 164:477–481

22.

Carrillo EH, Spain DA, Wohltmann CD, Schmieg RE, Boaz PW, Miller FB, Richardson JD (1999) Interventional techniques are useful adjuncts in nonoperative management of hepatic injuries. J Trauma 46:619–622 discussion 22-4

23.

Schweizer W, Becker C, Tanner S, Schaeppi B, Huber A, Blumgart LH (1993) The significance of computerized tomography for conservative treatment of liver trauma. Helv Chir Acta 59:717–724

24.

Xu H, Jie L, Kejian S, Xiaojun H, Chengli L, Hongyi Z, Yalin K (2017) Selective angiographic embolization of blunt hepatic trauma reduces failure rate of nonoperative therapy and incidence of post-traumatic complications. Med Sci Monit 23:5522–5533

25.

Hagiwara A, Tarui T, Murata A et al (2005) Relationship between pseudoaneurysm formation and biloma after successful transarterial embolization for severe hepatic injury: permanent embolization using stainless steel coils prevents pseudoaneurysm formation. J Trauma 59:49–53 discussion -5

26.

Hommes M, Navsaria PH, Schipper IB, Krige JEJ, Kahn D, Nicol AJ (2015) Management of blunt liver trauma in 134 severely injured patients. Injury. 46:837–842

27.

Goffette PP, Laterre PF (2002) Traumatic injuries: imaging and intervention in post-traumatic complications (delayed intervention). Eur Radiol 12:994–1021

28.

Schwartz RA, Teitelbaum GP, Katz MD, Pentecost MJ (1993) Effectiveness of transcatheter embolization in the control of hepatic vascular injuries. J Vasc Interv Radiol 4:359–365
Ethics declarations
Conflict of Interest
The authors declare that they have no conflicts of interest.
Ethical Approval
This study was approved by the Ethics Committee of Hadassah-Hebrew University Medical Center (Number: 0314-19-HMO).
Consent to Participate
The IRB waived the need for informed consent for this retrospective study.
Consent for Publication
Not applicable.
Code Availability
Not applicable.
Additional information
Publisher's Note
Springer Nature remains neutral with regard to jurisdictional claims in published maps and institutional affiliations.
About this article
Cite this article
Imam, A., Szydlo, G., Abukhalaf, S. et al. The Role of Angioembolization in Liver Trauma: the 10-Year Retrospective Experience of a Level One Trauma Center. Indian J Surg (2021). https://doi.org/10.1007/s12262-021-02726-0
Received:

Accepted:

Published:
Keywords
Hepatic trauma

Liver angiography

Angioembolization

Complications