Abstract
Biliary sludge is seen on ultrasound as an amorphous echogenic material, which slowly moves to the dependent part. Endoscopic ultrasound has a sensitivity of 96% to detect biliary sludge, and the appearance is similar to that seen on transabdominal ultrasound. Other entities which can have a similar appearance include blood, pus, necrotic debris, and multiple small stones. This case represents a unique finding on endoscopic ultrasound of an echogenic image in CBD, mimicking biliary sludge.
This is a preview of subscription content, log in to check access.
Access options
Buy single article
Instant access to the full article PDF.
US$ 39.95
Price includes VAT for USA
Subscribe to journal
Immediate online access to all issues from 2019. Subscription will auto renew annually.
US$ 99
This is the net price. Taxes to be calculated in checkout.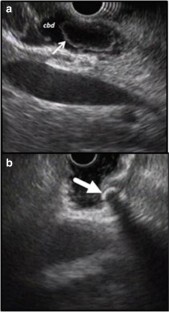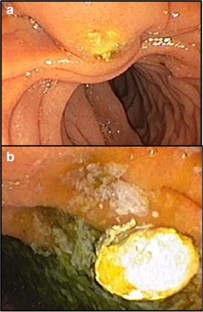 References
1.

Wang HH, Portincasa P, Liu M, Tso P, Wang DQ-H (2018) Similarities and differences between biliary sludge and microlithiasis: their clinical and pathophysiological significances. Liver Res 2(4):186–199

2.

Bergele C, Giovannini M (2004) EUS and common bile duct stones. Ann Gastroenterol 17(3):246–252

3.

Varghese JC, Liddell RP, Farrell MA, Murray FE, Osborne DH, Lee MJ (1999) The diagnostic accuracy of magnetic resonance cholangiopancreatography and ultrasound compared with direct cholangiography in the detection of choledocholithiasis. Clin Radiol 54:604–614

4.

Scheiman J, Carlos R, Barnett J et al (2001) Can endoscopic ultrasound or magnetic resonance cholangiopancreatography replace ERCP in patients with suspected biliary disease? A prospective trial and cost analysis EUS versus MRCP for suspected biliary disease. Am J Gastroenterol 96:2900–2904

5.

Kamaya A, Wong-You-Cheong J, Woodward PJ (2019) Diagnostic ultrasound for sonographers E-Book. Elsevier Health Sciences. P 51

6.

Kim CW, Chang JH, Lim YS, Kim TH, Lee IS, Han SW (2013) Common bile duct stones on multidetector computed tomography: attenuation patterns and detectability. World J Gastroenterol 19(11):1788–1796

7.

Dittrick G, Lamont JP, Kuhn JA, Mallat D (2005) Usefulness of endoscopic ultrasound in patients at high risk of choledocholithiasis. Proc (Baylor Univ Med Cent) 18(3):211–213

8.

Rana SS, Bhasin DK, Rao C, Singh K (2012) Role of endoscopic ultrasound in idiopathic acute pancreatitis with negative ultrasound, computed tomography, and magnetic resonance cholangiopancreatography. Ann Gastroenterol 25(2):133–137

9.

Sajith KG, Chacko A, Dutta AK (2010) Recurrent acute pancreatitis: clinical profile and an approach to diagnosis. Dig Dis Sci 55:3610–3616
Ethics declarations
The manuscript has been read and approved by the authors. It is original and honest work. The manuscript has not been published previously and is not currently under consideration for publication elsewhere. In case of acceptance of the manuscript the copyright is transferred to your journal. There is no financial or other relationships that might lead to a conflict of interest.
Additional information
Publisher's Note
Springer Nature remains neutral with regard to jurisdictional claims in published maps and institutional affiliations.
About this article
Cite this article
Soni, A., Nagpal, S. & Mittal, A. Endoscopic Ultrasound in Biliary Colic. Indian J Surg (2020). https://doi.org/10.1007/s12262-020-02509-z
Received:

Accepted:

Published:
Keywords
Endoscopic ultrasound

Biliary sludge

Cholangitis

Idiopathic pancreatitis