Abstract
We describe a successful simple, hitherto not described but may have been performed somewhere in the world a nephroscopic technique for the treatment of pancreatic pseudocyst (PP) in urgent or high-risk cases. Endoscopic drainage is recognized as preferred management for patients with PP. However, external drainage ought to be a valuable management in exceptional cases. Nephroscopic management is a minimally invasive approach (MIA) commonly conducted in patient with acute infected pancreatic necrosis (IPN) after percutaneous catheter drainage (PCD). It is frequently operated in our institution. We present a case of large infected PP in an 81-year Chinese woman successfully treated by nephroscopic drainage management after urgent PCD. However, it is considered a technically specialized procedure and often requires rich experience.
This is a preview of subscription content, log in to check access.
Access options
Buy single article
Instant access to the full article PDF.
US$ 39.95
Price includes VAT for USA
Subscribe to journal
Immediate online access to all issues from 2019. Subscription will auto renew annually.
US$ 99
This is the net price. Taxes to be calculated in checkout.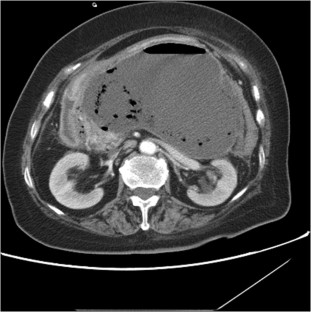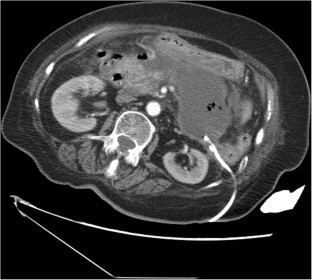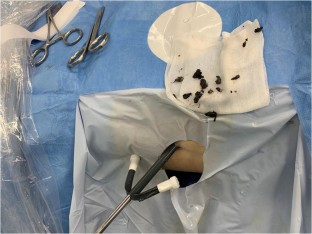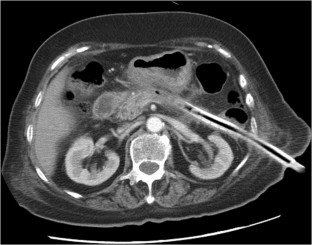 Data Availability
All data of this patient of this case report is included in this published article.
Abbreviations
PP:

Pancreatic pseudocyst

PCD:

Percutaneous catheter drainage

CT:

Computed tomography

MAP:

Mild acute pancreatitis

MDT:

Multidisciplinary team

ERCP:

Endoscopic retrograde cholangiopancreatography

IPN:

Infected pancreatic necrosis

MIAs:

Minimally invasive approaches

LC:

Laparoscopic cholecystectomy
References
1.

Udeshika WAE, Herath HMMTB, Dassanayake SUB, Pahalagamage SP, Kulatunga A (2018) A case report of giant pancreatic pseudocyst following acute pancreatitis: experience with endoscopic internal drainage. BMC Res Notes 11(1):262–270. https://doi.org/10.1186/s13104-018-3375-9

2.

Wang BH, Xie LT, Zhao QY, Ying HJ, Jiang TA (2018) Balloon dilator controls massive bleeding during endoscopic ultrasound-guided drainage for pancreatic pseudocyst: a case report and review of literature. World J Clin Cases 6(11):459–465. https://doi.org/10.12998/wjcc.v6.i11.459

3.

Tan JH, Lei Z, Cao RC, Zhang GW (2018) Identification of risk factors for pancreatic pseudocysts formation, intervention and recurrence: a 15-year retrospective analysis in a tertiary hospital in China. BMC Gastroenterol 18(1):1–9. https://doi.org/10.1186/s12876-018-0874-z

4.

Marino KA, Hendrick LE, Behrman SW (2016) Surgical management of complicated pancreatic pseudocysts after acute pancreatitis. Am J Surgery 211(1):109–114. https://doi.org/10.1016/j.amjsurg.2015.07.020

5.

Blum T, Maisonneuve P, Lowenfels AB, Lankisch PG (2001) Fatal outcome in acute pancreatitis: its occurrence and early prediction. Pancreatology 1:237–241

6.

Perez A, Whang EE, Brooks DC, Moore FD Jr, Hughes MD, Sica GT, Zinner MJ, Ashley SW, Banks PA (2002) Is severity of necrotizing pancreatitis increased in extended necrosis and infected necrosis? Pancreas 25:229–233

7.

Malangoni MA, Martin AS (2005) Outcome of severe acute pancreatitis. Am J Surg 189:273–277

8.

Gloor B, Muller CA, Worni M, Martignoni ME, Uhl W, Buchler MW (2001) Late mortality in patients with severe acute pancreatitis. Br J Surg 88:975–979

9.

CompanyL SJ, Martinez J, Aparicio JR, Laveda R, Grino P et al (2003) Factors predicting mortality in severe acute pancreatitis. Pancreatology 3:144–148

10.

Ashley SW, Perez A, Pierce EA, Brooks DC, Moore FD Jr, Whang EE et al (2001) Necrotizing pancreatitis: contemporary analysis of 99 consecutive cases. Ann Surg 234:572–579

11.

Gullo L, Migliori M, Olah A, Farkas G, Levy P, Arvanitakis C et al (2002) Acute pancreatitis in five European countries: etiology and mortality. Pancreas 24:223–227

12.

Uhl W, Warshaw A, Imrie C, Bassi C, McKay C, Lankisch PG, Carter R, di Magno E, Banks PA, Whitcomb DC, Dervenis C, Ulrich CD, Satake K, Ghaneh P, Hartwig W, Werner J, McEntee G, Neoptolemos JP, Büchler MW, International Association of Pancreatology (2002) IAP guidelines for the surgical management of acute pancreatitis. Pancreatology. 2:565–573

13.

Götzinger P, Sautner T, Kriwanek S et al (2002) Surgical treatment for severe acute pancreatitis: extent and surgical control of necrosis determine outcome. World J Surg 26:474–478

14.

Raraty MG, Neoptolemos JP (2003) Compartments that cause the real damage in severe acute pancreatitis. Am J Respir Crit Care Med 168:141–142

15.

Banks PA, Freeman ML (2006) Practice guidelines in acute pancreatitis. Am J Gastroenterol 101:2379–2400

16.

Whitcomb DC (2006) Acute pancreatitis. N Engl J Med 354:2142–2150

17.

Werner J, Feuerbach S, Uhl W, Büchler MW (2005) Management of acute pancreatitis: from surgery to interventional intensive care. Gut. 54:426–436

18.

Carter C, Mckay C, Imrie C (2000) Percuteneous necrosectomy and sinus tract endoscopy in the management of infected pancreatic necrosis, an initial experience. J Ann Surg 232:175–180. https://doi.org/10.1097/00000658-200008000-00004

19.

Raraty MG, Halloran CM, Dodd S, Ghaneh P, Connor S, Evans J et al (2010) Minimal access retroperitoneal pancreatic necrosectomy: improvement in morbidity and mortality with a less invasive approach. J Ann surg 251:787–793. https://doi.org/10.1097/SLA.0b013e3181d96c53

20.

Bello B, Matthews JB (2012) Minimally invasive treatment of pancreatic necrosis. World J Gastroenterol 18:6829–6835
Ethics declarations
Conflicts of Interest
The authors declare that they have no conflict of interest
Ethics Committee Approval
The article was approved by institutional review board at our hospital (Ethic Committee of Affiliated Hangzhou First People's Hospital, Zhejiang University School of Medicine).
Consent Statement
The authors certify that they have obtained all appropriate patient consent forms. In the form, the patient has given her consent for her images and other clinical information to be published in the journal. The patients understand that name and initials will not be published and due efforts will be made to conceal identity, but anonymity cannot be guaranteed.
Additional information
Publisher's Note
Springer Nature remains neutral with regard to jurisdictional claims in published maps and institutional affiliations.
About this article
Cite this article
Lu, B., Jia, Z., Li, S. et al. Nephroscopic Management of Giant Infected Pancreatic Pseudocyst After Drainage. Indian J Surg (2020). https://doi.org/10.1007/s12262-020-02483-6
Received:

Accepted:

Published:
Keywords
Pseudocyst

Nephroscope

Drainage