Abstract
Inflammatory myofibroblastic tumors are mesenchymal neoplasms with intermediate biological potential. They tend to affect the lungs and abdominopelvic area but rarely occur in the esophagus. Only a few cases of esophageal inflammatory myofibroblastic tumors have been reported in the English literature. Herein, we report an esophageal inflammatory myofibroblastic tumor masquerading as an esophageal cancer. A 39-year-old woman complained of progressive dysphagia, and esophagogastroscopy revealed a 5-cm tumor in the lower esophagus. Ivor-Lewis surgery was performed, and the tumor was diagnosed as an inflammatory myofibroblastic tumor; the patient was successfully treated with surgery.
This is a preview of subscription content, log in to check access.
Access options
Buy single article
Instant access to the full article PDF.
US$ 39.95
Price includes VAT for USA
Subscribe to journal
Immediate online access to all issues from 2019. Subscription will auto renew annually.
US$ 99
This is the net price. Taxes to be calculated in checkout.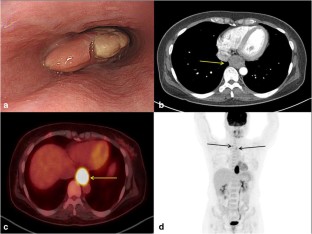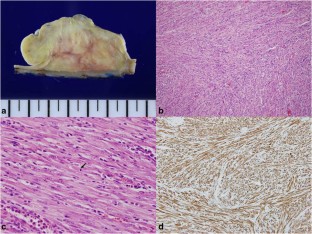 References
1.

Surabhi VR, Chua S, Patel RP, Takahashi N, Lalwani N, Prasad SR (2016) Inflammatory myofibroblastic tumors: current update. Radiol Clin N Am 54:553–563

2.

Gleason BC, Hornick JL (2008) Inflammatory myofibroblastic tumours: where are we now? J Clin Pathol 61:428–437

3.

Gan SI, Rajan E, Adler DG et al (2007) Role of EUS. Gastrointest Endosc 66:425–434

4.

Kurihara K, Mizuseki K, Ichikawa M, Okada K, Myyata Y (2001) Eosphageal inflammatory pseudotumor mimicking malignancy. Intern Med 40:18–22
Ethics declarations
Conflict of Interest
The authors declare that they have no conflict of interest.
Additional information
Publisher's Note
Springer Nature remains neutral with regard to jurisdictional claims in published maps and institutional affiliations.
About this article
Cite this article
Lee, S.Y., Kim, K.W. & Kang, M.H. Rare Benign Inflammatory Tumor of Esophagus Masquerading as Malignancy. Indian J Surg (2020). https://doi.org/10.1007/s12262-020-02307-7
Received:

Accepted:

Published:
Keywords
Inflammatory pseudotumor

Esophagus

Surgery