Abstract
Aleukemic cutaneous myeloid sarcoma is an extremely rare extramedullary manifestation of leukemia. Surgeons should be aware of the possibility of cutaneous myeloid sarcoma mimicking common skin cancer and consider it in the differential diagnoses when evaluating any patient with skin cancer-like lesions to ensure the prompt treatment of this potentially deadly cutaneous disease. We report three patients with presumed diagnoses of actinic keratosis and skin cancer, which actually turned out to be aleukemic cutaneous myeloid sarcoma.
This is a preview of subscription content, log in to check access.
Access options
Buy single article
Instant access to the full article PDF.
US$ 39.95
Price includes VAT for USA
Subscribe to journal
Immediate online access to all issues from 2019. Subscription will auto renew annually.
US$ 99
This is the net price. Taxes to be calculated in checkout.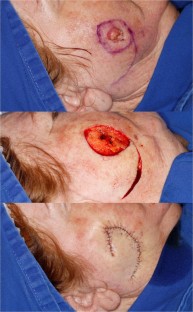 References
1.

Silfen R, Amir A, Regev D, Hauben DJ (2002) Role of physicians and patients in the diagnostic delay of cutaneous malignant melanoma. Ann Plast Surg 49:439–442

2.

Arber DA, Orazi A, Hasserjian R, Thiele J, Borowitz MJ, le Beau MM, Bloomfield CD, Cazzola M, Vardiman JW (2016) The 2016 revision to the World Health Organization classification of myeloid neoplasms and acute leukemia. Blood 127:2391–2405

3.

Bennett JM, Catovsky D, Daniel MT, Flandrin G, Galton DA, Gralnick HR, Sultan C (1985) Proposed revised criteria for the classification of acute myeloid leukemia. A report of the French-American-British Cooperative Group. Ann Intern Med 103:620–625

4.

Aboutalebi A, Korman JB, Sohani AR, Hasserjian RP, Louissaint A Jr, Le L, Kraft S, Duncan LM, Nazarian RM (2013) Aleukemic cutaneous myeloid sarcoma. J Cutan Pathol 40:996–1005

5.

Cho-Vega JH, Medeiros LJ, Prieto VG, Vega F (2008) Leukemia cutis. Am J Clin Pathol 129:130–142

6.

Iliadis A, Koletsa T, Georgiou E, Patsatsi A, Sotiriadis D, Kostopoulos I (2016) Bilateral aleukemic myeloid sarcoma of the eyelids with indolent course. Am J Dermatopathol 38:312–314

7.

Chang H, Shih LY, Kuo TT (2003) Primary aleukemic myeloid leukemia cutis treated successfully with combination chemotherapy: report of a case and review of the literature. Ann Hematol 82:435–439

8.

Narváez-Moreno B, Pereyra-Rodríguez JJ, Pulpillo-Ruiz A, Cabrera-Pérez R, Espigado-Tocino I, Conejo-Mir J (2015) Acute myeloid leukemia 7 years after aleukemic leukemia cutis. Int J Dermatol 54:459–461
Ethics declarations
Conflict of Interest
Th authors declare that they have no conflict of interest.
Additional information
Publisher's Note
Springer Nature remains neutral with regard to jurisdictional claims in published maps and institutional affiliations.
About this article
Cite this article
Araujo, K.M., Galardino, B.R., Carvalho, T.F. et al. Cutaneous Myeloid Sarcoma Mimicking Skin Cancer in Aleukemic Patients: a Diagnostic Challenge in Surgery. Indian J Surg 82, 436–438 (2020). https://doi.org/10.1007/s12262-019-01984-3
Received:

Accepted:

Published:

Issue Date:
Keywords
Cutaneous myeloid sarcoma

Diagnosis

Squamous cell carcinoma

Basal cell carcinoma

Clinical presentation

Keratinocyte carcinoma