Abstract
This study aimed to evaluate the perception of surgical teams (doctors) towards surgical site infections (SSIs). A cross-sectional study was carried out in a tertiary care hospital in Pakistan. The questionnaire was completed by 85 surgical team doctors (n = 110) (response rate ≥ 77%). The respondent perception of SSIs was found significant. Patient hospitalization, care of the patient in the ward, intrinsic and extrinsic factors, assessment of malnutrition, a therapy protocol, inappropriate parameters, criteria of KUNIN, pathological examination, the total length of stay, and rational antibiotics prophylaxis (95% CI p < 0.05) are considered responsible variables for the incidence of SSIs. The obesity and the factors related to the ventilation of operating room (95% CI p < 0.05) are counted insignificant for SSI. The internal consistency for the questionnaire's scale and each factor subscale was good fit (overall = 0.8, each, α ≥ 0.07). Surgeons' perspective has shown that the associated risk factors and treatment outcomes of surgical patients may have a direct association with the incidence of SSIs.
This is a preview of subscription content, log in to check access.
Access options
Buy single article
Instant access to the full article PDF.
US$ 39.95
Price includes VAT for USA
Subscribe to journal
Immediate online access to all issues from 2019. Subscription will auto renew annually.
US$ 99
This is the net price. Taxes to be calculated in checkout.
References
1.

Lawrence C (2018) Medical theory, surgical practice: studies in the history of surgery, vol 9. Routledge, London

2.

Garner BH, Anderson DJ (2016) Surgical site infections: an update. Infect Dis Clin N Am 30(4):909–929. https://doi.org/10.1016/j.idc.2016.07.010

3.

Birgand G, Haudebourg T, Grammatico-Guillon L, Ferrand L, Moret L, Gouin F, Mauduit N, Leux C, Le Manach Y, Lepelletier D (2019) Improvement in staff behavior during surgical procedures to prevent post-operative complications (ARIBO 2): study protocol for a cluster randomised trial. Trials 20(1):275

4.

Weiser TG, Regenbogen SE, Thompson KD, Haynes AB, Lipsitz SR, Berry WR, Gawande AA (2008) An estimation of the global volume of surgery: a modelling strategy based on available data. Lancet 372(9633):139–144

5.

Allegranzi B, Nejad SB, Combescure C, Graafmans W, Attar H, Donaldson L, Pittet D (2011) Burden of endemic health-care-associated infection in developing countries: systematic review and meta-analysis. Lancet 377(9761):228–241

6.

Barnett TE (2007) The not-so-hidden costs of surgical site infections. AORN J 86(2):249–258. https://doi.org/10.1016/j.aorn.2007.03.012

7.

Sangrasi AK, Leghari AA, Memon A, Talpur AK, Qureshi GA, Memon JM (2008) Surgical site infection rate and associated risk factors in elective general surgery at a public sector medical university in Pakistan. Int Wound J 5(1):74–78. https://doi.org/10.1111/j.1742-481X.2007.00365.x

8.

Geubbels EL, Mintjes-de Groot AJ, van den Berg JM, de Boer AS (2000) An operating surveillance system of surgical-site infections in The Netherlands: results of the PREZIES national surveillance network. Preventie van Ziekenhuisinfecties door surveillance. Infect Control Hosp Epidemiol 21(5):311–318. https://doi.org/10.1086/501762

9.

Zorrilla P, Gomez LA, Salido JA, Silva A, Lopez-Alonso A (2006) Low serum zinc level as a predictive factor of delayed wound healing in total hip replacement. Wound repair and regeneration : official publication of the Wound Healing Society [and] the European Tissue Repair Society 14(2):119–122. https://doi.org/10.1111/j.1743-6109.2006.00100.x

10.

Stratton RJ, Hackston A, Longmore D, Dixon R, Price S, Stroud M, King C, Elia M (2004) Malnutrition in hospital outpatients and inpatients: prevalence, concurrent validity and ease of use of the 'malnutrition universal screening tool' ('MUST') for adults. Br J Nutr 92(5):799–808

11.

Ingraham AM, Cohen ME, Bilimoria KY, Raval MV, Ko CY, Nathens AB, Hall BL (2010) Comparison of 30-day outcomes after emergency general surgery procedures: potential for targeted improvement. Surgery 148(2):217–238. https://doi.org/10.1016/j.surg.2010.05.009

12.

Patil BS, Khot AM, Patil AV, Naikwadi AA (2019) Analysis of drug utilization pattern of antimicrobials used as surgical prophylaxis for general surgical procedures in a Tertiary Care Hospital of North Karnataka: an observational study. J Health Res Rev 6(1):22

13.

Desalegn AA (2013) Assessment of drug use pattern using WHO prescribing indicators at Hawassa University Teaching and Referral Hospital, south Ethiopia: a cross-sectional study. BMC Health Serv Res 13:170. https://doi.org/10.1186/1472-6963-13-170

14.

Beganovic M, Cusumano JA, Lopes V, LaPlante KL, Caffrey AR (2019) Comparative effectiveness of exclusive exposure to nafcillin or oxacillin, cefazolin, piperacillin/tazobactam, and fluoroquinolones among a national cohort of veterans with methicillin-susceptible Staphylococcus aureus bloodstream infection. Open Forum Infect Dis 6(7):ofz270. https://doi.org/10.1093/ofid/ofz270

15.

de Leval MR, Carthey J, Wright DJ, Farewell VT, Reason JT (2000) Human factors and cardiac surgery: a multicenter study. J Thorac Cardiovasc Surg 119(4):661–672

16.

Tewari M (2019) Specialization in surgery: why it is important. Springer, Berlin

17.

Schmidt CO, Kohlmann T (2008) When to use the odds ratio or the relative risk? Int J Public Health 53(3):165–167

18.

McHugh SM, Corrigan MA, Hill AD, Humphreys H (2014) Surgical attire, practices and their perception in the prevention of surgical site infection. The surgeon : journal of the Royal Colleges of Surgeons of Edinburgh and Ireland 12(1):47–52. https://doi.org/10.1016/j.surge.2013.10.006

19.

Fusco Sde F, Massarico NM, Alves MV, Fortaleza CM, Pavan EC, Palhares Vde C, Melo CE, Avila MA, Nitsche MJ (2016) Surgical site infection and its risk factors in colon surgeries. Revista da Escola de Enfermagem da U S P 50(1):43–49. https://doi.org/10.1590/s0080-623420160000100006

20.

Broman KK, Gaskill CE, Faqih A, Feng M, Phillips SE, Lober WB, Pierce RA, Holzman MD, Evans HL, Poulose BK (2019) Evaluation of wound photography for remote postoperative assessment of surgical site infections. JAMA Surg 154(2):117–124

21.

Ban KA, Minei JP, Laronga C, Harbrecht BG, Jensen EH, Fry DE, Itani KMF, Dellinger EP, Ko CY, Duane TM (2017) Executive summary of the American College of Surgeons/Surgical Infection Society surgical site infection guidelines-2016 update. Surg Infect 18(4):379–382. https://doi.org/10.1089/sur.2016.214

22.

Quek KF, Low WY, Razack AH, Loh CS (2001) Reliability and validity of the General Health Questionnaire (GHQ-12) among urological patients: a Malaysian study. Psychiatry Clin Neurosci 55(5):509–513. https://doi.org/10.1046/j.1440-1819.2001.00897.x

23.

Hennessey DB, Burke JP, Ni-Dhonochu T, Shields C, Winter DC, Mealy K (2010) Preoperative hypoalbuminemia is an independent risk factor for the development of surgical site infection following gastrointestinal surgery: a multi-institutional study. Ann Surg 252(2):325–329. https://doi.org/10.1097/SLA.0b013e3181e9819a

24.

Parker HM, Mattick K (2016) The determinants of antimicrobial prescribing among hospital doctors in England: a framework to inform tailored stewardship interventions. Br J Clin Pharmacol 82(2):431–440. https://doi.org/10.1111/bcp.12953

25.

Kawakita T, Landy HJ (2017) Surgical site infections after cesarean delivery: epidemiology, prevention and treatment. Maternal Health, Neonatol Perinatol 3:12. https://doi.org/10.1186/s40748-017-0051-3

26.

Alimoglu O, Eren T, Tombalak E, Leblebici M, Azizoglu S, Sever S, Kinik K (2018) Volunteer surgical team in Somalia. Indian J Surg 80(5):447–451

27.

Jain K, Sahran D, Singhal M, Misra M (2018) A novel way of linen management in an acute care surgical center. Indian J Surg 80(4):303–308

28.

Suaya JA, Mera RM, Cassidy A, O'Hara P, Amrine-Madsen H, Burstin S, Miller LG (2014) Incidence and cost of hospitalizations associated with Staphylococcus aureus skin and soft tissue infections in the United States from 2001 through 2009. BMC Infect Dis 14(1):296
Acknowledgements
The authors would like to pay a token of thanks to Prof. Zafar Malik and all surgical teams of the surgical wards who helped us throughout the project.
Ethics declarations
Conflict of Interest
The authors declare that they have no conflict of interest.
Informed Consent
Consent was obtained from the participants.
Ethical Approval
Ethical approval was obtained from the hospital and university. The Bio-Ethics Committee (BEC) of Quaid-i-Azam University had approved and permitted this cross-sectional study. The assigned protocol number was (BEC-FBSQAU-103) granted. The Pakistan Institute of medical sciences ethical review board (ERB) also approved the current study and allotted (No. F.11/2015/ERB/SZAMBU) protocol reference.
Additional information
Publisher's Note
Springer Nature remains neutral with regard to jurisdictional claims in published maps and institutional affiliations.
Electronic Supplementary Material
Annex-I. List of independent variables and dependent variables
Annex-I. List of independent variables and dependent variables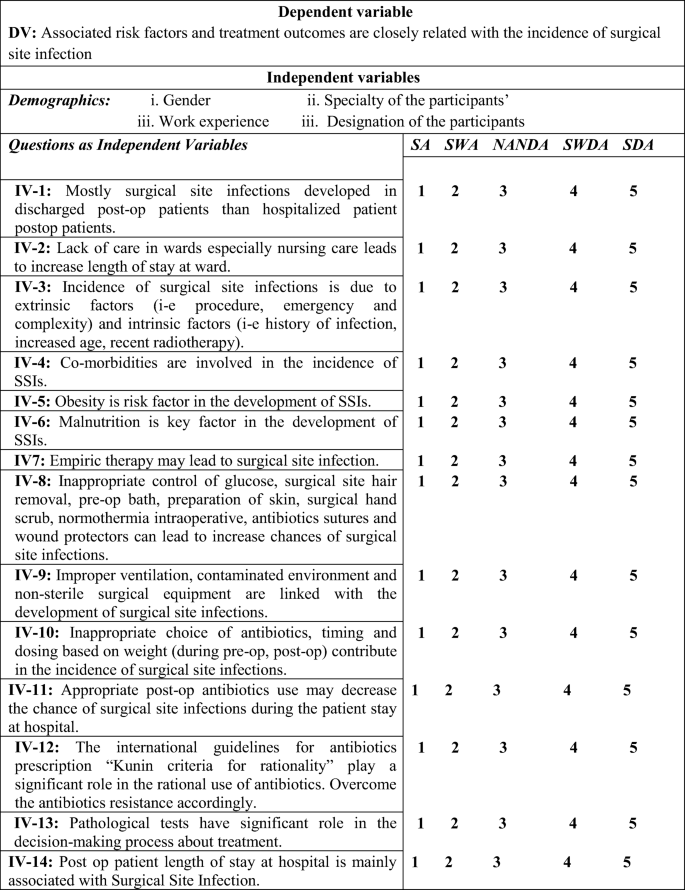 About this article
Cite this article
Khan, F.U., Khan, Z., Rehman, A. et al. Perception of Surgical Teams Towards Surgical Site Infections in Tertiary Care Hospital Islamabad, Pakistan. Indian J Surg 82, 394–401 (2020). https://doi.org/10.1007/s12262-019-01972-7
Received:

Accepted:

Published:

Issue Date:
Keywords
Surgical site infection

Risk factors

Cronbach alpha