Abstract
To evaluate the diagnostic performance and clinical significance of 4 systems of substaging cases with non-muscle invasive urothelial bladder carcinoma. In addition 4 cutoff measures were evaluated for prediction of muscularis-mucosa invasion. Four substaging systems were applied to 57 NMIBC cases to assess which of these reported methods correlates best with recurrence and progression. On univariate regression analysis patients having tumor size more than 3 cm, solid tumor architecture, high grade, substage B, substage T1e, substage ROL 2 and Tumor depth more than 1 mm were associated with higher recurrence. On multivariate analysis all the four substaging systems, tumor size, grade and tumor type had significant prognostic value for recurrence. Regarding progression only the metric substaging method was associated with tumor progression (p = 0.04). However, on univariate and multivariate regression analysis none of the substaging systems showed prognostic significance and only solid tumor architecture and CIS had significant prognostic value for tumor progression. The ROC curve analysis showed that 1 mm depth of invasion had the best accuracy for detection of muscularis-mucosa invasion (80.2%). Using 1 mm cutoff in measuring the depth and 0.5 mm for the diameter of infiltration may provide clinically relevant information to guide a more personalized therapy for NMIBC. Inclusion of both measures in addition to other histopathologic variables may aid in the development of a scoring system.
Access options
Buy single article
Instant access to the full article PDF.
US$ 39.95
Tax calculation will be finalised during checkout.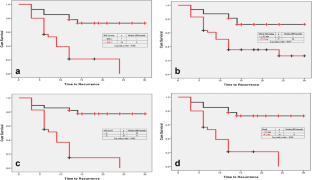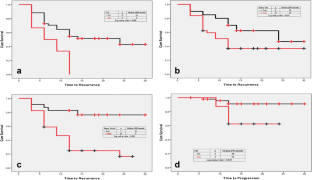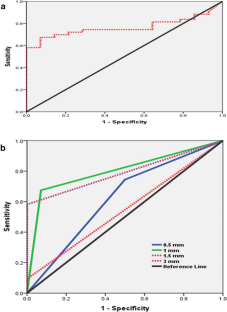 References
1.

Ploeg M, Aben KK, Kiemeney LA (2009) The present and future burden of urinary bladder cancer in the world. World J Urol 27(3):289–293

2.

Hu Z, Mudaliar K, Quek ML, Paner GP, Barkan GA (2014) Measuring the dimension of invasive component in pT1 urothelial carcinoma in transurethral resection specimens can predict time to recurrence. Ann Diagn Pathol 18(2):49–52

3.

van de Putte EE F, Otto W, Hartmann A, Bertz S, Mayr R, Brundl J, Breyer J, Manach Q, Comperat EM, Boormans JL et al (2018) Metric substage according to micro and extensive lamina propria invasion improves prognostics in T1 bladder cancer. Urol Oncol 36(8):361e367–361e313

4.

Patriarca C, Hurle R, Moschini M, Freschi M, Colombo P, Colecchia M, Ferrari L, Guazzoni G, Conti A, Conti G et al (2016) Usefulness of pT1 substaging in papillary urothelial bladder carcinoma. Diagn Pathol 11:6

5.

Magers MJ, Lopez-Beltran A, Montironi R, Williamson SR, Kaimakliotis HZ, Cheng L (2019) Staging of bladder cancer. Histopathology 74(1):112–134

6.

Otto W, van Rhijn BW, Breyer J, Bertz S, Eckstein M, Mayr R, Lausenmeyer EM, Denzinger S, Burger M, Hartmann A (2018) Infiltrative lamina propria invasion pattern as an independent predictor for cancer-specific and overall survival of instillation treatment-naive stage T1 high-grade urothelial bladder cancer. Int J Urol 25(5):442–449

7.

Cheng L, Weaver AL, Neumann RM, Scherer BG, Bostwick DG (1999) Substaging of T1 bladder carcinoma based on the depth of invasion as measured by micrometer: a new proposal. Cancer 86(6):1035–1043

8.

Chang WC, Chang YH, Pan CC (2012) Prognostic significance in substaging ofT1 urinary bladder urothelial carcinoma on transurethral resection. Am J Surg Pathol 36(3):454–461

9.

van der Aa MN, van Leenders GJ, Steyerberg EW, van Rhijn BW, Jobsis AC, Zwarthoff EC, van der Kwast TH (2005) A new system for substaging pT1 papillary bladder cancer: a prognostic evaluation. Human Pathol 36(9):981–986

10.

van Rhijn BW, van der Kwast TH, Alkhateeb SS, Fleshner NE, van Leenders GJ, Bostrom PJ, van der Aa MN, Kakiashvili DM, Bangma CH, Jewett MA et al (2012) A new and highly prognostic system to discern T1 bladder cancer substage. Eur Urol 61(2):378–384

11.

van den Bosch S, Alfred Witjes J (2011) Long-term cancer-specific survival in patients with high-risk, non-muscle-invasive bladder cancer and tumour progression: a systematic review. Eur Urol 60(3):493–500

12.

Leivo MZ, Sahoo D, Hamilton Z, Mirsadraei L, Shabaik A, Parsons JK, Kader AK, Derweesh I, Kane C, Hansel DE (2018) Analysis of T1 bladder Cancer on biopsy and transurethral resection specimens: comparison and ranking of T1 quantification approaches to predict progression to Muscularis Propria invasion. Am J Surg Pathol 42(1):e1–e10

13.

Brimo F, Wu C, Zeizafoun N, Tanguay S, Aprikian A, Mansure JJ, Kassouf W (2013) Prognostic factors in T1 bladder urothelial carcinoma: the value of recording millimetric depth of invasion, diameter of invasive carcinoma, and muscularis mucosa invasion. Human Pathol 44(1):95–102

14.

Paner GP, Montironi R, Amin MB (2017) Challenges in pathologic staging of bladder Cancer: proposals for fresh approaches of assessing pathologic stage in light of recent studies and observations pertaining to bladder Histoanatomic variances. Adv Anat Pathol 24(3):113–127

15.

Kondylis FI, Demirci S, Ladaga L, Kolm P, Schellhammer PF (2000) Outcomes after intravesical bacillus Calmette-Guerin are not affected by substaging of high grade T1 transitional cell carcinoma. J Urol 163(4):1120–1123

16.

van de Putte EE F, Behrendt MA, Pigot GL, van der Kwast TH, van Rhijn BW (2015) Prognostic significance of substage and WHO classification systems in T1 urothelial carcinoma of the bladder. Curr Opin Urol 25(5):427–435

17.

Dem V, Cerruto MA, D'Elia C, Brunelli M, Otte O, Minja A, Luchini C, Novella G, Cavalleri S, Martignoni G et al (2014) Prognostic role of substaging in T1G3 transitional cell carcinoma of the urinary bladder. Mol Clin Oncol 2(4):575–580

18.

Nishiyama N, Kitamura H, Maeda T, Takahashi S, Masumori N, Hasegawa T, Tsukamoto T (2013) Clinicopathological analysis of patients with non-muscle-invasive bladder cancer: prognostic value and clinical reliability of the 2004 WHO classification system. Jpn J Clin Oncol 43(11):1124–1131

19.

Bertz S, Denzinger S, Otto W, Wieland WF, Stoehr R, Hofstaedter F, Hartmann A (2011) Substaging by estimating the size of invasive tumour can improve risk stratification in pT1 urothelial bladder cancer-evaluation of a large hospital-based single-Centre series. Histopathology 59(4):722–732

20.

Orsola A, Werner L, de Torres I, Martin-Doyle W, Raventos CX, Lozano F, Mullane SA, Leow JJ, Barletta JA, Bellmunt J et al (2015) Reexamining treatment of high-grade T1 bladder cancer according to depth of lamina propria invasion: a prospective trial of 200 patients. Br J Cancer 112(3):468–474

21.

Martin-Doyle W, Leow JJ, Orsola A, Chang SL, Bellmunt J (2015) Improving selection criteria for early cystectomy in high-grade t1 bladder cancer: a meta-analysis of 15,215 patients. J Clin Oncol 33(6):643–650

22.

Gontero P, Sylvester R, Pisano F, Joniau S, Vander Eeckt K, Serretta V, Larre S, Di Stasi S, Van Rhijn B, Witjes AJ et al (2015) Prognostic factors and risk groups in T1G3 non-muscle-invasive bladder cancer patients initially treated with Bacillus Calmette-Guerin: results of a retrospective multicenter study of 2451 patients. Eur Urol 67(1):74–82

23.

Andius P, Johansson SL, Holmang S (2007) Prognostic factors in stage T1 bladder cancer: tumor pattern (solid or papillary) and vascular invasion more important than depth of invasion. Urology 70(4):758–762
Ethics declarations
Conflict of Interest
Authors declare no conflict of interest.
Additional information
Publisher's Note
Springer Nature remains neutral with regard to jurisdictional claims in published maps and institutional affiliations.
About this article
Cite this article
Eldin, M.E., Makboul, R., Behnsawy, H.M. et al. Comparative Application of Different Substaging Techniques for Non-Muscle Invasive Urothelial Carcinoma. Pathol. Oncol. Res. 26, 1823–1831 (2020). https://doi.org/10.1007/s12253-019-00767-1
Received:

Accepted:

Published:

Issue Date:
Keywords
Substaging

Non-muscle invasive

Urothelial carcinoma

Urinary bladder