Abstract
Tamoxifen is the most important treatment component in estrogen receptor positive (ER+) breast carcinoma patients. Tamoxifen resistance incidence presents an important obstacle in clinical treatment. Mechanisms underlying tamoxifen refractory are not completely understood. Although elevated expression of Gankyrin (P28GANK) and stem cell markers Nanog, Oct-4 and Sox-2 have been reported in breast carcinoma, their role in tamoxifen resistance progression has not been explored. In the present study, P28GANK and stem cell markers Nanog, Oct-4 and Sox-2 expression were evaluated using quantitative RT-PCR and immunohistochemical technology in 72 breast carcinoma patients who received tamoxifen as adjuvant anti-hormone treatment. Expression data were correlated with the clinical outcome and survival of patients. Data analysis showed that P28GANK, Oct-4 and Sox-2 transcripts were significantly overexpressed in tamoxifen resistance patients. Immunohistochemical staining indicated that protein expression of P28GANK and Oct-4 were also significantly higher in tamoxifen resistance patients. We have shown a positive correlation between mRNA and protein expression of P28GANK, Oct-4 and Sox-2. Multivariate logistic regression analysis indicated that P28GANK (P = 0.002) and Oct-4 (P = 0.013) overexpression could be negative independent factors of disease outcome. Additionally, in the whole study group, multivariate Cox regression analysis revealed that high expression of P28GANK and Oct-4 remained significant and unfavorable predictive factors for patients' survival. These findings suggest that Gankyrin and Oct-4 overexpression could promote tamoxifen refractory in breast cancer patients. More studies are warranted to clarify the predictive role of these potential biomarkers for patients who don't benefit from tamoxifen treatment and their possible application as prognostic markers in ER+ tamoxifen-treated breast carcinoma patients.
This is a preview of subscription content, log in to check access.
Access options
Buy single article
Instant access to the full article PDF.
US$ 39.95
Price includes VAT for USA
Subscribe to journal
Immediate online access to all issues from 2019. Subscription will auto renew annually.
US$ 99
This is the net price. Taxes to be calculated in checkout.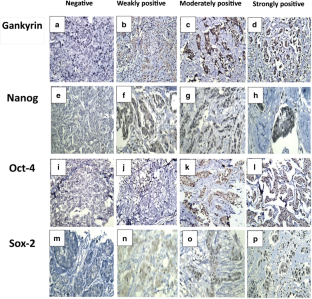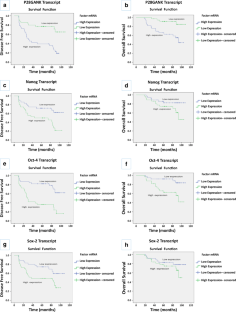 References
1.

Johansson HJ, Sanchez BC, Mundt F, Forshed J, Kovacs A, Panizza E, Hultin-Rosenberg L, Lundgren B, Martens U, Mathe G, Yakhini Z, Helou K, Krawiec K, Kanter L, Hjerpe A, Stal O, Linderholm BK, Lehtio J (2013) Retinoic acid receptor alpha is associated with tamoxifen resistance in breast cancer. Nat Commun 4:2175. https://doi.org/10.1038/ncomms3175

2.

Hayes EL, Lewis-Wambi JS (2015) Mechanisms of endocrine resistance in breast cancer: an overview of the proposed roles of noncoding RNA. Breast cancer research : BCR 17:40. https://doi.org/10.1186/s13058-015-0542-y

3.

Szostakowska M, Trębińska-Stryjewska A, Grzybowska EA, Fabisiewicz A (2019) Resistance to endocrine therapy in breast cancer: molecular mechanisms and future goals. 173 (3):489-497. https://doi.org/10.1007/s10549-018-5023-4

4.

Kumar SM, Liu S, Lu H, Zhang H, Zhang PJ, Gimotty PA, Guerra M, Guo W, Xu X (2012) Acquired cancer stem cell phenotypes through Oct4-mediated dedifferentiation. Oncogene 31(47):4898–4911 http://www.nature.com/onc/journal/v31/n47/suppinfo/onc2011656s1.html

5.

Yuan J, Liu M, Yang L, Tu G, Zhu Q, Chen M, Cheng H, Luo H, Fu W, Li Z, Yang G (2015) Acquisition of epithelial-mesenchymal transition phenotype in the tamoxifen-resistant breast cancer cell: a new role for G protein-coupled estrogen receptor in mediating tamoxifen resistance through cancer-associated fibroblast-derived fibronectin and β1-integrin signaling pathway in tumor cells. Breast Cancer Res 17(1):69. https://doi.org/10.1186/s13058-015-0579-y

6.

Maynard PV, Blamey RW, Elston CW, Haybittle JL, Griffiths K (1978) estrogen receptor assay in primary breast cancer and early recurrence of the disease. Cancer Research 38 (11 Part 2):4292-4295

7.

Simões BM, Piva M, Iriondo O, Comaills V, López-Ruiz JA, Zabalza I, Mieza JA, Acinas O, Vivanco MM (2011) Effects of estrogen on the proportion of stem cells in the breast. Breast Cancer Res Treat 129(1):23–35. https://doi.org/10.1007/s10549-010-1169-4

8.

Higashitsuji H, Itoh K, Nagao T, Dawson S, Nonoguchi K, Kido T, Mayer RJ, Arii S, Fujita J (2000) Reduced stability of retinoblastoma protein by gankyrin, an oncogenic ankyrin-repeat protein overexpressed in hepatomas. Nat Med 6(1):96–99. https://doi.org/10.1038/71600

9.

Li H, Zhang J, Zhen C, Yang B, Feng L (2018) Gankyrin as a potential target for tumor therapy: evidence and perspectives. Am J Transl Res 10(7):1949–1960

10.

Higashitsuji H, Higashitsuji H, Itoh K, Sakurai T, Nagao T, Sumitomo H, Masuda T, Dawson S, Shimada Y, Mayer RJ, Fujita J (2005) The oncoprotein gankyrin binds to MDM2/HDM2, enhancing ubiquitylation and degradation of p53. Cancer Cell 8(1):75–87. https://doi.org/10.1016/j.ccr.2005.06.006

11.

Mandlekar S, Kong AN (2001) Mechanisms of tamoxifen-induced apoptosis. Apoptosis: An International Journal on Programmed Cell Death 6(6):469–477

12.

Gelmann EP (1996) Tamoxifen induction of apoptosis in estrogen receptor-negative cancers: new tricks for an old dog? J Natl Cancer Inst 88(5):224–226

13.

Kim YH, Kim JH, Choi YW, Lim SK, Yim H, Kang SY, Chung YS, Lee GY, Park TJ (2013) Gankyrin is frequently overexpressed in breast cancer and is associated with ErbB2 expression. Exp Mol Pathol 94(2):360–365. https://doi.org/10.1016/j.yexmp.2012.12.002

14.

Mine H, Sakurai T, Kashida H, Matsui S, Nishida N, Nagai T, Hagiwara S, Watanabe T, Kudo M (2013) Association of gankyrin and stemness factor expression in human colorectal cancer. Dig Dis Sci 58(8):2337–2344. https://doi.org/10.1007/s10620-013-2627-8

15.

Jahangiri R, Mosaffa F, Emami Razavi A, Teimoori-Toolabi L, Jamialahmadi K (2018) Altered DNA methyltransferases promoter methylation and mRNA expression are associated with tamoxifen response in breast tumors. J Cell Physiol 233(9):7305–7319. https://doi.org/10.1002/jcp.26562

16.

Wang H, Yang B, Geng T, Li B, Dai P, Chen C (2015) Tissue-specific selection of optimal reference genes for expression analysis of anti-cancer drug-related genes in tumor samples using quantitative real-time RT-PCR. Exp Mol Pathol 98(3):375–381. https://doi.org/10.1016/j.yexmp.2014.10.014

17.

Wang W-P, Sun Y, Lu Q, Zhao J-B, Wang X-J, Chen Z, Ni Y-F, Wang J-Z, Han Y, Zhang Z-P, Yan X-L, Li X-F (2016) Gankyrin promotes epithelial-mesenchymal transition and metastasis in NSCLC through forming a closed circle with IL-6/ STAT3 and TGF-β/SMAD3 signaling pathway. Oncotarget 8(4):5909–5923. https://doi.org/10.18632/oncotarget.13947

18.

Mosaffa F, Kalalinia F, Lage H, Afshari JT, Behravan J (2012) Pro-inflammatory cytokines interleukin-1 beta, interleukin 6, and tumor necrosis factor-alpha alter the expression and function of ABCG2 in cervix and gastric cancer cells. Mol Cell Biochem 363(1):385–393. https://doi.org/10.1007/s11010-011-1191-9

19.

Jahangiri R, Mosaffa F, Gharib M, Emami Razavi AN, Abdirad A, Jamialahmadi K (2018) PAX2 expression is correlated with better survival in tamoxifen-treated breast carcinoma patients. Tissue Cell 52:135–142. https://doi.org/10.1016/j.tice.2018.05.005

20.

Amaya CN, Bryan BA (2015) Enrichment of the embryonic stem cell reprogramming factors Oct4, Nanog, Myc, and Sox2 in benign and malignant vascular tumors. BMC Clin Pathol 15:18. https://doi.org/10.1186/s12907-015-0018-0

21.

Zeng YC, Sun D, Li WH, Zhao J, Xin Y (2017) Gankyrin promotes the proliferation of gastric cancer and is associated with chemosensitivity. Tumour Biology: the Journal of the International Society for Oncodevelopmental Biology and Medicine 39(6):1010428317704820. https://doi.org/10.1177/1010428317704820

22.

Tanic N, Milovanovic Z, Tanic N, Dzodic R, Juranic Z, Susnjar S, Plesinac-Karapandzic V, Tatic S, Dramicanin T, Davidovic R, Dimitrijevic B (2012) The impact of PTEN tumor suppressor gene on acquiring resistance to tamoxifen treatment in breast cancer patients. Cancer Biology & Therapy 13(12):1165–1174. https://doi.org/10.4161/cbt.21346

23.

Thrane S, Pedersen AM, Thomsen MBH, Kirkegaard T, Rasmussen BB, Duun-Henriksen AK, Lankholm AV, Bak M, Lykkesfeldt AE, Yde CW (2015) A kinase inhibitor screen identifies Mcl-1 and Aurora kinase A as novel treatment targets in antiestrogen-resistant breast cancer cells. Oncogene 34(32):4199–4210. https://doi.org/10.1038/onc.2014.351

24.

Zamani P, Matbou Riahi M, Momtazi-Borojeni AA, Jamialahmadi K (2018) Gankyrin: a novel promising therapeutic target for hepatocellular carcinoma. Artificial Cells, Nanomedicine, and Biotechnology 46(7):1301–1313. https://doi.org/10.1080/21691401.2017.1388250

25.

Taheri M, Jamialahmadi K, Kalalinia F (2017) Unexpected Lower Expression of Oncoprotein Gankyrin in Drug Resistant ABCG2 Overexpressing Breast Cancer Cell Lines. Asian Pac J Cancer Prev 18(12):3413–3418. https://doi.org/10.22034/apjcp.2017.18.12.3413

26.

Chen X, Zhang M, Liu LX (2009) The overexpression of multidrug resistance-associated proteins and gankyrin contribute to arsenic trioxide resistance in liver and gastric cancer cells. Oncol Rep 22(1):73–80

27.

Qian YW, Chen Y, Yang W, Fu J, Cao J, Ren YB, Zhu JJ, Su B, Luo T, Zhao XF, Dai RY, Li JJ, Sun W, Wu MC, Feng GS, Wang HY (2012) p28(GANK) prevents degradation of Oct4 and promotes expansion of tumor-initiating cells in hepatocarcinogenesis. Gastroenterology 142(7):1547–1558. e1514. https://doi.org/10.1053/j.gastro.2012.02.042

28.

Sun J, Xu K, Qiu Y, Gao H, Xu J, Tang Q, Yin P (2017) Bufalin reverses acquired drug resistance by inhibiting stemness in colorectal cancer cells. Oncol Rep 38(3):1420–1430. https://doi.org/10.3892/or.2017.5826

29.

Rodriguez D, Ramkairsingh M, Lin X, Kapoor A, Major P, Tang D (2019) The Central Contributions of Breast Cancer Stem Cells in Developing Resistance to Endocrine Therapy in Estrogen Receptor (ER)-Positive Breast Cancer. Cancers 11(7). https://doi.org/10.3390/cancers11071028

30.

Arif K, Hussain I, Rea C, El-Sheemy M (2015) The role of Nanog expression in tamoxifen-resistant breast cancer cells. OncoTargets and Therapy 8:1327–1334. https://doi.org/10.2147/OTT.S67835

31.

Leung EY, Askarian-Amiri ME, Sarkar D, Ferraro-Peyret C, Joseph WR, Finlay GJ, Baguley BC (2017) Endocrine Therapy of Estrogen Receptor-Positive Breast Cancer Cells: Early Differential Effects on Stem Cell Markers. Front Oncol 7:184. https://doi.org/10.3389/fonc.2017.00184

32.

Zhong B, Lin Y, Lai Y, Zheng F, Zheng X, Huang R, Yang W, Chen Z (2016) Relationship of Oct-4 to malignant stage: a meta-analysis based on 502 positive/high Oct-4 cases and 522 negative/low case-free controls. Oncotarget 7(2):2143–2152. https://doi.org/10.18632/oncotarget.5737

33.

Zhao X, Liu F, Zhang Y, Li P (2016) Prognostic and clinicopathological significance of Gankyrin overexpression in cancers: evidence from a meta-analysis. Onco Targets Ther 9:1961–1968. https://doi.org/10.2147/OTT.S101687

34.

Yang F, Zhang J, Yang H (2018) OCT4, SOX2, and NANOG positive expression correlates with poor differentiation, advanced disease stages, and worse overall survival in HER2(+) breast cancer patients. Onco Targets Ther 11:7873–7881. https://doi.org/10.2147/ott.s173522

35.

Wilbertz T, Wagner P, Petersen K, Stiedl AC, Scheble VJ, Maier S, Reischl M, Mikut R, Altorki NK, Moch H, Fend F, Staebler A, Bass AJ, Meyerson M, Rubin MA, Soltermann A, Lengerke C, Perner S (2011) SOX2 gene amplification and protein overexpression are associated with better outcome in squamous cell lung cancer. Modern pathology: an Official Journal of the United States and Canadian Academy of Pathology, Inc 24(7):944–953. https://doi.org/10.1038/modpathol.2011.49

36.

Yu B, Cai H, Xu Z, Xu T, Zou Q, Gu M (2016) Expressions of stem cell transcription factors Nanog and Oct4 in renal cell carcinoma tissues and clinical significance. Artificial Cells, Nanomedicine, and Biotechnology 44(8):1818–1823. https://doi.org/10.3109/21691401.2015.1105238
Acknowledgements
This work was financially supported by two research grant (Grant No. 941766 and 941507) from the Vice Chancellor of Research, Mashhad University of Medical Sciences, Mashhad, Iran. The authors are grateful to staff of Cancer Institute of Imam Khomeini hospital of Tehran for their kindly collaborations.
Ethics declarations
Conflict of Interest
The authors declare that they have no conflict of interest.
Ethical Approval
All experiments performed in this study were in accordance with the ethical standards of the local ethical committee at Mashhad University of Medical Sciences, Mashhad, Iran.
Informed Consent
Each recruited patient has signed written informed consent for retention and analysis of her tissue and long-term follow-up.
Additional information
Publisher's Note
Springer Nature remains neutral with regard to jurisdictional claims in published maps and institutional affiliations.
About this article
Cite this article
Jahangiri, R., Mosaffa, F., EmamiRazavi, A. et al. Increased Expression of Gankyrin and Stemness Factor Oct-4 are Associated with Unfavorable Clinical Outcomes and Poor Benefit of Tamoxifen in Breast Carcinoma Patients. Pathol. Oncol. Res. 26, 1921–1934 (2020). https://doi.org/10.1007/s12253-019-00766-2
Received:

Accepted:

Published:

Issue Date:
Keywords
Breast Cancer

Tamoxifen Resistance

Gankyrin

Oct-4