Abstract
In this study we aim to demonstrate the value of monoclonal Caveolin 1 expression in distinguishing between malignant pleural mesothelioma and pulmonary adenocarcinoma. Total of 129 cases, consisting of 68 cases of malignant pleural mesothelioma (51 epitheloid, 12 biphasic, and 5 sarcomatoid type) and 61 cases of pulmonary adenocarcinoma were examined and stained with monoclonal Caveolin-1. Caveolin 1 expression with a membranous and /or cytoplasmic pattern was detected only in 32.35% (n:22/68) of malignant pleural mesothelioma and 6.5% (n:4/61) of pulmonary adenocarcinoma cases. This finding suggests that the choice of poly/monoclonal antibody for Caveolin 1 in the differential diagnosis of malignant pleural mesothelioma and pulmonary adenocarcinoma is important.
Access options
Buy single article
Instant access to the full article PDF.
US$ 39.95
Tax calculation will be finalised during checkout.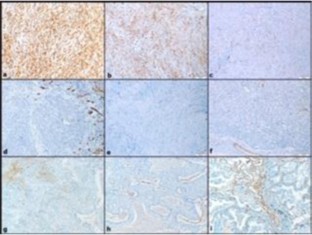 References
1.

Bibby AC, Tsim S, Kanellakis N, Ball H, Talbot DC, Blyth KG et al (2016) Malignant pleural mesothelioma: an update on investigation, diagnosis and treatment. Eur Respir Rev 25:472–486

2.

Christian Geltner C, Errhalt P, Baumgartner B, Ambrosch G, Machan B (2016) Eckmayr J,; Austrian mesothelioma interest group (AMIG). Management of malignant pleural mesothelioma - part 1: epidemiology, diagnosis, and staging : consensus of the Austrian Mesothelioma Interest Group (AMIG). Wien Klin Wochenschr 128(17–18):611–617

3.

Beckett P, Edwards J, Fennell D, Hubbard R, Woolhouse I, Peake MD (2015) Demographics, management and survival of patients with malignant pleural mesothelioma in the National Lung Cancer Audit in England and Wales. Lung Cancer 88:344–348

4.

Betta PG, Magnani C, Bensi T, Trincheri NF, Orecchia S (2012) Immunohistochemistry and molecular diagnostics of pleural malignant mesothelioma. Arch Pathol Lab Med 136:253–261

5.

Creaney J, Robinson BWS, Geltner C, Errhalt P, Baumgartner B, Ambrosch G, Austrian Mesothelioma Interest Group (AMIG) (2017) Malignant Mesothelioma. biomarkers: from discovery to use in clinical practice for diagnosis, monitoring, screening, and treatment. Chest 152:143–149

6.

Su XY, Li GD, Liu WP, Xie B, Jiang YH (2011) Cytological differential diagnosis among adenocarcinoma, epithelial mesothelioma, and reactive mesothelial cells in serous effusions by immunocytochemistry. Diagn Cytopathol 39:900–908

7.

Gueugnon F, Leclercq S, Blanquart C, Sagan C, Cellerin L, Padieu M, Perigaud C, Scherpereel A, Gregoire M (2011) Identification of novel markers for the diagnosis of malignant pleural mesothelioma. Am J Pathol 178:1033–1042

8.

Churg A, Sheffield BS, Galateau-Salle F (2016) New markers for separating benign from malignant Mesothelial proliferations are we there yet? Arch Pathol Lab Med 140:318–321

9.

Fu P, Chen F, Pan Q, Zhao X, Zhao C, Cho WC et al (2017) The different functions and clinical significances of caveolin-1 in human adenocarcinoma and squamous cell carcinoma. Onco Targets Ther 10:819–835

10.

Amatya VJ, Takeshima Y, Kohno H, Kushitani K, Yamada T, Morimoto C, Inai K (2009) Caveolin- 1 is a novel immunohistochemical marker to differentiate epithelioid mesothelioma from lung adenocarcinoma. Histopathology 55:10–19

11.

Astoul P, Roca E, GalateauSallé F, Scherpereel A (2012) Malignant pleural mesothelioma: from the bench to the bedside. Respiration 83:481–493

12.

Husain AN, Colby T, Ordonez NG et al (2012) Guidelines for pathologic diagnosis of malignant mesothelioma. Arch Pathol Lab Med 137

13.

Dinu M, Ciurea RN, Stefan M, Georgescu AC (2012) The role of immunohistochemistry in the diagnosis of neoplastic pleural effusions. Rom J Morphol Embryol 53:817–820

14.

Panou V, Vyberg M, Weinreich UM, Meristoudis C, Falkmer UG, Røe OD (2015) The established and future biomarkers of malignant pleural mesothelioma. Cancer Treat Rev 41:486–495

15.

Richter G, Heidersdorf H, Hirschfeld D, Krebbel F (2016 Mar 4) Positive TTF-1 expression in malignant mesothelioma: a case report. Am J Case Rep 17:133–136

16.

Chaouche-Mazouni S, Scherpereel A, Zaamoum R, Mihalache A, Amir ZC, Lebaïli N, Delaire B, Gosset P (2015) Claudin 3, 4, and 15 expression in solid tumors of lung adenocarcinoma versus malignant pleural mesothelioma. Ann Diagn Pathol 19(4):193–197

17.

Carbone M, Shimizu D, Napolitano A, Tanji M, Pass HI, Yang H, Pastorino S (2016) Positive nuclear BAP1 immunostaining helps differentiate non-small cell lung carcinomas from malignant mesothelioma. Oncotarget 7:59314–59321

18.

Sahin N, Akatli AN, Celik MR, Ulutas H, Samdanci ET, Colak C (2017) The role of CD90 in the differential diagnosis of pleural malignant mesothelioma, pulmonary carcinoma and comparison with Calretının. Pathol Oncol Res 23:487–491

19.

Üçer Ö, Dağli AF, Kiliçarslan A, Artaş G (2013) Value of Glut-1 and Koc markers in the differential diagnosis of reactive mesothelial hyperplasia, malignant mesothelioma and pulmonary adenocarcinoma. Turk Patoloji Derg 29:94–100

20.

Amatya VJ, Kushitani K, Mawas AS, Miyata Y, Okada M, Kishimoto T et al (2017) MUC4, a novel immunohistochemical marker identified by gene expression profiling, differentiates pleural sarcomatoid mesothelioma from lung sarcomatoid carcinoma. Mod Pathol 30:672–681

21.

Ren R, Yin P, Zhang Y, Zhou J, Zhou Y, Xu R et al (2016) Diagnostic value of fibulin-3 for malignant pleural mesothelioma: a systematic review and meta-analysis. Oncotarget 7:84851–84859

22.

Jia Y, Wang N, Wang J et al (2014) Down-regulation of stromal caveolin-1 expression in esophageal squamous cell carcinoma: a potent predictor of lymph node metastases, early tumor recurrence, and poor prognosis. Ann Surg Oncol 21:329–336

23.

Zhan P, Shen XK, Qian Q et al (2012) Expression of caveolin-1 is correlated with disease stage and survival in lung adenocarcinomas. Oncol Rep 27:1072–1078

24.

Ma X, Liu L, Nie W, Li Y, Zhang B, Zhang J, Zhou R (2013) Prognostic role of caveolin in breast cancer: a meta-analysis. Breast 22:462–469

25.

Tang Y, Zeng X, He F, Liao Y, Qian N, Toi M (2012) Caveolin-1 is related to invasion, survival, and poor prognosis in hepatocellular cancer. MedOncol 29:977–984

26.

Nam KH, Lee BL, Park JH, Kim J, Han N, Lee HE, Kim MA, Lee HS, Kim WH (2013) Caveolin 1 expression correlates with poor prognosis and focal adhesion kinase expression in gastric cancer. Pathobiology 80:87–94

27.

Suzuoki M, Miyamoto M, Kato K, Hiraoka K, Oshikiri T, Nakakubo Y, Fukunaga A, Shichinohe T, Shinohara T, Itoh T, Kondo S, Katoh H (2002) Impact of caveolin-1 expression on prognosis of pancreatic ductal adenocarcinoma. Br J Cancer 87:1140–1144

28.

Zhao Z, Han FH, Yang SB, Hua LX, Wu JH, Zhan WH (2015) Loss of stromal caveolin-1 expression in colorectal cancer predicts poor survival. World J Gastroenterol 21:1140–1147

29.

Joo HJ, Oh DK, Kim YS, Lee KB, Kim SJ (2004) Increased expression of caveolin-1 and microvessel density correlates with metastasis and poor prognosis in clear cell renal cell carcinoma. BJU Int 93:291–296

30.

Karam JA, Lotan Y, Roehrborn CG, Ashfaq R, KarakiewiczPI SSF (2007) Caveolin-1 overexpression is associated with aggressive prostate cancer recurrence. Prostate 67:614–622

31.

von Ruhland CJ, Campbell L, Gumbleton M, Jasani B, Newman GR (2004) Immunolocalization of caveolin-1 in rat and human mesothelium. J Histochem Cytochem 52:1415–1425

32.

Thapa B, Walkiewicz M, Murone C, Asadi K, Deb S, Barnett S, Knight S, Mitchell P, Liew D, Watkins DN, John T (2016) Calretinin but not caveolin-1 correlates with tumour histology and survival in malignant mesothelioma. Pathology 48:660–665

33.

Righi L, Cavallo MC, Gatti G, Monica V, Rapa I, Busso S et al (2014) Tumor/stromal caveolin-1 expression patterns in pleural mesothelioma define a subgroup of the epithelial histotype with poorer prognosis. Am J Clin Pathol 141:816–827

34.

Attanoos RL, Griffin A, Gibbs AR (2003) The use of immunohistochemistry distinguishing reactive from neoplastic mesothelium. A novel use for desmin and comparative evaluation with epithelial membrane antigen, p53, platelet-derived growth factor-receptor, P-glycoprotein and Bcl-2. Histopathology 43:231–238
Ethics declarations
Conflict of Interest
There is no conflict of interest.
Additional information
Publisher's Note
Springer Nature remains neutral with regard to jurisdictional claims in published maps and institutional affiliations.
This study was presented as a poster presentation in the part of the 31th International Congress of the International Academy of Pathology and 28th Congress of the European Society of Pathology, Cologne, Germany, 2016.
About this article
Cite this article
Bozdag, Z., Tutar, E., Dizibuyuk, O.F. et al. Monoclonal Caveolin 1 Expression in the Differential Diagnosis of Malignant Pleural Mesothelioma and Pulmonary Adenocarcinoma: Is it Useful?. Pathol. Oncol. Res. 26, 1651–1656 (2020). https://doi.org/10.1007/s12253-019-00751-9
Received:

Accepted:

Published:

Issue Date:
Keywords
Caveolin 1

Mesothelioma

Pulmonary adenocarcinoma