Abstract
Long noncoding RNAs (lncRNA) have emerged as vital molecules governing epithelial-to-mesenchymal transition (EMT) in cancers. Translation regulatory RNA 1 (TRERNA1) is one such lncRNA known to enhance the transcriptional activity of the EMT-transcription factor, Snail. We have previously demonstrated differential upregulation of EMT-transcription factors and cadherin switching across various clinico-pathologic-molecular subclasses of ependymomas (EPN). With an aim to analyze the correlation between the expression of TRERNA1 in EPNs, we performed gene expression analysis for TRERNA1 on 75 Grade II/III EPNs and correlated with tumor site, C11orf95-RELA fusions, age, MIB-1 proliferative indices, and outcome wherever available. Upregulation of gene expression levels of TRERNA1 was seen in intracranial EPNs, with highest expression levels in pediatric posterior fossa EPNs. High TRERNA1 expression was found associated with higher proliferative indices (p = 0.034) and shorter progression free survival (p = 0.002). Our study, for the first time, demonstrates an association between TRERNA1 expressions and pediatric posterior fossa EPNs. Further in-vivo and in-vitro studies are required to confirm these findings and evaluate TRERNA1 as a novel biomarker and potential therapeutic target in childhood PF-EPNs.
Access options
Buy single article
Instant access to the full article PDF.
US$ 39.95
Tax calculation will be finalised during checkout.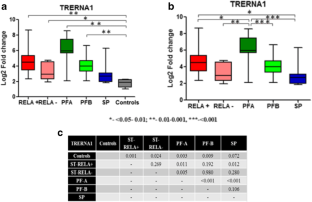 References
1.

Kilday JP, Rahman R, Dyer S, Ridley L, Lowe J, Coyle B, Grundy R (2009) Pediatric ependymoma: biological perspectives. Mol Cancer Res 7(6):765–786

2.

Ramaswamy V, Hielscher T, Mack SC, Lassaletta A, Lin T, Pajtler KW, Jones DTW, Luu B, Cavalli FMG, Aldape K, Remke M, Mynarek M, Rutkowski S, Gururangan S, McLendon RE, Lipp ES, Dunham C, Hukin J, Eisenstat DD, Fulton D, van Landeghem FKH, Santi M, van Veelen MLC, van Meir EG, Osuka S, Fan X, Muraszko KM, Tirapelli DPC, Oba-Shinjo SM, Marie SKN, Carlotti CG, Lee JY, Rao AAN, Giannini C, Faria CC, Nunes S, Mora J, Hamilton RL, Hauser P, Jabado N, Petrecca K, Jung S, Massimi L, Zollo M, Cinalli G, Bognár L, Klekner A, Hortobágyi T, Leary S, Ermoian RP, Olson JM, Leonard JR, Gardner C, Grajkowska WA, Chambless LB, Cain J, Eberhart CG, Ahsan S, Massimino M, Giangaspero F, Buttarelli FR, Packer RJ, Emery L, Yong WH, Soto H, Liau LM, Everson R, Grossbach A, Shalaby T, Grotzer M, Karajannis MA, Zagzag D, Wheeler H, von Hoff K, Alonso MM, Tuñon T, Schüller U, Zitterbart K, Sterba J, Chan JA, Guzman M, Elbabaa SK, Colman H, Dhall G, Fisher PG, Fouladi M, Gajjar A, Goldman S, Hwang E, Kool M, Ladha H, Vera-Bolanos E, Wani K, Lieberman F, Mikkelsen T, Omuro AM, Pollack IF, Prados M, Robins HI, Soffietti R, Wu J, Metellus P, Tabori U, Bartels U, Bouffet E, Hawkins CE, Rutka JT, Dirks P, Pfister SM, Merchant TE, Gilbert MR, Armstrong TS, Korshunov A, Ellison DW, Taylor MD (2016) Therapeutic impact of Cytoreductive surgery and irradiation of posterior Fossa Ependymoma in the molecular era: a retrospective multicohort analysis. J Clin Oncol 34:2468–2477

3.

Zamecnik J, Snuderl M, Eckschlager T, Chanova M, Hladikova M, Tichy M, Kodet R (2003) Paediatric intracranial ependymomas: prognostic relevance of histological, immunohistochemical, and flow cytometric factors. Mod Pathol 16:980–991

4.

Gupta RK, Sharma MC, Suri V, Kakkar A, Singh M, Sarkar C (2014) Study of chromosome 9q gain, notch pathway regulators and Tenascin-C in ependymomas. J Neuro-Oncol 116:267–274

5.

Nambirajan A, Sharma MC, Gupta RK, Suri V, Singh M, Sarkar C (2014) Study of stem cell marker nestin and its correlation with vascular endothelial growth factor and microvascular density in ependymomas. Neuropathol Appl Neurobiol 40:714–725

6.

Rajeshwari M, Sharma MC, Kakkar A, Nambirajan A, Suri V, Sarkar C, Singh M, Saran RK, Gupta RK (2016) Evaluation of chromosome 1q gain in intracranial ependymomas. J Neuro-Oncol 127:271–278

7.

Pajtler KW, Witt H, Sill M, Jones DT, Hovestadt V, Kratochwil F, Wani K, Tatevossian R, Punchihewa C, Johann P, Reimand J, Warnatz HJ, Ryzhova M, Mack S, Ramaswamy V, Capper D, Schweizer L, Sieber L, Wittmann A, Huang Z, van Sluis P, Volckmann R, Koster J, Versteeg R, Fults D, Toledano H, Avigad S, Hoffman LM, Donson AM, Foreman N, Hewer E, Zitterbart K, Gilbert M, Armstrong TS, Gupta N, Allen JC, Karajannis MA, Zagzag D, Hasselblatt M, Kulozik AE, Witt O, Collins VP, von Hoff K, Rutkowski S, Pietsch T, Bader G, Yaspo ML, von Deimling A, Lichter P, Taylor MD, Gilbertson R, Ellison DW, Aldape K, Korshunov A, Kool M, Pfister SM (2015) Molecular classification of ependymal tumors across all CNS compartments, histopathological grades, and age groups. Cancer Cell 27:728–743

8.

Mack SC, Witt H, Piro RM, Gu L, Zuyderduyn S, Stütz AM, Wang X, Gallo M, Garzia L, Zayne K, Zhang X, Ramaswamy V, Jäger N, Jones DTW, Sill M, Pugh TJ, Ryzhova M, Wani KM, Shih DJH, Head R, Remke M, Bailey SD, Zichner T, Faria CC, Barszczyk M, Stark S, Seker-Cin H, Hutter S, Johann P, Bender S, Hovestadt V, Tzaridis T, Dubuc AM, Northcott PA, Peacock J, Bertrand KC, Agnihotri S, Cavalli FMG, Clarke I, Nethery-Brokx K, Creasy CL, Verma SK, Koster J, Wu X, Yao Y, Milde T, Sin-Chan P, Zuccaro J, Lau L, Pereira S, Castelo-Branco P, Hirst M, Marra MA, Roberts SS, Fults D, Massimi L, Cho YJ, van Meter T, Grajkowska W, Lach B, Kulozik AE, von Deimling A, Witt O, Scherer SW, Fan X, Muraszko KM, Kool M, Pomeroy SL, Gupta N, Phillips J, Huang A, Tabori U, Hawkins C, Malkin D, Kongkham PN, Weiss WA, Jabado N, Rutka JT, Bouffet E, Korbel JO, Lupien M, Aldape KD, Bader GD, Eils R, Lichter P, Dirks PB, Pfister SM, Korshunov A, Taylor MD (2014) Epigenomic alterations define lethal CIMP-positive ependymomas of infancy. Nature 506:445–450

9.

Malgulwar PB, Nambirajan A, Pathak P, Faruq M, Rajeshwari M, Singh M, Suri V, Sarkar C, Sharma MC (2018) C11orf95-RELA fusions and upregulated NF-KB signaling characterise a subset of aggressive supratentorial ependymomas that express L1CAMand nestin. J Neuro-Oncol 138:29–39

10.

Pajtler KW, Mack SC, Ramaswamy V, Smith CA, Witt H, Smith A, Hansford JR, von Hoff K, Wright KD, Hwang E, Frappaz D, Kanemura Y, Massimino M, Faure-Conter C, Modena P, Tabori U, Warren KE, Holland EC, Ichimura K, Giangaspero F, Castel D, von Deimling A, Kool M, Dirks PB, Grundy RG, Foreman NK, Gajjar A, Korshunov A, Finlay J, Gilbertson RJ, Ellison DW, Aldape KD, Merchant TE, Bouffet E, Pfister SM, Taylor MD (2017) The current consensus on the clinical management of intracranial ependymoma and its distinct molecular variants. Acta Neuropathol 133:5–12

11.

Malgulwar PB, Sharma V, Tomar AS, Verma C, Nambirajan A, Singh M, Suri V, Sarkar C, Sharma MC (2018) Transcriptional co-expression regulatory network analysis for snail and slug identifies IL1R1, an inflammatory cytokine receptor, to be preferentially expressed in ST-EPN-RELA and PF-EPN-A molecular subgroups of intracranial ependymomas. Oncotarget 9:35480–35492

12.

Thiery JP, Acloque H, Huang RY et al (2009) Epithelial-mesenchymal transitions in development and disease. Cell 139:871–890

13.

Kahlert UD, Nikkhah G, Maciaczyk J (2013) Epithelial-to-mesenchymal(−like) transition as a relevant molecular event in malignant gliomas. Cancer Lett 331:131–138

14.

Malgulwar PB, Nambirajan A, Pathak P, Rajeshwari M, Suri V, Sarkar C, Singh M, Sharma MC (2018) Epithelial-to-mesenchymal transition related transcription factors areupregulated in ependymomas and correlate with a poor prognosis. Hum Pathol 82:149–157

15.

Malgulwar PB, Pathak P, Desiraju BK, Nambirajan A, Sarkar C, Suri V, Singh M, Sharma MC (2016) EPN-13 Epithelial-to-mesenchymal transitions in childhood ependymomas mechanistically links oncogenic C11orf95-RELA fusion driven activation of SNAI1/Snail. Neuro-Oncology 18(Suppl 3):iii33. https://doi.org/10.1093/neuonc/now070.12

16.

Mattick JS (2009) The genetic signatures of noncoding RNAs. PLoS Genet 5:e1000459

17.

Ørom UA, Derrien T, Beringer M, Gumireddy K, Gardini A, Bussotti G, Lai F, Zytnicki M, Notredame C, Huang Q, Guigo R, Shiekhattar R (2010) Long noncoding RNAs with enhancer-like function in human cells. Cell 143:46–58

18.

Lin X, Qiu J, Hua K (2018) Long non-coding RNAs as emerging regulators of epithelial to mesenchymal transition in gynecologic cancers. Biosci Trends 12:342–353

19.

Zhang XQ, Leung GK (2014) Long non-coding RNAs in glioma: functional roles and clinical perspectives. Neurochem Int 77:78–85

20.

Zeng J, Du T, Song Y, Gao Y, Li F, Wu R, Chen Y, Li W, Zhou H, Yang Y, Pei Z (2017) Knockdown of long noncoding RNA CCAT2 inhibits cellular proliferation, invasion, and epithelial-mesenchymal transition in glioma cells. Oncol Res 25:913–921

21.

Rothschild G, Basu U (2017) Lingering questions about enhancer RNA and enhancer transcription-coupled genomic instability. Trends Genet 33:143–154

22.

Liu F (2017) Enhancer-derived RNA: a primer. Genomics Proteomics Bioinformatics 15:196–200

23.

Wu H, Hu Y, Liu X, Song W, Gong P, Zhang K, Chen Z, Zhou M, Shen X, Qian Y, Fan H (2017) LncRNA TRERNA1 function as an enhancer of SNAI1 promotes gastric Cancer metastasis by regulating epithelial-mesenchymal transition. Mol Ther Nucleic Acids 8:291–299

24.

Ellison DW, McLendon R, Wiestler OD et al (2016) Ependymoma. In: Louis DN, Ohgaki H, Wiestler OD, Cavenee WK (eds) WHO classification of tumours of the central nervous system, revised, 4th edn. IARC, Lyon, pp 106–112

25.

Puget S, Grill J, Valent A, Bieche I, Dantas-Barbosa C, Kauffmann A, Dessen P, Lacroix L, Geoerger B, Job B, Dirven C, Varlet P, Peyre M, Dirks PB, Sainte-Rose C, Vassal G (2009) Candidate genes on chromosome 9q33-34 involved in the progression of childhood EPNEPNs. J Clin Oncol 27:1884–1892

26.

Griesinger AM, Witt DA, Grob ST, Georgio Westover SR, Donson AM, Sanford B, Mulcahy Levy JM, Wong R, Moreira DC, DeSisto JA, Balakrishnan I, Hoffman LM, Handler MH, Jones KL, Vibhakar R, Venkataraman S, Foreman NK (2017) NF-κB upregulation through epigenetic silencing of LDOC1 drives tumor biology and specific immunophenotype in Group A EPN. Neuro-Oncology 19:1350–1360

27.

Rogers HA, Mayne C, Chapman RJ, Kilday JP, Coyle B, Grundy RG (2013) PI3K pathway activation provides a novel therapeutic target for pediatric EPN and is an independent marker of progression-free survival. Clin Cancer Res 19:6450–6460

28.

Parker M, Mohankumar KM, Punchihewa C, Weinlich R, Dalton JD, Li Y, Lee R, Tatevossian RG, Phoenix TN, Thiruvenkatam R, White E, Tang B, Orisme W, Gupta K, Rusch M, Chen X, Li Y, Nagahawhatte P, Hedlund E, Finkelstein D, Wu G, Shurtleff S, Easton J, Boggs K, Yergeau D, Vadodaria B, Mulder HL, Becksfort J, Gupta P, Huether R, Ma J, Song G, Gajjar A, Merchant T, Boop F, Smith AA, Ding L, Lu C, Ochoa K, Zhao D, Fulton RS, Fulton LL, Mardis ER, Wilson RK, Downing JR, Green DR, Zhang J, Ellison DW, Gilbertson RJ (2014) C11orf95-RELA fusions drive oncogenic NF-κB signalling in EPN. Nature 506:451–455

29.

Xue J, Liao L, Yin F, Kuang H, Zhou X, Wang Y (2018) LncRNA AB073614 induces epithelial- mesenchymal transition of colorectal cancer cells via regulating the JAK/STAT3 pathway. Cancer Biomark 21:849–858

30.

Shi G, Li H, Gao F, Tan Q (2018) lncRNA H19 predicts poor prognosis in patients with melanoma and regulates cell growth, invasion, migration and epithelial-mesenchymal transition in melanoma cells. Onco Targets Ther 11:3583–3595

31.

Gupta RA, Shah N, Wang KC, Kim J, Horlings HM, Wong DJ, Tsai MC, Hung T, Argani P, Rinn JL, Wang Y, Brzoska P, Kong B, Li R, West RB, van de Vijver MJ, Sukumar S, Chang HY (2010) Long non-coding RNA HOTAIR reprograms chromatin state to promote cancer metastasis. Nature 464:1071–1076

32.

Zheng P, Li H, Xu P et al (2017) High lncRNA HULC expression is associated with poor prognosis and promotes tumor progression by regulating epithelial-mesenchymal transition in prostate cancer. Arch Med Sci 14:679–686

33.

Chen M, Xia Z, Chen C, Hu W, Yuan Y (2018) LncRNA MALAT1 promotes epithelial-to-mesenchymal transition of esophageal cancer through Ezh2-Notch1 signaling pathway. Anti-Cancer Drugs 29:767–773

34.

Terashima M, Ishimura A, Wanna-Udom S, Suzuki T. MEG8 long noncoding RNA contributes to epigenetic progression of the epithelial-mesenchymal transition of lung and pancreatic cancer cells. J Biol Chem. 2018;293:18016-18030.

35.

Liang WC, Ren JL, Wong CW, Chan SO, Waye MM, Fu WM, Zhang JF (2018) LncRNA-NEF antagonized epithelial to mesenchymal transition and cancer metastasis via cis-regulating FOXA2 and inactivating Wnt/β-catenin signaling. Oncogene 37:1445–1456

36.

Wu W, Chen F, Cui X, Yang L, Chen J, Zhao J, Huang D, Liu J, Yang L, Zeng J, Zeng Z, Pan Y, Su F, Cai J, Ying Z, Zhao Q, Song E, Su S (2018) LncRNA NKILA suppresses TGF-β-induced epithelial-mesenchymal transition by blocking NF-κB signaling inbreast cancer. Int J Cancer 143:2213–2224

37.

Gumireddy K, Li A, Yan J, Setoyama T, Johannes GJ, Orom UA, Tchou J, Liu Q, Zhang L, Speicher DW, Calin GA, Huang Q (2013) Identification of a long non-coding RNA-associated RNP complex regulating metastasis at the translational step. EMBO J 32:2672–2684

38.

Miller CR, Ruppert AS, Fobare S et al (2017) The long noncoding RNA, treRNA, decreases DNA damage and is associated with poor response to chemotherapy in chronic lymphocytic leukemia. Oncotarget 8:25942–25954
Acknowledgements
The authors acknowledge all consultants from the Departments of Pathology and Neurosurgery, AIIMS; all technical staff from the Neuropathology laboratory, AIIMS and Department of Biostatistics, AIIMS.
Funding
The authors are thankful to Neuro Sciences Centre, AIIMS, AIIMS Intramural Research grants, and Science and Engineering Research Board (SERB) (EMR/2016/003365) for financial support of the work. Prit Benny Malgulwar is a Senior Research Fellowship awardee (No.3/2/3/284/2014/NCD-III) from Indian Council of Medical Research (ICMR), India. Aruna Nambirajan is a Senior Research Associate (8948A/17) under the Scientists' Pool Scheme of Council of Scientific and Industrial Research (CSIR), India.
Ethics declarations
Conflict of Interest
None
Additional information
Publisher's Note
Springer Nature remains neutral with regard to jurisdictional claims in published maps and institutional affiliations.
Electronic Supplementary Material
About this article
Cite this article
Malgulwar, P.B., Nambirajan, A., Singh, M. et al. Expression and Clinical Significance of Translation Regulatory Long Non-Coding RNA 1 (TRERNA1) in Ependymomas. Pathol. Oncol. Res. 26, 1975–1981 (2020). https://doi.org/10.1007/s12253-019-00736-8
Received:

Accepted:

Published:

Issue Date:
Keywords
Ependymoma

TRERNA1

lncRNA

Epithelial to mesenchymal transition