This is a preview of subscription content, log in to check access.
Access options
Buy single article
Instant access to the full article PDF.
US$ 39.95
Price includes VAT for USA
Subscribe to journal
Immediate online access to all issues from 2019. Subscription will auto renew annually.
US$ 99
This is the net price. Taxes to be calculated in checkout.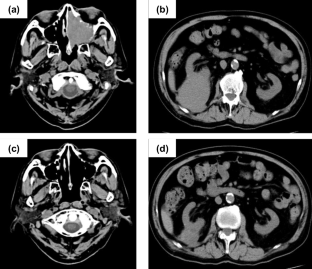 References
1.

Blade J, Cibeira MT, Rosinol L, de Larrea CF (2009) Extramedullary Myeloma Blood 114:SCI–SC5

2.

Descamps G, Pellat-Deceunynck C, Szpak Y, Bataille R, Robillard N, Amiot M (2004) The magnitude of Akt/phosphatidylinositol 3'-kinase proliferating signaling is related to CD45 expression in human myeloma cells. J Immunol 173:4953–4959

3.

Guo H, Cruz-Munoz ME, Wu N, Robbins M, Veillette A (2015) Immune cell inhibition by SLAMF7 is mediated by a mechanism requiring src kinases, CD45, and SHIP-1 that is defective in multiple myeloma cells. Mol Cell Biol 35:41–51

4.

Kumar SK, Callander NS, Alsina M, et al (2018) NCCN Guidelines Insights; Multiple Myeloma, Version 3.2018. J Natl Compr Canc Netw 16:11–20

5.

Dimopoulos MA, Oriol A, Nahi H, San-Miguel J, Bahlis NJ, Usmani SZ, Rabin N, Orlowski RZ, Komarnicki M, Suzuki K, Plesner T, Yoon SS, Ben Yehuda D, Richardson PG, Goldschmidt H, Reece D, Lisby S, Khokhar NZ, O'Rourke L, Chiu C, Qin X, Guckert M, Ahmadi T, Moreau P (2016) Daratumumab, Lenalidomide, and Dexamethasone for Multiple Myeloma. N Engl J Med 375:1319–1331
Ethics declarations
Satoko Oka declares that she has no conflicts of interest in the present study.
Kazuo Ono declares that he has no conflicts of interest in the present study.
Masaharu Nohgawa declares that he has no conflicts of interest in the present study.
This article does not contain any studies with human participants performed by any of the authors.
This patient provided his written informed consent to receive each regimen, and treatment was administered according to the principles of the Declaration of Helsinki and this study was approved by the institutional ethics committee.
Additional information
Publisher's Note
Springer Nature remains neutral with regard to jurisdictional claims in published maps and institutional affiliations.
About this article
Cite this article
Oka, S., Ono, K. & Nohgawa, M. Successful Retreatment with Elotuzumab for Multiple Myeloma with Extramedullary Relapse while Being Treated with Lenalidomide and Dexamethasone. Pathol. Oncol. Res. 26, 1993–1995 (2020). https://doi.org/10.1007/s12253-019-00725-x
Received:

Accepted:

Published:

Issue Date: