Abstract
Retinoblastoma (RB) is a malignant intraocular tumor that frequently occurs in infants and toddlers. Although the most of RB patients in the developed countries could survival from this cancer, the patients in undeveloped areas are still suffering. The human retinal pigment epithelial cell line ARPE-19 and human retinoblastoma (RB) cell lines HXO-RB44, Y79, and WERI-Rb1 were cultured. The mRNA levels of BANCR and miR-204-3p in these cell lines were measured by qRT-PCR. After transfection with sh-BANCR or treatment with miR-204-3p inhibitor in Y79 cells, the cell proliferation rate, growth, invasion, migration, apoptosis and Wnt/β-catenin signaling pathway activity were measured. The regular Y79 and Y79 cells stably expressed sh-BANCR were injected subcutaneously into nude mice, respectively. The volumes and pathohistological futures of tumors were compared. The biochemical features similar to the cell culture were detected and compered. The mRNA measurements showed that BANCR negatively modulate miR-204-3p expression via directly integration with it. Besides, miR-204-3p and Wnt/β-catenin signalling pathway were found to participate in the oncogenic effects of BANCR on RB cell line by Hoechst staining, cell Counting Kit-8 (CCK-8) assay, wound healing assay, transwell assay, and Western blot analysis in vitro. In addition, an in vivo tumorigenesis experiment in nude mice injected with Y79 cells stably expressed sh-BANCR conformed in the effects of BANCR on RB. Taken together, the knockdown of BANCR inhibited cell proliferation, apoptosis, invasion, and migration in RB via targeting miR-204-3p, the mechanism may involve inhibiting Wnt/β-catenin signaling pathway.
Access options
Buy single article
Instant access to the full article PDF.
US$ 39.95
Tax calculation will be finalised during checkout.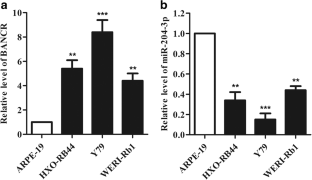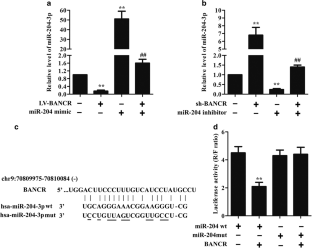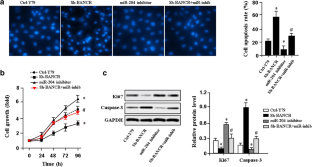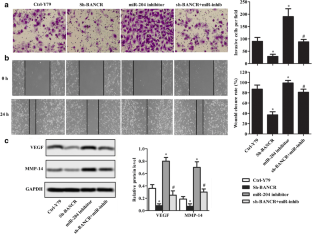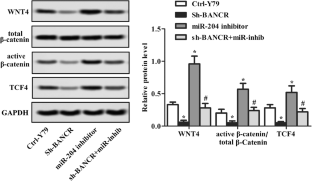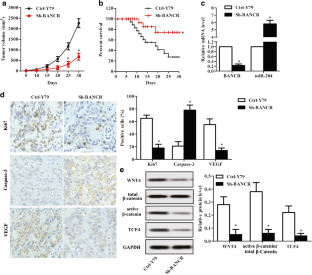 Acknowledgements
The authors would like to thank the members of The Second Clinical Medical College of Qingdao University, for providing helpful discussions and technical support concerning the present study.
Ethics declarations
Competing Interests
The authors declare that they have no competing interests.
Additional information
Publisher's Note
Springer Nature remains neutral with regard to jurisdictional claims in published maps and institutional affiliations.
About this article
Cite this article
Sun, QX., Wang, RR., Liu, N. et al. Dysregulation of miR-204-3p Driven by the Viability and Motility of Retinoblastoma via Wnt/β-catenin Pathway In Vitro and In Vivo. Pathol. Oncol. Res. 26, 1549–1558 (2020). https://doi.org/10.1007/s12253-019-00722-0
Received:

Accepted:

Published:

Issue Date:
Keywords
Long non-coding RNA-BANCR

microRNA-204-3p

Retinoblastoma

WNT signaling pathway

Viability

Motility