This is a preview of subscription content, log in to check access.
Access options
Buy single article
Instant access to the full article PDF.
US$ 39.95
Price includes VAT for USA
Subscribe to journal
Immediate online access to all issues from 2019. Subscription will auto renew annually.
US$ 99
This is the net price. Taxes to be calculated in checkout.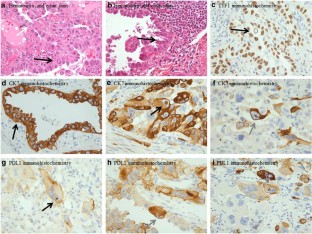 References
1.

Kobayashi S, Saio M, Fukuda T et al (2019) Image analysis of the nuclear characteristics of emerin protein and the correlation with nuclear grooves and intranuclear cytoplasmic inclusions in lung adenocarcinoma. Oncol Rep 41:133 142

2.

Rosai J (2011) Rosai and Ackman's Surgical Pathology. 10th edition expert consult. Mosby Elsevier, Philadelphia

3.

Torikata C, Ishiwata K (1977) Intranuclear tubular structures observed in the cells of an alveolar cell carcinoma of the lung. Cancer 40:1194 1201

4.

Gyorkey F, Gyorkey P, Sinkovics JG (1980) Origin and significance of intranuclear tubular inclusions in type II pulmonary alveolar epithelial cells of patients with bleomycin and busulfan toxicity. Ultrastruct Pathol 1:211 221

5.

Singh G, Katyal SL, Torikata C (1982) Carcinoma of type II pneumocytes. PAS staining as a screening test for nuclear inclusions of surfactant specific apoprotein. Cancer 50:946 948

6.

Mizutani Y, Nakajima T, Morinaga S et al (1988) Immunohistochemical localization of pulmonary surfactant apoproteins in various lung tumors. Special reference to nonmucus producing lung adenocarcinomas. Cancer 61:532 537

7.

Knuhtsen H, Hiebert E, Purcifull DE (1974) Partial purification and some properties of tobacco etch virus induced intranuclear inclusions. Virology 61:200 209

8.

Schwertheim S, Westerwick D, Jastrow H, Theurer S, Schaefer CM, Kälsch J, Möllmann D, Schlattjan M, Wedemeyer H, Schmid KW, Baba HA (2019) Intranuclear inclusions in hepatocellular carcinoma contain autophagy-associated proteins and correlate with prolonged survival. J Pathol Clin Res 5:164 176

9.

Aida S, Shimazaki H, Sato K et al (2001) Prognostic significance of frequent acidophilic nuclear inclusions in adenocarcinoma of the lung with immunohistochemical and ultrastructural studies. Cancer 91:1896 1904
Ethics declarations
Conflict of Interest
None.
Additional information
Publisher's Note
Springer Nature remains neutral with regard to jurisdictional claims in published maps and institutional affiliations.
About this article
Cite this article
Adriana, H. Nuclear Cytoplasmic Inclusions in Lung Adenocarcinoma: Relevance of Immunohistochemistry. Pathol. Oncol. Res. 26, 1989–1990 (2020). https://doi.org/10.1007/s12253-019-00714-0
Received:

Accepted:

Published:

Issue Date: