Abstract
Human telomerase reverse transcriptase enzyme, the catalytic subunit of telomerase are seen to be frequently reactivated in cancers including Oral squamous cell carcinoma (OSCC). Increased hTERT expression have been seen in potentially malignant conditions including Oral submucous fibrosis (OSMF). The aim of the study was to evaluate the expression levels in OSMF, OSCC in the background of OSMF and OSCC using immunohistochemistry and also to correlate hTERT expression with clinicopathologic parameters. A total of 50 histopathologically diagnosed cases of 20 OSMF, 20 OSCC wherein 5 were OSCC in the background of OSMF and 10 Normal oral mucosae were retrieved from the departmental archives and subjected to immunohistochemical analysis of hTERT. The expression of hTERT increased from normal, OSMF, to OSCC with statistically significant differences in mean labelling score (LS). We also found a shift in cellular localization of stain where, normal mucosal tissues showed a nuclear stain unlike OSMF, where combined nuclear and cytoplasmic staining as noted. The tumor cells in OSCC showed predominant cytoplasmic staining. There was no correlation between hTERT expression and clinicopathological parameters of OSMF. However, a significant increase of hTERT expression was seen with increasing histological grading of OSCC. These results suggest the role of hTERT in the early event of malignant transformation of OSMF. Telomerase could be used as a potent diagnostic marker to identify high-risk group of OSMF.
Access options
Buy single article
Instant access to the full article PDF.
US$ 39.95
Tax calculation will be finalised during checkout.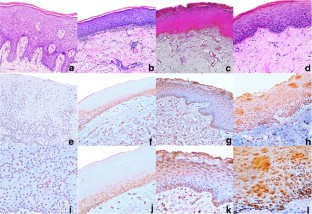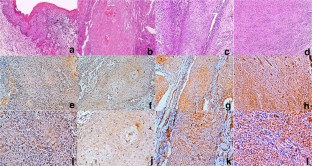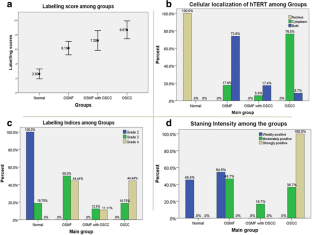 References
1.

Warnakulasuriya S (2009) Global epidemiology of oral and oropharyngeal cancer. Oral Oncol 45:309–316. https://doi.org/10.1016/j.oraloncology.2008.06.002

2.

Johnson NW, Amarasinghe HK (2011) Epidemiology and aetiology of head and neck cancers. In: Head and neck cancer. Springer New York, New York, pp 1–40

3.

Wanninayake Mudiyanselage Tilakaratne RPE (2013) Oral submucous fibrosis: review on mechanisms of pathogenesis and malignant transformation. J Carcinog Mutagen. https://doi.org/10.4172/2157-2518.S5-002

4.

Hsue S-S, Wang W-C, Chen C-H, Lin CC, Chen YK, Lin LM (2007) Malignant transformation in 1458 patients with potentially malignant oral mucosal disorders: a follow-up study based in a Taiwanese hospital. J Oral Pathol Med 36:25–29. https://doi.org/10.1111/j.1600-0714.2006.00491.x

5.

Vinay K, Abbas AK (2010) Robbins & cotran pathologic basis of disease, 9th edn. Saunders Elsevier, Philadelphia

6.

Bhagvan More C, Gupta S, Joshi J, Verma SN (2012) Classification system for oral submucous fibrosis. J Indian Acad Oral Med Radiol 24:24–29. https://doi.org/10.5005/jp-journals-10011-1254

7.

Bhargava A, Saigal S, Chalishazar M (2010) Systems in oral squamous cell carcinoma : a review. J Int Oral Heal 2:1–10

8.

Chen H-H, Yu C-H, Wang J-T, Liu BY, Wang YP, Sun A, Tsai TC, Chiang CP (2007) Expression of human telomerase reverse transcriptase (hTERT) protein is significantly associated with the progression, recurrence and prognosis of oral squamous cell carcinoma in Taiwan. Oral Oncol 43:122–129. https://doi.org/10.1016/j.oraloncology.2006.01.011

9.

Luzar B, Poljak M, Marin IJ, Eberlinc A, Klopcic U, Gale N (2004) Human telomerase catalytic subunit gene re-expression is an early event in oral carcinogenesis. Histopathology 45:13–19. https://doi.org/10.1111/j.1365-2559.2004.01892.x

10.

Sharpless NE, DePinho RA (2004) Telomeres, stem cells, senescence, and cancer. J Clin Invest 113:160–168. https://doi.org/10.1172/JCI20761

11.

Ito H, Kyo S, Kanaya T, Takakura M, Inoue M, Namiki M (1998) Expression of human telomerase subunits and correlation with telomerase activity in urothelial cancer. Clin Cancer Res 4:1603–1608

12.

Kim NW, Piatyszek MA, Prowse KR, Harley C, West M, Ho P, Coviello G, Wright W, Weinrich S, Shay J (1994) Specific association of human telomerase activity with immortal cells and cancer. Science 266:2011–2015

13.

Kapanadze B, Morris E, Smith E, Trojanowska M (2010) Establishment and characterization of scleroderma fibroblast clonal cell lines by introduction of the hTERT gene. J Cell Mol Med 14:1156–1165. https://doi.org/10.1111/j.1582-4934.2009.00773.x

14.

Wieser M, Stadler G, Jennings P, Streubel B, Pfaller W, Ambros P, Riedl C, Katinger H, Grillari J, Grillari-Voglauer R (2008) hTERT alone immortalizes epithelial cells of renal proximal tubules without changing their functional characteristics. Am J Physiol Renal Physiol 295:F1365–F1375. https://doi.org/10.1152/ajprenal.90405.2008

15.

Shay JW, Bacchetti S (1997) A survey of telomerase activity in human cancer. Eur J Cancer 33:787–791. https://doi.org/10.1016/S0959-8049(97)00062-2

16.

Zhao T, HU F, Qiao B et al (2015) Telomerase reverse transcriptase potentially promotes the progression of oral squamous cell carcinoma through induction of epithelial-mesenchymal transition. Int J Oncol 46:2205–2215. https://doi.org/10.3892/ijo.2015.2927

17.

Astuti AK, Prasetyo I, Yunita JN et al (2011) Profile of human TERT and P73 in oral squamous cell carcinoma cell lines compared to normal human oral mucosa: a preliminary study. J Dent Indones 18:10–16. https://doi.org/10.14693/jdi.v18i1.55

18.

Rai A, Naikmasur VG, Sattur A (2016) Quantification of telomerase activity in normal oral mucosal tissue and oral squamous cell carcinoma. Indian J Med Paediatr Oncol 37:183–188. https://doi.org/10.4103/0971-5851.190350

19.

Miyazaki Y, Yoshida N, Nozaki T, Inoue H, Kikuchi K, Kusama K (2015) Telomerase activity in the occurrence and progression of oral squamous cell carcinoma. J Oral Sci 57:295–303. https://doi.org/10.2334/josnusd.57.295

20.

Abrahao AC, Bonelli BV, Nunes FD, Dias EP, Cabral MG (2011) Immunohistochemical expression of p53, p16 and hTERT in oral squamous cell carcinoma and potentially malignant disorders. Braz Oral Res 25:34–41

21.

Palani J, Lakshminarayanan V, Kannan R (2011) Immunohistochemical detection of human telomerase reverse transcriptase in oral cancer and pre-cancer. Indian J Dent Res 22:362–363. https://doi.org/10.4103/0970-9290.84281

22.

Kannan S, Tahara H, Yokozaki H et al (1997) Telomerase activity in premalignant and malignant lesions of human oral mucosa. Cancer Epidemiol Biomark Prev 6:413–420

23.

Pannone G, De Maria S, Zamparese R et al (2007) Prognostic value of human telomerase reverse transcriptase gene expression in oral carcinogenesis. Int J Oncol 30:1349–1357

24.

Weinhold N, Jacobsen A, Schultz N, Sander C, Lee W (2014) Genome-wide analysis of noncoding regulatory mutations in cancer. Nat Genet 46:1160–1165. https://doi.org/10.1038/ng.3101

25.

Chang K-P, Wang C-I, Pickering CR, Huang Y, Tsai CN, Tsang NM, Kao HK, Cheng MH, Myers JN (2017) Prevalence of promoter mutations in the TERT gene in oral cavity squamous cell carcinoma. Head Neck 39:1131–1137. https://doi.org/10.1002/hed.24728

26.

Vinothkumar V, Arunkumar G, Revathidevi S, Arun K, Manikandan M, Rao AKDM, Rajkumar KS, Ajay C, Rajaraman R, Ramani R, Murugan AK, Munirajan AK (2016) TERT promoter hot spot mutations are frequent in Indian cervical and oral squamous cell carcinomas. Tumor Biol 37:7907–7913. https://doi.org/10.1007/s13277-015-4694-2

27.

Qu Y, Dang S, Wu K, Shao Y, Yang Q, Ji M, Shi B, Hou P (2014) TERT promoter mutations predict worse survival in laryngeal cancer patients. Int J Cancer 135:1008–1010. https://doi.org/10.1002/ijc.28728

28.

Yin L, Hubbard AK, Giardina C (2000) NF-κB regulates transcription of the mouse telomerase catalytic subunit. J Biol Chem 275:36671–36675. https://doi.org/10.1074/jbc.M007378200

29.

Zhang Y, Toh L, Lau P, Wang X (2012) Human telomerase reverse transcriptase ( hTERT ) is a novel target of the Wnt/β-catenin pathway in human cancer. J Biol Chem 287:32494–32511. https://doi.org/10.1074/jbc.M112.368282

30.

Greenberg RA, O'Hagan RC, Deng H et al (1999) Telomerase reverse transcriptase gene is a direct target of c-Myc but is not functionally equivalent in cellular transformation. Oncogene 18:1219–1226. https://doi.org/10.1038/sj.onc.1202669

31.

Fabricius E-M, Kruse-Boitschenko U, Khoury R et al (2009) Immunohistochemical determination of the appropriate anti-hTERT antibodies for in situ detection of telomerase activity in frozen sections of head and neck squamous cell carcinomas and tumor margin tissues. Int J Oncol 34:1257–1279. https://doi.org/10.1038/sj.onc.1203890

32.

Hoffmann D, Brunnemann KD, Prokopczyk B, Djordjevic MV (1994) Tobacco-specific N-nitrosamines and Areca-derived N-nitrosamines: chemistry, biochemistry, carcinogenicity, and relevance to humans. J Toxicol Environ Health 41:1–52. https://doi.org/10.1080/15287399409531825

33.

Xue J, Yang S, Seng S (2014) Mechanisms of Cancer induction by tobacco-specific NNK and NNN. Cancers (Basel) 6:1138–1156. https://doi.org/10.3390/cancers6021138

34.

Sharan RN, Mehrotra R, Choudhury Y, Asotra K (2012) Association of betel nut with carcinogenesis: revisit with a clinical perspective. PLoS One 7:e42759. https://doi.org/10.1371/journal.pone.0042759

35.

Reed L, Arlt VM, Phillips DH (2018) The role of cytochrome P450 enzymes in carcinogen activation and detoxication: an in vivo-in vitro paradox. Carcinogenesis 39:851–859. https://doi.org/10.1093/carcin/bgy058

36.

Shervington A, Mohammed K, Patel R, Lea R (2007) Identification of a novel co-transcription of P450/1A1 with telomerase in A549. Gene 388:110–116. https://doi.org/10.1016/j.gene.2006.10.010

37.

Lee H-T, Bose A, Lee C-Y, Opresko PL, Myong S (2017) Molecular mechanisms by which oxidative DNA damage promotes telomerase activity. Nucleic Acids Res 45:11752–11765. https://doi.org/10.1093/nar/gkx789

38.

Gao Y, Ling T, Yin X et al (2007) Effects of arecoline and nicotine on the expression of hTERT in oral keratinocytes. Zhonghua Kou Qiang Yi Xue Za Zhi 42:26–30

39.

Kanojia D, Vaidya MM (2006) 4-Nitroquinoline-1-oxide induced experimental oral carcinogenesis. Oral Oncol 42:655–667. https://doi.org/10.1016/j.oraloncology.2005.10.013

40.

Sumida T, Hamakawa H, Sogawa K, Bao Y, Zen H, Sugita A, Nezu K, Abe Y, Tanioka H, Ueda N (1999) Telomerase activation and cell proliferation during 7,12-dimethylbenz[a]anthracene-induced hamster cheek pouch carcinogenesis. Mol Carcinog 25:164–168

41.

Kim H, Christensen R, Park N et al (2001) Elevated expression of hTERT is associated with dysplastic cell transformation during human oral carcinogenesis in situ. Clin Cancer Res 7:3079–3086

42.

Raghunandan BN, Sanjai K, Kumaraswamy J et al (2016) Expression of human telomerase reverse transcriptase protein in oral epithelial dysplasia and oral squamous cell carcinoma: An immunohistochemical study. J Oral Maxillofac Pathol 20:96–101. https://doi.org/10.4103/0973-029X.180953

43.

Mutirangura A, Supiyaphun P, Trirekapan S et al (1996) Telomerase activity in oral leukoplakia and head and neck squamous cell carcinoma. Cancer Res 56:3530–3533

44.

Lin S-C, Lu S-Y, Lee S-Y, Lin CY, Chen CH, Chang KW (2005) Areca (betel) nut extract activates mitogen-activated protein kinasesand NF-κB in oral keratinocytes. Int J Cancer 116:526–535. https://doi.org/10.1002/ijc.21104

45.

Srinivasan M, Jewell SD (2001) Quantitative estimation of PCNA, c-myc, EGFR and TGF-alpha in oral submucous fibrosis--an immunohistochemical study. Oral Oncol 37:461–467

46.

Armanios M (2012) Telomerase and idiopathic pulmonary fibrosis. Mutat Res 730:52–58. https://doi.org/10.1016/j.mrfmmm.2011.10.013

47.

Yanjia H, Xinchun J (2007) The role of epithelial–mesenchymal transition in oral squamous cell carcinoma and oral submucous fibrosis. Clin Chim Acta 383:51–56. https://doi.org/10.1016/j.cca.2007.04.014

48.

Boscolo-Rizzo P, Da Mosto MC, Rampazzo E et al (2016) Telomeres and telomerase in head and neck squamous cell carcinoma: from pathogenesis to clinical implications. Cancer Metastasis Rev 35:457–474. https://doi.org/10.1007/s10555-016-9633-1

49.

Park Y-J, Kim EK, Bae JY, Moon S, Kim J (2016) Human telomerase reverse transcriptase (hTERT) promotes cancer invasion by modulating cathepsin D via early growth response (EGR)-1. Cancer Lett 370:222–231. https://doi.org/10.1016/j.canlet.2015.10.021

50.

Lee BK, Diebel E, Neukam FW et al (2001) Diagnostic and prognostic relevance of expression of human telomerase subunits in oral cancer. Int J Oncol 19:1063–1068

51.

Boscolo-Rizzo P, Rampazzo E, Perissinotto E, Piano MA, Giunco S, Baboci L, Spinato G, Spinato R, Tirelli G, da Mosto MC, del Mistro A, de Rossi A (2015) Telomere shortening in mucosa surrounding the tumor: biosensor of field cancerization and prognostic marker of mucosal failure in head and neck squamous cell carcinoma. Oral Oncol 51:500–507. https://doi.org/10.1016/j.oraloncology.2015.02.100

52.

Dey A, Chakrabarti K (2018) Current perspectives of telomerase structure and function in eukaryotes with emerging views on telomerase in human parasites. Int J Mol Sci 19:333. https://doi.org/10.3390/ijms19020333

53.

Haendeler J, Hoffmann J, Brandes RP, Zeiher AM, Dimmeler S (2003) Hydrogen peroxide triggers nuclear export of telomerase reverse transcriptase via Src kinase family-dependent phosphorylation of tyrosine 707. Mol Cell Biol 23:4598–4610. https://doi.org/10.1128/MCB.23.13.4598-4610.2003

54.

Shakunthala GK, Annigeri RG, Arunkumar S (2015) Role of oxidative stress in the pathogenesis of oral submucous fibrosis: A preliminary prospective study. Contemp Clin Dent 6:S172–S174. https://doi.org/10.4103/0976-237X.166823

55.

Gupta S, Reddy MVR, Harinath BC (2004) Role of oxidative stress and antioxidants in aetiopathogenesis and management of oral submucous fibrosis. Indian J Clin Biochem 19:138–141. https://doi.org/10.1007/BF02872409

56.

Akiyama M, Hideshima T, Hayashi T, Tai YT, Mitsiades CS, Mitsiades N, Chauhan D, Richardson P, Munshi NC, Anderson KC (2003) Nuclear factor-kappaB p65 mediates tumor necrosis factor alpha-induced nuclear translocation of telomerase reverse transcriptase protein. Cancer Res 63:18–21
Acknowledgements
We personally thank Dr. Saman Warnakulasurya, Kings College, London for his valuable guidance in churning out this study.
Ethics declarations
Declaration of Conflict of Interest
The authors declare no conflict of interest.
Additional information
Publisher's Note
Springer Nature remains neutral with regard to jurisdictional claims in published maps and institutional affiliations.
About this article
Cite this article
Raju K, L., Haragannavar, V.C., Patil, S. et al. Expression of hTERT in Oral Submucous Fibrosis and Oral Squamous Cell Carcinoma – an Immunohistochemical Analysis. Pathol. Oncol. Res. 26, 1573–1582 (2020). https://doi.org/10.1007/s12253-019-00700-6
Received:

Accepted:

Published:

Issue Date:
Keywords
Biomarkers

Carcinogenesis

Immunohistochemistry

Oral submucous fibrosis

Squamous cell carcinoma

Telomerase