Abstract
The current controversy about the classification of odontogenic keratocyst reflects the shortage in the understanding of the odontogenic cysts and tumors. The aim of the present study was to investigate p63 immunoexpression and its relation to the proliferation of the epithelial lining in dentigerous cyst (DC), odontogenic keratocyst (OKC), and follicular type of ameloblastoma (AB). The study involved 36 samples, which are DC (n = 12), OKC (n = 9), and AB (n = 15). p63 protein expression was evaluated by immunohistochemistry. The results on Ki-67 expression were obtained from our previous studies and correlated with p63 expressions. p63 was expressed differently in the studied lesions with various distribution in different study samples. Statistical analysis using Kruskal-Wallis test showed a significant difference in the expression of p63 protein among DC, OKC, and AB (p = 0.048). Subsequently, Mann-Whitney U test revealed the expression of p63 protein was significantly higher in OKC than DC (p = 0.018). Interestingly, Spearman's correlation analysis showed a positive correlation between the expression of p63 and Ki-67 in the odontogenic epithelium of DC (σ = 0.757, P = 0.004) and OKC (σ = 0.741, P = 0.022). While no such a positive correlation was found between the two studied markers in AB group (σ = 0.006, P = 0.983). In conclusion, the present results indicated various expression and correlation of p63 with the proliferation of odontogenic epithelial cells in DC, OKC, and AB. This diversity could reflect a different role and pathways of ΔNp63 in odontogenic tumor than that in odontogenic cyst. These together will help in better understanding the pathogenesis and biological behavior of odontogenic cysts and tumors.
This is a preview of subscription content, log in to check access.
Access options
Buy single article
Instant access to the full article PDF.
US$ 39.95
Price includes VAT for USA
Subscribe to journal
Immediate online access to all issues from 2019. Subscription will auto renew annually.
US$ 99
This is the net price. Taxes to be calculated in checkout.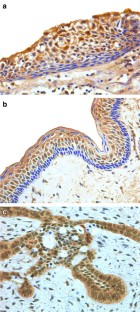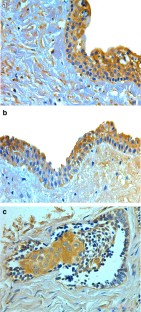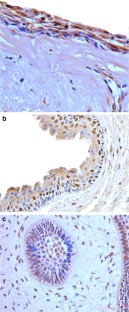 References
1.

Soluk-Tekkeşin M, Wright JM (2018) The World Health Organization classification of odontogenic lesions: a summary of the changes of the 2017 (4th) edition. Turk Patoloji Derg 34:1–18

2.

Jiang Q, Xu GZ, Yang C, Yu CQ, He DM, Zhang ZY (2011) Dentigerous cysts associated with impacted supernumerary teeth in the anterior maxilla. Exp Ther Med 2:805–809

3.

Stoelinga PJW (2018) Keratocystic odontogenic tumour (KCOT) has again been renamed odontogenic keratocyst (OKC). Int J Oral Maxillofac Surg S0901-5027(18)30313–30318

4.

de Molon RS, Verzola MH, Pires LC, Mascarenhas VI, da Silva RB, Cirelli JA, Barbeiro RH (2015) Five years follow-up of a keratocyst odontogenic tumor treated by marsupialization and enucleation: a case report and literature review. Contemp Clin Dent 6:S106–S110

5.

Al-Moraissi EA, Dahan AA, Alwadeai MS, Oginni FO, Al-Jamali JM, Alkhutari AS, Al-Tairi NH, Almaweri AA, Al-Sanabani JS (2017) What surgical treatment has the lowest recurrence rate following the management of keratocystic odontogenic tumor?: a large systematic review and meta-analysis. J Craniomaxillofac Surg 45:131–144

6.

Sham E, Leong J, Maher R, Schenberg M, Leung M, Mansour AK (2009) Mandibular ameloblastoma: clinical experience and literature review. ANZ J Surg 79:739–744

7.

Alsaegh MA, Miyashita H, Zhu SR (2015) Expression of human papillomavirus is correlated with Ki-67 and COX-2 expressions in keratocystic odontogenic tumor. Pathol Oncol Res 21:65–71

8.

Alsaegh MA, Miyashita H, Taniguchi T, Zhu SR (2017) Odontogenic epithelial proliferation is correlated with COX-2 expression in dentigerous cyst and ameloblastoma. Exp Ther Med 13:247–253

9.

Scholzen T, Gerdes J (2000) The Ki-67 protein: from the known and the unknown. J Cell Physiol 182:311–322

10.

Yang AN, Kaghad M, Wang YM, Gillett E, Fleming MD, Dotsch V, Andrews NC, Caput D, McKeon F (1998) p63, a p53 homolog at 3q27- 29, encodes multiple products with transactivating, death-inducing, and dominant-negative activities. Mol Cell 2:305–316

11.

Mangiulli M, Valletti A, Caratozzolo MF, Tullo A, Sbisà E, Pesole G, D'Erchia AM (2009) Identification and functional characterization of two new transcriptional variants of the human p63 gene. Nucleic Acids Res 37:6092–6104

12.

Chen YK, Hsue SS, Lin LM (2003) Immunohistochemical demonstration of p63 in DMBA-induced hamster buccal pouch squamous cell carcinogenesis. Oral Dis 9:235–240

13.

Gonçalves CK, Fregnani ER, Leon JE, Silva-Sousa YT, Perez DE (2012) Immunohistochemical expression of p63, epidermal growth factor receptor (EGFR) and notch-1 in radicular cysts, dentigerous cysts and keratocystic odontogenic tumors. Braz Dent J 23:337–343

14.

Kumamoto H, Ohki K, Ooya K (2005) Expression of p63 and p73 in ameloblastomas. J Oral Pathol Med 34:220–226

15.

Brkić A, Mutlu S, Koçak-Berberoğlu H, Olgaç V (2010) Pathological changes and immunoexpression of p63 gene in dental follicles of asymptomatic impacted lower third molars: an immunohistochemical study. J Craniofac Surg 21:854–857

16.

De Laurenzi V, Rossi A, Terrinoni A, Barcaroli D, Levrero M, Costanzo A, Knight RA, Guerrieri P, Melino G (2000) p63 and p73 transactivate differentiation gene promoters in human keratinocytes. Biochem Biophys Res Commun 273:342–276

17.

Bergholz J, Xiao ZX (2012) Role of p63 in development, tumorigenesis and Cancer progression. Cancer Microenviron 5:311–322

18.

Venkatanarayan A, Raulji P, Norton W, Chakravarti D, Coarfa C, Su X, Sandur SK, Ramirez MS, Lee J, Kingsley CV, Sananikone EF, Rajapakshe K, Naff K, Parker-Thornburg J, Bankson JA, Tsai KY, Gunaratne PH, Flores ER (2014) IAPP-driven metabolic reprogramming induces regression of p53-deficient tumours in vivo. Nature 517:626–630

19.

Lo Muzio L, Santarelli A, Caltabiano R, Rubini C, Pieramici T, Fior A, Trevisiol L, Carinci F, Leonardi R, Bufo P, Lanzafame S, Piattelli A (2005) p63 expression in odontogenic cysts. Int J Oral Maxillofac Surg 34:668–673

20.

Foschini MP, Cocchi R, Marucci G, Pennesi MG, Magrini E, Ligorio C, Lombardini F, Tosi AL, Marchetti C (2006) High DeltaN p63 isoform expression favours recurrences in odontogenic keratocyst--odontogenic keratocystic tumour. Int J Oral Maxillofac Surg 35:673–675

21.

Lo Muzio L, Santarelli A, Caltabiano R, Rubini C, Pieramici T, Giannone N, Carinci F, Leonardi R, Lanzafame S, Piattelli A (2006) p63 expression correlates with pathological features and biological behaviour of odontogenic tumours. Histopathology 49:211–214

22.

Gurgel CA, Ramos EA, Azevedo RA, Sarmento VA, da Silva Carvalho AM, dos Santos JN (2008) Expression of Ki-67, p53 and p63 proteins in keratocyst odontogenic tumours: an immunohistochemical study. J Mol Histol 39:311–316

23.

Dong Q, Pan S, Sun LS, Li TJ (2010) Orthokeratinized odontogenic cyst: a clinicopathologic study of 61 cases. Arch Pathol Lab Med 134:271–275

24.

Seyedmajidi M, Shafaee S, Shafigh E, Bijani A, Hamidi H (2011) p63 expression in randomized odontogenic cysts. Saudi Med J 32:463–466

25.

Atarbashi Moghadam S, Atarbashi Moghadam F, Mokhtari S, Eini E (2013) Immunohistochemical analysis of P63 expression in odontogenic lesions. Biomed Res Int 2013:624176

26.

Varsha B, Gharat AL, Nagamalini B, Jyothsna M, Mothkur ST, Swaminathan U (2014) Evaluation and comparison of expression of p63 in odontogenic keratocyst, solid ameloblastoma and unicystic ameloblastoma. J Oral Maxillofac Pathol 18:223–228

27.

de Brito Monteiro BV, Cavalcante RB, Maia Nogueira RL, da Costa Miguel MC, Weege Nonaka CF, da Silveira ÉJ (2015) Participation of hMLH1, p63, and MDM2 proteins in the pathogenesis of syndromic and nonsyndromic keratocystic odontogenic tumors. Oral Surg Oral Med Oral Pathol Oral Radiol 120:52–527

28.

Jaafari-Ashkavandi Z, Geramizadeh B, Ranjbar MA (2015) P63 and Ki-67 expression in Dentigerous cyst and Ameloblastomas. J Dent (Shiraz) 16:323–328

29.

Chandrangsu S, Sappayatosok K (2016) p53, p63 and p73 expression and angiogenesis in keratocystic odontogenic tumors. J Clin Exp Dent 8:e505–e511

30.

Zhou Y, Xu Q, Ling B, Xiao W, Liu P (2011) Reduced expression of ΔΝp63α in cervical squamous cell carcinoma. Clin Invest Med 34:E184–E191

31.

Narahashi T, Niki T, Wang T, Goto A, Matsubara D, Funata N, Fukayama M (2006) Cytoplasmic localization of p63 is associated with poor patient survival in lung adenocarcinoma. Histopathology 49:349–357

32.

Hsiao YH, Su YA, Tsai HD, Mason JT, Chou MC, Man YG (2010) Increased invasiveness and aggressiveness in breast epithelia with cytoplasmic p63 expression. Int J Biol Sci 6:428–442

33.

Dhillon PK, Barry M, Stampfer MJ, Perner S, Fiorentino M, Fornari A, Ma J, Fleet J, Kurth T, Rubin MA, Mucci LA (2009) Aberrant cytoplasmic expression of p63 and prostate cancer mortality. Cancer Epidemiol Biomark Prev 18:595–600

34.

Sbisà E, Mastropasqua G, Lefkimmiatis K, Caratozzolo MF, D'Erchia AM, Tullo A (2006) Connecting p63 to cellular proliferation: the example of the adenosine deaminase target gene. Cell Cycle 5:205–212

35.

de Oliveira MG, Lauxen Ida S, Chaves AC, Rados PV, Sant'Ana Filho M (2011) Odontogenic epithelium: immunolabeling of Ki-67, EGFR and survivin in pericoronal follicles, dentigerous cysts and keratocystic odontogenic tumors. Head Neck Pathol 5:1–7

36.

Singh HP (2016) Need to reclassify keratocystic odontogenic tumor into cyst and neoplasm. Natl J Maxillofac Surg 7:111

37.

Yugawa T, Narisawa-Saito M, Yoshimatsu Y, Haga K, Ohno S, Egawa N, Fujita M, Kiyono T (2010) DeltaNp63alpha repression of the Notch1 gene supports the proliferative capacity of normal human keratinocytes and cervical cancer cells. Cancer Res 70:4034–4044

38.

Zhu L, Rorke EA, Eckert RL (2007) DeltaNp63alpha promotes apoptosis of human epidermal keratinocytes. J Invest Dermatol 127:1980–1991

39.

Venkatanarayan A, Raulji P, Norton W, Flores ER (2016) Novel therapeutic interventions for p53-altered tumors through manipulation of its family members. p63 and p73 Cell Cycle 15:164–171

40.

Napoli M, Venkatanarayan A, Raulji P, Meyers BA, Norton W, Mangala LS, Sood AK, Rodriguez-Aguayo C, Lopez-Berestein G, Vin H, Duvic M, Tetzlaff MB, Curry JL, Rook AH, Abbas HA, Coarfa C, Gunaratne PH, Tsai KY, Flores ER (2016) ΔNp63/DGCR8-dependent MicroRNAs mediate therapeutic efficacy of HDAC inhibitors in Cancer. Cancer Cell 29:874–888
Acknowledgements
The authors would like to thank the Professors Wei Min Chen, Xue Jin Tao, and Shao Lenan in Tongji Hospital, Wuhan, China for their help in sample collection.
Ethics declarations
Conflict of Interest
The authors declare that they have no conflict of interest.
Ethical Approval
Ethical approval obtained for retrospective studies.
Informed Consent
Informed consent was obtained from all individual participants included in the study.
Additional information
Publisher's Note
Springer Nature remains neutral with regard to jurisdictional claims in published maps and institutional affiliations.
About this article
Cite this article
Alsaegh, M.A., Altaie, A.M. & Zhu, S. p63 Expression and its Relation to Epithelial Cells Proliferation in Dentigerous Cyst, Odontogenic Keratocyst, and Ameloblastoma. Pathol. Oncol. Res. 26, 1175–1182 (2020). https://doi.org/10.1007/s12253-019-00680-7
Received:

Accepted:

Published:

Issue Date:
Keywords
p63

Ki-67

Odontogenic

Dentigerous

Keratocyst

Ameloblastoma