Abstract
Purpose
The objective of the present study was to screen oils and suspending agents for the formulation of novel progesterone (PGT) suspension, demonstrating improved solubility, drug release, stability, and non-allergenicity. Presumably, formulated novel PGT suspensions could supersede clinically available peanut oil and lecithin based formulations (PL).
Method
The PGT suspensions were formulated by the trituration method using a vehicle (Moringa oil/peanut oil/sesame oil/sunflower oil) and a suspending agent (Neusilin US2/Fujicalin/Lecithin/Syloid 244) separately. A total of 16 PGT suspensions were evaluated for particle size, zeta potential, sedimentation, thixotropy, stability, in vitro dissolution, and allergenicity. Indeed, in silico studies were performed to elucidate interactions between principal components of the suspension, using software V. life MDS 4. 6.
Results
Findings revealed the highest PGT solubility and high viscosity in Moringa oil-based formulations. Suspensions comprising Moringa oil and Neusilin US2 (MN) exhibited the lowest suspensiod size (48.7 nm), least sedimentation rate, highest zeta potential (− 39.8), and dilatent flow behavior. The in vitro percent cumulative PGT dissolved was significantly high (94.82 ± 2.56%) from MN vis PL (52.68 ± 2.62%), at p < 0.05. In silico studies revealed strong hydrophobic and Van der Waals interactions between PGT, Moringa oil, and Neusilin US2, compared with others. Allergenicity study confirmed the superiority of Moringa oil over peanut oil (p < 0.01).
Conclusion
Moringa oil-based PGT formulations containing Neusilin US2 could be a better alternative to clinically available peanut oil and lecithin-based suspensions. Additionally, in silico interaction tools can be effectively employed for the prediction of stability and performance of suspensions.
Access options
Buy single article
Instant access to the full article PDF.
US$ 39.95
Tax calculation will be finalised during checkout.
Subscribe to journal
Immediate online access to all issues from 2019. Subscription will auto renew annually.
US$ 79
Tax calculation will be finalised during checkout.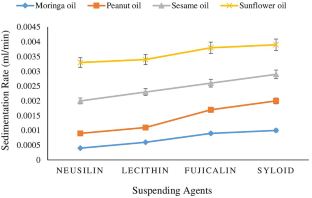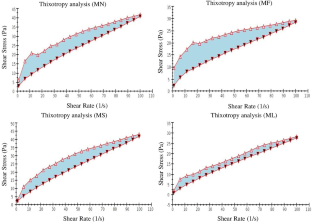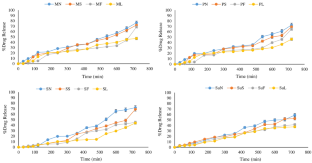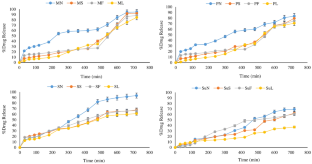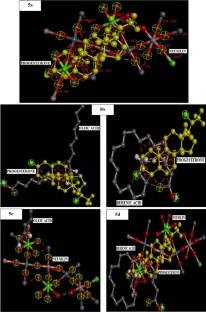 References
1.

Al-Asmakh M. Reproductive functions of progesterone. Middle East Fertility Society Journal. 2007;12(3):147–52.

2.

Gadkar-Sable S, Shah C, Rosario G, Sachdeva G, Puri C. Progesterone receptors: various forms and functions in reproductive tissues. Front Biosci. 2005;10:2118–30. https://doi.org/10.2741/1685.

3.

Posaci C, Smitz J, Camus M, Osmanagaoglu K, Devroey P. Progesterone for the luteal support of assisted reproductive technologies: clinical options. Hum Reprod. 2000;15(1):129–48. https://doi.org/10.1093/humrep/15.suppl_1.129.

4.

Simon J. Introduction: an overview of progesterone and progestins. The J Fam Pract. 2007;(Suppl):3.

5.

Malik S, Krishnaprasad K. Natural micronized progesterone sustained release (SR) and luteal phase: role redefined. J Clin Diagn Res. 2016;10(2):QE01–4. https://doi.org/10.7860/jcdr/2016/17278.7212.

6.

Jain N, Tonpay SD, Jani A, Malviya S, Agrawal A. Natural progesterone: current approach for women's health problem. International Journal of Pharmaceutical and Biological Activities. 2012;3(5):1025–7.

7.

Ciampagia W, Cognigni GE. Clinical use of progesterone in infertility and assisted reproduction. Acta Obstet Gynecol Scand. 2015;94:17–27. https://doi.org/10.1111/aogs.12770.

8.

Tuleu C, Newton M, Rose J, Euler D, Saklatvala R. Comparative bioavailability study in dogs of a self-emulsifying formulation of progesterone presented in a pellet and liquid form compared with an aqueous suspension of progesterone. J Pharm Sci. 2004;93(6):1495–502. https://doi.org/10.1002/jps.20068.

9.

Swarnakar NK, Jain V, Dubey V, Mishra D, Jain NK. Enhanced oromucosal delivery of progesterone via hexosomes. Pharm Res. 2007;24:2223–30. https://doi.org/10.1007/s11095-007-9409-y.

10.

Jadhav NR, Irny PV, Patil US. Solid state behavior of progesterone and its release from NeusilinUS2 based liquisolid compacts. J Drug Delivery Sci Technol. 2017;38:97–106. https://doi.org/10.1016/j.jddst.2017.01.009.

11.

Zoppetti G, Puppini N, Pizzutti M, Fini A, Giovani T, Comini S. Water soluble progesterone-hydroxypropyl-β-cyclodextrin complex for injectable formulations. J Incl Phenom Macrocycl Chem. 2007;57:283–8. https://doi.org/10.1007/s10847-006-9174-2.

12.

Figueroa CE, Reider P, Burckel P, Pinkerton AA, Prud'homme RK. Highly loaded nanoparticulate formulation of progesterone for emergency traumatic brain injury treatment. Ther Deliv. 2012;3(11):1269–79. https://doi.org/10.4155/tde.12.115.

13.

Cometti B. Pharmaceutical and clinical development of a novel progesterone formulation. Acta Obstet Gynecol Scand. 2015;94:28–37. https://doi.org/10.1111/aogs.12765.

14.

Salem HF. Sustained-release progesterone nanosuspensions following intramuscular injection in ovariectomized rats. Int J Nanomed. 2010;5:943–54. https://doi.org/10.2147/ijn.s12947.

15.

Mueller GA, Maleki SJ, Pedersen LC. The molecular basis of Peanut allergy. Curr Allergy and Asthma Rep. 2014;14:1–9. https://doi.org/10.1007/s11882-014-0429-5.

16.

Palm M, Moneret-Vautrin DA, Kanny G, Denery-Papini S, Fremont S. Food allergy to egg and soy Lecithins. European J Allergy Clin Immunol. 1999;54(10):1116–7. https://doi.org/10.1034/j.1398-9995.1999.00305.x.

17.

Catherine R, Catherine C, Christophe D. Allergy to soy Lecithin in a child. J Pediatr Gastroenterol. 1996;22(3):328–9. https://doi.org/10.1097/00005176-199604000-00019.

18.

Prometrium. Product monograph. Merck Canada Inc. 2016;1–34. https://www.merck.ca/static/pdf/PROMETRIUM-PM_E.pdf. Accessed 10 December 2020

19.

Cianferoni A, Muraro A. Food induced anaphylaxis. Immunol Allergy Clin N Am. 2012;32(1):165–95. https://doi.org/10.1016/j.iac.2011.10.002.

20.

Taylor-Black S, Wang J. The prevalence and characteristic of food allergy in urban minority children. Ann Allergy Asthma Immunol. 2012;109(6):431–7. https://doi.org/10.1016/j.anai.2012.09.012.

21.

Utrogestan (progesterone) formulation change—important information for patients with a peanut allergy. 2014. https://www.medsafe.govt.nz/safety/ews/2014/utrogestan-change.asp. Accessed 10 December 2020

22.

PrReddy-Progesterone. Product monograph. Dr. Reddy's Laboratories, Inc. 2018;1–35. https://www.drreddys.com/media/715873/english_pm-new.pdf. Accessed 10 December 2020

23.

Phy JL, Weiss WT, Weiler CR, Damario MA. Hypersensitivity to progesterone-in-oil after in vitro fertilization and embryo transfer. Fertil Steril. 2003;80(5):1272–5. https://doi.org/10.1016/s0015-0282(03)01170-1.

24.

Orhevba BA, Sunmonu MO, Iwunze HI. Extraction and characterization of Moringa oleifera seed oil. Research and reviews: Journal of Food and Dairy Technology. 2013;1(1):22–7.

25.

Besins A, Besse J. Pharmaceutical composition based on micronized progesterone, preparation method & uses thereof. United States Patent Application Publication. 2011;1–5. https://patents.google.com/patent/US20110135719A1/en. Accessed 10 December 2020

26.

Ji P, Yu T, Liu Y, Jiang J, Qui Y, Zhao W, Wu C. Naringenin-loaded solid lipid nanoparticles: preparation, controlled delivery, cellular uptake and pulmonary pharmacokinetics. Drug Des Devel Ther. 2016;10:911–25. https://doi.org/10.2147/dddt.s97738.

27.

Antonopoulou E, Rohmann-Shaw CF, Sykes TC, Cayre OJ, Hunter TN, Jimack PK. Numerical and experimental analysis of the sedimentation of spherical colloid suspension under centrifugal force. Phys Fluids. 2018;30:1–12. https://doi.org/10.1063/1.5010735.

28.

Ikarashi Y, Kaniwa M, Tsuchiya T. Sensitization potential of gold sodium thiosulfate in mice and guinea pigs. Biomaterials. 2002;23(24):4907–14. https://doi.org/10.1016/s0142-9612(02)00250-8.

29.

Jacques D. Identification of contact allergens: the mouse ear sensitization assay. Cutan Ocul Toxicol. 2008;7:263–72. https://doi.org/10.3109/15569528809056306.
Ethics declarations
Conflict of Interest
The authors declare that they have no conflict of interest.
Additional information
Publisher's Note
Springer Nature remains neutral with regard to jurisdictional claims in published maps and institutional affiliations.
About this article
Cite this article
Jadhav, N., Pantwalawalkar, J., Sawant, R. et al. Development of Progesterone Oily Suspension Using Moringa Oil and Neusilin US2. J Pharm Innov (2021). https://doi.org/10.1007/s12247-020-09529-y
Keywords
Progesterone

Moringa oil

Neusilin US2

Novel suspension