Abstract
The subsistence strategies that coastal fishing communities have developed over time are closely related to their interaction with the sea. Fishing is generally the principal economic activity of the members of these communities; however, the use of botanical resources has also contributed to their subsistence through time. This is the case of the Huanchaco fishing community that live on the north coast of Peru. They use reeds to construct sea vessels for fishing and other plants growing locally for diverse economic and cultural activities. To study their traditional relationships with useful plants, an ethnobotanical survey was conducted with 40 members of the fishing community. The objective of this research was to determine the use of local plants for daily activities and the intracultural variation of that knowledge as it relates to age and gender. Results showed that people use plants for food, medicinal, and industrial purposes, and that women and elderly people are more knowledgeable about medicinal and industrial plants than their male and younger counterparts. Although processes of modernization have influenced many aspects of the fishing community's lifestyle, the existing TEK suggests that plants still play an important role in their daily subsistence strategies.
This is a preview of subscription content, log in to check access.
Access options
Buy single article
Instant access to the full article PDF.
US$ 39.95
Price includes VAT for USA
Subscribe to journal
Immediate online access to all issues from 2019. Subscription will auto renew annually.
US$ 99
This is the net price. Taxes to be calculated in checkout.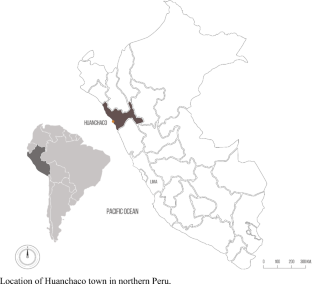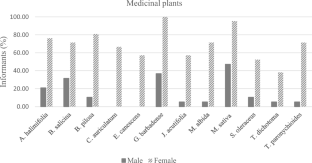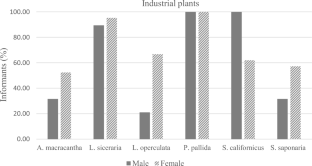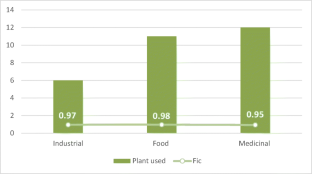 Literature Cited
Anhuamán, P. 2014. Huanchaco: Cultura Viva Muchik-Chimor de la Costa Norte del Perú. Trujillo, Perúz: Editorial Universitaria de la Universidad Nacional de Trujillo.

Aguilar-Santelises, R. and R. F. del Castillo. 2015. Demographic and socio-economic determinants of traditional plant knowledge among the Mixtecs of Oaxaca, southern Mexico. Human Ecology 43: 655–667.

Balslev, H., T. R. Knudsen, A. Byg, M. Kronborg, and C. Grandez. 2010. Traditional knowledge, use, and management of Aphandra natalia (Arecaceae) in Amazonian Peru. Economic Botany 64: 55–67.

Banack, S. A., X. J. Rondón, and W. Diaz- Huamanchumo. 2004. Indigenous cultivation and conservation of Totora (Schoenoplectus californicus, Cyperaceae) in Peru. Economic Botany 58: 11–20.

Begossi, A., N. Hanazaki, and J. Y. Tamashiro. 2002. Medicinal plants in the Atlantic forest (Brazil): Knowledge, use, and conservation. Human Ecology 30: 281–299.

Benz, B. F., F. Santana, R. Pineda, J. Cevallos, L. Robles, and D. De Niz. 1994. Characterization of mestizo plant use in the Sierra de Manantlán, Jalisco-Colima, México. Journal of Ethnobiology 14: 123–41.

Bonavia, D., V. F. Vásquez, T. Rosales, T. D. Dillehay, P. J. Netherly, and K. Benson. 2017. Plant remains. In: Where the land meets the sea: Fourteen millennia of human history at Huaca Prieta, Peru, ed. T. D. Dillehay, 367–433. Austin, Texas: University of Texas Press.

Briceño, J. and B. Billman. 2008. Gramalote y el Periodo Inicial en el valle de Moche. Nuevos datos de un viejo sitio de pescadores. Revista del Museo de Arqueología, Antropología e Historia 10: 175–208.

Bussmann, R. W. and D. Sharon. 2006. Traditional medicinal plant use in Northern Peru: Tracking two thousand years of healing culture. Journal of Ethnobiology and Ethnomedicine 2: 47.

———, ———, I. Vandebroek, A. Jones, and Z. Revene. 2007a. Health for sale: The medicinal plant markets in Trujillo and Chiclayo, Northern Peru. Journal of Ethnobiology and Ethnomedicine 3: 37.

———, ———, and A. Lopez. 2007b. Blending traditional and Western medicine: Medicinal plant use among patients at Clinica Anticona in El Porvenir, Peru. Ethnobotany Research and Applications 5: 185–199.

——— and ———. 2009. Markets, healers, vendors, collectors: The sustainability of medicinal plant use in northern Peru. Mountain Research and Development 29: 128–134.

———, ———, and M. Garcia. 2009. From chamomile to aspirin? Medicinal plant use among clients at laboratorios Beal in Trujillo, Peru. Ethnobotany Research and Applications 7: 399–407.

——— and A. Glenn. 2010. Medicinal plants used in northern Peru for reproductive problems and female health. Journal of Ethnobiology and Ethnomedicine 6: 30.

Camino, L. 1992. Cerros, plantas y lagunas poderosas: La medicina al norte del Perú. Trujillo, Perú: Lluvia Editores.

Camou-Guerrero, A., V. Reyes-García, M. Martínez-Ramos, and A. Casas. 2008. Knowledge and use value of plant species in a Rarámuri community: A gender perspective for conservation. Human Ecology 36: 259–272.

Case, R. J., G. F. Pauli, and D. D. Soejarto. 2005. Factors in maintaining indigenous knowledge among ethnic communities of Manus Island. Economic Botany 59: 356–365.

Castellanos-Galindo, G. A., C. Chong-Montenegro, R. A. Baos, L. A. Zapata, P. Tompkins, R. T. Graham, and M. Craig. 2017. Using landing statistics and fishers' traditional ecological knowledge to assess conservation threats to Pacific Goliath grouper in Colombia. Aquatic Conservation: Marine and Freshwater Ecosystems 28: 305–314. https://doi.org/10.1002/aqc.2871.

de Albuquerque, U. P., G. T. Soldati, S. S. Sieber, M. A. Ramos, J. C. de Sá, and L. C. de Souza. 2011. The use of plants in the medical system of the Fulni-ô people (NE Brazil): A perspective on age and gender. Journal of Ethnopharmacology 133: 866–873.

de Almeida, C. F. C. B. R., M. A. Ramos, R. R. V. Silva, et al. 2012. Intracultural variation in the knowledge of medicinal plants in an urban-rural community in the Atlantic forest from northeastern Brazil. Evidence-Based Complementary and Alternative Medicine. https://doi.org/10.1155/2012/679373.

Defeo, O. and J. C. Castilla. 2012. Governance and governability of coastal shellfisheries in Latin America and the Caribbean: Multi-scale emerging models and effects of globalization and climate change. Current Opinion in Environmental Sustainability 4: 344–350.

Doyle, B. J., C. M. Asiala, and D. M. Fernández. 2016. Relative importance and knowledge distribution of medicinal plants in a Kichwa community in the Ecuadorian Amazon. Ethnobiology Letters 8: 1–14.

Galeano, G. 2000. Forest use at the Pacific coast of Chocó, Colombia: A quantitative approach. Economic Botany 54: 358–376.

GeoDatos. 2017. Distancia de Trujillo a Huanchaco. https://www.geodatos.net/distancias/de-trujillo-a-huanchaco. Accessed 4 Dec 2017.

Gerhardinger, L. C., R. C. Marenzi, A. A. Bertoncini, R. P. Medeiros, and M. Hostim-Silva. 2006. Local ecological knowledge on the Goliath grouper Epinephelus itajara (Teleostei: Serranidae) in southern Brazil. Neotropical Ichthyology 4:441–450.

Gillin, J. P. 1947. Moche, a Peruvian coastal community. Washington, D.C.: U.S. Government Printing Office.

Glass-Coffin, B., D. Sharon, and S. Uceda. 2004. Curanderas a la sombra de la Huaca de la Luna. Bulletin de l'Institut français d'études andines 33:1. https://doi.org/10.4000/bifea.5815.

Gómez-Baggethun, E., S. Mingorría, V. Reyes-García, V. Calvet, and C. Montes. 2010. Traditional ecological knowledge trends in the transition to a market economy: Empirical study in the Doñana Natural Areas. Conservation Biology 24: 721–729.

Haas, J., W. Creamer, L. Huamán, D. Goldstein, K. Reinhard, and C. Vergel. 2013. Evidence for maize (Zea mays) in the Late Archaic (3000–1800 B.C.) in the Norte Chico region of Peru. Proceedings of the National Academy of Sciences of the United States of America 110: 4945–4949.

Hanazaki, N., J. Y. Tamashiro, H. F. Leitão-Filho, and A. Begossi. 2000. Diversity of plant uses in two Caiçara communities from the Atlantic forest Coast, Brazil. Biodiversity and Conservation 9: 597–615.

Harper S., C. Grubb, M. Stiles, and U. R. Sumaila. 2017. Contributions by women to fisheries economies: Insights from five maritime countries. Coastal Management 45: 91–106.

Heckler, S. 2002. Traditional ethnobotanical knowledge loss and gender among the Piaroa. In: Ethnobiology and biocultural diversity: Proceedings of the seventh international congress of ethnobiology, eds. J. R. Stepp, F. S. Wyndham, and R. K. Zarger, 532–548. Athens: The University of Georgia Press.

Heinrich, M., A. Ankli, B. Frei, C. Weimann, and O. Sticher. 1998. Medicinal plants in Mexico: Healers' consensus and cultural importance. Social Science and Medicine 47: 1859–1871.

Hopkins, A. L., J. R. Stepp, C. McCarty, and J. S. Gordon. 2015. Herbal remedy knowledge acquisition and transmission among the Yucatec Maya in Tabi, Mexico: A cross-sectional study. Journal of Ethnobiology and Ethnomedicine 11: 33.

INEI: Instituto Nacional de Estadística e Informática. 2018. Perú en Cifras: La Libertad. http://www.inei.gob.pe. Accessed 10 Nov 2018.

Kunwar, R. M., M. Fadiman, M. Cameron, R. W. Bussmann, K. B. Thapa-Magar, B. Rimal, and P. Sapkota. 2018. Cross-cultural comparison of plant use knowledge in Baitadi and Darchula districts, Nepal Himalaya. Journal of Ethnobiology and Ethnomedicine 14(1): 40.

Momsen, J. 2004. Gender and development. Routledge, London.

Neira, S. and H. Arancibia. 2004. Trophic interactions and community structure in the upwelling system off central Chile (33–398S). Journal of Experimental Marine Biology and Ecology 312: 349–366.

Netto, S. A. and T. J. Pereira. 2009. Benthic community response to a passive fishing gear in a coastal lagoon (South Brazil). Aquatic Ecology 43: 521–538.

Olson E. A. 2013. Anthropology and traditional ecological knowledge: A summary of quantitative approaches to traditional knowledge, market participation, and conservation. Culture, Agriculture, Food and Environment 35: 140–151.

Ortiz, J. 2003. Navegación en la Zona Sur Andina. Derroteros de la Mar del Sur 11: 123–135.

Paniagua-Zambrana, N., R. W. Bussmann, and M. J. Macía. 2017. The socioeconomic context of the use of Euterpe precatoria Mart. and E. oleracea Mart. in Bolivia and Peru. Journal of Ethnobiology and Ethnomedicine 13: 32.

Paredes, R. 2018. Paleoethnobotany of the Early Initial Period of Gramalote in northern Peru. Economic Botany 72: 94–106.

——— and A. L. Hopkins. 2018. Dynamism in traditional ecological knowledge: Persistence and change in the use of totora (Schoenoplectus californicus) for subsistence in Huanchaco, Peru. Ethnobiology Letters 9: 169–179.

Pasquini, M. W., J. S. Mendoza, and C. Sánchez-Ospina. 2018. Traditional food plant knowledge and use in three Afro-descendant communities in the Colombian Caribbean coast: Part I Generational differences. Economic Botany 72(3): 278–294.

Peroni, N., A. Begossi, and N. Hanazaki. 2008. Artisanal fishers' ethnobotany: From plant diversity use to agrobiodiversity management. Environment, Development and Sustainability 10: 623–637.

Phillips, O., A. H. Gentry, C. Reynel, P. Wilkin, and C. B. Galvez-Durand. 1994. Quantitative ethnobotany and Amazonian conservation. Conservation Biology 8: 225–248.

Pieroni, A. 2001. Evaluation of the cultural significance of wild food botanicals traditionally consumed in northwestern Tuscany, Italy. Journal of Ethnobiology 21: 189–104.

Pirker, H., R. Haselmair, E. Kuhn, C. Schunko, and C. R. Vogl. 2012. Transformation of traditional knowledge of medicinal plants: The case of Tyroleans (Austria) who migrated to Australia, Brazil and Peru. Journal of Ethnobiology and Ethnomedicine 8: 44.

Pozorski, S. G. 1979. Prehistoric diet and subsistence of the Moche Valley, Peru. World Archaeology 11: 163–184.

Prieto, G. 2015. Gramalote: Domestic life, economy and ritual practices of a Prehispanic maritime community. Ph.D. thesis, Yale University, New Haven, Connecticut.

———. 2016. Balsas de Totora en la costa norte del Perú: Una aproximación etnográfica y arqueológica. Quingnam 2: 139–186.

Pulido, V. 2010. El Balsar de Huanchaco. Report 6.3 Ramsar, Trujillo, Peru.

Quinlan, M. B. and R. J. Quinlan. 2007. Modernization and medicinal plant knowledge in a Caribbean horticultural village. Medical Anthropology Quarterly 21: 169–192.

R Core Team. 2018. R: A language and environment for statistical computing. R foundation for statistical computing, Vienna, Austria.

Ramírez, S. E. 1996. The world upside down: Cross-cultural contact and conflict in sixteenth-century Peru. California: Stanford University Press.

Rondón, X. J., S. A. Banack, and W. Diaz- Huamanchumo. 2003. Ethnobotanical investigation of Caballitos (Schoenoplectus californicus: Cyperaceae) in Huanchaco, Peru. Economic Botany 57: 35–47.

Silva, F. S., M. A. Ramos, N. Hanazaki, and U. P. de Albuquerque. 2011. Dynamics of traditional knowledge of medicinal plants in a rural community in the Brazilian semi-arid region. Revista Brasileira de Farmacognosia 21(3): 382–391.

Sousa, R. S., P. M. Medeiros, and U. P. Albuquerque. 2019. Can socioeconomic factors explain the local importance of culturally salient plants in a social-ecological system? Acta Botanica Brasilica 33(2): 283–291.

Spradley, J. P. 1980. Participant observation. Fort Worth, Texas: Harcourt Brace Jovanovich College Publishers.

Stoffle, R. W., D. B. Halmo, M. J. Evans, and J. E. Olmsted. 1990. Calculating the cultural significance of American Indian plants: Paiute and Shoshone ethnobotany at Yucca Mountain, Nevada. American Anthropologist 92: 416–432.

Sumida, E. 2016. Tuki ayllpanchik (our beautiful land): Indigenous ecology and farming in the Peruvian highlands. Cultural Studies of Science Education 11: 1135–1153.

Tantaleán, F. 2016. Tres frutas silvestres de Passiflora L. (Passifloraceae) del norte de Perú. Arnaldoa 23: 271–294.

Thompson, G. A. and A. V. Volpedo. 2018. Diet composition and feeding strategy of the new world silverside Odontesthes argentinensis in a temperate coastal area (South America). Marine and Coastal Fisheries: Dynamics, Management, and Ecosystem Science 10: 80–88.

Toledo, B. A., S. Colantonio, and L. Galetto. 2007. Knowledge and use of edible and medicinal plants in two populations from the Chaco forest, Córdoba province, Argentina. Journal of Ethnobiology 27: 218–232.

Ubillus, G. 2014. Informe del estudio de los restos macro-botánicos del sitio Gramalote. Temporada 2011–2012. Proyecto Arqueológico Pampas Gramalote, La Libertad, Perú.

Villanueva, F. 2014. Reconstrucción paleoambiental del sitio arqueológico Pampas Gramalote basada en microrestos (La Libertad- Perú). Facultad de Ciencias Naturales y Matemáticas. Escuela Profesional de Biología, Universidad Nacional Federico Villarreal, Lima.

Voeks, R. A. 2007. Are women reservoirs of traditional plant knowledge? Gender, ethnobotany and globalization in northeast Brazil. Singapore Journal of Tropical Geography 28:7–20. https://doi.org/10.1111/j.1467-9493.2006.00273.x.

——— and A. Leony. 2004. Forgetting the forest: Assessing medicinal plant erosion in eastern Brazil. Economic Botany 58: S294–S306.

Zappes C. A., C. V. Silva, M. Pontalti, M. L. Danielski, and A. M. Di Beneditto. 2013. The conflict between the southern right whale and coastal fisheries on the southern coast of Brazil. Marine Policy 38: 428–437. https://doi.org/10.1016/j.marpol.2012.07.003.
Acknowledgements
This work was supported by a grant from the Anthropology Department at Texas A&M University. We would like to express our gratitude to the fishing community of Huanchaco for their interest and participation in this study. Special thanks to Luis Alexander Urcia and his family for their assistance and hospitality during the field season. Finally, we thank Dr. Vaughn Bryant who read preliminary versions of this manuscript.
Appendices
Appendix 1: Ethnobotanical Survey for Participants
These questions will be asked during the interview, from the beginning to the end of the survey on useful plants in Huanchaco. Through gathering this information, we will be able to identify the most important plants that the fishing community is using in their daily activities.
Do you use plants in your daily activities?
What kind of plants do you use most?
What are the names of those plants?
Where do you collect those plants?
Why you use those plants? Do they have any use?
How do you use the plant?
Which part of the plant is useful?
How do you know about that plant use?
Are you interested in continuing to learn and transmit that plant knowledge?
Appendix 2: Data Collection Form
The following information will help us to better understand how the fishermen community is using plants in their subsistence activities. We will write down all responses participants provide.
Date:
Informant:
Age
Gender:
Plant use information:
Local name:
Scientific name:
Family:
Type:
Habitat:
Use:
Parts used:
Mode of use:
Frequency:
Status:
Notes:
About this article
Cite this article
Paredes, R., Hopkins, A.L. & Villanueva, F. Ethnobotany in the North Coast of Peru: Use of Plants in the Fishing Community of Huanchaco for Subsistence. Econ Bot 74, 32–45 (2020). https://doi.org/10.1007/s12231-020-09486-0
Received:

Accepted:

Published:

Issue Date:
Key Words
Peru

coastal fishing communities

TEK

useful plants

intracultural variation of knowledge