Economic Stratification Differentiates Home Gardens in the Maya Village of Pomuch, Mexico. In this paper, we analyze if economic stratification of peasant families in a Maya village in the Yucatán Peninsula of Mexico influences species composition and structure of home gardens. Our general hypothesis was that composition and structure reflect a higher dependence on home garden produce of relatively poorer families as compared to more prosperous families. We registered the cultivated trees and herbs in samples of twelve home gardens of poorer and wealthier families that had similar assets in the 1980s, and classified them by principal use and geographic origin. Total species richness of cultivated herbs was highest in home gardens of the more prosperous families, whereas total species richness of trees was highest in home gardens of the poorer families. Average species richness of trees and herbs and species composition was similar in both economic strata. Poorer families cultivated relatively more trees for uses other than fruit than richer families. The average and total number of native tree species and density of trees with diameter at breast height of less than 10 cm was significantly higher in poorer families' home gardens than in those of wealthier families. We conclude that economic stratification leads to different production strategies in home gardens. Richer families are comparatively more interested in obtaining fruit occasionally and emphasize diversity of herbaceous ornamentals. Poorer families emphasize different uses, favor the native flora, and increase tree density. Thereby they contribute more to biodiversity conservation than wealthier families.
Estratificación económica diferencia huertos familiares en el poblado Maya de Pomuch, México. Se analiza si la estratificación económica de familias campesinas en un pueblo Maya en la Península de Yucatán, México, influye en la composición y estructura de huertos familiares. Nuestra hipótesis general era que composición y estructura reflejan una dependencia mayor de familias relativamente más pobres de la producción de sus huertos en comparación con familias más prósperas. Registramos los árboles y hierbas cultivadas en muestras de 12 huertos de familias pobres y ricas, quienes tenían capitales similares en los años ochenta, y los clasificamos de acuerdo a su uso principal y origen geográfico. La riqueza total de hierbas cultivadas fue mayor en los huertos de familias más prósperas, mientras que la riqueza total de especies de árboles fue mayor en los huertos de familias más pobres. La riqueza promedia de especies de árboles y hierbas y la composición específica fue similar en ambos estratos económicos. Familias más pobres cultivaban relativamente más árboles para usos distintos a frutas que familias más ricas. El número promedio y total de especies arbóreas nativas y la densidad de árboles de diámetros a la altura del pecho < 10 cm fue significativamente mayor en los huertos de familias más pobres que en los huertos de familias más prósperas. Se concluye que la estratificación económica conduce a distintas estrategias de producción en los huertos familiares. Familias ricas se interesan comparativamente más en obtener frutas ocasionalmente y enfatizan la diversidad de especies ornamentales herbáceas. Familias pobres enfatizan usos distintos, favorecen la flora nativa, e incrementan la densidad de árboles. Por ello contribuyen más a la conservación de biodiversidad que familias más prósperas.
Access options
Buy single article
Instant access to the full article PDF.
US$ 39.95
Tax calculation will be finalised during checkout.
Subscribe to journal
Immediate online access to all issues from 2019. Subscription will auto renew annually.
US$ 79
Tax calculation will be finalised during checkout.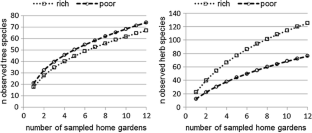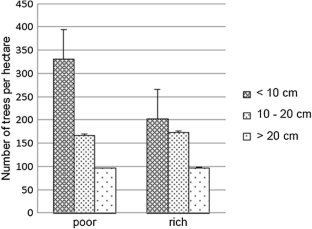 Literature Cited
Assies, W. 2008. Land tenure and tenure regimes in Mexico: An overview. Journal of Agrarian Change 8:33–63.

Balam Kú, M., I. Bañuelos Robles, E. García De Miranda, J. Gonzáles-Iturbe Ahumada, F. Herrera Cetina, R. Orellana Lanza, and J. Vidal López. 1999. Evaluación climática. In: Atlas de procesos territoriales de Yucatán, Yucatán, México, ed., Anónimo, 163–182. Mérida, México: Universidad Autónoma de Yucatán.

Barrera, A. 1980. Sobre la unidad de habitación tradicional campesina y el manejo de recursos bióticos en el área Maya Yucatanense. Biotica 5(3):115–129.

Blanckaert, I., R. L. Swennen, M. Paredes-Flores, R. Rosas-López, and R. Lira-Saade. 2004. Floristic composition, plant uses and management practices in home gardens of San Rafael Coxcotlaán, Valle of Tehuacán–Cuicatlán, Mexico. Journal of Arid Environments 57:179–201.

Buchmann, C. 2009. Cuban home gardens and their role in social–ecological resilience. Human Ecology 37:705–721.

Caballero, J. 1992. Maya homegardens: Past, present and future. Etnoecológica 1:35–54.

CICY, 2010. Flora de la Península de Yucatán. http://www.cicy.mx/sitios/flora%20digital/ (19 August 2011).

Colwell, R. K. 2006. EstimateS: Statistical estimation of species richness and shared species from samples. Version 8.0.

Das, T. and A. K. Das. 2005. Inventorying plant biodiversity in homegardens: A case study in Barak Valley, Assam, North East India. Current Science (Bangalore) 89:155–163.

Durán, R., J. C. Trejo-Torres, and G. Ibarra-Manríquez. 1998. Endemic phytotaxa of the Peninsula of Yucatan. Harvard Papers in Botany 3(2):263–314.

Duran-García, R., J. A. González-Iturbide, I. Olmsted, J. Granados-Castellanos, and F. Tun-Dzul. 1999. Vegetación de la Península de Yucatán. In: Atlas de procesos territoriales de Yucatán, Yucatán, México, ed., Anónimo, 183–194. Mérida, México: Universidad Autónoma de Yucatán.

Ellis, F. 2000. Rural livelihoods and diversity in developing countries. Oxford, United Kingdom: Oxford University Press.

García de Miguel, J. 2000. Etnobotánica maya: origen y evolución de los huertos familiares de la Península de Yucatán, México. Ph.D. thesis, Instituto de Sociología y Estudios Campesinos, Universidad de Cordoba. Cordoba, España.

Goddard, M. A., A. J. Dougill, and T. G. Benton. 2009. Scaling up from gardens: Biodiversity conservation in urban environments. Trends in Ecology & Evolution 25:90–98.

Gotelli, N. J. and R. K. Colwell. 2001. Quantifying biodiversity: Procedures and pitfalls in the measurement and comparison of species richness. Ecology Letters 4:379–391.

Haas-Tzuc, J. and W. S. Poot-Pool. 2006. Caracterización de los sistemas de producción agropecuarios y agroforestales en la comunidad Pomuch, Campeche. B.Sc. thesis, Instituto Tecnológico Agropecuario, Chiná, Campeche, Mexico.

Hammer, Ø., D. A. T. Harper, and P. D. Ryan. 2001. PAST: Paleontological statistics software package for education and data analysis. Palaeontologia Electronica 4(1):1–9.

Herrera-Castro, N. D., A. Gómez-Pompa, L. Cruz-Kuri, and J. S. Flores. 1993. Los huertos familiares mayas en X–uilub, Yucatán, México. Aspectos generales y estudio comparativo entre la flora de los huertos familiares y la selva. Biótica, nueva época 1:19–36.

Ibarra-Manríquez, G. 1996. Biogeografía de los árboles nativos de la Península de Yucatán: un enfoque para evaluar su grado de conservación. Ph.D. thesis, Facultad de Ciencias, UNAM, México D.F.

INEGI. 2005. II Conteo de Población y Vivienda. INEGI. Mexico.

Kehlenbeck, K., H. Arifin, and B. Maass. 2007. Plant diversity in homegardens in a socio–economic and agro–ecological context. In: Stability of tropical rainforest margins. Linking ecological, economic and social constraints of land use and conservation, ed., Teja Tscharntke, 297–319. Berlin: Springer.

Kimber, C. T. 2004. Gardens and dwelling: People in vernacular gardens. Geographical Review 94:263–283.

Kumar, B. M. and P. K. R. Nair. 2004. The enigma of tropical homegardens. Agroforestry Systems 61:135–153.

Lugo-Hubp, J. and M. T. García-Arizaga. 1999. Geomorfología. In: Atlas de procesos territoriales de Yucatán, Yucatán, México, ed., Anónimo, 155–162. Mérida, México: Universidad Autónoma de Yucatán.

Mendez, V. E., R. Lok, and E. Somarriba. 2001. Interdisciplinary analysis of homegardens in Nicaragua: Micro–zonation, plant use and socioeconomic importance. Agroforestry Systems 51:85–96.

Moreno-Black G., P. Somnasang, S. Thamathawan. 1996. Cultivating continuity and creating change: Women's home garden practices in northeastern Thailand. Agriculture and Human Values 13:3–11.

Padoch, C. and W. D. de Jong. 1991. The house gardens of Santa Rosa: Diversity and variability in an Amazonian agricultural system. Economic Botany 45:166–175.

Pat-Fernández, J. M. 1999. Agricultural modernization and campesino differentiation in the Maya community of Hecelchakán, Campeche. Revista Mexicana del Caribe 7:130–170.

Poot-Pool, W. S., H. Van Der Wal, J. M. Pat-Fernández, and S. Levy-Tacher. 2008. Activos de productores agrícolas y arquitectura de solares en Pomuch, Campeche. Sociedades rurales, producción y medio ambiente 8:77–102.

Rico-Gray, V., J. G. Garcia-Franco, A. Chemas, A. Puch, and P. Sima. 1990. Species composition, similarity, and structure of Mayan homegardens in Tixpeual and Tixcacaltuyub, Yucatan, Mexico. Economic Botany 44:470–487.

Scales, B. R. and S. J. Marsden. 2008. Biodiversity in small–scale tropical agroforests: A review of species richness and abundance shifts and the factors influencing them. Environmental Conservation 35:160–172.

Soemarwoto, O. and G. R. Conway. 1991. The Javanese homegarden. Journal of Farming Systems Research–Extension 2:95–117.

Sutherland, W. J., S. Armstrong-Brown, P. R. Armsworth, T. Brereton, J. Brickland, C. D. Campbell, D. E. Chamberlain, A. I. Cooke, N. K. Dulvy, N. R. Dusic, M. Fitton, R. P. Freckleton, H. C. Godfray, N. Grout, H. Harvey, C. Hedley, J. J. Hopkins, N. B. Kift, J. Kirby, W. E. Kunin, D. W. Macdonald, B. Marker, M. Naura, A. R. Neale, T. Oliver, D. Osborn, A. S. Pullin, M. E. A. Shardlow, D. A. Showler, P. L. Smith, R. J. Smithers, J.-L. Solandt, J. Spencer, C. J. Spray, C. D. Thomas, J. Thompson, S. E. Webb, D. W. Yalden, and A. R. Watkinson. 2006. The identification of 100 ecological questions of high policy relevance in the UK. Journal of Applied Ecology 43:617–627.

The Royal Botanic Gardens Kew. http://www.kew.org/plants–fungi/index.htm (19 August 2011).

Toledo, V. M., N. Barrera-Bassols, E. García-Frapolli, and P. Alarcon-Chaires. 2008. Uso multiple y biodversidad entre los mayas yucatecos (México). Interciencia 33:345–352.

Torquebiau, E. 1992. Are tropical agroforestry home gardens sustainable? Agriculture, Ecosystems and Environment 41:189–207.

Van der Wal, H. and F. Bongers. 2012. Biosocial and bionumerical diversity of variously sized home gardens in Tabasco, México Agroforestry Systems Online First. doi:10.1007/s10457–012–9526–4.

Vandermeer, J., M. Van Noordwijk, J. Anderson, C. Ong, and I. Perfecto. 1998. Global change and multi–species agroecosystems: Concepts and issues. Agriculture, Ecosystems and Environment 67:1–22.

Winkler-Prins, A. M. G. A. and P. S. De Souza. 2005. Surviving the city: Urban home gardens and the economy of affection in the Brazilian Amazon. Journal of Latin American Geography 4:107–126.

Yongneng, F., G. Huijun, C. Aiguo, and C. Jinyun. 2006. Household differentiation and on–farm conservation of biodiversity by indigenous households in Xishuangbanna, China. Biodiversity and Conservation 15:2687–2703.

Zar, J. H. 2010. Biostatistical analysis. Upper Saddle River, New Jersey: Pearson Prentice Hall.
Acknowledgement
The Mexican Consejo Nacional de Ciencia y Tecnología (CONACYT) supported research through the project "Gestión y estrategias de manejo sustentable para el desarrollo regional en la cuenca hidrográfica transfronteriza Grijalva" (grant number FORDECYT–143303) and sabbatical grant number CONACYT–147619. Manuel Vargas–Domínguez and Daniel Antonio Poot-Pool helped in field work. We thank the owners of the home gardens in Pomuch, Mexico, for allowing us to do the research.
Additional information
Submitted 24 August 2011; Accepted 22 June 2012
About this article
Cite this article
Poot-Pool, W.S., van der Wal, H., Flores-Guido, S. et al. Economic Stratification Differentiates Home Gardens in the Maya Village of Pomuch, Mexico. Econ Bot 66, 264–275 (2012). https://doi.org/10.1007/s12231-012-9206-3
Received:

Accepted:

Published:

Issue Date:
Key Words:
Economic stratification

species composition

native species

structure