Abstract
Long-term maintenance in vitro of potato plantlets in nutrient media is necessary to preserve disease-free stocks. Since these are living plants, they eventually outgrow the containers they are in and exhaust the media, so propagation onto fresh media is required. To decrease labor and time spent in this process, it is of interest to slow plant growth to reduce turnover frequency. In this study, we investigated the effects of adding two concentrations (2 and 4%) of mannitol (a sugar alcohol that causes osmotic stress) to tissue culture media on plant growth of three potato clones at moderately low temperatures. Plantlet growth was inversely proportional to the concentration of mannitol used, but there were genotypic differences. Regeneration of the plantlets for subsequent micropropagation, after removal from the main treatments at day 64 and 121 days, was not negatively affected by the percentage of mannitol used to maintain the original stocks. Based on these results, we started using 2% mannitol as a baseline for practical long-term storage of potato breeding clones maintained in vitro. Depending on the reaction of the specific genotypes to media containing mannitol, additional adjustments might be needed.
Resumen
El mantenimiento in vitro a largo plazo de plántulas de papa en medio nutritivo, es necesario para preservar poblaciones libres de enfermedades. Considerando que son plantas vivas, eventualmente crecen más que la capacidad de los recipientes en donde se encuentran, y agotan el medio, de manera que se requiere de propagación en medio fresco. Para disminuir el trabajo y el tiempo que se lleva en este proceso, es de interés desacelerar el crecimiento de la planta para reducir la frecuencia de renovación. En este estudio investigamos los efectos de agregar dos concentraciones (2 y 4%) de manitol (un azúcar-alcohol que causa agobio osmótico) al medio de cultivo, sobre el crecimiento de la planta en tres clones de papa a temperaturas moderadamente bajas. El crecimiento de las plantas fue inversamente proporcional a la concentración usada de manitol, pero hubo diferencias genotípicas. La regeneración de las plántulas para subsecuente micropropagación, después de quitarlas de los tratamientos principales a los días 64 y 121, no se afectó negativamente por el porcentaje de manitol usado para mantener las poblaciones originales. Con base a estos resultados, empezamos a usar manitol al 2% como base para almacenamiento práctico a largo plazo de clones de mejoramiento de papa mantenidos in vitro. Pudieran necesitarse ajustes adicionales, dependiendo de la reacción de genotipos específicos al medio con manitol.
Access options
Buy single article
Instant access to the full article PDF.
US$ 39.95
Tax calculation will be finalised during checkout.
Subscribe to journal
Immediate online access to all issues from 2019. Subscription will auto renew annually.
US$ 79
Tax calculation will be finalised during checkout.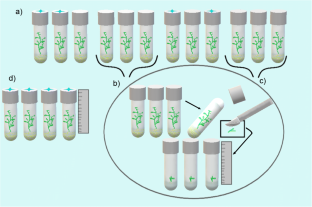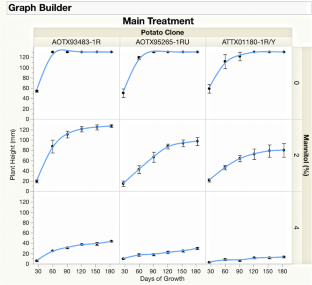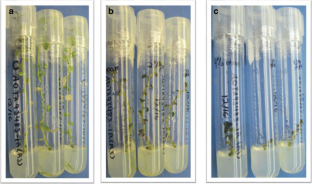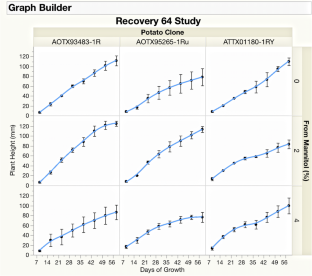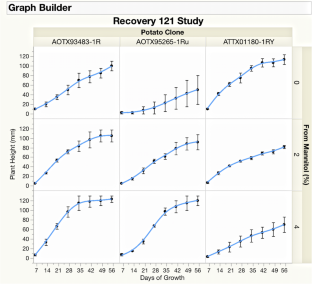 References
Bamberg, J.B., M.W. Martin, J. Abad, M.M. Jenderek, J. Tanner, D.J. Donnelly, A.M.K. Nassar, R.E. Veilleux, and R.G. Novy. 2016. In vitro technology at the US potato Genebank. In Vitro Cellular & Developmental Biology – Plant 52: 213–225.

Cha-um, S., and C. Kirdmanee. 2007. Minimal growth in vitro culture for preservation of plant species. Fruit, Vegetable, and Cereal Science and Biotechnology 1: 13–25.

CIP (2018). International Potato Center. https://cipotato.org/crops/potato/potato-facts-and-figures/ (accessed June 22, 2018).

Colorado Certification 2017. Colorado Rules and Regulations for Certification of Seed Potatoes August 2017. http://www.coloradocertifiedpotatogrowers.com/downloads/Rules-and-Regs.pdf

FAOSTAT (2016) Food and Agriculture Organization of the United Nations (FAOSTAT). http://www.fao.org/faostat/en/#data/QC (accessed June 22, 2018).

JMP®, 1989–2019. Version 14.1.1. SAS Institute Inc., Cary, NC.

Gopal, J., A. Chamail, and D. Sarkar. 2002. Slow-growth in vitro conservation of potato germplasm at normal propagation temperature. Potato Research. 45: 203–213.

Harding, K. 1994. The methylation status of DNA derived from potato plants recovered from slow growth. Plant Cell Tissue Organ Culture. 37: 31–38.

Harding, K., and E.E. Benson. 2000. Analysis of nuclear and chloroplast DNA in plants regenerated from cryopreserved shoot-tips of potato. CryoLetters. 21: 279–288.

Lipavska, H., and D. Vreugdenhil. 1996. Uptake of mannitol from the media by in vitro grown plants. Plant Cell Tissue Organ Culture. 45: 103–107.

Lizarraga, R., Z. Huaman, and J.H. Dodds. 1989. In vitro conservation of potato germplasm at the international potato center. American Potato Journal 66: 253–269.

Montana Seed Potato Certification Program Rules. 2018. http://www.montanaspud.org/rules.html

Niino, T., and M.V. Arizaga. 2015. Cryopreservation for preservation of potato genetic resources. Breeding Science. 65: 41–52.

North Dakota Seed Potato Certification Standards. 2010. https://www.nd.gov/seed/news/74-04-01.pdf

Sarkar, D., S.K. Chakrabarti, and P.S. Naik. 2001. Slow-growth conservation of potato microplants: Efficacy of ancymidol for long-term storage in vitro. Euphytica. 117: 133–142.

Sarkar, D., and P.S. Naik. 1998. Factors affecting growth conservation of potato microplants in vitro. Euphytica. 102: 275–280.

Westcott, R.J. 1981. Tissue culture storage of potato germplasm. 2. Use of growth retardants. Potato Research. 24: 343–352.
Acknowledgments
We thank the USDA-NIFA Special Research Grants Program - Potato Research – for funding this project.
Ethics declarations
Conflict of Interest
The authors claim no competing interests.
About this article
Cite this article
Chappell, A.L., Koym, J.W., Scheuring, D.C. et al. Incorporation of Mannitol in Tissue Culture Media for Long-Term Storage of Potatoes at Moderately Low Temperature and Effect on Subsequent Micropropagation. Am. J. Potato Res. 97, 439–446 (2020). https://doi.org/10.1007/s12230-020-09780-6
Keywords
Growth reduction

In vitro

Maintenance

Preservation

Clone bank