Abstract
Seven processing potato (Solanum tuberosum L.) cultivars were evaluated for biochemical properties, starch morphology, crystallinity and thermal properties. One-way ANOVA results indicated a significant difference in those quality properties of individual potato cultivar. Dry-matter, total starch, and reducing sugar contents were ranged in 21.34 ~ 24.88%, 15.6 ~ 18.3%, and 0.24 ~ 1.09%, respectively. Glucose and fructose contents were ranged in 1.03 ~ 5.28% and 0.59 ~ 3.69 mg/g DW, respectively. Saebong, a round-oval shape with white-fleshed potato cultivar, was higher in dry-matter and total starch contents. The cultivars of Atlantic, Jinseon, and Saebong showed lower reducing sugar contents ranged in 0.24 ~ 0.27 mg/g DW. The extracted potato starches showed a similar morphology, which was round, oval or elliptical shape with mixed sizes of large, medium and small starch granules and glossy surface with regular pattern. The X-ray diffraction patterns were a typical B-type, which was generally observed in root plants. The major crystallinity peaks were at 5.5°, 14°, 17°, 19°, and 22° in 2Ɵ. There was a positive correlation between the onset temperature (To) with dry-matter and total contents, but a negative correlation with reducing sugar, glucose and fructose contents. The variations in physicochemical and starch properties of different potato cultivars could be directly related to the use of potato, which make them useful for industrial application.
Resumen
Se evaluaron siete variedades de papa para proceso (Solanum tuberosum L.) para sus propiedades bioquímicas, morfología del almidón, cristalinidad y propiedades térmicas. Los resultados en un sentido del ANAVA indicaron una diferencia significativa en esas propiedades de calidad de variedad de papa en lo individual. Los contenidos de materia seca, almidón total, y azúcares reductores, fluctuaron de 21.34 ~ 24.88%, 15.6 ~ 18.3%, y 0.24 ~ 1.09%, respectivamente. Los contenidos de glucosa y fructosa tuvieron amplitudes de 1.03 ~ 5.28% y 0.59 ~ 3.69 mg/g PS, respectivamente. Saebong, una variedad de papa de forma redonda a oval, de pulpa blanca, fue la más alta en materia seca y contenido total de almidón. Las variedades Atlantic, Jinseon y Saebong mostraron el más bajo contenido de azúcar reductor fluctuando entre 0.24 ~ 0.27 mg/g PS. Los almidones extraídos de la papa mostraron una morfología similar, que era redonda, oval o elíptica con tamaños mezclados de gránulos de almidón largo, medio y pequeño, y superficie brillante con un patrón regular. Los patrones de difracción de rayos X fueron de una forma típica tipo B, lo que fue observado generalmente en las raíces de las plantas. Los picos más grandes de cristalinidad estuvieron a 5.5°, 14°, 17°, 19°, y 22° en 2Ɵ. Hubo correlación positiva entre la temperatura establecida con peso seco y contenido total, pero negativa con el contenido de azúcar reductor, glucosa y fructosa. Las variaciones en propiedades fisicoquímicas y almidón de las diferentes variedades de papa pudieran estar relacionadas directamente al uso de la papas, que las hacen útiles para aplicación industrial.
This is a preview of subscription content, log in to check access.
Access options
Buy single article
Instant access to the full article PDF.
US$ 39.95
Price includes VAT for USA
Subscribe to journal
Immediate online access to all issues from 2019. Subscription will auto renew annually.
US$ 99
This is the net price. Taxes to be calculated in checkout.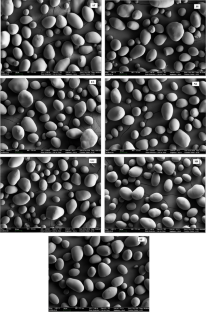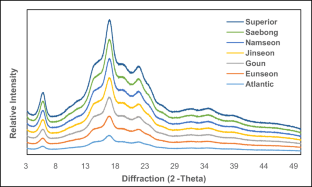 References
Adams, J.B. 2004. Raw materials quality and the texture of processed vegetables. In: D. Kilcast (Ed.) Texture in foods, Vol 2: Solid foods. CRC Press: Florida. 342–363.

Baritelle, A.L., and G.M. Hyde. 2003. Specific gravity and cultivar effects on potato tuber impact sensitivity. Postharvest Biology and Technology 29: 279–286.

AOAC 2010. Official methods of analysis. 18th Ed. The Association of Official Analytical Chemists (AOAC), Washington DC, USA.

Burton, W.G., A. van Es, and K.J. Hartmans. 1992. The physics and physiology of storage. In The potato crop, 2nd ed, ed. P.M. Harris, 608–727. London: Chapman and Hall.

Camire, M.E., S. Kubow, and D.J. Donnelly. 2009. Potatoes and human health. Critical reviews. Food Science and Nutrition 49 (10): 823–840.

Cheigh, C.I., H.J. Lee, and M.S. Chung. 2012. Effects of soft steam treatments on quality characteristics of potatoes. Korean Journal of Food Nutrition 25: 50–56.

Chen, L., R. Ma, D.J. McClements, Z. Zhang, and Z. Jin. 2019. Impact of granule size on microstructural change and oil absorption of potato starch during frying. Food Hydrocolloids 94: 428–438.

Chung, H.-J., X.-Q. Li, D. Kalinga, S.-T. Lim, R. Yada, and Q. Liu. 2014. Physicochemical properties of dry matter and isolated starch from potatoes grown in different locations in Canada. Food Research International 57: 89–94.

Cooke, D., and M.J. Gidley. 1992. Loss of crystallinity and molecular order during starch gelatinization: Origin of the enthalpy transition. Carbohydrate Research 227: 103–112.

Copeland, L., J. Blazek, H. Salman, and M.C. Tang. 2009. Form and functionality of starch. Food Hydrocolloid 23: 1527–1534.

Davies, H.V., and R. Viola. 1992. Regulation of sugar accumulation in stored potato tubers. Postharvest news Inf., no. 3. Issues 5: 97–100.

dos Santos, T.P., M. Leonel, L.E. Garcia, and E. Do Carmo. 2016. Crystallinity, thermal and pasting properties of starches from different potato cultivars gown in Brazil. International Journal of Biological Macromolecules 82: 144–149.

Dourado, C., C. Pinto, F.J. Barba, J.M. Lorenzo, and I. Delgadillo. 2019. Innovative non-thermal technologies affecting potato tuber and fried potato quality. Trends in Food Science & Technology 88: 274–289.

Gumul, D., R. Ziobro, M. Noga, and R. Sabat. 2011. Characterisation of five potato cultivars according to their nutritional and pro-health components. Acta Scientiarum Polonorum Technologia Alimentaria 10 (1): 73–81.

Haase, N.U. 2006. The formation of acrylamide in potato products. Eds. Skog K, Alexander J. acrylamide and other hazardous compounds in heat-treated foods. Cambridge, England, Woodhead publishing limited, 41-59.

Hertog, M.L.A.T.M., B. Putz, and L.M.M. Tijskens. 1997. The effect of harvest time on the accumulation of reducing sugars during storage of potatoes (Solamum tuberosum L.) tubers: Experimental data described, using a physiological based mathematical model. Potato Research 40: 69–78.

Hoover, R. 2001. Composition, molecular structure, and physicochemical properties of tuber and root starches: A review. Carbohydrate Polymers 45: 253–267.

Kaaber, L., E. Bråthen, B.K. Martinsen, and I. Shomer. 2001. The effect of storage conditions on chemical content of raw potatoes and texture of cooked potatoes. Potato Research 44 (2): 153–163.

Kaš, M., Š. Matĕjkova, and J. Diviš. 2009. Effect of preceding crops on potato yield in organic and conventional farming. Journal of Agrobiology 26: 61–67.

Kaur, A., N. Singh, R. Ezekiel, and H.S. Guraya. 2007a. Physicochemical, thermal and pasting properties of starches separated from different potato cultivars grown at different locations. Food Chemistry 101: 643–651.

Kaur, L., J. Singh, O.J. McCarthy, and H. Singh. 2007b. Physico-chemical, rheological and structure properties of fractionated potato starches. Journal of Food Engineering 82: 383–394.

Kumar, D., R. Ezekiel, B. Singh, and I. Ahmed. 2005. Conversion table for specific gravity, dry matter and starch content from under water weight of potatoes grown in north-Indian plains. Potato Journal 32 (1–2): 79–84.

Kumlay, A.M., C. Kaya, M. Olgun, A. Dursun, M. Pehluvan, and T. Dizikisa. 2002. Comparison of seasonal change of specific gravity, dry matter accumulation and starch content of four potato (Solanum tuberosum L.) varieties. Acta Horticulturae 579: 255–258.

Lehmann, U., and F. Robin. 2007. Slowly digestible starch – Its structure and health implications: A review. Trends in Food Science and Technology 18: 346–355.

Lewu, M.N., P.O. Adebola, and A.J. Afolayan. 2010. Comparative assessment of the nutritional value of commercially available cocoyam and potato tubers in South Africa. Journal of Food Quality 33: 461–476.

Lim, S.T., J.H. Lee, D.H. Shin, and H.S. Lim. 1999. Comparison of protein extraction solutions for rice starch isolation and effects of residual protein content on starch pasting properties. Stärch 51: 120–125.

Lorenz, K., and K. Kulp. 1982. Cereal and root starch modification by heat-moisture treatment. I. Physico-chemical properties. Stärch 34: 50–54.

Lu, Z.H., R.Y. Yada, Q. Liu, B. Bizimungu, A. Murphy, D.D. Koeyer, Z.Q. Li, and R.G. Pinhero. 2011. Correlation of physicochemical and nutritional properties of dry matter and starch in potatoes grown in different locations. Food Chemistry 126: 1246–1253.

McCleary, B.V., T.S. Gibson, and D.C. Mugford. 1997. Measurement of total starch in cereal products by amyloglucosidse - α-amylase method. Collaborative study. Journal of AOAC International 80: 571–579.

Miller, G.L. 1959. Use of dinitrosalicylic acid reagent for determination of reducing sugar. Analytical Chemistry. 31: 426–428.

Miranda, M.L., and J.M. Aguilera. 2006. Structure and texture properties of fried potato products. Food Reviews International 22: 173–201.

Navarre, D.A., A. Goyer, and R. Shakya. 2009. Chapter 14. Nutritional value of potatoes: Vitamin, phytonutrient, and mineral content. In: J. Singh, L. Kaur (Ed.) advances in potato chemistry and technology, Elsevier press: New York, NY. 397-398.

Pritchard, M.K., and L.R. Adam. 1994. Relationships between fry color and sugar concentration in stored 'russet Burbank' and 'Shepody' potatoes. American Journal of Potato Research 71: 59–68.

Reddy, D.K., and M.G. Bhotmange. 2013. Isolation of starch from rice (Oryza Sativa L.) and its morphological study using scanning electron microscopy. International Journal of Agriculture and Food Science Technology 4 (9): 859–866.

Shevkani, K., N. Singh, R. Bajaj, and A. Kaur. 2017. Wheat starch production, structure, functionality and applications – A review. International Journal of Food Science and Technology 52: 38–58.

Šimkova, D., J. Lachman, K. Hamouz, and B. Vokal. 2013. Effect of cultivar, location and year on total starch, amylose, phosphorus content and starch grain size of high starch potato cultivars for food and industrial processing. Food Chemistry 141: 3872–3880.

Singh, N., A. Kaur, K. Shevkani, R. Ezekiel, P. Kaur, N. Isono, and T. Noda. 2018. Structural, morphological, thermal, and pasting properties of starches from diverse Indian potato cultivars. Stärch 70: 1700130.

Singh, N., J. Singh, L. Kaur, N.S. Singh, and B.S. Gill. 2003. Morphological, thermal and rheological properties of starches from different botanical sources. Food Chemistry 81: 219–231.

White, P.J., J.E. Bradshaw, M.F.B. Dale, and G. Ramsay. 2009. Relationship between yield and mineral concentrations in potato tubers. Horticulture Science 44: 6–11.

Zobel, H.F. 1988a. Starch crystal transformations and their industrial importance. Stärch 40: 1–7.

Zobel, H.F. 1988b. Molecules to granules – A comprehensive starch review. Stärch 40: 44–50.
Acknowledgements
This work was carried out with the financial support of "The Cooperative Research Program for Agriculture Science & Technology Development (Project No. PJ01349202)" Rural Development Administration, Republic of Korea.
About this article
Cite this article
Choi, I., Chun, J., Choi, H. et al. Starch Characteristics, Sugars and Thermal Properties of Processing Potato (Solanum tuberosum L.) Cultivars Developed in Korea. Am. J. Potato Res. 97, 308–317 (2020). https://doi.org/10.1007/s12230-020-09779-z
Keywords
Processing potato

Sugar

Starch morphology

Crystallinity

DSC