Abstract
Cooperation-88 (C88) is a high yielding potato cultivar with durable resistance to Phytophthora infestans Mont. de Bary and excellent virus resistance. This has permitted the cultivar to rapidly increase its production area in Yunnan Province of China, as well as in neighboring provinces and countries. C88 is the result of a cross between I-1085, a clone from India selected for late blight (LB) resistance in Mexico and distributed by the International Potato Center (CIP), and a bulk pollen of a poorly adapted but highly LB resistant population with its origin in Solanum andigena from CIP Peru. C88 has excellent vegetative growth; it is late maturing under the long day summer growing season in Yunnan Province. It is much earlier maturing under the low elevation and warmer winter season of Yunnan. Experimental yields ranged from 23 to 55 t/ha, out-yielding the control cultivar Mira by 5% to 76%. Tuber quality is excellent, garnering a premium price in the markets. C88 has also become the preferred cultivar for the chipping potato industry, which uses medium-sized tubers, while the larger ones go for the fresh table market. Current estimates place the total area under production at 390,000 ha in Yunnan and its neighboring provinces, making C88 one of the most widely grown cultivars in the world today, less than 15 years after release.
Resumen
Cooperation-88 (C88) es una variedad de papa de alto rendimiento con resistencia durable a Phytophthora infestans Mont. de Bary y de excelente resistencia a virus. Esto le ha permitido un rápido incremento en el área de producción en la Provincia de Yunnan en China, así como también en provincias y países vecinos. C88 es el resultado de una cruza entre I-1085, un clon de la India seleccionado para resistencia al tizón tardío (TT) en México y distribuido por el Centro Internacional de la Papa (CIP), y polen masivo de una población de pobre adaptación, pero altamente resistente al TT, con su origen en Solanum andigena del CIP, en Perú. C88 tiene un excelente crecimiento vegetativo; es tardía bajo el ciclo de cultivo de día largo del verano en la Provincia de Yunnan. Es de madurez mucho más temprana en elevaciones bajas y en la estación de inviernos cálidos de Yunnan. Los rendimientos experimentales variaron de 23 a 55 t/ha, superando a la variedad testigo Mira por 5% a 76%. La calidad del tubérculo es excelente, mereciendo precios preferenciales en los mercados. C88 también se ha convertido en la variedad preferida para la industria del freído de la papa, que utiliza tubérculos de tamaño medio, mientras que los grandes van al mercado fresco. Las estimaciones actuales ubican al área bajo producción en 390,000 ha en Yunnan y en las provincias vecinas, haciendo de C88 una de las variedades más ampliamente sembradas en el mundo hoy, a menos de quince años de su liberación.
Access options
Buy single article
Instant access to the full article PDF.
US$ 39.95
Tax calculation will be finalised during checkout.
Subscribe to journal
Immediate online access to all issues from 2019. Subscription will auto renew annually.
US$ 79
Tax calculation will be finalised during checkout.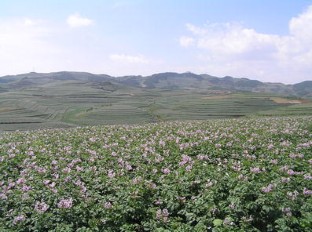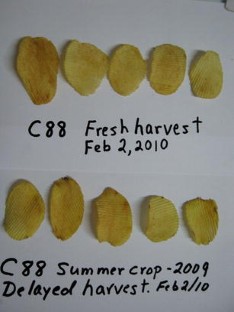 References
Ballvora, A., M.R. Ercolano, J. Weiss, K. Meksem, C.A. Bormann, P. Oberhagemann, F. Salamini, and C. Gebhardt. 2002. The R1 gene for potato resistance to late blight (Phytophthora infestans) belongs to the leucine zipper/NBS/LRR class of plant resistance genes. The Plant Journal 30: 361–371.

Chien, D.H. 1989. Breeding potato for adaptation and late blight resistance in the highland tropics through recurrent selection. La Trinidad: Benguet State University. MSc thesis.

He T., and J. Wang. 1993. Selection of late blight resistant cultivars from introduced germplasm and true potato seeds progenies (in Chinese with English abstract). In Proceedings of Potato Late Blight Control in China, eds. J Wang, B Song, 37–44. China Agricultural Science and Technology Press.

Huang, S.E., A.G. van der Vossen, H. Kuang, V.G.A.A. Vleeshouwers, N. Zhang, T.J.A. Borm, H.J. van Eck, B. Baker, E. Jacobsen, and R.G.F. Visser. 2005. Comparative genomics enabled the isolation of the R3a late blight resistance gene in potato. The Plant Journal 42: 251–261.

Jansky, S.H., L.P. Jin, K.Y. Xie, C.H. Xie, and D.M. Spooner. 2009. Potato production and breeding in China. Potato Research 52: 57–65.

Li, C., D. Hao, S. Chen. 2008. Molecular detection of R1 and R3a Alleles in Late Blight Differentials in Germplasm of Potato and Its Implications. In: Proceedings of the 3rd International Late Blight Conference. China: CIP, CAAS and GILB. April 4–10, 2008

Song B., J. Wang. 1993. Assessment of the importance of potato late blight disease in Southwest China. In Proceedings of Potato Late Blight Control in China, eds. Wang J, Song B, 92–94. China Agricultural Science and Technology Press.

Wang J., Q. Hu, T. He, F. Jiang, B. Song. 1989. A summary of potato germplasm evaluation for adaptation and resistance to Phytophthora infestans in Yunnan. In Potato and Sweetpotato Research in China from 1986–1989. CAAS and CIP, 105–120.
Acknowledgements
The authors extend sincere thanks to He Tingfei (deceased) for doing the initial selection work in Huize. We also thank the colleagues from the Agricultural Technology Extension Stations of Yunnan, Guizhou and Guangxi provinces, and Xichang Agricultural Science Research Institute in Sichuan and Chongqing Potato Hi-tech Research Institute for their contributions in surveying the adoption of C88 in the corresponding provinces. Development of C88 was partially funded by the CIP-China collaborative program grant. Demonstration and promotional work in SW China was partially funded by the Commonwealth Specialized Research Fund of China Agriculture (3–20) and Yunnan Science and Technology Department (2008PY053).
About this article
Cite this article
Li, C., Wang, J., Chien, D.H. et al. Cooperation-88: A High Yielding, Multi-Purpose, Late Blight Resistant Cultivar Growing in Southwest China. Am. J. Pot Res 88, 190–194 (2011). https://doi.org/10.1007/s12230-010-9174-z
Keywords
Yunnan

Potato chips

Wide adaptation

Culinary quality