Abstract
A new combination in Rutaceae is published: Megastigma conzattii, which was erroneously described as an Amyris, A. conzattii. The species is described, illustrated, and compared with M. skinnerii and M. chiangii, both species with similar morphological characteristics. A comparative table and an identification key of these species are included.
Resumen
Se publica una nueva combinación en Rutaceae: Megastigma conzattii, la cual fue erróneamente descrita como un Amyris, A. conzattii. La especie se describe, ilustra y compara con M. skinnerii y M. chiangii, taxones con características morfológicas similares. Se incluye un cuadro comparativo así como una clave de identificación de las tres especies mencionadas.
Access options
Buy single article
Instant access to the full article PDF.
US$ 39.95
Tax calculation will be finalised during checkout.
Subscribe to journal
Immediate online access to all issues from 2019. Subscription will auto renew annually.
US$ 79
Tax calculation will be finalised during checkout.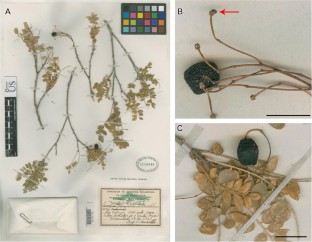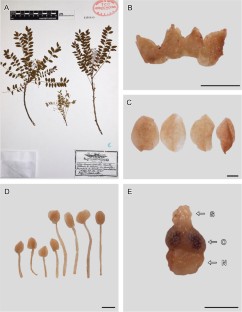 Literature cited
Cuevas-Guzmán, R., L. Guzmán-Hernández & Nora M. Núñez-López. 2016. Megastigma morenoi (Rutaceae), una especie nueva del estado de Colima, México. Brittonia 68: 111–114. DOI: https://doi.org/10.1007/s12228-015-9403-3

Engler, A. 1931. Rutaceae. In: A. Engler & K. Prantl (eds.), Die natürlichen Pflanzenfamilien ed. 2, 19a: 187–359. Wilhelm Englemann, Leipzig.

Gereau, R. E. 1991. El género Amyris (Rutaceae) en América del Sur, con dos especies nuevas de la Amazonia occidental. Candollea 46: 227–235.

Groppo, M., J. R. Pirani, M. F. L. Salatino, S. R. Blanco & J. A. Kallunki. 2008. Phylogeny of Rutaceae based on two noncoding regions from cpDNA. American Journal of Botany 95: 985–1005. DOI: https://doi.org/10.3732/ajb.2007313

Hernández-Barón, L. J. 2016. El género Amyris P. Browne (Rutaceae) en México. Master's Thesis, Universidad Autónoma Metropolitana Iztapalapa, Mexico City.

Hooker, J. D. 1862. Genera Plantarum 1: 299.

Jiménez Ramírez, J. & R. Cruz Durán. 2015. Megastigma chiangii (Rutaceae), una especie nueva de la Sierra Madre del Sur del estado de Guerrero, México. Brittonia 67: 56–58. DOI: https://doi.org/10.1007/s12228-014-9356-y

Kubitzki, K., J. A. Kallunki, M. Duretto & P. G. Wilson. 2011. Rutaceae. In: K. Kubitzki (ed.). The Families and the Genera of Vascular Plants 10: 276–356. Springer, Heidelberg, Berlin.

Morton, C. M. & Ch. Telmer. 2014. New subfamily classification for the Rutaceae. Annals of the Missouri Botanical Garden 99: 620–641. DOI: https://doi.org/10.3417/2010034

Pool, A. 2001. Megastigma. In: W. D. Stevens, C. Ulloa Ulloa, A. Pool & O. M. Montiel (eds.), Flora de Nicaragua. Angiospermas: Pandanaceae–Zygophyllaceae. Monographs in Systematic Botany from the Missouri Botanical Garden 85: 2296.

Rebman, J. P. & F. Chiang. 2005. A new species of Amyris (Rutceae) from Baja California Sur, Mexico. Novon 15: 350–353. https://www.jstor.org/stable/3393355
Acknowledgements
The authors thank the curators of the MEXU herbarium for permission to consult their collections, Gerald Matus Hernández Barón for technical advice on editing images, and two anonymous reviewers for their comments, which helped to improve the manuscript. This work is part of the M.S. thesis of the first author and was partially funded by the Consejo Nacional de Ciencia y Tecnología (CONACYT) through grant 371452.
About this article
Cite this article
Hernández-Barón, L.J., Espejo-Serna, A., López-Ferrari, A.R. et al. Amyris conzattii Standl. (Rutaceae), a case of false identity. Brittonia (2021). https://doi.org/10.1007/s12228-021-09654-z
Received:

Revised:

Accepted:

Published:
Keywords
Megastigma

new combination

Oaxaca

Rutoideae

Toddalioideae