Summary
The typification of the Linnaean name Buchnera asiatica is discussed. The name is lectotypified using a specimen from the Linnaean Herbarium at the Swedish Museum of Natural History, Stockholm (S-LINN).
Access options
Buy single article
Instant access to the full article PDF.
US$ 39.95
Tax calculation will be finalised during checkout.
Subscribe to journal
Immediate online access to all issues from 2019. Subscription will auto renew annually.
US$ 79
Tax calculation will be finalised during checkout.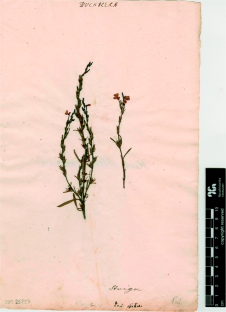 References
Bretschneider, E. (1898). History of European Botanical Discoveries in China. Sampson Law, Martson and Company Ltd., London.

Cramer, L. H. (1981). Striga. In: M. D. Dassanayake (ed.), A Revised Handbook to the Flora of Ceylon, Vol. 3. Oxford & IBH Publishing Co., New Delhi.

Hepper, F. N. (1974). Parasitic witchweed: Striga asiatica versus S. lutea (Scrophulariaceae). Rhodora 76: 45 – 47.

Jarvis, C. (2007). Order out of Chaos: Linnaean plant names and their types. The Linnean Society of London and The Natural History Museum, London.

Kuntze, C. E. O. (1891). Revisio Generum Plantarum. Vol. 2, Arthur Felix, Leipzig.

Linnaeus, C. (1753). Species Plantarum. Vol. 2, Laurentii Salvii, Stockholm.

Olmstead, R. G., Depamphilis, C. W., Wolfe, A. D., Young, N. D., Elisens, W. J. & Reeves, P. A. (2001). Disintegration of the Scrophulariaceae. Amer. J. Bot. 88: 348 – 361.

POWO (2018). Available from: http://powo.science.kew.org/taxon/urn:lsid:ipni.org:names:38035-1#children. Accessed 15 July 2018.

Saldanha, C. J. (1963). The genus Striga Lour. in Western India. Bull. Bot. Surv. India 5: 67 – 70.

Stafleu, F. A. & Cowan, R. S. (1986). Taxonomic literature: A selective guide to botanical publications and collections with dates, commentaries and types. Vol. 6, Bohn, Scheltema & Holkema, Utrecht.

Stearn, W. T. (1957). An Introduction to the Species Plantarum and cognate botanical works of Carl Linnaeus. In: C. Linnaeus, C. (ed.), Species Plantarum, A facsimile of the first edition, 1753, Vol. 1: 1 – 157. Ray Society, London.

Turland, N. J. (2006). Lectotypification of Campanula saxatilis, Phyteuma pinnatum and Verbascum arcturus, Linnaean names of three taxa endemic to Crete. Willdenowia 36: 303 – 309.

Turland, N. J. & Jarvis, C. E. (1997). Typification of Linnaean specific and varietal names in the Leguminosae (Fabaceae). Taxon 46: 457 – 485.
Acknowledgements
The author is grateful to Dr P. Singh, Director, Botanical Survey of India, Kolkata and to The Head of Office, Botanical Survey of India, Southern Regional Centre, Coimbatore for facilities. I am also grateful to the Curator of S-LINN herbarium, Stockholm for information and images of type specimens.
Additional information
Publisher's Note
Springer Nature remains neutral with regard to jurisdictional claims in published maps and institutional affiliations.
About this article
Cite this article
Singh, R.K. New lectotypification of the Linnaean name Buchnera asiatica (Orobanchaceae). Kew Bull 75, 23 (2020). https://doi.org/10.1007/s12225-020-9872-8
Key Words
China

lectotype

Linnaeus

Linnaean herbarium

Sri Lanka

Striga asiatica