Summary
Ceropegia graminea K.Suwann. & Kidyoo was recently discovered from eastern Thailand. It is here described and illustrated. Photographs and a comparison of the diagnostic features of the new taxon with those of the morphologically similar species, C. suddeei Kidyoo and C. thailandica Meve, are provided. These three species are characterised by a 1-flowered cyme and a corolla tube tipped with twisted, linear corolla lobes that are covered with glandular hairs. However, C. graminea is clearly distinguished from its close relatives in having a decumbent, glabrous stem and branches with needle-like leaves.
Access options
Buy single article
Instant access to the full article PDF.
US$ 39.95
Tax calculation will be finalised during checkout.
Subscribe to journal
Immediate online access to all issues from 2019. Subscription will auto renew annually.
US$ 79
Tax calculation will be finalised during checkout.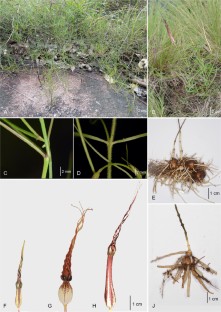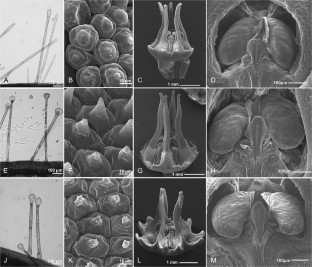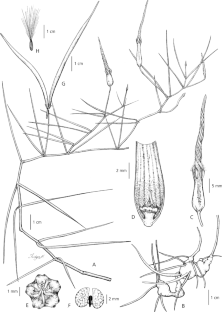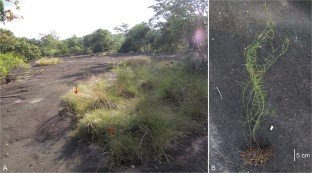 References
Costantin, J. (1912). Asclépiadacées. In: P. H. Lecomte (ed), Flore Générale de L'Indo-Chine, Vol. 4: 1 – 154. Masson & Co., Paris.

Huber, H. (1957). Revision der Gattung Ceropegia. Mem. Soc. Brot. 12: 1 – 203.

IUCN Standards and Petitions Subcommittee (2017). Guidelines for Using the IUCN Red List Categories and Criteria, ver. 13. http://www.iucnredlist.org/.

Kambale, S. S. & Yadav, S. R. (2019). Taxonomic revision of Ceropegia (Apocynaceae: Ceropegieae) in India. Rheedea 29(1): 1 – 115.

Kerr, A. F. G. (1951). Ceropegia L. In: R. L. Pendleton (ed), Florae Siamensis Enumeratio, Vol. 3: 49 – 51. Siam Society, Bangkok.

Kidyoo, M. (2014). Ceropegia suddeei sp. nov. (Apocynaceae, Asclepiadoideae) from northeastern Thailand. Nord. J. Bot. 32: 569 – 574.

Kidyoo, M. (2018). A new species of Ceropegia (Asclepiadoideae, Apocynaceae) from eastern Thailand. Phytotaxa 385(1): 31 – 36.

Kidyoo, K. & Suwannakote, K. (2020). Ceropegia phuchongensis (Apocynaceae, Asclepiadoideae), a new species from eastern Thailand. Taiwania 65(2): 101 – 108. https://doi.org/10.6165/tai.2020.65.101

Kress, W. J., DeFilipps, R. A., Farr, E. & Yin Kyi, D. (2003). A Checklist of the Trees, Shrubs, Herbs and Climbers of Myanmar. Contr. U. S. Nat. Herb. 45: 1 – 590.

Kullayiswamy, K. R., Sandhyarani, S. & Karuppusamy, S. (2013). Ceropegia pullaiahii sp. nov. (Apocynaceae, Asclepiadoideae) from India. Nord. J. Bot. 31: 166 – 169.

Li, P. T., Gilbert, M. G. & Stevens, W. D. (1995). Asclepiadaceae. In: Z. Y. Wu & P. H. Raven (eds), Flora of China, Vol. 16: 189 – 270. Science Press, Beijing & Missouri Botanical Garden Press, St. Louis.

Linnaeus, C. (1753). Species Plantarum 1. Laurentii Salvii, Stockholm.

Manudev, K. M., Kambale, S. S., Pramod, C. & Prakash, P. S. (2016). A new species of Ceropegia (Apocynaceae: Ceropegieae) from a midland lateritic hill of Kerala, India. Int. J. Advanced Res. 4(5): 1408 – 1414.

Meve, U. (2009). Ceropegia thailandica (Asclepiadoideae-Ceropegieae), a spectacular new Thai species. Bradleya 27: 161 – 164.

Rintz, R. E. (1979). Three new species of Asclepiadaceae from peninsular Malaya. Blumea 25: 225 – 231.

Rodda, M. & Meve, U. (2017). Ceropegia laotica (Apocynaceae, Asclepiadoideae): the first new species of Ceropegia described from Laos. Gard. Bull. Singapore 69(2): 285 – 293.

Thaithong, O., Kidyoo, A. & Kidyoo, M. (2018). Handbook of Asclepiads of Thailand. Amarin Printing and Publishing Public Company Limited, Bangkok.

Thiers, B. (2019, continuously updated). Index Herbariorum: a Global Directory of Public Herbaria and Associated Staff. New York Botanical Garden's Virtual Herbarium. http://sweetgum.nybg.org/science/ih/.
Acknowledgements
We are very grateful to Associate Professor Dr Obchant Thaithong for her valuable comments on this manuscript. We thank the curators and staff of BK, BKF, BM, K, L, P and QBG for their kind permission to study herbarium specimens. This research is supported by the Rachadaphisek Somphot Endowment Fund 2015 of Chulalongkorn University (CU-58-066-CC).
Additional information
Publisher's Note
Springer Nature remains neutral with regard to jurisdictional claims in published maps and institutional affiliations.
About this article
Cite this article
Suwannakote, K., Kidyoo, M. Ceropegia graminea (Apocynaceae: Asclepiadoideae), a new species from eastern Thailand. Kew Bull 75, 15 (2020). https://doi.org/10.1007/s12225-020-9869-3
Key Words
decumbent herb

grass-like

Korat Plateau

open sandy area

sandstone hills