Abstract
Fungal endophytes have been found to exist in many plant species and appear to be important to their plant hosts. However, the diversity and biological activities of these fungi remain largely unknown. Zanthoxylum simulans Hance, a popular natural spice and medicinal plant, commonly known as Szechuan pepper or Chinese-pepper, grows on Kinmen Island, Taiwan. In this study, leaf and stem samples of Z. simulans, collected in summer and winter, were screened for antimicrobial and anti-inflammatory metabolite-producing endophytic fungi. A total of 113 endophytic strains were isolated and cultured from Z. simulans, among which 23 were found to possess antimicrobial activity, belonging to six fungal genera: Penicillium (26.09%, 6), Colletotrichum (21.74%, 5), Diaporthe (21.74%, 5), Daldinia (17.39%, 4), Alternaria (8.70%, 2), and Didymella (4.34%, 1). We also found that the number of species with antimicrobial activity and their compositions differed between summer and winter. Our study demonstrated that Z. simulans might contain large and diverse communities of endophytic fungi, and its community composition varies seasonally. In addition, fungal endophytes produce antimicrobial agents, which may protect their hosts against pathogens and could be a potential source of natural antibiotics.
Access options
Buy single article
Instant access to the full article PDF.
US$ 39.95
Tax calculation will be finalised during checkout.
Subscribe to journal
Immediate online access to all issues from 2019. Subscription will auto renew annually.
US$ 79
Tax calculation will be finalised during checkout.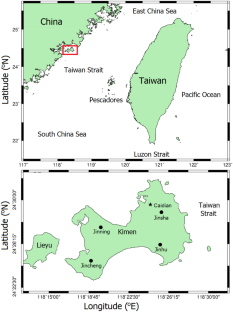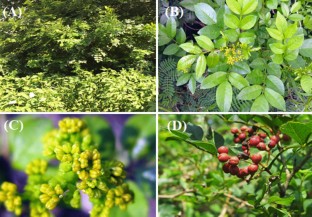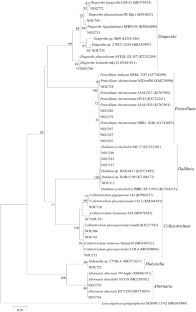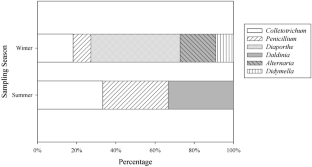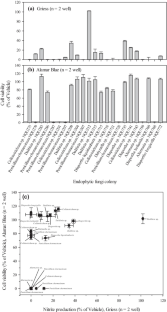 Data availability
Specimens of fungi after identification were deposited at the Department of Food Science, National Kinmen University, Kinmen, Taiwan, Republic of China. All data generated during the study are interpreted in the manuscript.
References
Altschul SF, Gish W, Miller W, Myers EW, Lipman DJ (1990) Basic local alignment search tool. J Mol Biol 215:403–410

Araújo KS, Brito VN, Veloso TGR, Leite TS, Pereira OL, Mizubuti ESG, de Queiroz MV (2018) Diversity of culturable endophytic fungi of Hevea guianensis: a latex producer native tree from the Brazilian Amazon. Afr J Microbiol Res 12:953–964

Ashour M, Yehia MH, Proksch P (2011) Utilization of agro-industrial by-products for production of bioactive natural products from endophytic fungi. J Nat Prod 4:108–114

Battilani P, Rossi V, Girometta B, Delos M, Rouzet J, André N, Esposito S (2003) Estimating the potential development of Diaporthe helianthi epidemics in Italy. Bull OEPP 33:427–431

Biourge P (1923) Les moisissures du groupe Penicillium. Cellule 33:7–331

Borquaye LS, Darko G, Oklu N, Anson-Yevu C, Ababio A (2016) Antimicrobial and antioxidant activities of ethyl acetate and methanol extracts of Littorina littorea and Galatea paradoxa. Cogent Chem 2:1161865

Bunalema L, Fotso GW, Waako P, Tabuti J, Yeboah SO (2017) Potential of Zanthoxylum leprieurii as a source of active compounds against drug resistant Mycobacterium tuberculosis. BMC Complement Altern Med 17:89

Chen YH, Kuo J, Sung PJ, Chang YC, Lu MC, Wong TY, Liu JK, Weng CF, Twan WH, Kuo FW (2012) Isolation of marine bacteria with antimicrobial activities from cultured and field-collected soft corals. World J Microbiol Biotechnol 28:3269–3279

Chi WC, Pang KL, Chen WL, Wang GJ, Lee TH (2019) Antimicrobial and iNOS inhibitory activities of the endophytic fungi isolated from the mangrove plant Acanthus ilicifolius var. xiamenensis. Bot Stud 60:4

Chyau CC, Mau JL, Wu CM (1996) Characteristics of the steam-distilled oil and carbon dioxide extract of Zanthoxylum simulans fruits. J Agr Food Chem 44:1096–1099

Costa RS, Filho OPS, DiasJúnior OCS, Silva JJ, Hyari ML, Santos MAV, Velozo ES (2018) In vitro antileishmanial and antitrypanosomal activity of compounds isolated from the roots of Zanthoxylum tingoassuiba. Rev Bras Farmacogn 28:551–558

Cui JL, Guo SX, Xiao PG (2011) Antitumor and antimicrobial activities of endophytic fungi from medicinal parts of Aquilaria sinensis. J Zhejiang Univ Sci B 12:385–392

De Bary A (1879) Die Erscheinung der Symbiose. In: Trubner KJ (ed) Vortrag auf der Versammlung der Naturforscher und Ärtze zu Cassel. Verlag, Strassburg, pp 1–30

de Siqueira VM, Conti R, de Araújo JM, Souza-Motta CM (2011) Endophytic fungi from the medicinal plant Lippia sidoides Cham. and their antimicrobial activity. Symbiosis 53:89–95

de Souza Sebastianes FL, Romao-Dumaresq AS, Lacava PT, Harakava R, Azevedo JL, de Melo IS, Pizzirani-Kleiner AA (2013) Species diversity of culturable endophytic fungi from Brazilian mangrove forests. Curr Genet 59:153–166

Deshmukh SK, Verekar SA, Bhave SV (2014) Endophytic fungi: a reservoir of antibacterials. Front Microbiol 5:715

Dos Santos IP, da Silva LCN, da Silva MV, de Araújo JM, Cavalcanti Marilene S, Lima VL (2015) Antibacterial activity of endophytic fungi from leaves of Indigofera suffruticosa Miller (Fabaceae). Front Microbiol 6:350

Dussart F, Creissen HE, Havis ND (2020) Ramularia collo-cygni – an enemy in waiting. eLS. John Wiley & Sons, Ltd, pp 1–8

Ekka G, Jadhav SK, Quraishi A (2020) An Overview of genus Zanthoxylum with special reference to its herbal significance and application. In: Akram M, Ahmad RS (eds) Herbs and spices. IntechOpen, Rijeka, pp 1–17

Epifano F, Curini M, Marcotullio MC, Genovese S (2011) Searching for novel cancer chemopreventive plants and their products: the genus Zanthoxylum. Curr Drug Targets 12:1895–1902

Gazis R, Chaverri P (2010) Diversity of fungal endophytes in leaves and stems of wild rubber trees (Hevea brasiliensis) in Peru. Fungal Ecol 3:240–254

González V, Tello ML (2011) The endophytic mycota associated with Vitis vinifera in central Spain. Fungal Divers 47:29–42

Hazen KC (1995) New and emerging yeast pathogens. Clin Microbiol Rev 8:462–478

He W, Van Puyvelde L, De Kimpe N, Verbruggen L, Anthonissen K, Van der Flaas M, Bosselaers J, Mathenge SG, Mudida FP (2002) Chemical constituents and biological activities of Zanthoxylum usambarense. Phytother Res 16:66–70

Heinig U, Scholz S, Jennewein S (2013) Getting to the bottom of Taxol biosynthesis by fungi. Fungal Divers 60:161–170

Helaly SE, Thongbai B, Stadler M (2018) Diversity of biologically active secondary metabolites from endophytic and saprotrophic fungi of the ascomycete order Xylariales. Nat Prod Rep 35:992–1014

Heller A, Gierth K (2001) Cytological observations of the infection process by Phomopsis helianthi (Munt.-Cvet) in leaves of sunflower. J Phytopathol 149:347–357

Hormazabal E, Piontelli E (2009) Endophytic fungi from Chilean native gymnosperms: antimicrobial activity against human and phytopathogenic fungi. World J Microbiol Biotechnol 25:813–819

Javier Patino LO, Angelica Prieto RJ, Enrique Cuc SL (2012) Zanthoxylum genus as potential source of bioactive compounds. In: Rasooli I (ed) Bioactive compounds in phytomedicine. InTech Europe, Rijeka, pp 185–218

Jia M, Chen L, Xin HL, Zheng CJ, Rahman K, Han T, Qin LP (2016) A friendly relationship between endophytic fungi and medicinal plants: a systematic review. Front Microbiol 7:906

Kaul S, Gupta S, Ahmed M, Dhar MK (2012) Endophytic fungi from medicinal plants: a treasure hunt for bioactive metabolites. Phytochem Rev 11:487–505

Kennedy J, Baker P, Piper C, Cotter PD, Walsh M, Mooij MJ et al (2009) Isolation and analysis of bacteria with antimicrobial activities from the marine sponge Haliclona simulans collected from Irish waters. Mar Biotechnol 11:384–396

Khan AL, Kang SM, Dhakal KH, Hussain J, Adnan M, Kim JG, Lee IJ (2013) Flavonoids and amino acid regulation in Capsicum annuum L. by endophytic fungi under different heat stress regimes. Sci Hortic 155:1–7

Kumar V, Kumar S, Singh B, Kumar N (2014) Quantitative and structural analysis of amides and lignans in Zanthoxylum armatum by UPLC-DAD-ESI-QTOF-MS/MS. J Pharm Biomed Anal 94:23–29

Kwon-Chung KJ, Bennett JE, Wickes BL, Meyer W, Cuomo CA, Wollenburg KR et al (2017) The case for adopting the "species complex" nomenclature for the etiologic agents of Cryptococcosis. mSphere 2:e00357–16

Lee S-J, Lim K-T (2008) Glycoprotein of Zanthoxylum piperitum DC has a hepatoprotective effect via anti-oxidative character in vivo and in vitro. Toxicol In Vitro 22:376–385

Li P, Wu Z, Liu T, Wang Y (2016) Biodiversity, phylogeny, and antifungal functions of endophytic fungi associated with Zanthoxylum bungeanum. Int J Mol Sci 17:1541

Li S, Darwish O, Alkharouf NW, Musungu B, Matthews BF (2017) Analysis of the genome sequence of Phomopsis longicolla: a fungal pathogen causing Phomopsis seed decay in soybean. BMC Genomics 18:688

Liu XZ, Song WL, Zhang K, Ye YC, Dai CC (2011) Effects of two kinds of endophytic fungi infection on water stress of seedlings of Chrysanthemum morifolium. Acta Hortic Sin 38:335–342

Liu YH, Hu XP, Li W, Cao XY, Yang HR, Lin ST, Xu CB, Liu SX, Li CF (2016) Antimicrobial and antitumor activity and diversity of endophytic fungi from traditional Chinese medicinal plant Cephalotaxus hainanensis Li. Genet Mol Res 15

Luo ZP, Lin HY, Ding WB, He HL, Li YZ (2015) Phylogenetic diversity and antifungal activity of endophytic fungi associated with Tephrosia purpurea. Mycobiology 43:435–443

Lyu ZZ, Liu JK, Qg Q, Xj Z (2018) Isolation of endophytic fungi from Zanthoxylum simulans and screening of its active strain. Zhongguo Zhong Yao Za Zhi 43:1434–1440

Meng JJ, He XL (2011) Effects of AM fungi on growth and nutritional contents of Salvia miltiorrhiza Bge. under drought stress. J Agric Univ Hebei 34:51–55

Mishra VK, Singh G, Passari AK, Yadav MK, Gupta VK, Singh BP (2016) Distribution and antimicrobial potential of endophytic fungi associated with ethnomedicinal plant Melastoma malabathricum L. J Environ Biol 37:229–237

Muntanola-Cvetkovic M, Mihaljcevic M, Petrov M (1981) On the identity of the causative agent of a serious Phomopsis-Diaporthe disease in sunflower plants. Nova Hedwigia 34:417–435

Nguyen PH, Zhao BT, Kim O, Lee JH, Choi JS, Min BS, Woo MH (2016) Anti-inflammatory terpenylated coumarins from the leaves of Zanthoxylum schinifolium with α-glucosidase inhibitory activity. J Nat Med 70:276–281

Nilsson RH, Larsson KH, Taylor AFS, Bengtsson-Palme J, Jeppesen TS, Schigel D et al (2019) The UNITE database for molecular identification of fungi: handling dark taxa and parallel taxonomic classifications. Nucleic Acids Res 47:D259–D264

Patil M, Patil R, Mohammad S, Maheshwari V (2017) Bioactivities of phenolics-rich fraction from Diaporthe arengae TATW2, an endophytic fungus from Terminalia arjuna (Roxb.). Biocatal Agr Biotech 10:396–402

Phongpaichit S, Rungjindamai N, Rukachaisirikul V, Sakayaroj J (2006) Antimicrobial activity in cultures of endophytic fungi isolated from Garcinia species. FEMS Immunol Med Microbiol 48:367–372

Qi H, Wang WX, Dai JL, Zhu L (2015) In vitro anthelmintic activity of Zanthoxylum simulans essential oil against Haemonchus contortus. Vet Parasitol 211:223–227

Rios JL, Recio MC, Villar A (1988) Screening methods for natural products with antimicrobial activity: a review of the literature. J Ethnopharmacol 23:127–149

Santos JM, Vrandečić K, Cosić J, Duvnjak T, Phillips AJ (2011) Resolving the Diaporthe species occurring on soybean in Croatia. Persoonia 27:9–19

Singh PD, Johnson JH, Aklonis CA, Bush K, Fisher SM, O'Sullivan J (1985) Two new inhibitors of phospholipase A2 produced by Penicillium chermesinum. Taxonomy, fermentation, isolation, structure determination and biological properties. J Antibiot 38:706–712

Specian V, Sarragiotto MH, Pamphile J, Clemente E (2012) Chemical characterization of bioactive compounds from the endophytic fungus Diaporthe helianthi isolated from Luehea divaricata. Braz J Microbiol 43:1174–1182

Stierle A, Strobel G, Stierle D (1993) Taxol and taxane production by Taxomyces andreanae, an endophytic fungus of Pacific yew. Science 260:214–216

Tamura K, Peterson D, Peterson N, Stecher G, Nei M, Kumar S (2011) MEGA5: molecular evolutionary genetics analysis using maximum likelihood, evolutionary distance, and maximum parsimony methods. Mol Biol Evol 28:2731–2739

Vieira ML, Johann S, Hughes FM, Rosa CA, Rosa LH (2014) The diversity and antimicrobial activity of endophytic fungi associated with medicinal plant Baccharis trimera (Asteraceae) from the Brazilian savannah. Can J Microbiol 60:847–856

Wagenaar MM, Clardy J (2001) Dicerandrols, new antibiotic and cytotoxic dimers produced by the fungus Phomopsis longicolla isolated from an endangered mint. J Nat Prod 64:1006–1009

Wang C, Wan J, Mei Z, Yang X (2014) Acridone alkaloids with cytotoxic and antimalarial activities from Zanthoxylum simullans Hance. Pharmacogn Mag 10:73–76

Wang GJ, Chen SM, Chen WC, Chang YM, Lee TH (2007) Selective inducible nitric oxide synthase suppression by new bracteanolides from Murdannia bracteata. J Ethnopharmacol 112:221–227

White TJ, Bruns T, Lee S, Taylor J (1990) Amplification and direct sequencing of fungal ribosomal RNA genes for phylogenetics. In: Innis MA, Gelfand DH, Sninsky JJ, White TJ (eds) PCR protocols: a guide to methods and applications. Academic Press, New York, pp 315–322

Wu SJ, Chen IS (1993) lkaloids from Zanthoxylum simulans. Phytochemistry 34:1659–1661

Yang HR, Hu XP, Jiang CJ, Qi J, Wu YC, Li W, Zeng YJ, Li CF, Liu SX (2015) Diversity and antimicrobial activity of endophytic fungi isolated from Cephalotaxus hainanensis Li, a well-known medicinal plant in China. Lett Appl Microbiol 61:484–490

Yang YP, Cheng MJ, Teng CM, Chang YL, Tsai IL, Chen IS (2002) Chemical and anti-platelet constituents from Formosan Zanthoxylum simulans. Phytochemistry 61:567–572
Acknowledgements
The authors thank Guei-Jane Wang, who performed the determination of antioxidant activity, and Hsi-Tsun Chen, who serves in Kinmen County Forestry Bureau and assisted with the identification of plant samples. We are also grateful to Ching-Chang Hung for providing images of the plant.
Funding
Financial support was received from the Kinmen County Fisheries Research Institute (grant number 106G019-1) by W.-C. Chi.
Ethics declarations
Conflicts of interests
The authors declare that they have no competing interests.
Additional information
Publisher's Note
Springer Nature remains neutral with regard to jurisdictional claims in published maps and institutional affiliations.
About this article
Cite this article
Kuo, J., Chan, CF. & Chi, WC. Isolation of endophytic fungi with antimicrobial activity from medicinal plant Zanthoxylum simulans Hance. Folia Microbiol (2021). https://doi.org/10.1007/s12223-021-00854-4
Received:

Accepted:

Published: