Abstract
The Socotra Archipelago is a unique hotspot of biodiversity, particularly for terrestrial reptiles (28 endemic out of 31 native species) whose ecology is known only in general terms. We describe the ecological preference and the daily activity of 21 species of terrestrial reptiles, geckos, lizards, skinks, snakes and chameleon, from the largest island of the archipelago. The database includes 6950 records collected by 260 standardized transects from 2007 to 2013. The sister species Haemodracon riebeckii–H. trachyrhinus with very distinct body sizes, overlapped in their distribution but segregated by habitat and substrate. Three pairs of sister species with great phylogenetic affinity and similar morphology (Pristurus insignis–P. insignoides; Pristurus guichardi–P. obsti; Hemidactylus dracaenacolus–H. granti) were only partially segregated by distribution, habitat, substrate and body size, in the order of decreasing frequency. On the contrary, the other, phylogenetically more distant species of geckos, widely distributed and less similar in morphology, overlapped completely in their habitat use and distributional range. Such patterns suggest that strictly related species reduced their competition by segregation in different habitats and temporal niches and by non-overlapping distribution within the relatively small island of Socotra. On the other hand, the activity rhythm was similar within each genus. The unique biodiversity of Socotra endured up to present, thanks to a human impact lower than for most other inhabited islands, but the pace of change has accelerated recently. Conservation measures are urgent, particularly for the species of endemic geckos with a distribution range as small as 10 km2.
This is a preview of subscription content, log in to check access.
Access options
Buy single article
Instant access to the full article PDF.
US$ 39.95
Price includes VAT for USA
Subscribe to journal
Immediate online access to all issues from 2019. Subscription will auto renew annually.
US$ 99
This is the net price. Taxes to be calculated in checkout.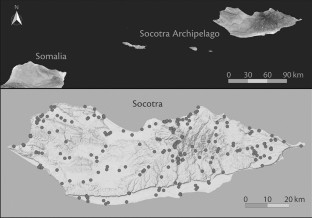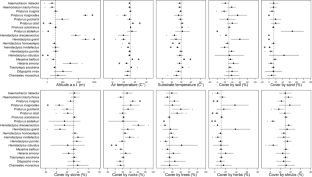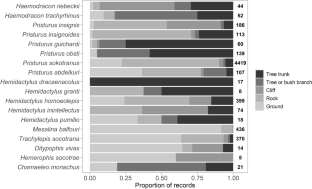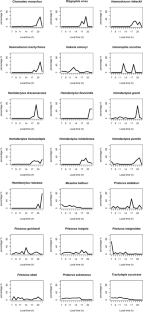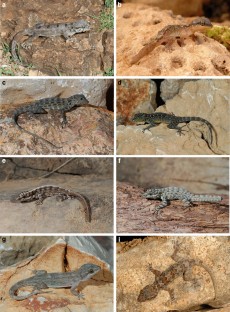 References
Agnarsson I, Kuntner M (2012) The generation of a biodiversity hotspot: biogeography and phylogeography of the western Indian Ocean islands. Current topics in phylogenetics and phylogeography of terrestrial and aquatic systems. IntechOpencom. https://doi.org/10.5772/38958

Arnold EN (1986) New species of semaphore gecko (Pristurus: Gekkonidae) from Arabia and Socotra. Fauna Saudi Arabia 8:352–377

Autin J, Bellahsen N, Leroy S, Husson L, Beslier MO, d'Acremont E (2013) The role of structural inheritance in oblique rifting: insights from analogue models and application to the Gulf of Aden. Tectonophysics 607:51–64

Badiane A, Garcia-Porta J, Červenka J, Kratochvíl L, Sindaco R, Robinson MD, Morales H, Mazuc T, Price T, Amat F, Shobrak MY, Wilms T, Simó-Riudalbas M, Ahmadzadeh F, Papenfuss TJ, Cluchier A, Viglione J, Carranza S (2014) Phylogenetic relationships of Semaphore geckos (Squamata: Sphaerodactylidae: Pristurus) with an assessment of the taxonomy of Pristurus rupestris. Zootaxa 3835:33–58

Benda P, Nasher AK, Van Damme K, Vallo P, Reiter A (2017) Bats (Mammalia: Chiroptera) of the Eastern Mediterranean and Middle East. Part 14. Bat fauna of the Socotra Archipelago. Yemen Acta Soc Zool Bohem 81:99–169

Bezděk J, Hájek J (2017) Insect biodiversity of the Socotra Archipelago-underlined and counted. Acta Entomologica Musei Nationalis Pragae 57(s1):1–39

Bosworth W, Huchon P, McClay K (2005) The Red Sea and Gulf of Aden Basins. J Afr Earth Sci 43:334–378

Bütikofer L, Sacchi R, Pupin F, Pellitteri-Rosa D, Razzetti E, Pella F, Fasola M (2013) Sexual dimorphism and allometry of the lacertid Mesalina balfouri (Blanford, 1881), endemic to the Archipelago of Socotra (Yemen) (Squamata: Sauria: Lacertidae). Herpetozoa 25:101–108

Carranza S, Arnold EN (2006) Systematics, biogeography, and evolution of Hemidactylus geckos (Reptilia: Gekkonidae) elucidated using mitochondrial DNA sequences. Mol Phylogenet Evol 38:531–545

Carranza S, Arnold EN (2012) A review of the geckos of the genus Hemidactylus (Squamata: Gekkonidae) from Oman based on morphology, mitochondrial and nuclear data, with descriptions of eight new species. Zootaxa 3378:1–95

Cheke AS, Hume JP (2008) Lost land of the dodo, the ecological history of the Mascarene Islands. Yale University Press, New Haven

Cheung C, De Vantier L (2006) Socotra. A natural history of the islands and their people. Odyssey Publications, Hong Kong

Cox NA, Mallon D, Bowles P, Els J, Tognelli MF (2012) The Conservation Status and Distribution of Reptiles of the Arabian Peninsula. IUCN, and Sharjah, UAE Environment and Protected Areas Authority, Cambridge

Crottini A, Madsen O, Poux C, Strauß A, Vieites DR, Vences M (2012) Vertebrate time-tree elucidates the biogeographic pattern of a major biotic change around the K-T boundary in Madagascar. Proc Natl Acad Sci USA 109:5358–5363

Fasola M, Ahmed Saeed, Pella F (2014) Biodiversity, the main asset of Soqotra, can it survive the ongoing environmental trends? In: Attorre F (ed) Soqotra archipelago (Yemen): toward systemic and scientifically objective sustainability in development and conservation. Quaderni CEMAS, Edizioni Nuova Cultura, Roma, pp 51–64. https://doi.org/10.4458/0429

Garcia-Porta J, Morales HE, Gómez-Díaz E, Sindaco R, Carranza S (2016a) Patterns of diversification in islands: a comparative study across three gecko genera in the Socotra Archipelago. Mol Phylogenet Evol 98:288–299

Garcia-Porta J, Šmíd J, Sol D, Fasola M, Carranza S (2016b) Testing the island effect on phenotypic diversification: insights from the Hemidactylus geckos of the Socotra Archipelago. Sci Rep 6:23729

Gómez-Diaz E, Sindaco R, Pupin F, Fasola M, Carranza S (2012) Origin and in situ diversification in Hemidactylus geckos of the Socotra Archipelago. Mol Ecol 21:4074–4092

Heyer RW, Donnelly MA, McDiarmid RW, Hayek LAC, Foster MS (1994) Measuring and monitoring Biological Diversity. Standard Methods for Amphibians, 1. Smithsonian University Press, Washington

Kapli P, Lymberakis P, Poulakakis N, Mantziou G, Parmakelis A, Mylonas M (2008) Molecular phylogeny of three Mesalina (Reptilia: Lacertidae) species (M. guttulata, M. brevirostris and M. bahaeldini) from North Africa and the Middle East: another case of paraphyly? Mol Phylogenet Evol 49:102–110

Kapli P, Lymberakis P, Crochet PA, Geniez P, Brito JC, Almutairi M, Poulakakis N (2015) Historical biogeography of the lacertid lizard Mesalina in North Africa and the Middle East. J Biogeogr 42:267–279

Kornilios P, Giokas S, Lymberakis P, Sindaco R (2013) Phylogenetic position, origin and biogeography of Palearctic and Socotran blind-snakes (Serpentes: Typhlopidae). Mol Phylogenet Evol 68:35–41

Macey JR, Kuehl JV, Larson A, Robinson MD, Ugurtas IH, Ananjeva NB, Rahman H, Javed HI, Osman RM, Doumma A, Papenfuss TJ (2008) Socotra Island the forgotten fragment of Gondwana: unmasking chameleon lizard history with complete mitochondrial genomic data. Mol Phylogenet Evol 49:1015–1018

Martín N, Martínez S, Pujol-Buxó E, Vinolas A, Llorente GA, Sanpera C, Santos X (2017) Stable isotopes and diet uncover trophic-niche divergence and ecological diversification processes of endemic reptiles on Socotra Island. Zool Anz 267:69–81

Nagy ZT, Joger U, Wink M, Glaw F, Vences M (2003) Multiple colonization of Madagascar and Socotra by colubrid snakes: evidence from nuclear and mitochondrial gene phylogenies. Proc R Soc Lond B Biol Sci 270:2613–2621

Nagy ZT, Lawson R, Joger U, Wink M (2004) Molecular systematics of racers, whipsnakes and relatives (Reptilia: Colubridae) using mitochondrial and nuclear markers. J Zool Syst Evol Res 42:223–233

Peutz N (2018) Islands of heritage conservation and transformation in Yemen. Stanford University Press, Palo Alto

Phillott AD, Rees AF (eds) (2018) Sea Turtles in the Middle East and South Asia Region: MTSG Annual Regional Report 2018. Draft Report of the IUCN-SSC Marine Turtle Specialist Group

Razzetti E, Sindaco R, Grieco C, Pella F, Ziliani U, Pupin F, Riservato E, Pellitteri-Rosa D, Butikofer L, Suleiman AS, Ba A-A, Carugati C, Boncompagni E, Fasola M (2011) Annotated checklist and distribution of the Socotran archipelago herpetofauna (Reptilia). Zootaxa 2826:1–44

Rösler H, Wranik W (2006) The reptiles of the Socotra archipelago with special remarks on the slender blind snakes (Leptotyphlopidae: Leptotyphlops). In: Herpetologia Bonnensis II. Proceedings of the 13th Congress of the Societas Europaea Herpetologica. pp 125–128

Rösler H, Wranik W (2007) Bemerkungen zur Biologie sowie Haltung und Vermehrung des Sokotra-Riesengeckos, Haemodracon riebeckii (Peters, 1882). Der Zoologische Garten 77:59–83. https://doi.org/10.1016/j.zoolgart.2007.08.001

Sancho V, Vasconcelos R, Llorente G, Santos X (2017) Morphological differentiation of the complex Pristurus sokotranus (Squamata: Sphaerodactylidae) from Socotra (Yemen). Zootaxa 4324:63–84

Siliceo I, Diaz JA (2010) A comparative study of clutch size, range size, and the conservation status of island vs.mainland lacertid lizards. Biol Conserv 14:2601–2608

Simó-Riudalbas M, Tamar K, Šmíd J, Mitsi P, Sindaco R, Chirio L, Carranza S (2019) Biogeography of Mesalina (Reptilia: Lacertidae), with special emphasis on the Mesalina adramitana group from Arabia and the Socotra Archipelago. Mol Phylogenet Evol 137:300–312

Sindaco R, Ziliani U, Razzetti E, Carugati C, Grieco C, Pupin F, Pella F, Fasola M (2009) A misunderstood new gecko of the genus Hemidactylus from Socotra Island, Yemen (Reptilia: Squamata: Gekkonidae). Acta Herpetol 4:83–98

Sindaco R, Metallinou M, Pupin F, Fasola M, Carranza S (2012) Forgotten in the ocean: systematics, biogeography and evolution of the Trachylepis skinks of the Socotra Archipelago. Zoolog Scr 41:346–362

Sinervo B, Méndez-de-la-Cruz F, Miles DB, Heulin B, Bastiaans E, Villagrán-Santa Cruz M, Lara-Resendiz R, Martínez-Méndez N, Calderón-Espinosa ML, Meza-Lázaro RN, Gadsden H, Avila LJ, Morando M, De la Riva IJ, Sepulveda PV, Duarte Rocha CF, Ibargüengoytía N, Aguilar Puntriano C, Massot M, Lepetz V, Oksanen TA, Chapple DG, Bauer AM, Branch WR, Clobert J, Sites JW Jr (2010) Erosion of lizard diversity by climate change and altered thermal niches. Science 328:894–899

Šmíd J, Carranza S, Kratochvíl L, Gvoždík V, Nasher AK, Moravec J (2013) Out of Arabia: a complex biogeographic history of multiple vicariance and dispersal events in the gecko genus Hemidactylus (Reptilia: Gekkonidae). PLoS ONE 8:e64018

Tamar K, Simó-Riudalbas M, Garcia-Porta J, Llorente G, Vasconcelos R, Carranza S (2019) An integrative study of island diversification: Insights from the endemic Haemodracon geckos of the Socotra Archipelago. Mol Phylogenet Evol 133:166–175

Tilbury C (2018) Chameleons of Africa, an Atlas. Including the chameleons of Europe, the Middle East and Asia. Edition Chimaira, Frankfurt am Main, p 643

Tolley KA, Townsend TM, Vences M (2013) Large-scale phylogeny of chameleons suggests African origins and Eocene diversification. Proc R Soc Lond B Biol Sci 280:20130184

UNESCO World Heritage Committee (2010) Socotra Archipelago. United Nations - UNESCO World Heritage Centre v.3.0. http://whc.unesco.org/en/list/1263

Van Damme K (2009) Socotra Archipelago. In: Gillespie RG, Clague DA (eds) Encyclopedia of islands. University of California Press, Berkeley and Los Angeles, pp 846–851

Van Damme K, Banfield L (2011) Past and present human impacts on the biodiversity of Socotra Island (Yemen): implications for future conservation. Zool Middle East 54:31–88

Van Damme K, Benda P, Van Damme D, De Geest P, Hajdas I (2018) The first vertebrate fossil from Socotra Island (Yemen) is an early Holocene Egyptian fruit bat. J Nat Hist 52:2001–2024

Vasconcelos R, Carranza S (2014) Systematics and biogeography of Hemidactylus homoeolepis Blanford, 1881 (Squamata: Gekkonidae), with the description of a new species from Arabia. Zootaxa 3835:501–527

Vasconcelos R, Montero-Mendieta S, Simó-Riudalbas M, Sindaco R, Santos X, Fasola M, Llorente G, Razzetti E, Carranza S (2016) Unexpectedly high levels of cryptic diversity uncovered by a complete DNA barcoding of reptiles of the Socotra Archipelago. PLoS ONE. https://doi.org/10.1371/journal.pone.0200830

Vasconcelos R, Razgour O, Tarroso P, Fasola M, Carranza S, Alves PC (2018) Combining molecular and landscape tools for targeting evolutionary processes in reserve design: an approach for islands. PLoS ONE 13(7):e0200830

Vasconcelos R, Pujol-Buxó E, Llorente G, Saeed A, Carranza S (2020) Micro-Hotspots for conservation: an umbrella tree species for the unique Socotran reptile fauna. Forests 11:353

Wilson DE, Mittermeier RA (eds) (2018) Handbook of the mammals of the world, vol 8. Lynx Edicions, Barcelona

Wranik W (2003) Fauna of the Socotra Arcipelago. Field Guide. With contributions from Al-Saghier OS, Aspinall S, Porter RF, Rösler H. Rostock, Germany

Yousefkhani SSH, Marin M, Gabriel MD, Rastegar-Pouyani N, Rastegar-Pouyani E (2015) A bibliographic recompilation of the genus Mesalina Gray, 1838 (Sauria: Lacertidae) with a key to the species. Russ J Herpetol 22:23–34
Acknowledgements
Our field surveys in Socotra were accomplished within the programs "Socotra Conservation and Development" by United Nations Development Program, and "Capacity Development for Soqotra Archipelago Conservation" by the Italian International Cooperation. RV was supported by a contract from 'Fundação para a Ciência e a Tecnologia' (FCT), I.P. national funds from 'Norma transitória' (DL57/2016/CP1440/CT0002). We are grateful for their support to Akmed Abdulrahman Fadel Al-Eryani, Minister of Water and Environment at the time of our fieldwork in Socotra 2007–2010, and to Ahmed Saeed Suleiman of the Socotra Environment Protection Agency. Several Yemeni and European colleagues and friends participated to the field surveys, Abdul Raqeb, Yaya Saleh Saeed, Salem Hamdiah, Abubakar Salim, Badar Awadh Al-Aseily, Ahmed Saeed Saif, Eleonora Boncompagni, Luca Butikofer, Caterina Carugati, Cristina Grieco, Francesca Pella, Fabio Pupin, Elisa Riservato, Oreste Sacchi and Xavier Santos.
Ethics declarations
Ethical statement
The authors declare that they have no conflict of interest. This article does not contain any studies with human subjects. Data collection throughout our surveys were performed with permission by the Yemeni Minister of Water and Environment and in collaboration with the Environment Protection Agency of Socotra.
Additional information
Publisher's Note
Springer Nature remains neutral with regard to jurisdictional claims in published maps and institutional affiliations.
This paper belongs to a Topical Collection "Twenty years of biodiversity research and nature conservation in the Socotra Archipelago" edited by Fabio Attorre and Kay Van Damme, conceived at the 18th Friends of Socotra Conference, 26–29 September, 2019, Orto Botanico di Palermo, Palermo, Italy".
About this article
Cite this article
Fasola, M., Razzetti, E., Sindaco, R. et al. Ecological preferences of the endemic reptile community of Socotra. Rend. Fis. Acc. Lincei (2020). https://doi.org/10.1007/s12210-020-00922-w
Received:

Accepted:

Published:
Keywords
Indian Ocean

Islands

Geckos

Endemism

Habitat use

Activity pattern

Ecological niche