Abstract
Functional recovery rates after peripheral nerve injury are quite poor. Studies have focused on the organization of axonal development and the alteration of the microenvironment of the regenerated nerve. It is a frequently used repair method to place a tube to the incision area with tubulization technique and to try increasing the effect by filling the tube with various substances. Hyaluronic acid is a natural polysaccharide, and since it is biodegradable, it makes an ideal biomaterial in peripheral nerve healing. Lithium chloride (LiCl), a Glycogen synthase kinase 3β (GSK3β) inhibitor, is also frequently used in the treatment of bipolar and depressive disorders, but it has strong neuroprotective and antiinflammatory effects. In this study, peripheral nerve injury was induced on the rat sciatic nerve and silicon conduit was placed to this area and the effects of application of LiCl (2.5, 5 and 15 mEq doses) and LiCl (15 mEq)-loaded hyaluronic acid hydrogel in the conduit on peripheral nerve regeneration and improvement of motor functions were investigated. Sciatic nerve index (SFI) was measured at 2nd, 4th, 8th, and 12th weeks for each animal. Histological, microscopic, and morphometrical analyzes were evaluated at the end of the experiment (12th weeks). Our results indicate that topically applied lithium has positive effect after peripheral nerve injury and especially 5 mEq LiCl can increase nerve regeneration in rats. Further studies are needed to discuss the morphological, molecular and mechanical potential of treatment application.
Graphical Abstract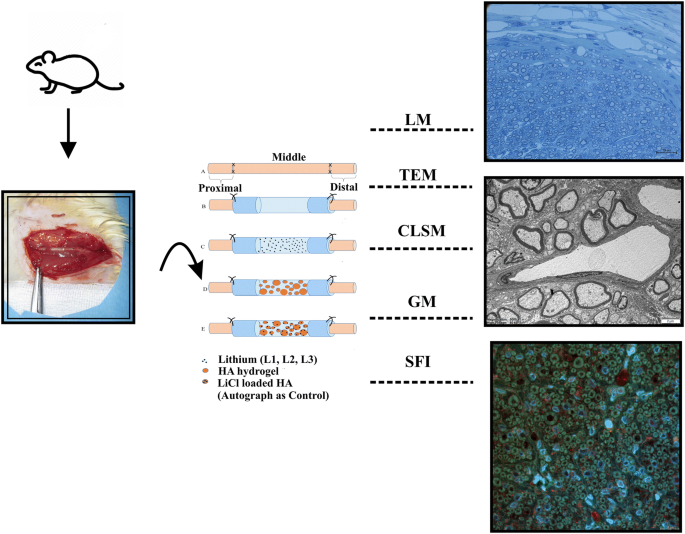 This is a preview of subscription content, log in to check access.
Access options
Buy single article
Instant access to the full article PDF.
US$ 39.95
Price includes VAT for USA
Subscribe to journal
Immediate online access to all issues from 2019. Subscription will auto renew annually.
US$ 99
This is the net price. Taxes to be calculated in checkout.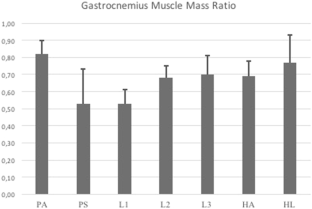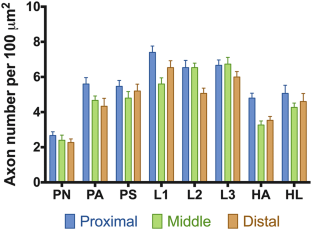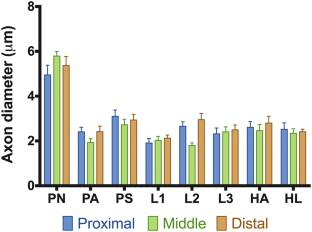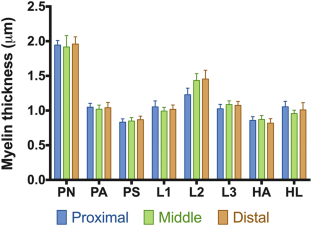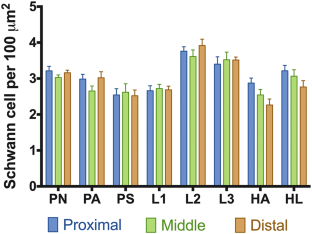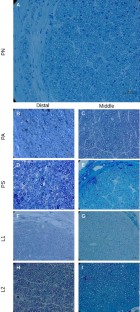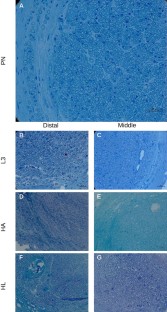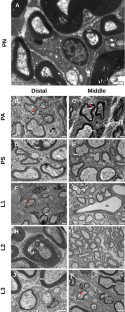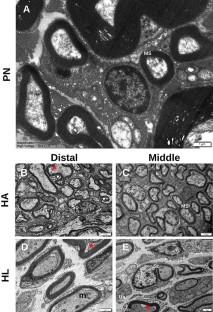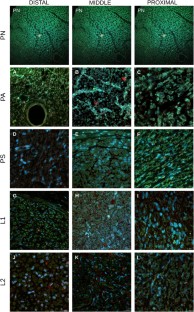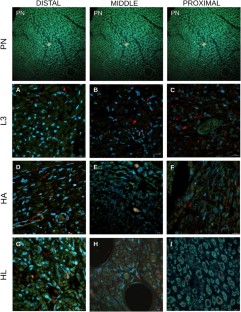 References
Abueid L, Uslu Ü, Cumbul A, Öğünç AV, Ercan F, Alican İ (2017) Inhibition of 5-lipoxygenase by zileuton in a rat model of myocardial infarction. Anatol J Cardıol 17:269–275. https://doi.org/10.14744/AnatolJCardiol.2016.7248

Atanasoski S, Shumas S, Dickson C, Scherer SS, Suter U (2001) Differential cyclin D1 requirements of proliferating Schwann cells during development and after injury. Mol Cell Neurosci 18:581–592. https://doi.org/10.1006/mcne.2001.1055

Baccari GC, Minucci S (1997) Evidence for a intimate relationship between mast cells and nerve fibers in the tongue of the frog, Rana esculenta. Rend Fis Acc Licei 8:93–100. https://doi.org/10.1007/BF03002322

Bain J, Mackinnon S, Hunter D (1989) Functional evaluation of complete sciatic, peroneal, and posterior tibial nerve lesions in the rat. Plast Reconstr Surg 83:129–138. https://doi.org/10.1097/00006534-198901000-00024

Benga A, Zor F, Korkmaz A, Marinescu B, Gorantla V (2017) The neurochemistry of peripheral nerve regeneration. Indian J Plast Surg 50:5–15. https://doi.org/10.4103/ijps.IJPS_14_17

Boni R, Ali A, Shavandi A, Clarkson AN (2018) Current and novel polymeric biomaterials for neural tissue engineering. J Biomed Sci 25:90. https://doi.org/10.1186/s12929-018-0491-8

Carballo-Molina OA, Velasco I (2015) Hydrogels as scaffolds and delivery systems to enhance axonal regeneration after injuries. Front Cell Neurosci 9:13. https://doi.org/10.3389/fncel.2015.00013(eCollection 2015)

Celik M, Kose A, Kose D, Karakus E, Akpinar E, Calik M, Dostbil A, Calikoglu C, Aksoy M, Ozel L (2015) The double-edged sword: effects of pregabalin on experimentally induced sciatic nerve transection and crush injury in rats. Int J Neuroscı 125:845–854. https://doi.org/10.3109/00207454.2014.978976

Chaudhry V, Cornblath DR (1992) Wallerian degeneration in human nerves: serial electrophysiological studies. Muscle Nerve 15:687–693. https://doi.org/10.1002/mus.880150610

Dağlıoğlu Y, Öztürk BY (2019) A novel intracellular synthesis of silver nanoparticles using Desmodesmus sp. (Scenedesmaceae): different methods of pigment change. Rend Fis Acc Licei 30:611–621. https://doi.org/10.1007/s12210-019-00822-8

Da-Silva CF, Da Gama SAM, Mattar R Jr, Pereira FC (2003) Influence of highly purified preparations of hyaluronic acid on peripheral nerve regeneration in vivo. Braz J Morphol Sci 20:121–124. https://doi.org/10.1002/(SICI)1098-2752(1998)18:4<270:AID-MICR11>3.0.CO;2-V

Ding VW, Chen R-H, McCormick F (2000) Differential regulation of glycogen synthase kinase 3β by insulin and Wnt signaling. J Bıol Chem 275:32475–32481. https://doi.org/10.1074/jbc.M005342200

Duraikannu A, Martinez JA, Chandrasekhar A, Zochodne DW (2018) Expression and manipulation of the APC-β-catenin pathway during peripheral neuron regeneration. Sci Rep 8:13197. https://doi.org/10.1038/s41598-018-31167-1

English AW, Wilhelm JC, Sabatier MJ (2011) Enhancing recovery from peripheral nerve injury using treadmill training. Ann Anat 193:354–361. https://doi.org/10.1016/j.aanat.2011.02.013

Höke A, Brushart T (2010) Introduction to special issue: challenges and opportunities for regeneration in the peripheral nervous system. Exp Neurol 223:1–4. https://doi.org/10.1016/j.expneurol.2009.12.001

Hou B, Ye Z, Ji W, Cai M, Ling C, Chen C, Guo Y (2018) Comparison of the effects of BMSC-derived schwann cells and autologous schwann cells on remyelination using a rat sciatic nerve defect model. Int J Bıol Scı 14:1910. https://doi.org/10.7150/ijbs.26765 (eCollection 2018)

Houschyar K, Momeni A, Pyles M, Cha J, Maan Z, Duscher D, Jew O, Siemers F, Jv S (2016) The role of current techniques and concepts in peripheral nerve repair. Plast Surg Int 2016:4175293. https://doi.org/10.1155/2016/4175293

Kehoe S, Zhang X, Boyd D (2012) FDA approved guidance conduits and wraps for peripheral nerve injury: a review of materials and efficacy. Injury 43:553–572. https://doi.org/10.1016/j.injury.2010.12.030

Kim HA, Mindos T, Parkinson DB (2013) Plastic fantastic: schwann cells and repair of the peripheral nervous system. Stem Cells Transl Med 2:553–557. https://doi.org/10.5966/sctm.2013-0011

Kurimoto S, Jung J, Tapadia M, Lengfeld J, Agalliu D, Waterman M, Mozaffar T, Gupta R (2015) Activation of the Wnt/β-catenin signaling cascade after traumatic nerve injury. Neuroscience 294:101–108. https://doi.org/10.1016/j.neuroscience.2015.02.049

Lin YC, Oh SJ, Marra KG (2013) Synergistic lithium chloride and glial cell line-derived neurotrophic factor delivery for peripheral nerve repair in a rodent sciatic nerve injury model. Plast Reconstr Surg 132:251e–262e. https://doi.org/10.1097/PRS.0b013e31829588cf

Makoukji J, Belle M, Meffre D, Stassart R, Grenier J, Fledrich R, Fonte C, Branchu J, Goulard M, de Waele C (2012) Lithium enhances remyelination of peripheral nerves. Proc Natl Acad Sci USA 109:3973–3978. https://doi.org/10.1073/pnas.1121367109

Menorca RM, Fussell TS, Elfar JC (2013) Peripheral nerve trauma: mechanisms of injury and recovery. Hand Clın 29:317–330. https://doi.org/10.1016/j.hcl.2013.04.002

Metcalfe C, Bienz M (2011) Inhibition of GSK3 by Wnt signalling–two contrasting models. J Cell Sci 124:3537–3544. https://doi.org/10.1242/jcs.091991

Muheremu A, Ao Q (2015) Past, present, and future of nerve conduits in the treatment of peripheral nerve injury. Biomed Res Int. https://doi.org/10.1155/2015/237507

Muneer A (2017) Wnt and GSK3 signaling pathways in bipolar disorder: clinical and therapeutic implications. Clin Psychopharmacol Neurosci 15:100–114. https://doi.org/10.9758/cpn.2017.15.2.100

Ozatik O, Kocman AE, Dag İ (2016) The effect of decompression on the treatment of chronic constriction injury in peripheral nerve. Kafkas Unıv Vet Fak 22:597–604. https://doi.org/10.9775/kvfd.2016.15126

Ozaydın İ, Unsaldi E, Aksoy Ö, Yayla S, Kaya M (2014) The effect of silicone tube and silicone tube+ hyaluronic acid application on adhesion formation in experimental peri-and epi-neurorrhaphy in a rat model. Kafkas Univ Vet Fak 20:591–597. https://doi.org/10.9775/kvfd.2014.10583

Pannese E (2013) Neuroglial cells: morphological changes during normal aging. Rend Fis Acc Licei 24:101–106. https://doi.org/10.1007/s00429-011-0308-y

Sahiner N, Xinqiao J (2008) One-step synthesis of hyaluronic acid-based (sub) micron hydrogel particles: process optimization and preliminary characterization. Turk J Chem 32:397–409

Sahiner N, Suner SS, Ayyala RS (2019) Mesoporous, degradable hyaluronic acid microparticles for sustainable drug delivery application. Colloids Surf B Biointerfaces 177:284–293. https://doi.org/10.1016/j.colsurfb.2019.02.015

Shimizu T, Shibata M, Wakisaka S, Inoue T, Mashimo T, Yoshiya I (2000) Intrathecal lithium reduces neuropathic pain responses in a rat model of peripheral neuropathy. Pain 85:59–64. https://doi.org/10.1016/s0304-3959(99)00249-3

Su H, Yuan Q, Qin D, Yang X, Wong W-M, So K-F, Wu W (2014) Lithium enhances axonal regeneration in peripheral nerve by inhibiting glycogen synthase kinase 3β activation. Bıomed Res Int. https://doi.org/10.1155/2014/658753

Susuki K, Raphael AR, Ogawa Y, Stankewich MC, Peles E, Talbot WS, Rasband MN (2011) Schwann cell spectrins modulate peripheral nerve myelination. Proc Natl Acad Sci 108:8009–8014. https://doi.org/10.1073/pnas.1019600108

Tawk M, Makoukji J, Belle M, Fonte C, Trousson A, Hawkins T, Li H, Ghandour S, Schumacher M, Massaad C (2011) Wnt/β-catenin signaling is an essential and direct driver of myelin gene expression and myelinogenesis. J Neuroscı 31:3729–3742. https://doi.org/10.1523/JNEUROSCI.4270-10.2011

Zhang LQ, Zhang WM, Deng L, Xu ZX, Lan WB, Lin JH (2018) Transplantation of a peripheral nerve with neural stem cells plus lithium chloride injection promote the recovery of rat spinal cord injury. Cell Transplant 27:471–484. https://doi.org/10.1177/0963689717752945

Zhao L, Lv G, Jiang S, Yan Z, Sun J, Wang L, Jiang D (2012) Morphological differences in skeletal muscle atrophy of rats with motor nerve and/or sensory nerve injury. Neural Regen Res 7:2507–2515. https://doi.org/10.3969/j.issn.1673-5374.2012.32.004

Zor F, Deveci M, Kilic A, Ozdag MF, Kurt B, Sengezer M, Sönmez TT (2014) Effect of VEGF gene therapy and hyaluronic acid film sheath on peripheral nerve regeneration. Microsurgery 34:209–216. https://doi.org/10.1002/micr.22196
Acknowledgements
This work was supported by TÜBİTAK SBAG 215S839 ve ESOGU BAP 2017-1483 projects. The authors take responsibility for the integrity of the content of the paper. The authors declare that there is no competing interest.
Ethics declarations
Conflict of interest
Authors declare that there is no conflict of interest.
Additional information
Publisher's Note
Springer Nature remains neutral with regard to jurisdictional claims in published maps and institutional affiliations.
About this article
Cite this article
Kocman, A.E., Dag, I., Sengel, T. et al. The effect of lithium and lithium-loaded hyaluronic acid hydrogel applications on nerve regeneration and recovery of motor functions in peripheral nerve injury. Rend. Fis. Acc. Lincei (2020). https://doi.org/10.1007/s12210-020-00919-5
Received:

Accepted:

Published:
Keywords
Lithium

Hyaluronic acid

Motor function

Nerve regeneration