Abstract
We examine whether lagged football betting payoffs result in changes in retail investing in lottery-like stocks. We show that lagged, low betting imbalances are associated with increases in retail stock participation, particularly for lottery-like stocks. This finding implies support for the "break-even" hypothesis that following negative sentiment and losses from football gambling, investors use lottery-like stocks to offset losses or break-even. This result holds for lottery-like stocks defined based on high idiosyncratic volatility and skewness as well as stocks that trade in over-the-counter (OTC) markets. Finally, we address whether the reverse relation exists, finding that only OTC market activity leads to increases in football betting activity but not football betting imbalances. Overall, our paper contributes to the literature investigating the relation between gambling sentiment and stock market activity.
This is a preview of subscription content, log in to check access.
Access options
Buy single article
Instant access to the full article PDF.
US$ 39.95
Price includes VAT for USA
Subscribe to journal
Immediate online access to all issues from 2019. Subscription will auto renew annually.
US$ 99
This is the net price. Taxes to be calculated in checkout.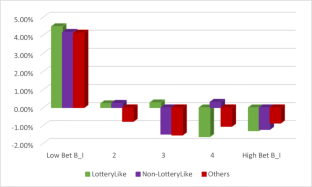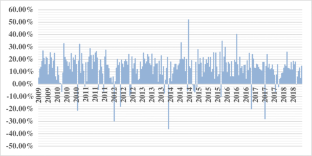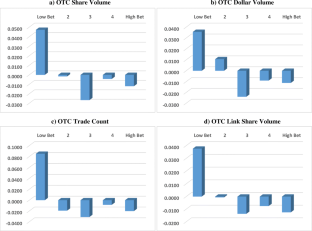 Notes
1.

2.

Our measure captures transactional bet imbalance as opposed to a volume or dollar imbalance.

3.

In certain cases, the spread-adjusted score resulted in a push. However, we only have 175 spread-adjusted pushes, accounting for only 1.5% of entire sample of games. Thus, we remove these games from the analysis.

4.

For example, as part of the 2015–2016 College Football Playoff (CFP), Oklahoma played Clemson. Oklahoma was favored by 3.5 points (thus, Clemson was given 3.5 points). The final score was Oklahoma 17 Clemson 37 and the adjusted score was Oklahoma 17 Clemson 40.5. Thus, the winning bets were those who bet on Clemson. For this game, we have 88,564 bets with 49% placed on Oklahoma and 51% placed on Clemson. Thus, (88,564 × 0.51) = 45,168 winning bets were placed and (88,564 × 0.49) = 43,396 losing bets were placed. The imbalance measure was (0.51–0.49 / 1.00) or (45,168–43,396 / 88,564) = 0.020. The raw imbalance was 45,168–43,396 = 1771.
References
Amihud Y (2002) Illiquidity and stock returns: cross-section and time-series effects. J Financ Mark 5(1):31–56

Andrade SC, Chang C, Seasholes MS (2008) Trading imbalances, predictable reversals, and cross-stock price pressure. J Financ Econ 88(2):406–423

Boehmer E, Jones CM, Zhang X (2018) Tracking retail investor activity. Working Paper, Singapore Management University

Campbell JY, Lettau M, Malkiel BG, Xu Y (2001) Have individual stocks become more volatile? An empirical exploration of idiosyncratic risk. J Financ 56(1):1–43

Chen Y, Kumar A, Zhang C (2018) Searching for gambles: gambling sentiment and stock market outcomes. Working Paper, Cardiff University

Cookson JA (2018) When saving is gambling. J Financ Econ 129(1):24–45

Da Z, Engelberg J, Gao P (2011) In search of attention. J Financ 66(5):1461–1499

Doran JS, Jiang D, Peterson DR (2012) Gambling preference and the new year effect of assets with lottery features. Review of Finance 16(3):685–731

Dorn D, Sengmueller P (2009) Trading as entertainment? Manag Sci 55(4):591–603

Dorn AJ, Dorn D, Sengmueller P (2014) Trading as gambling. Manag Sci 61(10):2376–2393

Eraker B, Ready M (2015) Do investors overpay for stocks with lottery-like payoffs? An examination of the returns of OTC stocks. J Financ Econ 115(3):486–504

Fama EF, French KR (1993) Common risk factors in the returns on stocks and bonds. J Financ Econ 33(1):3–56

Gandar JM, Dare WH, Brown CR, Zuber RA (1998) Informed traders and price variations in the betting market for professional basketball games. J Financ 53(1):385–401

Gao X, Lin TC (2014) Do individual investors treat trading as a fun and exciting gambling activity? Evidence from repeated natural experiments. Rev Financ Stud 28(7):2128–2166

Grinblatt M, Keloharju M (2009) Sensation seeking, overconfidence, and trading activity. J Financ 64(2):549–578

Hong H, Scheinkman J, Xiong W (2006) Asset float and speculative bubbles. J Financ 61(3):1073–1117

Huang S, Huang Y, Lin TC (2019) Attention allocation and return co-movement: evidence from repeated natural experiments. J Financ Econ 132(2):369–383

Humphreys BR (2011) The financial consequences of unbalanced betting on NFL games. Int J Sport Financ 6(1):60–71

Kearney MS (2005) State lotteries and consumer behavior. J Public Econ 89(11–12):2269–2299

Kuhnen CM, Knutson B (2011) The influence of affect on beliefs, preferences, and financial decisions. J Financ Quant Anal 46(3):605–626

Kumar A (2009) Who gambles in the stock market? J Financ 64(4):1889–1933

Kumar A, Lee CM (2006) Retail investor sentiment and return comovements. J Financ 61(5):2451–2486

Kumar A, Page JK, Spalt OG (2011) Religious beliefs, gambling attitudes, and financial market outcomes. J Financ Econ 102(3):671–708

Kumar A, Page JK, Spalt OG (2016) Gambling and comovement. J Financ Quant Anal 51(1):85–111

Lai S, Teo M (2008) Home-biased analysts in emerging markets. J Financ Quant Anal 43(3):685–716

Liao C (2017) Risk taking begets risk taking: evidence from casino openings and investor portfolios. Working Paper, University of Manitoba

Malmendier U, Shanthikumar D (2007) Are small investors naive about incentives? J Financ Econ 85(2):457–489

Meng Y, Pantzalis C (2018) Monthly cyclicality in retail investors' liquidity and lottery-type stocks at the turn of the month. J Bank Financ 88:176–191

Park TJ, Lee Y (2014) Informed trading before positive vs. negative earnings surprises. J Bank Financ 49:228–241

Paul RJ, Weinbach AP (2009) Sportsbook behavior in the NCAA football betting market: tests of the traditional and Levitt models of sportsbook behavior. Journal of Prediction Markets 3(2):21–37

Paul RJ, Weinbach AP (2011) Investigating allegations of pointshaving in NCAA basketball using actual sportsbook betting percentages. J Sports Econ 12(4):432–447

Petersen MA (2009) Estimating standard errors in finance panel data sets: comparing approaches. Rev Financ Stud 22(1):435–480

Scheinkman J, Xiong W (2003) Overconfidence, short-sale constraints, and bubbles. J Polit Econ 111:1183–1219

Thaler RH, Johnson EJ (1990) Gambling with the house money and trying to break even: the effects of prior outcomes on risky choice. Manag Sci 36(6):643–660

Thompson SB (2011) Simple formulas for standard errors that cluster by both firm and time. J Financ Econ 99(1):1–10

Xuan Z, Shaffer H (2009) How do gamblers end gambling: longitudinal analysis of internet gambling behaviors prior to account closure due to gambling related problems. J Gambl Stud 25(2):239–252
Additional information
Publisher's note
Springer Nature remains neutral with regard to jurisdictional claims in published maps and institutional affiliations.
About this article
Cite this article
Cox, J., Schwartz, A. & Van Ness, R. Does what happen in Vegas stay in Vegas? Football gambling and stock market activity. J Econ Finan (2020). https://doi.org/10.1007/s12197-020-09513-9
Keywords
Gambling sentiment

Lottery-like stocks

Football
JEL Classification