Abstract
This paper challenges the convexity of the flow-performance relationship, according to which investors strongly chase top-performing funds, while fund flows exhibit little to no sensitivity to past performance within the segment of poorly performing funds. Our results suggest that the flow-performance relationship is not convex, but rather linear. In contrast to prior studies, we use reported (i.e., exact) instead of approximated fund flow data, we trim (instead of winsorize) outliers, and we account for persistence in fund flows. We find that each factor contributes to serious biases. For example, investor reactions to poor performance only appear insignificant when outliers are winsorized instead of trimmed. And it is even more evident that fund investors flee poorly performing funds when the model incorporates lagged flows to account for fund flow persistence. Furthermore, our results provide evidence that the degree to which investors chase top-performing funds appears to be slightly upward biased if approximated fund flows are used. Our findings have important implications for the potential moral hazard of fund managers.
Access options
Buy single article
Instant access to the full article PDF.
US$ 39.95
Tax calculation will be finalised during checkout.
Subscribe to journal
Immediate online access to all issues from 2019. Subscription will auto renew annually.
US$ 79
Tax calculation will be finalised during checkout.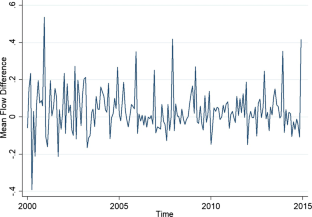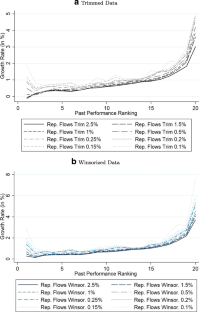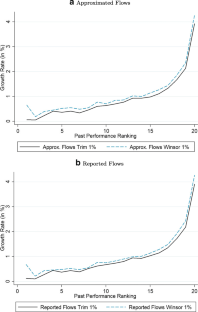 Notes
1.

We control for fund mergers by calculating the sum of the TNA of all merged funds that flowed into an acquiring fund, and then adjust the respective fund flows accordingly.

2.

The variable riskiness is based on the fund returns of the past twelve months. Therefore, the first analyzable observation is January 2000.
References
Berk JB, Green RC (2004) Mutual fund flows and performance in rational markets. J Polit Econ 112(6):1269–1295

Brown KC, Harlow WV, Starks LT (1996) Of tournaments and temptations: an analysis of managerial incentives in the mutual fund industry. J Financ 51(1):85–110

Casavecchia L (2016) Fund managers' herding and the sensitivity of fund flows to past performance. Int Rev Financ Anal 47:205–221

Cashman GD, Nardari F, Deli DN, Villupuram SV (2014) Investor behavior in the mutual fund industry: evidence from gross flows. J Econ Financ 38(4):541–567

Chevalier J, Ellison G (1997) Risk taking by mutual funds as a response to incentives. J Polit Econ 105(6):1167–1200

Clifford CP, Fulkerson JA, Jordan BD, Waldman S (2013) Risk and fund flows. Unpublished Working Paper

Clifford CP, Jordan BD, Riley TB (2014) Average funds versus average dollars: implications for mutual fund research. J Empir Financ 28:249–260

Del Guercio D, Tkac PA (2002) The determinants of the flow of funds of managed portfolios: mutual funds vs. pension funds. J Financ Quant Anal 37(4):523–557

Elton EJ, Gruber MJ, Blake CR (1996) Survivor bias and mutual fund performance. Rev Financ Stud 9(4):1097–1120

Fama EF, MacBeth JD (1973) Risk, return, and equilibrium: empirical tests. J Polit Econ 81(3):607–636

Ferreira MA, Keswani A, Miguel AF, Ramos SB (2012) The flow-performance relationship around the world. J Bank Financ 36(6):1759–1780

Ghosh D, Vogt A (2012) Outliers: an evaluation of methodologies. In: Joint statistical meetings. American Statistical Association, San Diego, pp 3455–3460

Huang J, Wei KD, Yan H (2007) Participation costs and the sensitivity of fund flows to past performance. J Financ 62(3):1273–1311

Ippolito RA (1992) Consumer reaction to measures of poor quality: evidence from the mutual fund industry. J Law Econ 35(1):45–70

Johnson WT (2007) Who monitors the mutual fund manager, new or old shareholders. Unpublished Working Paper

Sirri ER, Tufano P (1998) Costly search and mutual fund flows. J Financ 53(5):1589–1622

Spiegel M, Zhang H (2013) Mutual fund risk and market share-adjusted fund flows. J Financ Econ 108(2):506–528
Additional information
Publisher's note
Springer Nature remains neutral with regard to jurisdictional claims in published maps and institutional affiliations.
About this article
Cite this article
Schiller, A., Woltering, RO. & Sebastian, S. Is the flow-performance relationship really convex? - The impact of data treatment and model specification. J Econ Finan 44, 300–320 (2020). https://doi.org/10.1007/s12197-019-09489-1
Keywords
Mutual funds

Fund flows

Flow-performance relationship
JEL Classification