Abstract
Transient receptor potential ankyrin 1 (TRPA1), the non-selective cation channel, was found that can mediate the generation of multiple sclerosis, while the mechanism is still controversial. Lysophosphatidylcholine (LPC) is a critical trigger of multiple sclerosis which results from the syndrome of neuronal inflammation and demyelination. In this work, we suggested that TRPA1 can mediate the LPC-induced oxidative stress and cytotoxicity in OLN-93 oligodendrocyte. The expression of TRPA1 in OLN-93 was detected by using quantitative real-time PCR (qRT-PCR) and immunofluorescence. The calcium overload induced by LPC via TRPA1 was detected by calcium imaging. The mechanism of LPC-induced mitochondrial reactive oxygen species (mtROS) generation, mitochondria membrane depolarization, nitric oxide (NO) increase, and development of superoxide production via TRPA1 was verified by using confocal imaging. The cell injury elicited by LPC via TRPA1 was confirmed by both CCK-8 and LDH cytotoxicity detection. These results indicate that TRPA1 plays an important role of the LPC-induced oxidative stress and cell damage in OLN-93 oligodendrocyte. Therefore, inhibition of TRPA1 may protect the LPC-induced demyelination.
This is a preview of subscription content, log in to check access.
Access options
Buy single article
Instant access to the full article PDF.
US$ 39.95
Price includes VAT for USA
Subscribe to journal
Immediate online access to all issues from 2019. Subscription will auto renew annually.
US$ 99
This is the net price. Taxes to be calculated in checkout.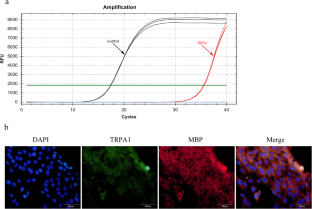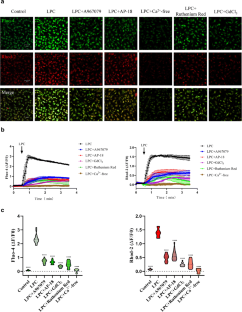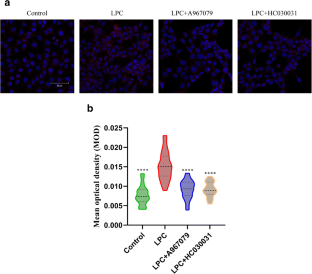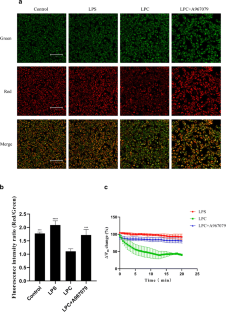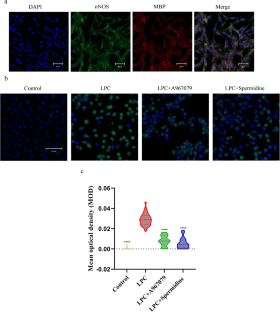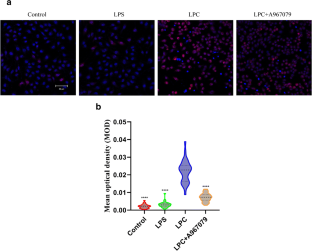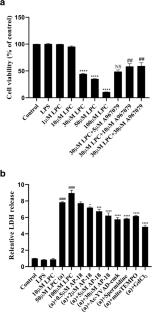 References
Andersson DA, Gentry C, Moss S, Bevan S (2008) Transient receptor potential A1 is a sensory receptor for multiple products of oxidative stress. J Neurosci 28:2485–2494. https://doi.org/10.1523/JNEUROSCI.5369-07.2008

Angelova PR, Abramov AY (2018) Role of mitochondrial ROS in the brain: from physiology to neurodegeneration. FEBS Lett 592:692–702. https://doi.org/10.1002/1873-3468.12964

Askari VR, Shafiee-Nick R (2019) Promising neuroprotective effects of beta-caryophyllene against LPS-induced oligodendrocyte toxicity: a mechanistic study. Biochem Pharmacol 159:154–171. https://doi.org/10.1016/j.bcp.2018.12.001

Barnett MH, Prineas JW (2004) Relapsing and remitting multiple sclerosis: pathology of the newly forming lesion. Ann Neurol 55:458–468. https://doi.org/10.1002/ana.20016

Bolcskei K, Kriszta G, Saghy E, Payrits M, Sipos E, Vranesics A, Berente Z, Abraham H, Acs P, Komoly S, Pinter E (2018) Behavioural alterations and morphological changes are attenuated by the lack of TRPA1 receptors in the cuprizone-induced demyelination model in mice. J Neuroimmunol 320:1–10. https://doi.org/10.1016/j.jneuroim.2018.03.020

Brand A, Bauer NG, Hallott A, Goldbaum O, Ghebremeskel K, Reifen R, Richter-Landsberg C (2010) Membrane lipid modification by polyunsaturated fatty acids sensitizes oligodendroglial OLN-93 cells against oxidative stress and promotes up-regulation of heme oxygenase-1 (HSP32). J Neurochem 113:465–476. https://doi.org/10.1111/j.1471-4159.2010.06611.x

Campos-Mota GP, Navia-Pelaez JM, Araujo-Souza JC, Stergiopulos N, Capettini LSA (2017) Role of ERK1/2 activation and nNOS uncoupling on endothelial dysfunction induced by lysophosphatidylcholine. Atherosclerosis 258:108–118. https://doi.org/10.1016/j.atherosclerosis.2016.11.022

Compston A, Coles A (2008) Multiple sclerosis. Lancet 372:1502–1517. https://doi.org/10.1016/s0140-6736(08)61620-7

Cossarizza A, Baccarani-Contri M, Kalashnikova G, Franceschi C (1993) A new method for the cytofluorimetric analysis of mitochondrial membrane potential using the J-aggregate forming lipophilic cation 5,5',6,6'-tetrachloro-1,1',3,3'-tetraethylbenzimidazolcarbocyanine iodide (JC-1). Biochem Biophys Res Commun 197:40–45. https://doi.org/10.1006/bbrc.1993.2438

Doihara H, Nozawa K, Kojima R, Kawabata-Shoda E, Yokoyama T, Ito H (2009) QGP-1 cells release 5-HT via TRPA1 activation: a model of human enterochromaffin cells. Mol Cell Biochem 331:239–245. https://doi.org/10.1007/s11010-009-0165-7

Fetisova E, Chernyak B, Korshunova G, Muntyan M, Skulachev V (2017) Mitochondria-targeted antioxidants as a prospective therapeutic strategy for multiple sclerosis. Curr Med Chem 24:2086–2114. https://doi.org/10.2174/0929867324666170316114452

Freeman L, Guo H, David CN, Brickey WJ, Jha S, Ting JP (2017) NLR members NLRC4 and NLRP3 mediate sterile inflammasome activation in microglia and astrocytes. J Exp Med 214:1351–1370. https://doi.org/10.1084/jem.20150237

Fressinaud C, Vallat JM, Pouplard-Barthelaix A (1996) Platelet-derived growth factor partly prevents chemically induced oligodendrocyte death and improves myelin-like membranes repair in vitro. Glia 16:40–50. https://doi.org/10.1002/(sici)1098-1136(199601)16:1<40::aid-glia5>3.0.co;2-f

Gerstner B, Buhrer C, Rheinlander C, Polley O, Schuller A, Berns M, Obladen M, Felderhoff-Mueser U (2006) Maturation-dependent oligodendrocyte apoptosis caused by hyperoxia. J Neurosci Res 84:306–315. https://doi.org/10.1002/jnr.20880

Ghasemi M, Mayasi Y, Hannoun A, Eslami SM, Carandang R (2018) Nitric Oxide and mitochondrial function in neurological diseases. Neuroscience 376:48–71. https://doi.org/10.1016/j.neuroscience.2018.02.017

Guzik TJ, Korbut R, Adamek-Guzik T (2003) Nitric oxide and superoxide in inflammation and immune regulation. J Physiol Pharmacol 54:469–487

Hamilton NB, Kolodziejczyk K, Kougioumtzidou E, Attwell D (2016) Proton-gated Ca(2+)-permeable TRP channels damage myelin in conditions mimicking ischaemia. Nature 529:523–527. https://doi.org/10.1038/nature16519

Ignarro LJ (1999) Nitric oxide: a unique endogenous signaling molecule in vascular biology. Biosci Rep 19:51–71. https://doi.org/10.1023/a:1020150124721

Islam MT (2017) Oxidative stress and mitochondrial dysfunction-linked neurodegenerative disorders. Neurol Res 39:73–82. https://doi.org/10.1080/01616412.2016.1251711

Jarjour AA, Zhang H, Bauer N, Ffrench-Constant C, Williams A (2012) In vitro modeling of central nervous system myelination and remyelination. Glia 60:1–12. https://doi.org/10.1002/glia.21231

Jeong HJ, Kim YH, Lee YS, Jung SJ, Oh SB (2017) TRPM2 contributes to LPC-induced intracellular Ca2+ influx and microglial activation. Biochem Biophys Res Commun 485:301–306. https://doi.org/10.1016/j.bbrc.2017.02.087

Kalyvas A, Baskakis C, Magrioti V, Constantinou-Kokotou V, Stephens D, Lopez-Vales R, Lu JQ, Yong VW, Dennis EA, Kokotos G, David S (2009) Differing roles for members of the phospholipase A2 superfamily in experimental autoimmune encephalomyelitis. Brain 132:1221–1235. https://doi.org/10.1093/brain/awp002

Kougias P, Chai H, Lin PH, Lumsden AB, Yao Q, Chen C (2006) Lysophosphatidylcholine and secretory phospholipase A2 in vascular disease: mediators of endothelial dysfunction and atherosclerosis. Med Sci Monit 12:Ra5–R16

Lehnardt S, Lachance C, Patrizi S, Lefebvre S, Follett PL, Jensen FE, Rosenberg PA, Volpe JJ, Vartanian T (2002) The toll-like receptor TLR4 is necessary for lipopolysaccharide-induced oligodendrocyte injury in the CNS. J Neurosci 22:2478–2486. https://doi.org/10.1523/jneurosci.22-07-02478.2002

Li H (2017) TRP channel classification. Adv Exp Med Biol 976:1–8. https://doi.org/10.1007/978-94-024-1088-4_1

Li X, Fang P, Li Y, Kuo YM, Andrews AJ, Nanayakkara G, Johnson C, Fu H, Shan H, Du F, Hoffman NE, Yu D, Eguchi S, Madesh M, Koch WJ, Sun J, Jiang X, Wang H, Yang X (2016) Mitochondrial reactive oxygen species mediate lysophosphatidylcholine-induced endothelial cell activation. Arterioscler Thromb Vasc Biol 36:1090–1100. https://doi.org/10.1161/atvbaha.115.306964

Liu S, Guo W, Zhou H, Tang L, Feng S, Zhong JH, Zhou XF (2018) proBDNF inhibits the proliferation and migration of OLN93 oligodendrocytes. Mol Med Rep 18:3809–3817. https://doi.org/10.3892/mmr.2018.9407

McKenzie BA, Mamik MK, Saito LB, Boghozian R, Monaco MC, Major EO, Lu JQ, Branton WG, Power C (2018) Caspase-1 inhibition prevents glial inflammasome activation and pyroptosis in models of multiple sclerosis. Proc Natl Acad Sci U S A 115:E6065–e6074. https://doi.org/10.1073/pnas.1722041115

McNamara CR, Mandel-Brehm J, Bautista DM, Siemens J, Deranian KL, Zhao M, Hayward NJ, Chong JA, Julius D, Moran MM, Fanger CM (2007) TRPA1 mediates formalin-induced pain. Proc Natl Acad Sci U S A 104:13525–13530. https://doi.org/10.1073/pnas.0705924104

Mihai DP, Nitulescu GM, Ion GND, Ciotu CI, Chirita C, Negres S (2019) Computational Drug repurposing algorithm targeting TRPA1 calcium channel as a potential therapeutic solution for multiple sclerosis. Pharmaceutics 11:446. https://doi.org/10.3390/pharmaceutics11090446

Monet M, Gkika D, Lehen'kyi V, Pourtier A, Vanden Abeele F, Bidaux G, Juvin V, Rassendren F, Humez S, Prevarsakaya N (2009) Lysophospholipids stimulate prostate cancer cell migration via TRPV2 channel activation. Biochim Biophys Acta 1793:528–539. https://doi.org/10.1016/j.bbamcr.2009.01.003

Murakami N, Yokomizo T, Okuno T, Shimizu T (2004) G2A is a proton-sensing G-protein-coupled receptor antagonized by lysophosphatidylcholine. J Biol Chem 279:42484–42491. https://doi.org/10.1074/jbc.M406561200

Nadjafi S, Ebrahimi SA, Rahbar-Roshandel N (2015) Noscapine protects OLN-93 oligodendrocytes from ischemia-reperfusion damage: calcium and nitric oxide involvement. Acta Physiol Hung 102:351–362. https://doi.org/10.1556/036.102.2015.4.2

Pieragostino D, D'Alessandro M, di Ioia M, Rossi C, Zucchelli M, Urbani A, Di Ilio C, Lugaresi A, Sacchetta P, Del Boccio P (2015) An integrated metabolomics approach for the research of new cerebrospinal fluid biomarkers of multiple sclerosis. Mol BioSyst 11:1563–1572. https://doi.org/10.1039/c4mb00700j

Plemel JR, Michaels NJ, Weishaupt N, Caprariello AV, Keough MB, Rogers JA, Yukseloglu A, Lim J, Patel VV, Rawji KS, Jensen SK, Teo W, Heyne B, Whitehead SN, Stys PK, Yong VW (2018) Mechanisms of lysophosphatidylcholine-induced demyelination: a primary lipid disrupting myelinopathy. Glia 66:327–347. https://doi.org/10.1002/glia.23245

Saghy E, Sipos E, Acs P, Bolcskei K, Pohoczky K, Kemeny A, Sandor Z, Szoke E, Setalo G Jr, Komoly S, Pinter E (2016) TRPA1 deficiency is protective in cuprizone-induced demyelination—a new target against oligodendrocyte apoptosis. Glia 64:2166–2180. https://doi.org/10.1002/glia.23051

Schilling T, Eder C (2009) Non-selective cation channel activity is required for lysophosphatidylcholine-induced monocyte migration. J Cell Physiol 221:325–334. https://doi.org/10.1002/jcp.21857

Shi J, Gao W, Shao F (2017) Pyroptosis: gasdermin-mediated programmed necrotic cell death. Trends Biochem Sci 42:245–254. https://doi.org/10.1016/j.tibs.2016.10.004

Silva RBM, Greggio S, Venturin GT, da Costa JC, Gomez MV, Campos MM (2018) Beneficial effects of the calcium channel blocker CTK 01512-2 in a mouse model of multiple sclerosis. Mol Neurobiol 55:9307–9327. https://doi.org/10.1007/s12035-018-1049-1

Sinharoy P, Zhang H, Sinha S, Prudner BC, Bratz IN, Damron DS (2015) Propofol restores TRPV1 sensitivity via a TRPA1-, nitric oxide synthase-dependent activation of PKCepsilon. Pharmacol Res Perspect 3:e00153. https://doi.org/10.1002/prp2.153

Soga T, Ohishi T, Matsui T, Saito T, Matsumoto M, Takasaki J, Matsumoto S, Kamohara M, Hiyama H, Yoshida S, Momose K, Ueda Y, Matsushime H, Kobori M, Furuichi K (2005) Lysophosphatidylcholine enhances glucose-dependent insulin secretion via an orphan G-protein-coupled receptor. Biochem Biophys Res Commun 326:744–751. https://doi.org/10.1016/j.bbrc.2004.11.120

Strassmaier T, Bakthavatchalam R (2011) Transient receptor potential A1 modulators. Curr Top Med Chem 11:2227–2236. https://doi.org/10.2174/156802611796904915

Tian C, Huang R, Tang F, Lin Z, Cheng N, Han X, Li S, Zhou P, Deng S, Huang H, Zhao H, Xu J, Li Z (2020) Transient receptor potential ankyrin 1 contributes to lysophosphatidylcholine-induced intracellular calcium regulation and THP-1-derived macrophage activation. J Membr Biol 253:43–55. https://doi.org/10.1007/s00232-019-00104-2

Trapp BD, Nave KA (2008) Multiple sclerosis: an immune or neurodegenerative disorder? Annu Rev Neurosci 31:247–269. https://doi.org/10.1146/annurev.neuro.30.051606.094313

Wang HY, Tsai YJ, Chen SH, Lin CT, Lue JH (2013) Lysophosphatidylcholine causes neuropathic pain via the increase of neuronal nitric oxide synthase in the dorsal root ganglion and cuneate nucleus. Pharmacol Biochem Behav 106:47–56. https://doi.org/10.1016/j.pbb.2013.03.002

Yao S, Pandey P, Ljunggren-Rose A, Sriram S (2010) LPS mediated injury to oligodendrocytes is mediated by the activation of nNOS: relevance to human demyelinating disease. Nitric Oxide 22:197–204. https://doi.org/10.1016/j.niox.2009.12.001

Yao SY, Natarajan C, Sriram S (2012) nNOS mediated mitochondrial injury in LPS stimulated oligodendrocytes. Mitochondrion 12:336–344. https://doi.org/10.1016/j.mito.2012.01.002
Funding
This study was funded by the National Natural Science Foundation of China (31671211), Science and Technology Planning Project of Guangdong Province, China (2017B030314056), Frontier Research Program of Guangzhou Regenerative Medicine and Health Guangdong Laboratory (2018GZR110105020), and Guangdong Provincial Natural Science Foundation (2017A030313757 and 2016A030313170).
Ethics declarations
Conflict of interest
The authors declare that they have no conflict of interest.
Additional information
Publisher's note
Springer Nature remains neutral with regard to jurisdictional claims in published maps and institutional affiliations.
About this article
Cite this article
Tian, C., Li, S., He, L. et al. Transient receptor potential ankyrin 1 contributes to the lysophosphatidylcholine-induced oxidative stress and cytotoxicity in OLN-93 oligodendrocyte. Cell Stress and Chaperones (2020). https://doi.org/10.1007/s12192-020-01131-y
Received:

Revised:

Accepted:

Published:
Keywords
TRPA1

LPC

ROS

Oligodendrocyte

NO