Heterologous expression of Oenococcus oeni sHSP20 confers temperature stress tolerance in Escherichia coli
Abstract
Small heat shock proteins (sHSPs) are heat shock proteins sized 12–43 kDa that can protect proteins from denaturation, particularly under high temperature; sHSPs thus increase the heat tolerance capability of an organisms enabling survival in adverse climates. sHSP20 is overexpressed in Oenococcus oeni in response to low temperatures. However, we found that overexpression of sHSP20 in Escherichia coli BL21 increased the microbial survival ratio at 50 °C by almost 2 h. Adding sHSP20 to the glutamate dehydrogenase solution significantly increased the stability of the enzyme at high temperature (especially at 60–70 °C), low pH values (especially below 6.0), and high concentration of metal ions of Ga2+, Zn2+, Mn2+, and Fe3+. Notably, the coexpression of sHSP20 significantly enhanced soluble expression of laccase from Phomopsis sp. XP-8 (CCTCCM209291) in E. coli without codon optimization, as well as the activity and heat stability of the expressed enzyme. In addition to the chaperone activity of sHSP20 in the gene containing host in vivo and the enzyme heat stability in vitro, our study indicated the capability of coexpression of sHSP20 to increase the efficiency of prokaryotic expression of fungal genes and the activity of expressed enzymes.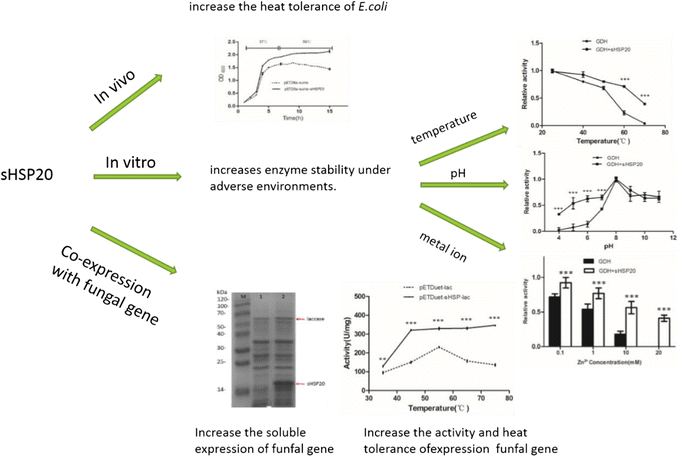 Keywords
sHSP20 
Cell viability 
Prokaryotic expression 
Enzyme stability and activity 
Coexpression 
Abbreviations
ACD

α-crystal domain

E. coli

Escherichia coli

GDH

glutamate dehydrogenase

HSP

Heat shock proteins

IPTG

isopropyl-b-D-thiogalactopyranoside

MLF

malolactic fermentation

O. oeni

Oenococcus oeni

SD

standard deviation

sHSP

small heat shock proteins
Notes
Author contributions
Li Y performed most of the experiments and data analysis and wrote the manuscript. Xu X constructed the plasmids used in the study and performed several experiments. Qu R helped to do some experiments. Zhang G provided the genes in the study. Riaz rajoka MS helped to make some language revision. Shao D and Jiang C helped to arrange the experimental places and instruments. Shi J supported and designed the study and revised the article.
Funding
This work was supported by the National Key Technology R&D Program (Grant number 2015BAD16B02), the National Natural Science Fund (Grant numbers 31471718, 31201408, 31560441), the Agriculture Department of China (Grant number CARS-30), the China Postdoctoral Science Foundation (Grant number 2017M613211), National Training Program of Innovation and Entrepreneurship for Undergraduates (Grant number 201610699265) and the Fundamental Research Funds for the Central Universities (Grant number 3102016QD089) and National Natural Science Foundation of China (grant number 31701722). The Seed Foundation of Innovation and Creation for Graduate Students in Northwestern Polytechnical University (Z2017059)
Compliance with ethical standards
Conflict of interest
The authors declare that they have no conflict of interest.
Ethical approval
This article does not contain any studies with human participants or animals performed by any of the authors.
Copyright information
© Cell Stress Society International 2018