Primary ALK-negative anaplastic large cell lymphoma with extensive bone involvement mimicking multiple myeloma and metastatic carcinoma
A 68-year-old woman presented with a 4-month history of intense and diffuse bone pain, weight loss, and night sweats. Initially, the pain was localized in the right iliac and sacral region, but later it spread to both arms and legs. Physical examination revealed no lymphadenopathy or hepatosplenomegaly. Laboratory tests showed anemia (hemoglobin 8.5 g/dL), leukocytosis (13 × 10
9
/L) with neutrophilia (9 × 10
9
/L), elevated C-reactive protein (68.5 mg/L) and erythrocyte sedimentation rate (127 mm/hr). Other results, including platelets, lactate dehydrogenase, calcium, uric acid, serum protein electrophoresis, immunofixation for monoclonal proteins, and renal, liver, thyroid and parathyroid function testes, were normal. 18-Fluorodeoxyglucose positron emission tomography/computed tomography scanning (
18
F-FDG PET/CT, Fig. 
1
a) showed increased FDG uptake in multiple bone osteolytic lesions with cortical permeation-associated soft tissue components localized in right radio and humerus, right ilium and sacral wing (SUV
max
11.3, Fig. 
1
b), right and left femur (SUV
max
12.5, Fig. 
1
c) and proximal third of right fibula.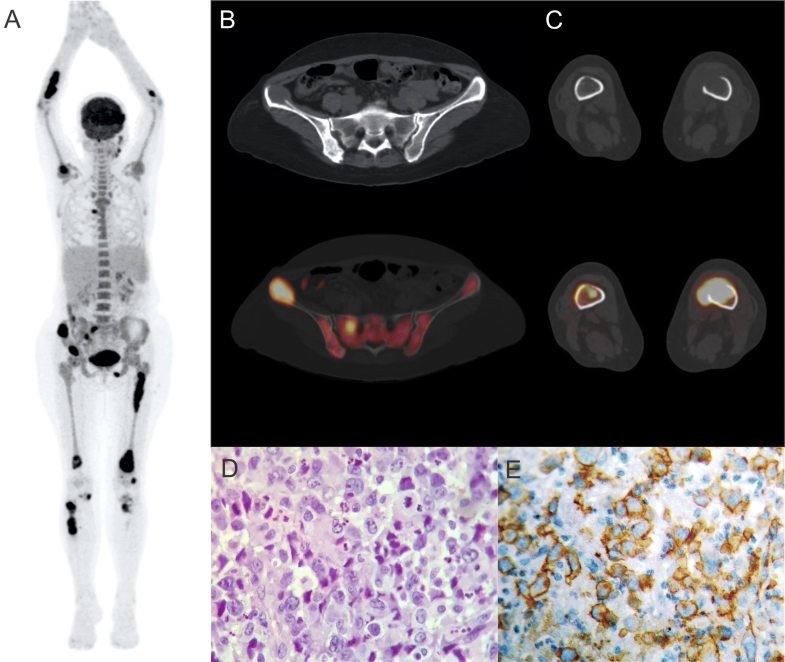 Bone biopsy revealed large pleomorphic mononuclear cells, sometimes multinucleated and often with eccentric reniform or horseshoe nuclei, with dispersed chromatin and conspicuous nucleoli (Fig. 1d, hematoxylin and eosin stain, ×400). Immunohistochemical stain revealed a diffuse strong CD30 immunoreactivity in the lymphoma cells, especially in membrane regions (Fig. 1e, CD30 stain, ×400). Neoplastic cells were also positive for epithelial membrane antigen (EMA) and CD3, and negative for CD15, PAX5, CD20, CD138, cytokeratin, CEA, Melan-A, p40 and ALK-1. A diagnosis of ALK-negative anaplastic large cell lymphoma (ALCL) with primary and multifocal bone involvement was made.
Primary lymphoma of the bone constitutes only 5% of the malignant tumors of the bone, and most are diffuse large B-cell lymphomas [1]. Although bone marrow involvement by ALCL occasionally occurs in patients with extensive nodal disease, primary multiple bone lesions without lymphadenopathy are very rare [2, 3]. Multifocal osteolytic lesions may remind physicians of multiple myeloma or metastatic carcinoma, but although unusual, ALCL should be considered in the differential diagnosis [4].
Notes
Compliance with ethical standards
Conflict of interest
The authors declare that they have no conflict of interest.
Copyright information
© Japanese Society of Hematology 2019