This is a preview of subscription content, log in to check access.
Access options
Buy single article
Instant access to the full article PDF.
US$ 39.95
Price includes VAT for USA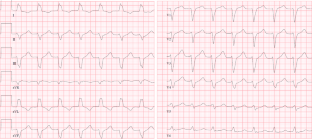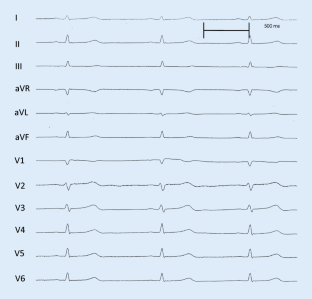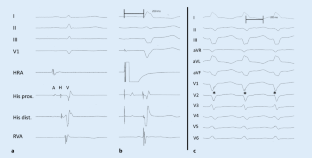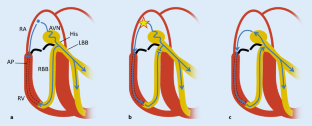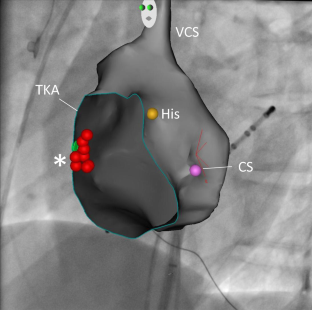 Literatur
1.

Katritsis DG, Wellens HJ, Josephson ME (2017) Mahaim accessory pathways. Arrhythm Electrophysiol Rev 6:29–32

2.

Haissaguerre M, Cauchemez B, Marcus F et al (1995) Characteristics of the ventricular insertion sites of accessory pathways with anterograde decremental conduction properties. Circulation 91:1077–1085

3.

Kottkamp H, Hindricks G, Shenasa H et al (1996) Variants of preexcitation—specialized atriofascicular pathways, nodofascicular pathways, and fasciculoventricular pathways: electrophysiologic findings and target sites for radiofrequency catheter ablation. J Cardiovasc Electrophysiol 7:916–930

4.

Sternick EB, Timmermans C, Sosa E et al (2004) The electrocardiogram during sinus rhythm and tachycardia in patients with Mahaim fibers: the importance of an "rS" pattern in lead III. J Am Coll Cardiol 44:1626–1635

5.

Liao Z, Ma J, Hu J et al (2011) New observation of electrocardiogram during sinus rhythm on the atriofascicular and decremental atrioventricular pathways/clinical perspective: [corrected] terminal QRS [corrected] complex slurring or notching. Circ Arrhythm Electrophysiol 4:897–901

6.

Hebe J (2016) Congenital heart defects in adulthood : supraventricular tachycardia. Herzschrittmacherther Elektrophysiol 27:110–121

7.

Brugada J, Katritsis DG, Arbelo E et al (2020) 2019 ESC guidelines for the management of patients with supraventricular tachycardiathe task force for the management of patients with supraventricular tachycardia of the European society of cardiology (ESC). Eur Heart J 41(5):655–720. https://doi.org/10.1093/eurheartj/ehz467

8.

Heald SC, Davies DW, Ward DE et al (1995) Radiofrequency catheter ablation of Mahaim tachycardia by targeting Mahaim potentials at the tricuspid annulus. Br Heart J 73:250–257

9.

Cappato R, Schluter M, Weiss C et al (1994) Catheter-induced mechanical conduction block of right-sided accessory fibers with Mahaim-type preexcitation to guide radiofrequency ablation. Circulation 90:282–290
Ethics declarations
Interessenkonflikt
J. Kaufmann, S. Gozolits, C. Huber, M. Morgenstern und C. von Bary geben an, dass kein Interessenkonflikt besteht.
Für diesen Beitrag wurden von den Autoren keine Studien an Menschen oder Tieren durchgeführt. Für die aufgeführten Studien gelten die jeweils dort angegebenen ethischen Richtlinien. Für Bildmaterial oder anderweitige Angaben innerhalb des Manuskripts, über die Patienten zu identifizieren sind, liegt von ihnen und/oder ihren gesetzlichen Vertretern eine schriftliche Einwilligung vor.
About this article
Cite this article
Kaufmann, J., Gozolits, S., Huber, C. et al. 20-jährige Frau mit symptomatischer, paroxysmaler Tachykardie und Veränderung des QRS-Komplexes. Kardiologe 14, 212–216 (2020). https://doi.org/10.1007/s12181-020-00380-6