Abstract
Herein an electrochemiluminescence (ECL) sensor based on graphene aerogel (GA) for detecting metronidazole (MTZ) was proposed. The ECL behavior of the Ru(bpy)32+-doped silica nanoparticles (SiO2@Ru(bpy)32+ NPs) was investigated with MTZ as the coreactant. Quantitative detection of MTZ was realized as MTZ could effectively enhance the ECL signal of the SiO2@Ru(bpy)32+ NPs. A wide linear range of 2.5 to 250 μM (r = 0.9937) was obtained under optimized conditions, and a detection limit (S/N = 3) was achieved as low as 0.5 μM. Finally, the analytical application of the proposed sensor was evaluated by detecting a drug sample and MTZ residues in raw milk. Additionally, MTZ was an apoptosis inducer toward MCF-7 cells, and our method could measure the accurate concentration of MTZ which can cause serious apoptosis in cellular experiments. Thus, with good stability, acceptable precision, and reproducibility, the proposed sensor supports promising practicability in clinical analysis.
Access options
Buy single article
Instant access to the full article PDF.
US$ 39.95
Tax calculation will be finalised during checkout.
Subscribe to journal
Immediate online access to all issues from 2019. Subscription will auto renew annually.
US$ 79
Tax calculation will be finalised during checkout.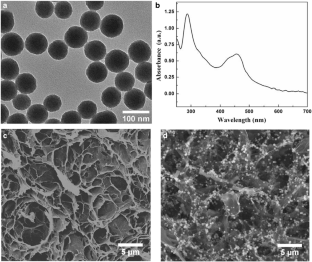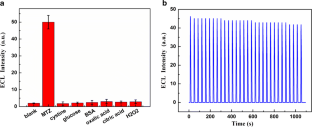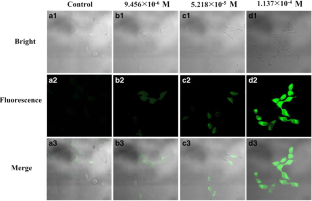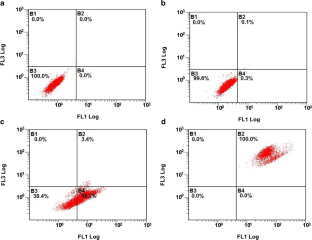 References
Anderson TJ, Defnet PA, Zhang B (2020) Electrochemiluminescence (ECL)-based electrochemical imaging using a massive array of bipolar ultramicroelectrodes. Anal Chem 92:6748–6755. https://doi.org/10.1021/acs.analchem.0c00921

Bard AJ et al (2004) Electrogenerated chemiluminescence. Marcel Dekker, Inc., New York

Bertoncello P, Forster RJ (2009) Nanostructured materials for electrochemiluminescence (ECL)-based detection methods: recent advances and future perspectives. Biosens Bioelectron 24:3191–3200. https://doi.org/10.1016/j.bios.2009.02.013

Bishop GW, Satterwhite-Warden JE, Bist I, Chen E, Rusling JF (2016) Electrochemiluminescence at bare and DNA-coated graphite electrodes in 3D-printed fluidic devices. ACS Sens 1:197–202. https://doi.org/10.1021/acssensors.5b00156

Cai F, Zhu Q, Zhao K, Deng A, Li J (2015) Multiple signal amplified electrochemiluminescent immunoassay for Hg2+ using graphene-coupled quantum dots and gold nanoparticles-labeled horseradish peroxidase. Environ Sci Technol 49:5013–5020. https://doi.org/10.1021/acs.est.5b00690

Cao JT, Wang YL, Zhang JJ, Dong YX, Liu FR, Ren SW, Liu YM (2018) Immuno-electrochemiluminescent imaging of a single cell based on functional nanoprobes of heterogeneous Ru(bpy)32+@SiO2/Au nanoparticles. Anal Chem 90:10334–10339. https://doi.org/10.1021/acs.analchem.8b02141

Cao JT, Liu FR, Fu XL, Ma JX, Ren SW, Liu YM (2019) A novel electrochemiluminescence resonance energy transfer system for simultaneous determination of two acute myocardial infarction markers using versatile gold nanorods as energy acceptors. Chem Commun 55:2829–2832. https://doi.org/10.1039/c9cc00563c

Chadchan SB, Cheng M, Parnell LA, Yin Y, Schriefer A, Mysorekar IU, Kommagani R (2019) Antibiotic therapy with metronidazole reduces endometriosis disease progression in mice: a potential role for gut microbiota. Hum Reprod 34:1106–1116. https://doi.org/10.1093/humrep/dez041

Chen S, Ma H, Padelford JW, Qinchen W, Yu W, Wang S, Zhu M, Wang G (2019) Near infrared electrochemiluminescence of rod-shape 25-atom AuAg nanoclusters that is hundreds-fold stronger than that of Ru(bpy)3 standard. J Am Chem Soc 141:9603–9609. https://doi.org/10.1021/jacs.9b02547

Chikhaliwala P, Chandra S (2016) Dendrimers: new tool for enhancement of electrochemiluminescent signal. J Organomet Chem 821:78–90. https://doi.org/10.1016/j.jorganchem.2016.04.017

Dong YP, Gao TT, Zhou Y, Jiang LP, Zhu JJ (2015) Anodic electrogenerated chemiluminescence of Ru(bpy)32+ with CdSe quantum dots as coreactant and its application in quantitative detection of DNA. Sci Rep 5:15392. https://doi.org/10.1038/srep15392

Ensafi AA, Nasr-Esfahani P, Rezaei B (2018) Metronidazole determination with an extremely sensitive and selective electrochemical sensor based on graphene nanoplatelets and molecularly imprinted polymers on graphene quantum dots. Sensor Actuat B-Chem 270:192–199. https://doi.org/10.1016/j.snb.2018.05.024

Guo W, Liu Y, Cao Z, Su B (2017) Imaging analysis based on electrogenerated chemiluminescence. J Anal Test 1:14. https://doi.org/10.1007/s41664-017-0013-9

Han Q, Wang C, Li Z, Wu J, Liu PK, Mo F, Fu Y (2020) Multifunctional zinc oxide promotes electrochemiluminescence of porphyrin aggregates for ultrasensitive detection of copper ion. Anal Chem 92:3324–3331. https://doi.org/10.1021/acs.analchem.9b05262

Henry CM, Hollville E, Martin SJ (2013) Measuring apoptosis by microscopy and flow cytometry. Methods 61:90–97. https://doi.org/10.1016/j.ymeth.2013.01.008

Hosseini M, Karimi Pur MR, Norouzi P, Moghaddam MR, Faridbod F, Ganjali MR, Shamsi J (2015) Enhanced solid-state electrochemiluminescence of Ru(bpy)32+ with nano-CeO2 modified carbon paste electrode and its application in tramadol determination. Anal Methods-UK 7:1936–1942. https://doi.org/10.1039/c4ay02772h

Hu L, Li H, Han S, Xu G (2011) Electrochemiluminescence in the presence of formaldehyde or formic acid. J Electroana Chem 656:289–292. https://doi.org/10.1016/j.jelechem.2010.09.018

Huang J, Shen X, Wang R, Zeng Q, Wang L (2017) A highly sensitive metronidazole sensor based on a Pt nanospheres/polyfurfural film modified electrode. RSC Adv 7:535–542. https://doi.org/10.1039/c6ra25106d

Jiang X, Wang Z, Wang H, Zhuo Y, Yuan R, Chai Y (2017) A novel metal-organic framework loaded with abundant N-(aminobutyl)-N-(ethylisoluminol) as a high-efficiency electrochemiluminescence indicator for sensitive detection of mucin1 on cancer cells. Chem Commun 53:9705–9708. https://doi.org/10.1039/c7cc05495e

Kazakova SV, Baggs J, McDonald LC, Yi SH, Hatfield KM, Guh A, Reddy SC, Jernigan JA (2020) Association between antibiotic use and hospital-onset Clostridioides difficile infection in US acute care hospitals, 2006-2012: an ecologic analysis. Clin Infect Dis 70:11–18. https://doi.org/10.1093/cid/ciz169

Leland JK, Powell MJ (1990) Electrogenerated chemiluminescence: an oxidative-reduction type ecl reaction sequence using tripropyl amine. J Electrochem Soc 137:3127–3131

Li L, Chen Y, Zhu JJ (2017) Recent advances in electrochemiluminescence analysis. Anal Chem 89:358–371. https://doi.org/10.1021/acs.analchem.6b04675

Li Z, Qin W, Liang G (2020) A mass-amplifying electrochemiluminescence film (MAEF) for the visual detection of dopamine in aqueous media. Nanoscale 12:8828–8835. https://doi.org/10.1039/d0nr01025a

Liao N, Liu JL, Chai YQ, Yuan R, Zhuo Y (2020) DNA structure transition-induced affinity switch for biosensing based on the strong electrochemiluminescence platform from organic microcrystals. Anal Chem 92:3940–3948. https://doi.org/10.1021/acs.analchem.9b05433

Liu T, Zhu W, Yang X, Chen L, Yang R, Hua Z, Li G (2009) Detection of apoptosis based on the interaction between Annexin V and phosphatidylserine. Anal Chem 81:2410–2413. https://doi.org/10.1021/ac801267s

Liu R, Zhang C, Liu M (2015) Open bipolar electrode-electrochemiluminescence imaging sensing using paper-based microfluidics. Sensor Actuat B-Cheml 216:255–262. https://doi.org/10.1016/j.snb.2015.04.014

Liu M, Wang D, Liu C, Liu R, Li H, Zhang C (2017) Battery-triggered open wireless electrochemiluminescence in a microfluidic cloth-based bipolar device. Sensor Actuat B-Chem 246:327–335. https://doi.org/10.1016/j.snb.2017.02.076

Matsui Y, Funato Y, Imamura H, Miki H, Mizukami S, Kikuchi K (2017) Visualization of long-term Mg2+ dynamics in apoptotic cells using a novel targetable fluorescent probe. Chem Sci 8:8255–8264. https://doi.org/10.1039/c7sc03954a

Miao W (2008) Electrogenerated chemiluminescence and its biorelated applications. Chem Rev 108:2506–2553. https://doi.org/10.1021/cr068083a

Qi L, Xia Y, Qi W, Gao W, Wu F, Xu G (2016) Increasing electrochemiluminescence intensity of a wireless electrode array chip by thousands of times using a diode for sensitive visual detection by a digital camera. Anal Chem 88:1123–1127. https://doi.org/10.1021/acs.analchem.5b04304

Saidi I, Soutrel I, Floner D, Fourcade F, Bellakhal N, Amrane A, Geneste F (2014) Indirect electroreduction as pretreatment to enhance biodegradability of metronidazole. J Hazard Mater 278:172–179. https://doi.org/10.1016/j.jhazmat.2014.06.003

Segovia-Sandoval SJ, Pastrana-Martínez LM, Ocampo-Pérez R, Morales-Torres S, Berber-Mendoza MS, Carrasco-Marín F (2020) Synthesis and characterization of carbon xerogel/graphene hybrids as adsorbents for metronidazole pharmaceutical removal: effect of operating parameters. Sep Purif Technol 237:116341. https://doi.org/10.1016/j.seppur.2019.116341

Sentic M, Milutinovic M, Kanoufi F, Manojlovic D, Arbault S, Sojic N (2014) Mapping electrogenerated chemiluminescence reactivity in space: mechanistic insight into model systems used in immunoassays. Chem Sci 5:2568–2572. https://doi.org/10.1039/c4sc00312h

Tu X, Ma Y, Cao Y, Huang J, Zhang M, Zhang Z (2014) PEGylated carbon nanoparticles for efficient in vitro photothermal cancer therapy. J Mater Chem B 2:2184–2192. https://doi.org/10.1039/c3tb21750g

Voci S, Goudeau B, Valenti G, Lesch A, Jovic M, Rapino S, Paolucci F, Arbault S, Sojic N (2018) Surface-confined electrochemiluminescence microscopy of cell membranes. J Am Chem Soc 140:14753–14760. https://doi.org/10.1021/jacs.8b08080

Wang X, Wang J, Gengyo-Ando K, Gu L, Sun CL, Yang C, Shi Y, Kobayashi T, Shi Y, Mitani S, Xie XS, Xue D (2007) C. elegans mitochondrial factor WAH-1 promotes phosphatidylserine externalization in apoptotic cells through phospholipid scramblase SCRM-1. Nat Cell Biol 9:541–549. https://doi.org/10.1038/ncb1574

Wang K, Meng Y, Jiao X, Huang W, Fan D, Liu TC (2020a) Facile synthesis of an economic 3D surface-enhanced Raman scattering platform for ultrasensitive detection of antibiotics. Food Anal Method 13:1947–1955. https://doi.org/10.1007/s12161-020-01815-2

Wang Y, Guo W, Yang Q, Su B (2020b) Electrochemiluminescence self-interference spectroscopy with vertical nanoscale resolution. J Am Chem Soc 142:1222–1226. https://doi.org/10.1021/jacs.9b12833

Wang Y, Jin R, Sojic N, Jiang D, Chen HY (2020c) Intracellular wireless analysis of single cells by bipolar electrochemiluminescence confined in a nanopipette. Angew Chem Int Ed 59:1–6. https://doi.org/10.1002/anie.202002323

Wu Y, Zhou H, Wei W, Hua X, Wang L, Zhou Z, Liu S (2012) Signal amplification cytosensor for evaluation of drug-induced cancer cell apoptosis. Anal Chem 84:1894–1899. https://doi.org/10.1021/ac202672x

Xiong C, Liang W, Wang H, Zheng Y, Zhuo Y, Chai Y, Yuan R (2016) In situ electro-polymerization of nitrogen doped carbon dots and their application in an electrochemiluminescence biosensor for the detection of intracellular lead ions. Chem Commun 52:5589–5592. https://doi.org/10.1039/c6cc01078d

Ye Y, Wang L, Liu K, Li J (2020) A label-free and sensitive electrochemiluminescence sensor based on a simple one-step electrodeposition of Go/ZnS modified electrode for trace copper ions detection. Microchem J 155:104749. https://doi.org/10.1016/j.microc.2020.104749

Yoon J, Kang SW, Shim WS, Lee JK, Jang DK, Gu N, Kim SK, Lee KT, Chung EK (2020) Quantification of metronidazole in human bile fluid and plasma by liquid chromatography-tandem mass spectrometry. J Chromatogr B 1138:121959. https://doi.org/10.1016/j.jchromb.2019.121959

Zhang P, Zhuo Y, Chang Y, Yuan R, Chai Y (2015) Electrochemiluminescent graphene quantum dots as a sensing platform: a dual amplification for microRNA assay. Anal Chem 87:10385–10391. https://doi.org/10.1021/acs.analchem.5b02495

Zhang J, Jin R, Jiang D, Chen HY (2019) Electrochemiluminescence-based capacitance microscopy for label-free imaging of antigens on the cellular plasma membrane. J Am Chem Soc 141:10294–10299. https://doi.org/10.1021/jacs.9b03007

Zhao WW, Wang J, Zhu YC, Xu JJ, Chen HY (2015) Quantum dots: electrochemiluminescent and photoelectrochemical bioanalysis. Anal Chem 87:9520–9531. https://doi.org/10.1021/acs.analchem.5b00497

Zhou G, Paek E, Hwang GS, Manthiram A (2015) Long-life li/polysulphide batteries with high sulphur loading enabled by lightweight three-dimensional nitrogen/sulphur-codoped graphene sponge. Nat Commun 6:7760. https://doi.org/10.1038/ncomms8760

Zhu MJ, Pan JB, Wu ZQ, Gao XY, Zhao W, Xia XH, Xu JJ, Chen HY (2018) Electrogenerated chemiluminescence imaging of electrocatalysis at a single Au-Pt Janus nanoparticle. Angew Chem Int Ed 130:4074–4078. https://doi.org/10.1002/anie.201800706
Funding
This research is supported by Anhui Provincial Natural Science Foundation (Grants No. 2008085QB68 and No. 1808085QB50), Natural Science Foundation of Anhui Provincial Department of Education (No. KJ2019A0598), Excellent Young Talents Fund Program of Higher Education Institutions of Anhui Province (No. gxyq2019168), Foundation of State Key Laboratory of Analytical Chemistry for Life Science (Grants No. SKLACLS2003), and Foundation of Henan Key Laboratory of Biomolecular Recognition and Sensing (Grants No. HKLBRSK1905).
Ethics declarations
Ethical Approval
This article does not contain any studies with human participants or animals performed by any of the authors.
Informed Consent
Informed consent was obtained from all individual participants included in the study.
Conflict of Interest
Gen Liu declares that she has no conflict of interest. Hui Gao declares that she has no conflict of interest. Jiajia Chen declares that she has no conflict of interest. Congying Shao declares that she has no conflict of interest. Peilong Wang declares that she has no conflict of interest.
Additional information
Publisher's Note
Springer Nature remains neutral with regard to jurisdictional claims in published maps and institutional affiliations.
Supplementary Information
About this article
Cite this article
Liu, G., Gao, H., Chen, J. et al. Metronidazole Determination in Raw Milk with a Graphene Aerogel-Based Electrochemiluminescent Sensor and Its Effect on Cell Apoptosis. Food Anal. Methods (2021). https://doi.org/10.1007/s12161-021-01982-w
Received:

Accepted:

Published:
Keywords
Electrochemiluminescence

Graphene aerogel

Metronidazole

Apoptosis